International Internet Magazine. Baltic States news & analytics
Thursday, 24.04.2014, 21:43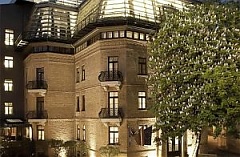 08.04.2014
British newspaper The Guardian has printed several articles praising the most stylish hotels in Riga, the European Capital of Culture in 2014, and other Baltic cities, reports LETA.
24.02.2014
According to the data of the Central Statistical Bureau (CSB), in 2013 the number of visitors in hotels and other accommodation establishments (1) comprised 1.8 mln people who spent there 3.8 mln nights. Compared to 2012, the number of persons served rose by 11.8%, but the number of overnight stays - by 6.4%.
05.02.2014
Joint-stock public catering company Lido has invested a total of about EUR 900,000 in the development of a new bistro that opened at the Domina Shopping mall in Riga yesterday, as the company's owner Gunars Kirsons told the Nozare.lv business portal, cites LETA.
30.01.2014
In 2013, the number of night tourists spent at Latvian hotels and other accommodation establishments increased by 7.3%, which is the third largest increase amongst EU members, informs LETA, referring to Eurostat.
29.01.2014
Given that a steep increase is expected in the number of foreign tourists visiting Riga in 2014, while the city is the European Capital of Culture, restaurants and other public catering venues could see turnover rise significantly, Latvian Hotel and Restaurant Association's representatives told the Nozare.lv business portal, cites LETA.
20.01.2014
Latvian national airline airBaltic is expecting an increase in tourist numbers in 2014 due to Riga being European Capital of Culture, the company informed the business information portal Nozare.lv.
16.01.2014
European car rental and leasing company Sixt plans to increase the number of bicycle rental stalls in Riga this year, the company's head in the Baltics Arnis Jaudzems informed LETA.
10.01.2014
Barcelona is following with interest Riga's cultural program and would like to have a project next year similar to the festival of light ''Staro Riga'' (Beaming Riga), visiting Barcelona Deputy Mayor Jaume Ciurana said during a meeting with Riga Vice Mayor Andris Ameriks (Honor to Serve Riga) yesterday, informs LETA.
09.01.2014
The Jewish newspaper ''Jewish Week'', based in New York, has mentioned Riga as a ''must visit'' tourist destination for 2014, reports LETA.
25.12.2013
The organizers of the European Capital of Culture Year in Riga (''Riga 2014'') say that there is much interest from foreign media outlets in covering the opening events of ''Riga 2014'' in January, LETA was informed by ''Riga 2014'' spokesman Martins Dregeris.
11.12.2013
341,486 foreign guests stayed at Riga accommodation establishments in the third quarter of 2013, a 22.7% increase on the respective period in 2012, according to data from the Riga Tourism Development Bureau, informs LETA/Nozare.lv.