International Internet Magazine. Baltic States news & analytics
Wednesday, 12.12.2018, 01:10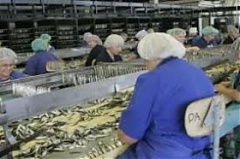 11.12.2018
The Financial and Capital Market Commission (FKTK) on December 7 decided to allow Brivais Vilnis fish cannery shareholder Musu Investiciju Fonds to announce the mandatory takeover bid of Brivais Vilnis shares, the company said in its statement to the Nasdaq Riga stock exchange.
10.12.2018
Estonian entrepreneurs' estimation of the share of cash-in-hand wages paid in their sector has decreased on year, it appears from the results of a survey conducted among the members of the Estonian Chamber of Commerce and Industry, reported LETA/BNS.
10.12.2018
Turnover of Latvijas Valsts Mezi (LVM) state forest manager in the first nine months of this year was EUR 241.273 mln, up 16.5 % from the respective period last year, while the company's profit increased by 70.2% to EUR 84.630 mln, according to the company's report writes LETA.
10.12.2018
Latvia's Lielzeltini poultry farm turned over EUR 33.642 mln last fiscal year, which lasted from July 1, 2017 to June 30, 2018, down 9.3% from a year ago, while the company's profit shrank 82% to EUR 182,950, according to information available at Firmas.lv writes LETA.
07.12.2018
An insolvency lawsuit against Kesko Senukai Latvia, the operator of K Senukai DIY retail chain, has been filed with Riga City Pardaugava District Court, according to information available on the website of the Insolvency Control Service informed LETA/BNS.
06.12.2018
Following a transaction executed on Nov. 30, East Capital Asset Management S.A is no longer a shareholder of Baltika, the listed Estonian garment seller announced on Thursday, referred LETA/BNS.
06.12.2018
he group of Nordic business consultancies Miltton Group has acquired 95% of the shares in the Estonian communication consultancy JLP, reported LETA/BNS.
06.12.2018
MG Baltic-controlled Apranga, the biggest clothing retail group in the Baltics, ties next year's revenue growth plans to investment in the renewal and development of its chain, its chief executive officer said LETA/BNS.
05.12.2018
General advertising volumes grew 12.6% in the first ten months of this year, according to research company Kantar TNS writes LETA/BNS.
05.12.2018
- Every tenth entrepreneur in Latvia would be prepared to deliberately distort competition in order to make higher profits, according to a survey carried out by the Competition Council, reports LETA/BNS.
04.12.2018
– Estonia has chosen an offer by Lewis Machine & Tool Company as the winner of the tender for a contract to supply automatic firearms to the country's defense forces and other armed structures, informed LETA/BNS.