International Internet Magazine. Baltic States news & analytics
Friday, 30.01.2015, 06:50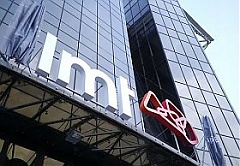 29.01.2015
Mobile phone operator Latvijas Mobilais Telefons (LMT) concluded 2014 with turnover of EUR 161.3 million, which is 6% less than in 2013, when the company operated with turnover of EUR 172 million, LMT CEO Juris Binde told the press representatives today, cites LETA.
29.01.2015
Pesticides are mainly used in agricultural production to keep crops healthy and prevent them from being destroyed by pests and diseases. Commission proposed a substitution for some pesticides that would protect yield and consumers' health.
29.01.2015
On 28 January 2015, the Board of TEO LT, AB approved Consolidated Interim Financial Statements, prepared according to International Financial Reporting Standards as adopted by the European Union, for the twelve months period ended 31 December 2014, the company said. The total consolidated TEO Group's revenue for the fourth quarter of 2014 was LTL 185 million (EUR 53.4 million), an increase by 3.2% over the total revenue of LTL 179 million (EUR 51.8 million) for the fourth quarter of 2013, writes LETA/ELTA.
29.01.2015
With the coming into effect of the Single Euro Payments Area (SEPA) requirements from 2016, domestic businesses will have to use uniform rules and formats for credit transfers and direct debit across the SEPA. They are being discussed today with payment market participants at the SEPA forum, taking place at the Bank of Lithuania, reports LETA/ELTA.
29.01.2015
By now around 25 Estonian milk producers have announced that they intend to completely or partially close their farms, concerning a total of 3,500-8,000 cows or 3-8% of the Estonian dairy cattle, due to the tense situation at the market, LETA/Eesti Päevaleht writes.
29.01.2015
Anva Polytech, a rubber component producer from Sweden, is setting up a production facility in Lithuania, with the aim of creating 50 new jobs in the next 5 years. The factory, which will produce a variety of rubber components, will be established in Biržai, Panevėžys County, reports BC Invest Lithuania.
29.01.2015
The total turnover of "Galactico" shopping malls in Riga – "Alfa", "Mols", "Dole", "Origo", and "Galerija Centrs" – run by the shopping center developer Linstow Center Management, increased by 4% in 2014 as compared to 2013, Linstow Center Management spokeswoman Evija Majevska informed LETA.
29.01.2015
Following lengthy debates, the Saeima Budget and Finance (Taxation) Committee in Latvia approved in principle a draft bill which sets the microenterprise tax rate at 9% in the first three years since the company's registration, reports LETA.
28.01.2015
According to the preliminary data of Statistics Estonia, the production of milk amounted to 799,300 tons in 2014, which is 4% more than the year earlier. The number of dairy cows decreased by the end of the year, but milk production per cow increased.
28.01.2015
US investors are becoming increasingly interested in Latvian enterprises lately, especially IT companies, according to the international audit, tax, and business advisory company KPMG, reports LETA.
28.01.2015
According to the preliminary data of Statistics Estonia, cereal production was 1,221,600 tons in 2014, which is 25% more than the year before and the biggest cereal production ever recorded in Estonia.