International Internet Magazine. Baltic States news & analytics
Monday, 30.11.2015, 13:35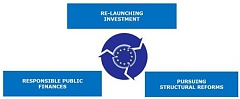 30.11.2015
Commission's initiatives in 2015 were aimed at creating jobs, supporting growth, and reinforcing economic convergence. Most important have been the European Fund for Strategic Investments to finance new development projects, new efforts to advance the banking and capital markets unions together with a new Single Market Strategy and a plan for the Digital Single Market and Energy Union. Member states shall implement these initiatives during 2016.
30.11.2015
Data of the Central Statistical Bureau of Latvia (CSB) show that, compared to September, the total retail trade turnover in October 2015 rose by 1.4%, according to seasonally adjusted data at constant prices. Retail trade in food products grew by 1.0%, and turnover of non-food products – by 1.7%.
30.11.2015
Estonia's Minister of Entrepreneurship Liisa Oviir supports the proposal to unite all state-run business support and development organizations made by the umbrella organization of employers, informs LETA.
30.11.2015
The Estonian Medical Association supports the legislative initiatives by Minister of Health and Labor Jevgeni Ossinovski aimed at restricting the advertising and sale of alcoholic beverages, informs LETA/BNS.
27.11.2015
Statistics Lithuania informs that, based on more comprehensive business, tax and price statistics, in III quarter 2015, GDP at current prices amounted to EUR 10 012.9 million. Compared to the same period of 2014, the real GDP change stood at 1.7% (1) (seasonally and working day unadjusted – 1.7%).
27.11.2015
Latest data compiled by the Central Statistical Bureau (CSB) show that in the 3rd quarter of 2015 the average monthly gross wages and salaries in the country accounted for 829 euros. As compared to the 3rd quarter of 2014, they increased by 7.3%, which is a more rapid growth than in the 1st quarter (6.2%) and second quarter (6.4%)*.
27.11.2015
Statistics Lithuania informs that, based on provisional data, in October 2015, the turnover (VAT excluded) of retail trade enterprises* amounted to EUR 779.6 million; against September 2015, it increased by 2.9% at constant prices (seasonally and working day adjusted – increased by 0.6%).
27.11.2015
Lithuania's agricultural investment company Linas Agro Group saw its consolidated net profit soar by 55% in the first quarter of its 2015-2016 financial year, to 3.464 million euros, from 2.235 million euros a year ago, reports LETA/BNS.
27.11.2015
The Finnish retail group Stockmann has announced it is about to exit the department store business in Russia and sell its department stores there to the Russian franchisee Reviva with the aim of focusing on retail trade in Finland and the Baltic states, informs LETA/BNS.
27.11.2015
Estonian newspaper publishers Postimees and Uhinenud Ajalehed will merge by the end of the year to form a new media enterprise, Postimees Grupp, informs LETA/BNS.
27.11.2015
Impuls LTU, the operator of Lithuania's biggest fitness chain, this week has signed a share purchase agreement with Arctic Sport, the operator of sports clubs in Estonia, reports LETA/BNS.