International Internet Magazine. Baltic States news & analytics
Thursday, 05.05.2016, 07:46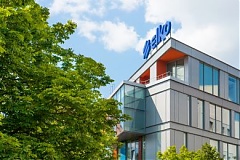 03.05.2016
IT wholesaler Elko Group posted EUR 1.139 billion in turnover in 2015, according to the company's audited consolidated report for 2015, cites LETA.
03.05.2016
From September 1, 2010, when the micro enterprise tax was introduced in Latvia, till May 1, 2016, Latvian authorities have received a total of 77,658 applications from tax payers seeking the status of microenterprise tax payers.
03.05.2016
Latvian pharmaceutical group Grindex in 2015 generated EUR 82.7 million in turnover, down 6.6% year-on-year, informs LETA, according to the audited consolidated financial statements for 2015.
03.05.2016
There are EUR 51.6 million of funding available for Latvia-Lithuania cooperation projects from the European Regional Development Fund (ERDF), the Latvian Ministry for Environment and Regional Development announced LETA.
03.05.2016
Latvia's media advertising market in 2015 rose by 2% to EUR 77.2 million, the Latvian Advertising Association reported LETA.
02.05.2016
New customs rules have just entered into force; they will make life simpler for businesses to trade and better protect consumers against illegal and counterfeit goods. The Union Customs Code (UCC) should be fully implemented by the end of 2020. During the transitional period, the new rules will apply by using existing IT systems and, in some cases, paper forms.
02.05.2016
Latvia's Lattelecom electronic services group closed 2015 with EUR 187.071 million in annual turnover, which declined 0.5% from a year before, while the group's profit rose 6.9% to EUR 32.15 million, reports LETA, according to the company's financial report available in Lursoft business database.
02.05.2016
Latvian pharmaceutical group Olainfarm has posted EUR 15.4 million in net profit for 2015, informs LETA, according to the group's audited consolidated profit and loss statement.
02.05.2016
The listed Estonian clothing company Baltika's consolidated sales revenue from continued operations in April 2016 totaled 4.1 million euros, marking an increase of 3% from the same month last year, informs LETA/BNS.
02.05.2016
During the meeting, Latvian PM Maris Kucinskis highlighted the close bilateral cooperation with Germany by pointing out that Latvia appreciates the active political dialogue and Germany's support for Latvia in defense, economy and education, as well as in other fields. This year marks the 95th anniversary of the establishment of diplomatic relations and 25 years since their restoration after Latvia regained its independence, informed BC the press secretary to the Prime Minister.
02.05.2016
In an interview with LETA, Georgian Foreign Minister Mikheil Janelidze said that Georgia is an excellent place for Latvian entrepreneurs, where they can develop their operations and ensure exports of their goods. He also called on Latvian business representatives to utilize the Georgian market, which has only increased in recent years.