International Internet Magazine. Baltic States news & analytics
Sunday, 20.04.2014, 18:53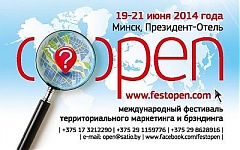 19.04.2014
April is a special month for the organizers of the International territorial marketing and branding Festival OPEN in Minsk – SATIO, Group of Companies. On April 17th our company celebrates its 11th anniversary!
17.04.2014
The consolidated sales revenue of the supermarket business segment – retail chain Selver of the Estonia-based group Tallinna Kaubamaja was 82.4 million euros in the first quarter of 2014, a growth of 3.6% as compared to the same period of the previous year, the company said in a statement, cites LETA.
17.04.2014
The sales revenue of the department store segment of Tallinna Kaubamaja in the first three months of 2014 was 20.6 million euros, a year-over-year growth of 3.2%, the company said in a statement to the Stock Exchange, cites LETA.
16.04.2014
The council of Estonian Public Broadcasting Co (Eesti Rahvusringhääling – ERR) decided on Tuesday to allow board chairman Margus Allikmaa continue in his post and approved of Ainar Ruussaar as a new board member in order to solve a conflict in the organisation that started from Allikmaa's wish to oust ERR's sports department chief, informs LETA.
16.04.2014
As less than 7 month remains until the planned introduction of the euro in Lithuania, more than a half of companies began preparations for the euro changeover, while residents are more passive in preparing for the euro, informs LETA/ELTA.
16.04.2014
Tougher sanctions on Russia would harm the business interests of several companies trading with our Eastern neighbour but companies have taken that into account and the effect on the Estonian economy as a whole should most likely be smaller than in Latvia, where transit and trade relations with Russia are closer, writes Äripäev/LETA.
16.04.2014
Lithuanian citizens, who have signed for land sale ban to foreigners, are being prosecuted. The police are set at them, informed LETA/ELTA, referring to Respublika.
16.04.2014
Heads of state are not panicking because of sanctions imposed by Russia against Lithuania's businesses. According to President Dalia Grybauskaite and Prime Minister Algirdas Butkevicius, Russia itself will feel the negative effect of such step, informs LETA/ELTA.
16.04.2014
Invalda LT, one of the major Lithuanian investment companies, requests to suspend trading of the company's shares on NASDAQ OMX Vilnius Stock Exchange from 23 April 2014 due to the ongoing process of split-off of the Company, the company announced in a press release, cites LETA/ELTA.
16.04.2014
Klaipeda City Municipality councillors, members of the political party the Lithuanian Russian Union are outraged at temporary prohibition to broadcast Russian television channels: First Baltic Channel, NTV Mir and RTR Planeta. They have expressed mistrust in the Radio and Television Commission of Lithuania (LRTK) and the country's justice system, informs LETA/ELTA.
16.04.2014
The Welfare Ministry told LETA yesterday that if the European Union imposes sanctions against Russia, many people in Latvia could lose their jobs, especially those working in the rail and fish processing sectors.