International Internet Magazine. Baltic States news & analytics
Monday, 27.04.2015, 08:35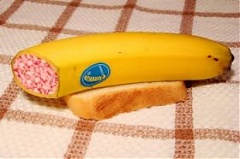 24.04.2015
The Commission's review on the authorisation of Genetically Modified Organisms (GMOs) for food and feed confirms the need for changes by the national governments in accepting the use of EU-authorised GMOs for animal and/or human consumption. The Commission proposes to amend existing EU laws to confer the states more freedom to restrict, prohibit or use of EU-authorised GMOs on their territory.
24.04.2015
Chancellor of the Lithuanian Government Alminas Maciulis met in France with Angel Gurria, Secretary General of the Organisation for Economic Co-operation and Development (OECD). The meeting addressed the OECD Council's invitation to Lithuania to begin OECD accession process, reports LETA/ELTA.
24.04.2015
The Latvian fish processing company Brivais vilnis plans to temporary halt its production in order to carry out maintenance works at the factory, according to the company's announcement submitted to the "Nasdaq" Riga Stock Exchange, reports LETA.
24.04.2015
In the first quarter of 2015, furniture manufacturer AB Vilniaus Baldai posted revenue of EUR 16.5 million, while net profit amounted to EUR 818,000, informs LETA/ELTA.
24.04.2015
Finnish forest industry company UPM announced that it strengthens its position as the leading plywood manufacturer in Europe and expands the Otepää plywood mill in Estonia, reports LETA.
24.04.2015
The city of Tallinn's water utility AS Tallinna Vesi informed the Tallinn Stock Exchange that during the first quarter of 2015, the sales have gone up compared to the same period in 2014, increasing 2.0% to 13.57 million euros, informs LETA.
24.04.2015
On 22-23 April 2015, during the Latvian Presidency of the EU Council, the Latvian Ministry of Agriculture hosted a meeting of the Expert Group on Agriculture, Forestry and Other Land Use (AFOLU) in Riga, reports BC ministry's press service.
24.04.2015
Following amendments to the Microenterprise Tax Law that Latvian Saeima passed in the final reading today, the microenterprise tax will be 9% during a three-year period after a microenterprise is established, informs LETA.
24.04.2015
Despite the Ukraine conflict, German companies continue to believe in the good prospects of the three Baltic markets. Nine out of ten German investors participating in the recent survey of the AHK Baltic States would re-invest in the region, reports BC Invest Lietuva.
24.04.2015
Saeima in Latvian on April 23rd approved of the amendments in the first reading that stipulate higher excise tax rate on alcoholic beverages as of July 1, 2015, informs LETA.
24.04.2015
Dr Jonas Milius, Director of Lithuania's State Food and Veterinary Service (VMVT), says that Norway's salmon consignment which was stuck at the border with Russia and now is returned back to Lithuania should have been checked more carefully in Lithuania, re[orts LETA/ELTA.