International Internet Magazine. Baltic States news & analytics
Friday, 25.07.2014, 04:34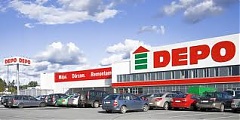 24.07.2014
Construction supplies dealer "Depo DIY" turnover amounted to EUR 151.9 million in 2013, informs NOZARE.LV/LETA reffering to information provided by "Firmas.lv".
24.07.2014
After an outbreak of African swine-fever in one of the largest pig farms in Lithuania, the Food and Veterinary Service has halted the import of several pork product categories, including fresh pork meat, frozen pork, as well as various pork product - sausages, ground pork, packaged pork etc, informs NOZARE.LV/LETA.
23.07.2014
The new board at the joint-stock company "Pasazieru vilciens" (Passenger Train) decided today to halt the procurement of new trains for the company, saying that going on with the procurement deal would be damaging to the company's interests and financial situation, informs LETA.
23.07.2014
Scandinavian company "Orkla" is interested in acquiring the Latvian food production company "NP Foods", reports NOZARE.Lv/LETA reffering to unofficial information obtained by the LNT television channel.
23.07.2014
The 75.4 million euro funding by the European Commission and the Estonian government for buying new trains brought Estonian state-owned passenger train company Elron last year 68.6 million euros of profit, informs LETA reffering to Postimees.
22.07.2014
Prime Minister Laimdota Straujuma (Unity) urges residents not to transport meat outside the territories where African swine fever has been confirmed, informs LETA.
22.07.2014
During the first six months of 2014, retail trade company "Maxima Latvija" turnover decreased as compared to the respective period of 2013, infoms NOZARE.LV/LETA reffering to "Maxima Latvija" spokesman Janis Beseris.
22.07.2014
According to information in the company's annual report, Latvian IT company "Tilde" in 2013 earned EUR 258,757, which is 2.94 times more than in 2012, informs NOZARE.LV/LETA.
21.07.2014
Estonian fashion and retail trade company Baltika informed the Tallinn stock exchange that the group's second-quarter net profit including discontinued operations was 648,000 euros, which is by 24,000 euros better that in the same period last year, informs LETA.
21.07.2014
The Estonian police has found 180 kg of drugs and has launched 573 criminal case procedures in the first half of this year as 28% more drug-related offenses were registered than in the same period last year, reports LETA reffering to Public Broadcasting.
18.07.2014
The EU member states are constantly increasing their integration efforts along EU Single Market. However, as recent European Scoreboard showed, about one third member states (exactly 11 EU countries) performed better than the EU average in areas monitored. The most impressive result was achieved by Estonia and Finland. Whereas on numerous sectors, e.g. on 31 Single Market spheres, the EU member states' performance was below average.