International Internet Magazine. Baltic States news & analytics
Thursday, 24.04.2014, 10:30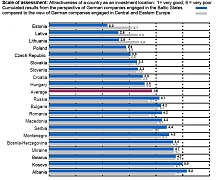 23.04.2014
In the beginning of 2013, the mood among German companies operating in the Baltic States once again is very optimistic, thus carrying forward the trend of the past three years. The favourable economic conditions in the Baltic States and the positive prospects for the future also determine the expectations towards further developments of their turnovers and export activities and therefore let them expect a successful business year 2014, says the Business survey 2014 of the German-Baltic Chamber of Commerce (AHK).
23.04.2014
On April 22, 2014, the Board of the Lithuania-based telecommunications company TEO LT approved unaudited TEO LT consolidated interim financial statements, according to which the total revenue of TEO Group in January-March of 2014 was 169 million litas, a decrease by 7.2% over the total revenue of 183 million litas earned in the first three months of 2013, TEO Group said in a statement, cites LETA.
23.04.2014
The operating profit of Estonia's largest mobile phone operator EMT fell while fixed-line phone, Internet and TV provider Elion's grew in the first quarter, the results of their parent concern TeliaSonera show, LETA/Postimees Online reports.
23.04.2014
79% all Finnish tourists visiting Estonia buy alcohol from Estonia to take back home; they spend an average of 122 euros per buyer for that, a study by TNS Emor indicates, LETA/Postimees Online reports.
23.04.2014
The Riga District Court yesterday fully rejected the claim made by the Culture Ministry, in a dispute for copyright of 973 Soviet movies produced by Rigas Kinostudija, shot during the period from 1964 to May 4, 1990, informs LETA.
23.04.2014
The women's spring-summer collection of renowned Estonian fashion designer Lilli Jahilo, which was recently showcased in Tallinn, focuses on handmade dresses inspired by a Nordic summer, Tallinn Tourism Board said in a statement, cites LETA.
23.04.2014
The most popular movie in Estonian cinemas in 2013 was U.S. movie "Despicable Me 2", which 96,719 people went to see, LETA/Postimees Online reports.
23.04.2014
A companies' awareness and satisfaction study commissioned by the Estonian state-owned foundation Kredex indicates that 64% of Estonian companies have used a loan to finance their activities while among exporting companies, 72% had used a loan, LETA/Postimees Online reports.
22.04.2014
In March 2014, industrial production totalled LTL 5319.0 million at current prices and, compared to February, decreased by 0.7% at constant prices, seasonally adjusted – by 3.6%.
22.04.2014
Prime Minister Algirdas Butkevicius is not happy with how corruption is fought in Lithuania. According to the head of the Government, even though indicators are improving, the progress should commence much faster, informs LETA/ELTA.
22.04.2014
The indebtedness of Estonian companies and households continued to decline last year, Estonia's central bank Eesti Pank said in its fresh financial account statistics, cites LETA.