International Internet Magazine. Baltic States news & analytics
Thursday, 18.10.2018, 21:37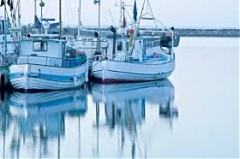 18.10.2018
European Union ministers agreed on Monday (15 October) to sharply boost catch quotas for western Baltic cod as part of new fishing regulations for next year that angered environmentalists.
16.10.2018
The Latvian airline airBaltic has carried 3 168 893 or 18% more passengers during the first nine months of 2018 than in the same period last year to its network spanning Europe, Scandinavia, Russia, CIS and the Middle East. In September 2018, 398 846 passengers or 16% more than last year travelled with airBaltic, informed the company's representative.
15.10.2018
The revenue of the Estonian dairy group Tere AS and Farmi Piimatoostus AS rose 3.2% or 2.6 mln euros on year to 82.2 mln euros in the first nine months of the year, with export making up 20% of it, informs LETA/BNS.
15.10.2018
Limedika, Gintarine Vaistine and Norfos Vaistine, operating one of the largest drugstore chains in Lithuania, have turned to court with a request to order the Competition Council to return information which, they say, is not related to the ongoing probe into competition-restricting agreements, the competition watchdog launched earlier this year, informs LETA/BNS.
15.10.2018
The unaudited consolidated sales revenue of the listed Estonian fish products seller PRFoods decreased by 30.9% on year in September, totaling 5.2 mln euros, informs LETA/BNS.
12.10.2018
Vilnius Factoring Company, a Lithuania-registered factoring services company headed by Italian businessman Renato La Fianza, has unsuccessfully tried to purchase the invoice financing services provider Debitum Fori, the Delfi.lt news website reported on Friday.
12.10.2018
The unaudited consolidated sales revenue of listed Estonian retailer Tallinna Kaubamaja Group in the third quarter of the year was 167.1 mln euros, 3.9% bigger than in the same three-month period of 2017, the retailer told the stock exchange.
11.10.2018
With 53 new projects financed with foreign direct investment (FDI) launched in Latvia in 2017, FDI projects grew 39% from 2016, according to a survey on FDI attraction conducted by Ernst&Young (EY), citing LETA.
11.10.2018
- Saeima today approved amendments to the Labor Law in the second reading, which stipulate that employers have no right to demand their employees to speak foreign languages unless such language skills are necessary in their jobs, informed LETA.
11.10.2018
Provisional data on use of pesticides on cereals, field beans and rape to be harvested in 2017 compiled by the Central Statistical Bureau (CSB) show that, compared to 2012, in 2017 the volume of pesticides1 used on one hectare of cereal cropland reduced by 5.8 % and of that used on one rape hectare by 11.7 %. Last year, 689.3 tonnes of pesticides or 0.98 kg on average per one hectare of sown area were used (1.04 kg in 2012), while rape areas were treated with 159.2 tonnes of pesticides or on average 1.36 kg per hectare of sown area (1.54 kg in 2012).