International Internet Magazine. Baltic States news & analytics
Sunday, 25.02.2018, 05:32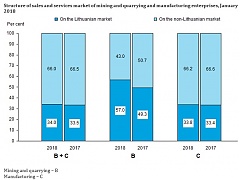 23.02.2018
Statistics Lithuania informs that in January 2018, based on provisional data, industrial production totalled EUR 1.8 billion at current prices and, compared to December 2017, seasonally and calendar adjusted, decreased by 1.1% at constant prices (unadjusted – decreased by 0.9%).
23.02.2018
Yesterday, February 21, Prime Minister Māris Kučinskis addressed more than 200 foreign investors and representatives of international community in Latvia at Radisson Blu Latvia Conference & SPA. Prime Minister gave his view on the growth of Latvian economy, touched upon the recent reforms and expected impact as well as outlined the steps taken to attract more investment, reports BC press service of AmCham.
23.02.2018
Latvian ice-cream maker Rujienas Saldejums in 2018 plans to enter altogether six new sales markets, said the company's CEO, Igors Miezis, cites LETA.
23.02.2018
Lithuanian Foreign Minister Linas Linkevicius criticizes the country's parliament for stalling discussions on the CETA trade pact between the EU and Canada, reports LETA/BNS.
23.02.2018
Lithuanian law-enforcement officials conducting a probe into suspected corruption at one of the country's largest hospitals on Wednesday visited Atea, a company of the Norwegian-owned IT solutions group Atea Baltic, informs LETA/BNS.
22.02.2018
Implementation of the e-health project in Latvia stumbled because of inefficient project management and insufficient supervision from the part of the Health Ministry, said Chief Auditor Elita Krumina at a joint meeting of Saeima committees on February 21st, informs LETA.
22.02.2018
To introduce British readers to Latvian literature, the English translations of 34 books by Latvian authors will be published in the UK ahead of this the London Book Fair, which this year will take place from April 10 to 12, Inga Bodnarjuka-Mrazauskas, the head of Latvian Literature platform, said at a news conference on February 21st, cites LETA.
22.02.2018
HKScan Latvia meatpacker today launched a new production line at its plant in Jelgava, central Latvia, which will be making ten types of pelmeni or Russian-style dumplings, reports LETA.
22.02.2018
Some 49% of businessmen in Lithuania are happy with the business building conditions in the country, while 38% say the conditions are unsatisfactory, shows a survey of businessmen conducted by exports promotion agency Enterprise Lithuania, cites LETA/BNS.
22.02.2018
The Lithuanian law-enforcement said on February 21st it was conducting a probe into large-scale corruption allegations in the Vilnius University's Santaros Clinic, reports LETA/BNS.
22.02.2018
Orkla Confectionery & Snacks Latvija, the producer of Laima, Selga, Staburadze and Adazu Cipsi brand products, will invest more than EUR 1 million in a potato chips transportation and packaging line, writes LETA, according to information available on the Public Procurement Monitoring Bureau's website.