International Internet Magazine. Baltic States news & analytics
Tuesday, 21.10.2014, 08:21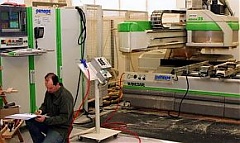 20.10.2014
According to Statistics Estonia, in September 2014, the producer price index of industrial output changed by 0.2% compared to August 2014 and by -2.0% compared to September 2013.
20.10.2014
Based on preliminary unaudited data, in the first half of 2014, normalised earnings of state-owned enterprises (SOE) in Lithuania totalled LTL 262.8 million (EUR 76.1 million), by 1.2% more year-on-year, informs LETA/ELTA.
20.10.2014
AB Kauno Grudai instant noodles City Taste won an innovative product award at SIAL 2014 international food industry and beverages exhibition in Paris, informs LETA/ELTA.
20.10.2014
Lithuanian and Kazakh representatives agreed over more active co-operation in order to boost cargo volumes transported between the two countries, including co-ordinated actions seeking to attract transit cargo from China, informs LETA.
20.10.2014
The Food Bank (Maisto Bankas) campaign in Lithuania which took place on Friday and Saturday saw record high contributions, the organisers say.
20.10.2014
Russia has decided to extend the range of meat products that may not be imported from the European Union, as the Russian Federal Service for Veterinary and Phytosanitary Surveillance Service Rosselkhoznadzor announced on Saturday, noting that several dangerous beef by-products would not be imported in Russia from October 21, reports LETA/NEWSRU.COM.
20.10.2014
During a meeting on October 17th with Chinese Premier Li Keqiang on the sidelines of the EU-Asia Summit, President Andris Berzins proposed to expand the scope of economic cooperation, as well as strengthen cooperation in transportation and logistics, as well as in food exports, LETA was informed by the Presidential Press Service.
20.10.2014
Prime Minister of Lithuania Algirdas Butkevicius attended the 10th Summit of the Asia-Europe Meeting (ASEM) in Italy. Together with other representatives of Nordic and Baltic countries he met with the Japanese Prime Minister Shinzo Abe, informs LETA/ELTA.
20.10.2014
Latvijas Mobilais Telefons (LMT) turnover reached EUR 123 million in the first three quarters of this year; the company's EBITDA reached EUR 38 million, LMT spokeswoman Elina Lidere informed the business portal Nozare.lv, cites LETA.
19.10.2014
State Culture Capital Foundation (SCCF) in the second stage of its culture program "Latvian Original Music" contest has distributed EUR 27,150, as Jana Verdina, spokeswoman of the SCCF, informed LETA.
17.10.2014
In order to consolidate business management in the Baltics, a decision was made to establish a new holding company – Amber Beverage Group – that would unify the international alcoholic beverage company SPI Group companies, including Latvijas Balzams, the company's spokeswoman Dana Hasana informed the business portal Nozare.lv, cites LETA.