International Internet Magazine. Baltic States news & analytics
Tuesday, 26.05.2015, 02:30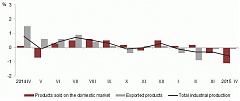 25.05.2015
According to the data of the Central Statistical Bureau of Latvia (CSB) compared to March level of producer prices in the Latvian industry in April 2015 dropped by 0.1%. Level of prices of products sold on the domestic market did not change.
22.05.2015
In Riga, President Dalia Grybauskaite together with other EU leaders and representatives of the Eastern Partnership countries outlined further guidelines for the EU's Eastern Partnership policy. The participants underlined that this policy was based on common interests and obligations to strengthen democracy, reaffirm the rule of law principle, promote human rights and fundamental freedoms as well as the norms and principles of international law.
22.05.2015
Employment will be growing slowly in Latvia in 2015, with the total number of employed persons increasing just 0.2%, the Economy Ministry says in its latest report "On the Macroeconomic Situation in the Country", informs LETA.
22.05.2015
According to a rough draft of the EaP Riga Summit Declaration /Communique/ that LETA has seen, the participating states intend to state their resolve to heighten the "business dimension" of the Partnership, and improve the mutual business environment to benefit "local, regional, Europe's small and midsize companies."
22.05.2015
The International Women's Media Foundation (IWMF) is proud to announce the 2015 Courage in Journalism and Lifetime Achievement Award winners: Mwape Kumwenda, a reporter for Muvi Television in Zambia; Anna Nemtsova, a contributor for The Daily Beast and Newsweek in Russia; Lourdes Ramírez, a freelance journalist in Honduras; and Linda Deutsch, a special correspondent and trial reporter (retired) for the Associated Press, reports BC IWMF.
21.05.2015
55% companies in Latvia are planning to invest in their business in 2015, according to a survey carried out by Swedbank. 29% of companies are planning no investments, and 16% have not decided yet, reports LETA.
21.05.2015
Statistics Lithuania informs that in April 2015 industrial production totalled EUR 1.55 billion at current prices and, compared to March, decreased by 2% at constant prices, seasonally and working day adjusted – increased by 3.4%. In January–April 2015, industrial production totalled EUR 6.0 billion at current prices and compared to the same period of 2014, grew by 3.6%.
21.05.2015
Latvia's gross domestic product may grow 2% in 2015, and inflation may reach 0.5%, the Economy Ministry predicts, cites LETA.
21.05.2015
The American IT company Hewlett-Packard (HP) has begun the liquidation process of its Latvian subsidiary, reports LETA, according to Firmas.lv information.
21.05.2015
From 1 October 2015, amendments to the Law on Provision of Information to the Public will enter into force. Lithuanian MPs adjusted the law taking into account changes of security situation, reports LETA/ELTA.
21.05.2015
The Health Ministry in Latvia has proposed banning tobacco products from being displayed in clear view at shops selling them, reports LETA.