International Internet Magazine. Baltic States news & analytics
Tuesday, 26.09.2017, 15:59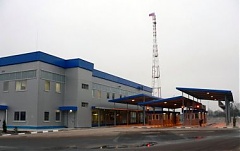 26.09.2017
Officials of the Latvian Transport Ministry are visiting the western Russian city of Pskov this week to discuss cooperation in the development of the East-West Transport Corridor and border crossing points, LETA was told at the ministry.
26.09.2017
The Swedish-owned Latvian potato starch maker Aloja Starkelsen plans to invest EUR 600,000 in construction of a new warehouse and development of the territory, informs LETA, according to information published on the Internet website of the Procurement Supervision Bureau.
26.09.2017
The majority Latvian employees attend conferences or training or meet with clients and partners during their business trips, but more often they choose to combine business trip with leisure, writes LETA, according to a poll conducted by Baltic Travel Group tourism agency and Russian airline Aeroflot.
25.09.2017
European Investment Bank "patronises" social innovation since 2012; the EIB's Institute arranges competition among European researchers with the primary purpose of generating social, ethical or/and environmental impact. Fifteen finalists' projects were assessed in Riga and revealed great potentials of untapped social innovation now being available in the EU and around the world.
25.09.2017
People tried on competition related charges in a case centered on the Tallinn-based alcohol producer Liviko will escape sentences as the court at the end of last week terminated criminal proceedings with regard to them due to lack of public interest, reports LETA/BNS.
25.09.2017
The owner of Multikino multiplex cinemas operated at Riga Plaza last year posted EUR 3.29 million in sales, up 12.2% from a year ago, while the company's profit rose 53.2% to EUR 698,633, informs LETA, according to Firmas.lv business database.
25.09.2017
The organization of public procurements greater in value than the international threshold has improved significantly in Estonia over the past two years and has been rated as one of the best among EU member states, it appears from the Single Market Scoreboard published by the European Commission, informs LETA/BNS.
25.09.2017
Foreign Minister Edgars Rinkevics (Unity) has called on Mexico to step up economic and educational cooperation with Latvia, LETA was told at the Latvian Foreign Ministry.
25.09.2017
Maltese company Premier Capital Plc (Premier Capital), the developmental licencee for McDonald's in six countries, is implementing a EUR 10 million worth investments program, LETA learned from the company representatives.
25.09.2017
About 50% of security firms in Latvia pay minimum or even lower wages to their employees, said State Revenue Service deputy director Dace Peleka at the Saeima defense, interior affairs and corruption prevention committee meeting on September 22nd, cites LETA.
22.09.2017
Provisional data of the Farm Structure Survey 2016 compiled by the Central Statistical Bureau (CSB) show that, in 2016 the average size of agricultural holding constituted 43.2 ha, which is 15.5% more than in 2013 when the average land area per holding accounted for 37.4 ha. The total standard output (SO) (1) has risen by 24.5%, nevertheless the number of economically active farms has reduced by 14.5%.