International Internet Magazine. Baltic States news & analytics
Tuesday, 28.06.2016, 01:05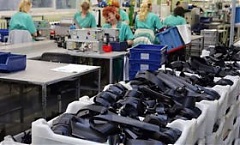 27.06.2016
The Estonian car safety equipment manufacturer Norma, a holding of the Swedish Autoliv, increased sales by 7% to 68.7 million euros in 2015 and its profit by 2.3-fold to 4.2 million euros, it can be seen from the company's annual report, cites LETA/BNS.
27.06.2016
In addition to CEO of the North Estonia Medical Center (PERH), Tonis Allik, who resigned on June 15 the hospital's board has also limited the powers of PERH's IT director Marko Kilk and catering chief Anu Vahi who also stand suspected of embezzlement, informs LETA/BNS.
27.06.2016
The Riga Zoo received 336,190 visitors in 2015, which is the highest annual number of visitors since 2009, reports LETA, according to the zoological garden's annual report for 2015.
27.06.2016
Lithuania's frozen fish and other product distributor Viciunai ir Ko is targeting sales of 129 million euros in 2016 after posting a 1.5% rise in revenue to 114.443 million euros for 2015, up from 112.773 million euros in 2014, informs LETA/BNS.
27.06.2016
Great Britain's decision to depart from the European Union (EU) is expected to briefly cause some disarray in Latvian-British business relations, Guntis Rubins, the head of the Latvian Investment and Development Agency's representation in the UK, predicted, cites LETA.
27.06.2016
Three of five biggest Lithuania's e-commerce companies, which have only online presence, generate losses while the remaining two, which are also the largest among those five, operate in the black, the Verslo Zinios business daily reports on June 23rd, cites LETA/BNS.
27.06.2016
There were 807.29 million cigarettes exported from Latvia to other countries in January-April 2016, which is a 41.63% rise from the same period in 2015, informs LETA, according to the information about excised goods released by the Latvian State Revenue Service.
23.06.2016
There are presently two global initiatives of cities and local governments combating destructive climate change while striving for sustainable energy: the EU Covenant of Mayors and the Compact of Mayors. They announced the formation of a new, first-of-its-kind initiative – Global Covenant of Mayors for climate and energy.
22.06.2016
Statistics Lithuania informs that in May 2016 industrial production totalled EUR 1.5 billion at current prices and, compared to April, seasonally and calendar adjusted, increased by 3.8% at constant prices (seasonally and calendar unadjusted – 8.1%). In May 2016, against May 2015, calendar adjusted, industrial production decreased by 0.2%.
22.06.2016
Present agreement among EU member states shows common approach towards far-reaching new rules to eliminate the most common corporate tax avoidance practices. It follows the agreement among OECD countries on recommendations to limit tax base erosion and profit shifting (BEPS).
22.06.2016
The Tallinn city government has initiated a procedure to prepare a detailed plan for the plots at Narva Road 129 and 129b and nearby areas where the city's new main hospital complex is about to be built, informs LETA/BNS.