International Internet Magazine. Baltic States news & analytics
Thursday, 04.06.2020, 08:21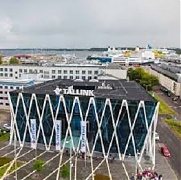 03.06.2020
The listed Estonian shipper Tallink Grupp is to lay off up to 190 employees in Estonia, the redundancies mainly concern service personnel on Tallink vessels, informed LETA/BNS.
03.06.2020
Data compiled by the Central Statistical Bureau (CSB) show that,compared to April 2019, in April 2020, industrial production output1 dropped by 9.2% (according to calendar adjusted data at constant prices). The decline was due to the output reduction in manufacturing (of 9%), mining and quarrying (8.7%), as well as electricity and gas supply (10.8%).
03.06.2020
One of the highest national decorations of Estonia, the Order of Merit of the Cross of Terra Mariana, Collar Class, has been put up for auction at Bukowskis auction house in Helsinki, Postimees reported on JUne 3rd, cites LETA/BNS.
03.06.2020
Mestilla, a biodiesel manufacturer operating in the Klaipeda Free Economic Zone, plans to start making biofuel out of used cooking oil (UCO) collected in Lithuania, starting by the end of 2021. This is the company's way to contribute towards a cleaner environment, circular economy, and the reduction of imported fossil fuel dependency. Around 6 mln EUR will be invested in the project.
03.06.2020
Swish pharmaceutical company Alpen Pharma has established a company in Lithuania, reports LETA/BNS.
03.06.2020
Latvia's Clean R waste management company closed 2019 with EUR 43.788 mln in turnover, an increase of 31.2 % against a year before, while the company's profit contracted 12.2% to EUR 3.077 mln, according to information available at Firmas.lv writes LETA.
02.06.2020
The State Police on Tuesday released businessman Igors Ivanovs who had been arrested as a suspect in the criminal case on organization of an alleged murder of lawyer Alla Jurasa. Ivanovs' lawyer Janis Davidovics told LETA that restrictive measures unrelated with deprivation of liberty have been imposed on him.
02.06.2020
The Cabinet of Ministers on June 2nd in Latvia decided to redistribute EUR 600 million for different initiatives of ministries, including 103.2 million to be allocated for health care infrastructure projects, informs LETA.
02.06.2020
According to Statistics Estonia, in April 2020, the production of industrial enterprises decreased by 17% compared to April 2019. Production decreased in all three industrial activities: manufacturing, energy production and mining.
02.06.2020
Mirka's new patent-pending solution for smartphone refurbishing, Remint™, removes cosmetic flaws in minutes, restoring uniform gloss on chemically hardened glass in a low-cost and environmentally sound process, informed ins/industrial news service.
02.06.2020
The coronavirus crisis is predominantly a crisis in public finances, and the causes thereof lie partially in uncontrolled growth of health care and social expenditure stemming from demographic ageing, informs LETA, according to Hardo Pajula, professor of free economic though at Estonian Business School (EBS).