International Internet Magazine. Baltic States news & analytics
Monday, 17.06.2019, 00:23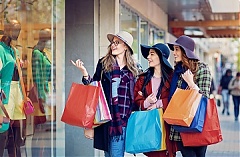 14.06.2019
According to the data summarized by the Tax Free Shopping concept creator Global Blue, during the last 20 years, tourists from 179 countries have done shopping in Latvia, making more than 520,000 purchases in our shops, informed Global Blue representative.
12.06.2019
The Rimi retail chain plans to launch its online trade in the Baltic states by 2020, Gustav Fernstrom, marketing and business development director at Rimi says LETA/BNS.
11.06.2019
Cidos Grupa beverages company has become the sole owner of Bauskas Alus brewery, representatives of the companies reported LETA.
11.06.2019
The Tallinn-based Harju County Court enforced its May decision ordering Terve Pere Apteek OU, owner of pharmacies of the Apotheka brand, to immediately vacate the premises it used at the North Estonia Medical Center (PERH) and compensate for the damage caused by the illegal occupation of the premises, according to the news portal of public broadcaster ERR reports LETA/BNS.
10.06.2019
Troja, a subsidiary of the largest Latvian wood processing company Latvijas Finieris (Latvian Veneer), turned over EUR 26.073 mln in 2018, up 12.3 % against a year before, while the company's profit contracted 46 % to EUR 524,657, according to information available at Firmas.lv writes LETA.
10.06.2019
Businessmen from Lithuania's port of Klaipeda, who win state tenders in Russia, also receive orders from Lithuania's strategic companies and the army, the investigation team from Lithuania's public broadcaster LRT has discovered, referred LETA/BNS.
10.06.2019
INVL Baltic Sea Growth Fund, a private capital investment fund managed by INVL Asset Management, one of the largest asset management groups in the Baltic states, will invest up to 30 mln euros into Grigeo cardboard business, a leading paper and wood industry company for the Baltic region, reported LETA/BNS,
10.06.2019
Bakery Latvijas Maiznieks launched sales in Norway, Sweden and Finland in May, as the company's board member Maris Daude told LETA.
07.06.2019
Amber Beverage Group (ABG) reported a 15% global net revenue increase in fiscal year 2018. This was achieved by continuous expansion and development of ABG making it a truly global player in the production, distribution, retail sales and logistics of alcoholic beverages.
07.06.2019
Tallinn-based aircraft maintenance company Magnetic MRO informed the stock exchange on Thursday that it has reached an agreement with investors to raise additional capital in the amount of up to 8.95 mln euros, informed LETA/BNS.