International Internet Magazine. Baltic States news & analytics
Wednesday, 22.11.2017, 07:35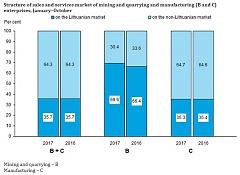 22.11.2017
Statistics Lithuania informs that in October 2017, based on provisional data, industrial production totalled EUR 1.79 billion at current prices and, compared to September, seasonally and calendar adjusted, decreased by 1% at constant prices (unadjusted – increased by 2.2%).
21.11.2017
Lithuania climbed to 18th place, from 27th a year ago, among 190 countries across the globe in terms of the ease of paying taxes, according to the latest study by PwC and the World Bank Group. Lithuania, however, is outperformed by both Latvia, ranked at number 13 in the Paying Taxes 2018 report, and by Estonia, at number 14, reports LETA/BNS.
21.11.2017
The architectural competition for the building of the German global discount supermarket chain Lidl to be built in Narva, the largest city in northeastern Estonia, was won by the entry of the firm of architects Molumba titled "Blue Velvet," regional newspaper Pohjarannik said, cites LETA/BNS.
21.11.2017
SEB has raised its 2017 economic growth estimate on Estonia to 4.1% and its 2018 estimate to 3.3%, writes LETA/BNS.
21.11.2017
Media group All Media Baltics (AM Baltics) has signed a long-term agreement with global technology company Encompass Digital Media (Encompass) on the delivery to the media group's TV content, Laima Kristapsone, a representative of All Media Latvia (AM Larvia), told LETA.
21.11.2017
ECEPR just released the report "The Geography of Europe's Brain Business Jobs" by Dr. Nima Sanandaji and Prof. Stefan Fölster. The report is financed by the investment firm Nordic Capital.
21.11.2017
Turnover of Latvia's IT wholesaler Elko Grupa in the first nine months of this year was EUR 955.031 million, which is by 13.6% more than in the respective period last year, while the concern's profit rose 11.3% to EUR 6.364 million, writes LETA, according to the company's statement to the Nasdaq Riga stock exchange.
21.11.2017
According to Statistics Estonia, in October 2017, the producer price index of industrial output changed by 0.4% compared to September and by 3.7% compared to October 2016.
21.11.2017
The Latvian Foreign Ministry hopes that the Comprehensive and Enhanced Partnership Agreement (CEPA) between the EU, the European Nuclear Society, its member states and Armenia will improve Latvia's exports to Armenia, reports LETA.
21.11.2017
The Tartu administrative court has satisfied the notice of appeal of Terve Pere Apteek OU operating under the Apotheka brand and revoked the decision of Estonian Agency of Medicines according to which Apotheka's activity license in its pharmacy branch at the North Estonia Medical Center (PERH) was partly suspended, informs LETA/BNS.
20.11.2017
Three citizens of Latvia, including a ship master, were detained at the port of Riga on November 17thor involvement in large-scale smuggling, Kristine Petersone, a representative of the State Border Guard, told LETA.