International Internet Magazine. Baltic States news & analytics
Monday, 03.08.2015, 13:37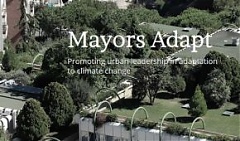 03.08.2015
Only one municipality in Latvia has joined the European Commission's initiative "Mayors Adapt", the aim of which is to urge cities to adapt to climate change, the Union of Municipalities of Latvia told LETA.
03.08.2015
In the first half of the year 2015, the officers of the Lithuanian Customs detained smuggled and illegally carried goods worth over EUR 20 million, reports LETA/ELTA.
03.08.2015
During a meeting with farmers operating in the dairy industry on July 31st, Latvian president Raimonds Vejonis said that in such times of crisis milk producers and dairy companies must also focus on niche products, as well be able to work closer together by analyzing what is happening within the dairy sector., reports LETA.
03.08.2015
The Food and Veterinary Service has announced an African swine fever quarantine in several counties in Vilaka and Gulbene regions, informs LETA, according to an announcement in the government's official newspaper Latvijas Vestnesis.
02.08.2015
Rezekne Mayor Aleksandrs Bartasevics (Harmony Center) believes that the second largest city in Latgale Province will be unable to accommodate refugees, as Rezekne City Council informed LETA.
01.08.2015
On 30 July 2015, the State Plant Service under the Ministry of Agriculture of Lithuania received a note from the Russian food safety supervising authority Rosselkhoznadzor where Russia asks the Plant Service to temporarily suspend phytosanitary certification of flowers grown in the Netherlands because harmful organisms were allegedly found in flowers brought from Lithuania, writes LETA/ELTA.
31.07.2015
The Lithuanian government is seeking to appoint technical, financial and legal advisers to assist in the development and implementation of Lithuanian airports concession project. Therefore, a public consultation regarding the advisory services for the concessions project has been announced, reported BC chief project manager for PPP Irmantas Butkauskas.
31.07.2015
The Justice Ministry in Latvia is suggesting to raise the fine for wages paid under the table to EUR 2,100, informs LETA.
31.07.2015
Estonia's central bank Eesti Pank announced that changes to the Eesti Pank Act came into force on 19 May 2014 giving the central bank a clearer mandate than before to act as a macroprudential authority in Estonia, informs LETA.
31.07.2015
At his meeting with representatives of the Estonian Service Industry Association on July 28th, Prime Minister Taavi Rõivas said that the Government is firmly committed to developing both the business environment and competitiveness, and that he greatly appreciates the support of entrepreneurs and their willingness to engage in the process, reports BC governmental press service.
31.07.2015
The European Commission is aware of the challenges faced by EU's agro-producers and is expected to provide assistance. EU farmers will get support for dairy, fruit and vegetables sectors affected by the Russian ban: safety measures will be extended into 2016.