International Internet Magazine. Baltic States news & analytics
Sunday, 11.12.2016, 15:52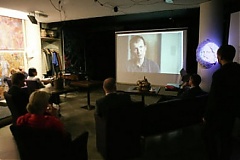 06.12.2016
On the 30th November Latvian mass media published information that the film by the Polish director Andrzej Tarkowski-Kiliszewski "Attempt on the State. Inconvenient Vashkevich" which is based on the book by the entrepreneur Inara Vilkaste is deemed to be plagiarism. The Director of the documentary immediately submitted an application to the Prosecutor's Office of Warsaw.
12.11.2016
Inspectors of the Food and Veterinary Service have found the highly dangerous verotoxigenic strain of E. Coli bacteria in sausages made by Lithuanian meatpacking company Biovela UAB Mesos Perdirbimo Pagalynos (Biovela), reports LETA.
11.11.2016
One of the dealerships for premium automobiles in Latvia uses a criminal scheme to evade taxes and defraud the state, reports LETA according to newspaper Natkariga writes today. The unnamed dealership, however, claims that this is entirely not true.
03.11.2016
Film – Shock, Revelation and Warning! Disbelief, astonishment, terror - these emotions are felt by each viewer of a documentary by the Polish director and screenwriter Andrzej Tarkowski-Kiliszewski, which is based on the book by Inara Vilkaste "Attempted state. Inconvenient Vashkevich". Members of the European Parliament, to whom this film was recently screened, were no exception.
03.11.2016
Finance Minister Dana Reizniece-Ozola (Greens/Farmers) has nominated Ilze Cirule, who has extensive work experience in insurance business, for the vacant post of the State Revenue Service's director-general, informed LETA.
03.11.2016
Lithuania's fertilizer producer Achema, the country's single largest natural gas consumer, has appealed the European Commission's decision to authorize state aid to the Klaipeda liquefied natural gas (LNG) terminal to the EU General Court, writes LETA/BNS.
28.10.2016
one of the candidates competing for the post of the Corruption Prevention Bureau's (KNAB) head has been selected for the second round of the tender, State Chancellery director Martins Krievins, who chairs the panel assessing the candidates, told journalists today.
27.10.2016
he Indian Cabinet has given its approval for signing and ratification of an agreement between India and Estonia on the transfer of sentenced persons, the Business Standard reported on Thursday, reports LETA/BNS.
27.10.2016
A Vilnius court has given the green light to the state energy group Lietuvos Energija (Lithuanian Energy) to continue the construction of a new biomass and waste-fired cogeneration plant in the capital, reports LETA/BNS.
27.10.2016
The Commission Work Programme for 2017 (CWP-17) is the third on a row of "delivery attempts" on 10 priorities outlined in the initial Political Guidelines from July 2014. CWP follows European main challenges in 21 key initiatives and 18 REFIT proposals to evaluate, review and simplify EU legislation. Commission will contribute to preparation for the 60th anniversary of the Treaties of Rome in March 2017.
26.10.2016
The Competition Council has imposed a fine of EUR 1.6 million on Knauf building materials distributor and Poland's Norgips, the parent company of Norgips, which also belongs to the Knauf Group, the council informed LETA.