International Internet Magazine. Baltic States news & analytics
Friday, 31.10.2014, 14:03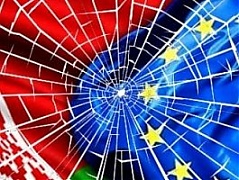 31.10.2014
The extension of European Union sanctions by another years against Belarus was an expected decision, Foreign Ministry press secretary Karlis Eihenbaums told LETA.
31.10.2014
Having analysed the results of financial (regularity) audits completed in 2014, the National Audit Office in Lithuania (NAO) summed up the most common errors and irregularities made in the public sector, informs LETA/ELTA.
31.10.2014
Since only one person is currently a candidate to become a Privatization Agency (PA) board member, but two board member signatures are need to sign the Citadele sales agreement, today's planned signing of the sales agreement to the U.S. fund Ripplewood will not go ahead, reports LETA.
31.10.2014
The shareholders of Tallinn Stock Exchange-listed company Premia Foods approved at an extraordinary general meeting on Thursday of selling the ice cream and cold products business of Premia Foods to Latvian Food Union group owner Andrey Beskhmelnitskiy, LETA/Postimees Online reports.
31.10.2014
A petition has been initiated on the online petition platform Manabalss.lv in order to change the electoral system in Latvia, informs LETA.
31.10.2014
About 20-30 people, concerned about the commercialization of Riga's Lucavsala Island, gathered with placards again yesterday in downtown Riga, reports LETA.
30.10.2014
Today, Latvian Minister of Culture Dace Melbarde and the council members of the long-discussed Museum of Contemporary Art in Riga – Inara Tetereva, Boriss Teterevs, Ernests Bernis and Olegs Fils, signed an agreement of construction for the complex, be located in an uptown area between Hanza, Pulkveza Brieza, and Skanstes Streets, reports LETA.
30.10.2014
Saeima decided in the final reading today to pass the Development Finance Institution Law that was proposed by the Finance Ministry, informs LETA.
30.10.2014
Saeima of Latvia decided today to reject the motion to increase monthly salaries for Cabinet ministers, informs LETA.
30.10.2014
Saeima in Latvia decided in the final reading today to pass amendments to the law that stipulate that a non-smoker's right to clean, unpolluted air, just as the right to be free from risks of ailments, take priority over the interests of those who smoke, informs LETA.
30.10.2014
The Latvian Privatization Agency board has resigned due to the Citadele Bank deal.