International Internet Magazine. Baltic States news & analytics
Sunday, 19.04.2015, 13:58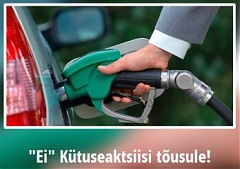 17.04.2015
Nearly 54,000 people in Estonia have joined the initiative "Say "no" to fuel excise tax increase!" in the Facebook and the organisers plan to hold a public meeting on May 6, 2015 in front of the Estonian parliament building, LETA/Public Broadcasting reports.
17.04.2015
On 16 April in The Hague, the Latvian Foreign Minister Edgars Rinkevics met with the President of the International Criminal Court (ICC), Silvia Fernandez de Gurmendi, and the ICC Registrar, Herman von Hebel, reports BC the Latvian MFA.
17.04.2015
The worst speeding violation recorded yesterday was 162 kilometers per hour, as the State Police informed LETA.
17.04.2015
Within the informal meeting held on 15-16 April in Riga, the EU Energy Ministers held a high-level debate on two important dimensions of the Energy Union – energy efficiency issues, with particular reference to the heating and cooling sector, and on regional cooperation in the energy sector, reported BC the portal eu2015.lv.
17.04.2015
German Foreign Minister Frank-Walter Steinmeier, who arrived on Estonia Thursday evening to discuss acute European Union topics and the security situation in Europe with Estonian leaders, said in an interview to Estonian Public Broadcasting (ERR) that conflict parties must be forced to respect agreements such as the Minsk ceasefire agreement, reports LETA.
17.04.2015
On 15 April 2015, Seimas Deputy Speaker in Lithuania Gediminas Kirkilas met with Irish Ambassador to Lithuania David Robert Noonan, reports LETA/ELTA.
17.04.2015
Major timber processors claim that they will stop the planned investments in Lithuania and perhaps direct them to neighbouring Poland and Belarus, reports LETA/ELTA, referring to Lietuvos zinios.
17.04.2015
The Prosecutor General's Office in Latvia has opened a criminal case to determine what and who exactly was behind Latvia's non-participation in "Expo Milano 2015", but spending over EUR 1 million for it, informs LETA.
17.04.2015
Seimas political group of the Liberal Movement in Lithuania has called for a parliamentary resolution, which would allow holding a dual citizenship referendum in Lithuania along with parliamentary election in 2016, informs LETA/ELTA.
17.04.2015
The Estonian government approved on Thursday the action plan, submitted by the Government Office and prepared according to the guidelines of the prime minister for fulfilling the priority objectives of the government for the first 100 days in office, reports LETA the government communication unit.
17.04.2015
On 16 April in Vilnius, Minister of Foreign Affairs of Lithuania Linas Linkevicius in a meeting with German Federal Minister for Foreign Affairs Frank-Walter Steinmeier discussed strengthening bilateral partnership, armed aggression against Ukraine, relations with Russia, the EU's Eastern Neighbourhood, energy and information security issues, reports BC the MFA.