International Internet Magazine. Baltic States news & analytics
Thursday, 05.03.2015, 13:55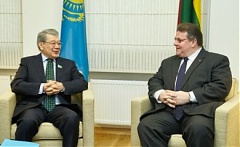 05.03.2015
On 4 March 2015, Linas Linkevicius, Lithuanian Minister of Foreign Affairs, met in Vilnius with Ambassador Ikram Adyrbekov, Senator of the Kazakh Parliament and Special Envoy of the President on the UN Security Council. Bilateral cooperation between Lithuania and Kazakhstan at the United Nations and within other international organizations and institutions were discussed at the meeting, reported BC Lithuanian MFA.
05.03.2015
Saeima will possibly have to allot EUR 1 million more from the state budget to make the feature film "Dveselu putenis" ("Blizzard of Souls"), based on Aleksandrs Grins' 1933 novel of the same name, as the film's director and producer, Dzintars Dreibergs, told Saeima Education, Culture and Science Committee yesterday, cites LETA.
05.03.2015
The United Nations High Commissioner for Human Rights Zeid Ra'ad Al-Hussein said during a meeting with Foreign Minister Edgars Rinkevics yesterday that he was satisfied with the situation with ethnic minorities and non-citizens in Latvia, informs LETA.
05.03.2015
Minister of Justice Juozas Bernatonis is paying a visit to Georgia where he met with Prime Minister Irakli Garibashvili and Justice Minister Thea Tsulukiani. During the visit Bernatonis welcomed Georgia's strive to follow the path of eurointegration. He shared Lithuania's experience in the area of legislation and discussed bilateral cooperation, informs LETA/ELTA.
05.03.2015
During a visit this week to Belarus, Interior Minister Rihards Kozlovskis (Unity) signed a cooperation protocol with Belarus Interior Minister Igor Shunevich to strengthen bilateral cooperation in fighting crime, LETA was informed by the Interior Ministry.
04.03.2015
In an interview with the Lithuanian news portal Delfi.lt, former Georgian President Mikheil Saakashvili said that, in the event of war, the Baltics lack the strategic advantages held by Ukraine, reports BNS/LETA.
04.03.2015
The plan of the Tallinn city government to ban the retail sales of alcohol on Sundays will be postponed because two alcohol retail companies have disputed the city government's decree in court and seek legal protection, LETA/Public Broadcasting reports.
04.03.2015
Banking sector is an important contributor to jobs and growth in the EU through the support for SMEs. The sector already provides in the EU-28 about €4 trillion in loans, a big share of which goes to SMEs. In some of the states, the sector's share in SMEs' lending is about 30-40%. Seeking to rebuild Europe's economy, this channel of funding shall be supported and developed.
04.03.2015
Latvian Information and Communication Technology Association is hosting leaders of Estonian and Azerbaijan e-governance institutions to discuss challenges their countries are facing in developing e-governance in Riga on 4-5 March, 2015.
04.03.2015
Estonia's central bank Eesti Pank announced on Wednesday that three requirements for commercial banks issuing housing loans start to apply from this week; they are a precautionary measure by Eesti Pank to reduce the risks of a lending bubble inflating in the future, reports LETA.
04.03.2015
The Cooperation Council between the European Union (EU) and Kazakhstan held its fourteenth meeting on Tuesday, 3 March 2015. The meeting was chaired by the Minister of Foreign Affairs of the Republic of Kazakhstan, Mr Erlan Idrissov. The delegation of the EU was led by Mr Edgars Rinkevics, Minister of Foreign Affairs of the Republic of Latvia, reports BC the Latvian MFA.