International Internet Magazine. Baltic States news & analytics
Monday, 02.03.2015, 05:32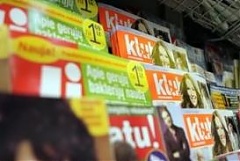 27.02.2015
Estonian media company AS Ekspress Grupp announced that the year 2014 was a successful year for it: in year-on-year comparison, the consolidated EBITDA of the group increased by 22% to almost EUR 9 million and consolidated net profit was 30% higher and amounted to EUR 4.6 million, informs LETA.
27.02.2015
Joint-stock Latvian grain processing company Rigas dzirnavnieks turnover last financial year 2014 amounted to EUR 22.2 million as the company diversified exports, focusing on the Near East region, LETA learned at the company.
26.02.2015
For the 6th year in a row, Lithuania retained its leading position in Europe in terms of the fibre-optic (FTTH) Internet network penetration in 2014. According to the global ranking, Lithuania comes in the 8th place, the annual report of the FTTH Council Europe shows, cites LETA/ELTA.
26.02.2015
Latvia will have access to EUR 30 million of the European Union's funds in 2014-2020 for the purpose of improving the country's export performance, the Economy Ministry informed LETA.
26.02.2015
The route from Lithuania's capital Vilnius to Trakai, the country's picturesque historic centre, is already dotted with high-tech production units that have sprung up along the road. Joining them is a state of the art facility that will produce up to 4,000 spectacle lenses every day, reports BC Invest Lithuania.
26.02.2015
The joint-stock metallurgical company KVV Liepajas metalurgs, which was bought by Ukraine's KVV Group in October 2014, has produced first batch of steel bars – 5,000 tons; the company is planning to export them to Algeria in March, as the KVV Liepajas metalurgs board member Igor Kovalenko told LETA.
25.02.2015
According to the provisional data of Statistics Lithuania, in IV quarter 2014, accommodation establishments received 501.2 thousand guests, or by 4.4% more than in the same quarter of 2013.
25.02.2015
Ground handling company Havaş Europe has been serving Riga International Airport since 2010. Over 5 years ground handling punctuality, which is one the most important indicators of an airport's efficiency, in Riga has increased by 3%. It makes Riga International Airport one of the most punctual in the Havaş network, reported BC Linda Anaite.
25.02.2015
Estonian electrical fittings manufacturer Harju Elekter informed the Tallinn Stock Exchange that its profit for the year 2014 increased by 89% while the profit for the fourth quarter fell by 15.1%, informs LETA.
25.02.2015
A total of 1.233 million tons of oil products (fuel) was sold in Latvia in 2014, which is 19,710 tons or 2% more than in 2013, reports LETA, according to the State Revenue Service's data.
24.02.2015
"Attempt on the state" is a modern detective story based on real events and irrefutable facts, which reflects a harsh story of a Latvian businesswoman and a tough confrontation between a high-ranking official and a group of criminals assisted by employees of the special services, and then by corrupt politicians. This story is resolved by life itself. What kind of resolution will it be? Justice is remaining silent for now.