International Internet Magazine. Baltic States news & analytics
Monday, 18.02.2019, 12:54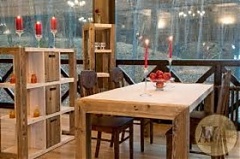 18.02.2019
In 2018, Latvian exports of wooden furniture contracted 0.3% from 2017, with most of the Latvian-made furniture sold in Denmark, according to information released by the Agriculture Ministry writes LETA.
15.02.2019
Earthport, a UK-based cross-border payments firm that the world's credit card giants Visa and MasterCard are battling for, has registered a company in Lithuania, reported LETA/BNS.
14.02.2019
Maxima Latvija retailer in line with Maxima Grupe strategy this year will invest up to EUR 50 million in development of the store network, Maxima Latvija board chairman Andris Vilcmeiers told the press cited LETA.
14.02.2019
Two international payment companies, the UK's Flywire and Singapore's Red Dot Payment, have registered companies in Vilnius, reported LETA/BNS.
14.02.2019
The Estonian transmission system operator Elering has signed a new voluntary agreement on inter-TSO compensation with the gas transmission system operators in Finland and Latvia, which enables the functioning of a single gas transmission tariff zone for Finland, Estonia and Latvia from the beginning of 2020, Elering said.
14.02.2019
Lithuanian real estate development company M.M.M. projektai announced that its controlled company XXT signed an agreement to sell offices in S7 office complexw, S7 representative informed BC.
14.02.2019
In "DoingBusiness" rating upon the criterion of "investment attractiveness" Kazakhstan takes the 36th place (according to 10 indicators) among 190 countries. And today, the Republic provides the most favorable treatment for the investors among all the countries of the former-Soviet region.
14.02.2019
Latvian ports handled 5.661 mln tons of cargo in January, which is a 12.7% increase on the same period last year, according to the Transport Ministry's data.
14.02.2019
Freight transportation using the Latvian railway infrastructure amounted to 4.207 mln tons in the first month of this year, up 3.6% from the same period in 2018, the data of the Transport Ministry shows.
14.02.2019
Eesti Liinirongid AS, the state-owned Estonian operator of passenger trains that conducts its business under the Elron brand, registered 649,000 boardings in January, marking a 3% increase compared to the same month last year, informed LETA/BNS,
13.02.2019
The total number of flights handled in Lithuanian airspace rose by 3.8% in January compared with a year ago to 19,000 flights, Oro Navigacija (Air Navigation) said LETA/BNS.