International Internet Magazine. Baltic States news & analytics
Tuesday, 31.05.2016, 13:04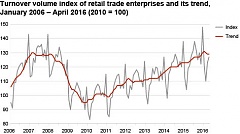 31.05.2016
According to Statistics Estonia, in April 2016 compared to April 2015, the turnover of retail trade enterprises increased by 6% at constant prices. While in March, the turnover increased by 3% compared to the same month of the previous year, then in April the growth accelerated.
30.05.2016
McDonald's fast food restaurant chain, Elko Grupa IT wholesaler and If Apdrosinasana insurer won the titles of Excellent Employer DNS 2016, said Linda Tiruma, a representative of the personnel management consulting company Eiro Personals, cites LETA.
30.05.2016
Latvia's BMX racer, two-time Olympic gold medalist, Maris Strombergs on May 28th won bronze at the BMX World Championships, informs LETA.
27.05.2016
The number of nights visitors spent at Riga's hotels and other tourist facilities in the first quarter of 2016 rose by 15% against the same period a year ago to 416,956 nights, the Riga Tourism Development Bureau's representative Anna Blaua told LETA.
27.05.2016
Ventspils nafta terminals (VNT), one of the largest taxpayers in Ventspils and the largest contributor to the cargo turnover in the Ventspils Freeport, is in the process of investing EUR 5 million into the installation of a permanent vapour recovery unit (VRU) in the port of Ventspils.
27.05.2016
Latvijas Kugnieciba (Latvian Shipping Company) and its subsidiaries generated EUR 22.48 million in turnover in the first quarter of 2016, up 19.2% year-on-year, while its profit expanded 81.5% to EUR 3.986 million, informs LETA, according to the financial statements submitted to the Nasdaq Riga stock exchange.
27.05.2016
Vilniaus Prekyba, the owner of Lithuania's grocery chain Maxima, the drugstore chain Eurovaistine and the DIY-chain Ermitazas, posted 3.17 billion euros in consolidated revenue, not including VAT, for 2015, up 3.7% from 3.06 billion euros in 2015, informs LETA/BNS.
27.05.2016
Estonia's Minister of Economic Affairs and Infrastructure Kristen Michal supports the proposal of the Commissioner responsible for the EU digital single market, Andrus Ansip, to do away with geoblocking in the union, since it would ensure access for Estonians to e-commerce all over the European Union, informs LETA/BNS.
26.05.2016
Innovation Deals, a new pilot scheme launched by the European Commission on May 26th, aim to help innovators with promising solutions to environmental issues to navigate regulatory challenges to bringing their ideas to market.
26.05.2016
Latvian pharmaceutical company Olainfarm plans that sales of Tonus Elast, the producer of elastic medical appliances Olainfarm has just acquired, will grow by 23% to EUR 9 million, Olainfarm board member Salvis Lapins reported LETA.