International Internet Magazine. Baltic States news & analytics
Saturday, 31.01.2015, 09:03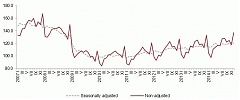 30.01.2015
Data of Central Statistical Bureau (CSB) show that, compared with 2013, retail trade turnover, according to calendar adjusted data, in 2014 increased by 3.6%. Retail trade in food products grew by 3.6%, whereas retail trade of non-food products – by 3.7%.
30.01.2015
2014 was marked by the abundance of records set in Klaipeda Seaport. The year has been considered to be the record year both due to received revenue and the record throughput of fertilizers, containers, grain and ore and the impressive number of passengers calling the Seaport, reports BC port's press service.
30.01.2015
In 2014, the majority of investments were registered in Riga, Jurmala, and Marupe Region; meanwhile, companies that made the largest investments were registered in Riga, Jelgava, and Liepaja, reports LETA, according to Lursoft.
30.01.2015
In 2014, the number of night tourists spent at Latvian hotels and other accommodation establishments increased by 11.1%, which is the largest increase amongst EU members, LETA/Eurostat informs.
30.01.2015
The number of clients of the mobile communications operator Latvijas Mobilais Telefons (LMT) has reached 1.113 million, which historically is the highest number of LMT clients, the company's CEO Juris Binde told the press representatives yesterday, cites LETA.
29.01.2015
In January-December 2014, the overall cargo handling in the Baltic Eastern Coast Seaports totalled 122 216 490.8368 161,5 thou. tn; the year-on-year change is +3,6% or +8 12 681,6 thou. tn, reports BC Klaipeda port's press service.
29.01.2015
At the 8th annual European Gas Conference 2015, in Vienna, petroleum company Klaipedos Nafta won the Project of the Year award for the implementation of the Liquefied Natural Gas (LNG) Terminal project, reports LETA.
29.01.2015
Telecommunications company Lattelecom operated with a net profit of EUR 30.1 million in 2014, which is 7% more than in 2013, the company informed LETA.
29.01.2015
On 28 January 2015, the Board of TEO LT, AB approved Consolidated Interim Financial Statements, prepared according to International Financial Reporting Standards as adopted by the European Union, for the twelve months period ended 31 December 2014, the company said. The total consolidated TEO Group's revenue for the fourth quarter of 2014 was LTL 185 million (EUR 53.4 million), an increase by 3.2% over the total revenue of LTL 179 million (EUR 51.8 million) for the fourth quarter of 2013, writes LETA/ELTA.
29.01.2015
Anva Polytech, a rubber component producer from Sweden, is setting up a production facility in Lithuania, with the aim of creating 50 new jobs in the next 5 years. The factory, which will produce a variety of rubber components, will be established in Biržai, Panevėžys County, reports BC Invest Lithuania.
29.01.2015
The total turnover of "Galactico" shopping malls in Riga – "Alfa", "Mols", "Dole", "Origo", and "Galerija Centrs" – run by the shopping center developer Linstow Center Management, increased by 4% in 2014 as compared to 2013, Linstow Center Management spokeswoman Evija Majevska informed LETA.