International Internet Magazine. Baltic States news & analytics
Tuesday, 29.07.2014, 07:37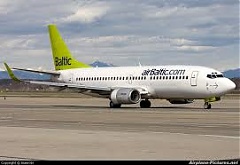 28.07.2014
For the winter season, Latvian airline airBaltic will launch two new direct routes to link Tallinn, the capital of Estonia, with Paris and Vilnius, the capital of Lithuania, with Amsterdam, reported BC Janis Vanags, Vice President Corporate Communications of airBaltic.
25.07.2014
SME's business plans can be financed from EU support and mature into real products and services, generating growth and jobs for member states' economies. In the first round there are 155 SMEs selected from 21 member states (out of over 2,6 thousand applications); one from Latvia and 2 from Estonia. They will each receive €50,000 to finance feasibility studies. These are EU's efforts of creating "champions of innovation" in the EU.
25.07.2014
Compared to May, level of construction costs in Latvia in June 2014 decreased by 0.1%. Prices of building materials dropped by 0.3%, maintenance and operational costs of machinery and equipment – by 0.1%, but labour remuneration of workers increased by 0.3%.
24.07.2014
"Baltikums Bank" earned EUR 14.8 million in the first half of 2014, while the bank's net profit reached EUR 6.35 million, according to the bank's unaudited financial data, informs LETA.
24.07.2014
Construction supplies dealer "Depo DIY" turnover amounted to EUR 151.9 million in 2013, informs NOZARE.LV/LETA reffering to information provided by "Firmas.lv".
24.07.2014
The economic growth of Latvia in 2014 could reach 3.5 percent, the Economy Ministry's specialists forecast, reports NOZARE.LV/LETA.
24.07.2014
Andrius Kubilius, the leader of the Seimas Opposition, Chair of the political group of the Homeland Union - Lithuanian Christian Democratic Party (TS-:LKD), is glad that Lithuania has succeeded to receive the final approval to introduce the euro from 2015, informs ELTA/LETA.
23.07.2014
Scandinavian company "Orkla" is interested in acquiring the Latvian food production company "NP Foods", reports NOZARE.Lv/LETA reffering to unofficial information obtained by the LNT television channel.
23.07.2014
The 75.4 million euro funding by the European Commission and the Estonian government for buying new trains brought Estonian state-owned passenger train company Elron last year 68.6 million euros of profit, informs LETA reffering to Postimees.
23.07.2014
Estonian state-owned postal company Omniva, formerly called Eesti Post, will expand its parcel terminal network in Estonia by a quarter, Äripäev Online cites the company, reports LETA.
23.07.2014
During the General Meeting of Shareholders of Lietuvos Dujos held on 22 July, 2014 a decision was made to pay LTL 53.3 million (EUR 15.4 million) as dividends, or 18.3 Lithuanian cents per share, said the company in a statement, informs ELTA/LETA.