International Internet Magazine. Baltic States news & analytics
Thursday, 24.04.2014, 04:08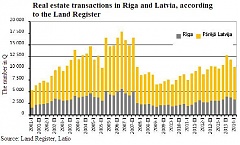 23.04.2014
During the first quarter of 2014, in comparison with an analogous time period last year, the total number of all real estate transactions in Latvia, has grown 3.1%, the summary of Land Register data analysis, provided by Latio, shows, cites LETA/Nozare.lv.
22.04.2014
The Museum of the Occupation of Latvia, a major tourist attraction in Old Town Riga, is facing a delay in its major reconstruction of six months due to "breach of contract and irresponsible conduct on the part of Buvprojektu vadiba Ltd., as the State Real Estate (SRE) company reports, cites LETA.
17.04.2014
This afternoon, as a result of an investigation experiment, the remaining roof construction of the Maxima supermarket in Riga-Zolitude, failed to bear the weight of water and collapsed, LETA was informed by Toms Sadovskis, the State Police's press representative.
16.04.2014
Estonia-based construction company Pro Kapital Grupp approved the audited annual report for the financial year 2013, under which the company's audited and consolidated revenue for financial year 2013 amounted to 12.287 million euro, compared to the 2012 revenue of 16.078 million euro, Pro Kapital Grupp said in a statement, cites LETA.
16.04.2014
The housing sale results of Q1 2014 in Lithuania exceeded the expectations of most market players. According to data from the Centre of Registers, in Q1 2014 the number of transactions involving houses in Lithuania was 27% higher compared to the same period of 2013. The number of apartment transactions in the same period was 48% higher than a year ago, informs LETA/ELTA.
15.04.2014
One of the leading global travel search sites Skyscanner listed 20 most hipster neighbourhoods in the world. Among others, Kalamaja, one of the fastest developing neighbourhoods in Tallinn was also selected as one of the best choices, Tallinn Tourism board said in a statement, ciets LETA.
15.04.2014
Latvian Justice Minister Baiba Broka (VL!-TB/LNNK) announced at a press conference today that the ministry estimates that EUR 59,000,000 will be necessary for a new federal prison, informs LETA.
14.04.2014
In March 2014, 3 out of 5 (59%) Lithuanians said that in their opinion housing prices would increase in the short run. 21% of residents expected that housing prices in the coming 12 months would remain the same, while 9% of those polled thought that housing prices in Lithuania would decline, a survey commissioned by SEB bank revealed, cites LETA/ELTA.
13.04.2014
From 2016, owners of all residential buildings (apartment blocks, own houses, gardener or other communities, owners of garages) will pay for municipal waste, informs LETA/ELTA.
11.04.2014
The Company's management recently began to consider the Company's business continuity and perspective in St. Petersburg and Stavropol, City Service has announced in a statement, cites LETA/ELTA.
10.04.2014
In the fourth quarter of 2013 against the fourth quarter of 2012, house prices in Lithuania increased by 3%, while against the third quarter of 2013 they increased by 2.6%, Eurostat, the statistical office of the European Union, said.