International Internet Magazine. Baltic States news & analytics
Saturday, 28.02.2015, 21:18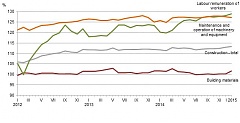 27.02.2015
Data of the Central Statistical Bureau (CSB) show that compared to December of the previous year, level of construction costs in Latvia in January 2015 increased by 0.3%.
25.02.2015
The State of Latvia, in the person of the Finance Ministry, has brought a civil suit against construction companies renovating the Riga Castle, claiming that the companies compensate damages in the amount of EUR 4,857,931.66, informs LETA.
25.02.2015
Latvia will not lose funding from the European Union because of a halt in the construction of the new wing at Pauls Stradins Clinical University Hospital, Health Minister Guntis Belevics (Greens/Farmers) said in an interview with the LNT show "900 sekundes" this morning, informs LETA.
24.02.2015
Real estate services company Ober-Haus Lithuania reached a turnover of EUR 3.25 million in2014, a 5.5% increase, reports LETA/ELTA.
19.02.2015
In the final quarter of 2014, compared with the previous quarter, there was a 4% increase in Soviet-era apartment transactions, which was the highest quarterly number of such transactions in 2014, reports LETA, according the latest real-estate market report by the Latio real-estate company.
19.02.2015
During an emergency shareholders' meeting yesterday called by Health Ministry State Secretary Solvita Zvidrina, Normunds Stals was appointed member of the board at the Pauls Stradins Clinical University Hospital; the new member will be in charge of construction projects there, reports LETA.
19.02.2015
Latvian Saeima approved amendments to several laws in the final reading today, which stipulate making non-recourse loans an option for mortgage borrowers, informs LETA.
19.02.2015
The state support program in Latvia meant to help young families with children buy their first home or apartment is, in essence, an "irresponsible attempt by politicians to offer financial assistance to people who actually cannot afford an apartment." This is the opinion of real estate company Arco Real Estate CEO Aigars Smits, who spoke at a press conference on February 18th, cites LETA.
18.02.2015
Saeima's Parliamentary Inquiry Committee in Latvia intends to motion for the Financial and Capital Market Commission to consider suspending license for the joint-stock insurance company Baltijas apdrosinasanas nams (BAN), the committee decided today, cites LETA.
18.02.2015
On 17 February 2015, a contract was signed by SIA Merks – part of AS Merko Ehitus group – and SIA Vastint Latvia to perform the construction works of a six-storey multifunctional building at 17A Antonijas street, Riga, Latvia, Merko Ehitus informed the Tallinn Stock Exchange.
18.02.2015
Lithuanian President Dalia Grybauskaite believes that decrepit Soviet statues of Vilnius Green Bridge should be removed and restored as they pose danger to passers by. However, their legal status would determine if they could be returned to the original place, the president's opinion was relayed by Chief Presidential Advisor on the Interior Policy Virginija Budiene, cites LETA/ELTA.