International Internet Magazine. Baltic States news & analytics
Monday, 24.11.2014, 08:40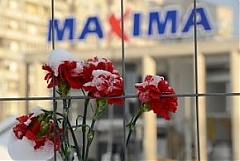 21.11.2014
Today, one year passes since the roof of a Maxima supermarket collapsed in the Zolitude neighborhood of Riga, killing a total of 54 people, including several rescuers, reports LETA.
14.11.2014
Minister of Culture Sarunas Birutis signed a law amending the evaluation of immovable cultural heritage. From now on objects marked with Soviet or Nazi symbols will not be listed as Lithuania's heritage, informs LETA/ELTA.
14.11.2014
The Ministry of Environment in Lithuania took into account the prime minister's encouragement and prepared a proposal to extend for another year the programme which covers 40% of the renovation cost, informs LETA/ELTA.
14.11.2014
Estonian state-owned postal company Omniva, formerly known as Eesti Post, has put on sale the majority of its post offices buildings, LETA/Virumaa Teataja reports.
12.11.2014
Estonians are the most frugal people in the Baltic States: 83% of residents in Estonia have made personal savings, 66% – in Lithuania, 53% – in Latvia, according to a study conducted by Swedbank.
12.11.2014
Estonian Economy and Infrastructure Minister Urve Palo, who has been recently promoting a state subsidised rental apartments programme, said that the money spent on building such rental apartments will come back as additional tax revenues and will keep quite a few families from leaving Estonia to live in Finland, LETA/Public Broadcasting reports.
12.11.2014
The Riga Construction Board's tender to select a company that would examine a multi-story building next to the Zolitude tragedy site has failed as none of the applicants was deemed to be competent enough, therefore the building will be inspected by experts commissioned by the building's owner, Homburg Zolitude, as the Construction Board's head Inguss Vircavs told LETA.
12.11.2014
Joint-stock insurance company BTA Insurance Company (BTA) has renewed its insurance policy for the Freedom Monument in Riga for the 11th year in a row, as a gift to the Riga City Council, reports LETA.
10.11.2014
Ektornet Residential Latvia was the leading real estate company last year with turnover of EUR 65.507 million, according to the Latvian Business Annual Report 2014 compiled by Firmas.lv and LETA.
10.11.2014
Ominasis Latvia insolvency administrator Ainars Kreics has deemed the October 3 Kemeri Sanatorium auction to not have taken place, Latvian Association of Certified Administrators of Insolvency spokeswoman Justine Plumina informed LETA.
07.11.2014
Estonian construction company Nordecon saw its third quarter of 2014 profit fall by 38% to 2.8 million euros versus 4.5 million at the same time last year, LETA/Postimees Online reports. The concern's turnover fell by 10% to 53.5 million euros.