International Internet Magazine. Baltic States news & analytics
Saturday, 23.08.2014, 00:38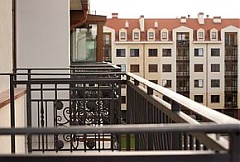 22.08.2014
Estonian real estate developer Pro Kapital informed the Tallinn stock exchange its total revenue for the first six months of this year was 5.9 mln EUR, a decrease of 10% compared to the reference period while the loss grew, informs LETA.
17.08.2014
Retail company Maxima Latvija plans to start demolishing the remains of the collapsed supermarket in Zolitude on August 18, Maxima Latvija spokesman Janis Beseris informed the business portal Nozare.lv, cites LETA.
15.08.2014
Statistics Lithuania informs that in II quarter 2014, against II quarter 2013, the volume of construction work carried out increased by 16.8% and amounted to LTL 2.2 billion. The construction work carried out within the country accounted for 94% (LTL 2.1 billion) of the total construction work, outside the country – 6% (LTL 132 million).
15.08.2014
Statistics Lithuania informs that, based on the data from the Building Permits and State Construction Supervision Information System the Republic of Lithuania (IS) Infostatyba, in II quarter 2014, against II quarter 2013, the number of building permits issued decreased by 10.1%, of which for the construction of residential buildings – by 9.5%.
14.08.2014
The latest data compiled by the Central Statistical Bureau of Latvia show that, in the first half of 2014, construction output volume at current prices accounted for EUR 680.4 million, of which in the 2nd quarter – EUR 426.1 million, over the year increasing by 15.8%.
13.08.2014
Jurmala Mayor Gatis Truksnis (Greens and Farmers' Union) is surprised that no one applied for the repeated auction of Kemeri Sanatorium – again, as Truksnis said in an interview with the Latvian Radio, cites LETA.
07.08.2014
Estonian real estate developer Arco Vara informed the Tallinn stock exchange that the group's net loss amounted to 0.4 million euros in the second quarter of 2014 while in the second quarter of 2013, the net profit was 1.5 million euros, informs LETA.
06.08.2014
The weighted average price of a square metre of apartment space in Estonian towns fell by 3.3% in July, Äripäev Online cites the Pindi Index, informs LETA.
01.08.2014
Martins Tols, former director of the State Revenue Service's Customs Administration, has been appointed chairman of the board at the state-owned joint-stock company "Valsts nekustamie ipasumi" (State Real Estate, VNI), informs LETA.
31.07.2014
Until the end of 2014 it is expected to renovate 300 apartment-blocks, 13,500 households will be provided with state support to renovate these apartment-blocks, informs ELTA/LETA.
30.07.2014
Overnight in the Riga suburb of Mezciems, a roof collapsed on an apartment building, informs LETA reffering to the State Fire and Rescue Service.