International Internet Magazine. Baltic States news & analytics
Saturday, 06.02.2016, 15:24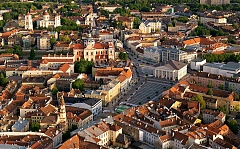 03.02.2016
The number of real estate units, which changed owners via purchase transactions in the first month of 2016 in Lithuania, increased by nearly one-fifth in year-on-year terms, which gives grounds to expect stronger activity in Lithuania's real estate market in 2016, the Center of Registers has said, cites LETA/BNS.
26.01.2016
Hilton Worldwide is about to open Hilton Tallinn Park hotel in the Estonian capital in the summer 2016 and is accepting reservations for arrival September 1, 2016 and beyond, informs LETA/BNS.
26.01.2016
A Ministry of Social Affairs official in Estonia on January 25th gave to understand that a large part of refugees relocated to Estonia could be settled in the capital Tallinn, reports LETA/BNS.
25.01.2016
Eften Real Estate Fund III, the real estate fund for private investors set up by the investment company Eften Capital in June 2015, earned a net profit of 1.5 million euros by the end of the year according to initial unaudited figures made available by Eften on January 25th, informs LETA/BNS.
25.01.2016
The Lithuanian central bank governor Vitas Vasiliauskas says that the country has learnt its lesson from the real estate crisis and is ready to share its experience with its neighbors, informs LETA/BNS.
25.01.2016
The ratio that real estate transactions conducted by foreign residents in Estonia make up of the total number of real estate transactions in Estonia has been lower than 5% in the last seven years and has been on a downward trend in the past two years, informs LETA/BNS.
20.01.2016
According to Statistics Estonia, in 2015, the construction price index rose 0.5% compared to the average of 2014. Labour costs increased by 2.9%, costs of building machines decreased by 0.8% and costs of building materials decreased by 0.7%.
20.01.2016
Compared to the respective period in 2014, house prices reduced 7.6% in Latvia in the third quarter of 2015, the steepest decrease in the European Union, informs LETA, according to the latest data from the EU's statistical office Eurostat.
19.01.2016
Lithuania's housing market turnover last year totaled 1.267 billion euros, down 1% from 1.28 billion euros in 2014, non-final figures from the Center of Registers showed on January 19th, informs LETA/BNS.
19.01.2016
Estonia's ability to welcome people applying for international protection as well as the ones who have received the status of displaced person and to integrate them into the society is insufficient and needs significant improvement, the National Audit Office finds, cites LETA/BNS.
19.01.2016
Tenants say that home rental costs have risen considerably in the year since the changeover to the euro, but life should be easier for them in 2016 as some analysts forecast that rents may go down, the daily Lietuvos Zinios reported on Tuesday, cites LETA/BNS.