International Internet Magazine. Baltic States news & analytics
Wednesday, 18.07.2018, 00:19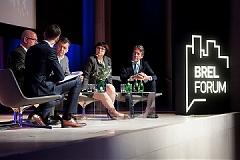 17.07.2018
This fall, the Baltic Real Estate Leadership or BREL Forum dedicated to the real estate sector will take place in Riga at the VEF Culture Palace on November 2. The forum will bring together leading industry experts, businessmen and investors from Latvia and other Baltic and European countries.
05.07.2018
The state real estate management company RKAS has created the first remote workstations for state institutions in the central Estonian towns of Rapla and Paide and the western Estonian town of Haapsalu, informs LETA/BNS.
04.07.2018
Collective agreement on minimum wage in construction industry has been signed by more 211 companies so far, whose own account construction works make up EUR 641 million - that is 90% of the minimum amount for the collective agreement to come into force, Latvian Partnership of Building Contractors informed LETA.
29.06.2018
The construction of the Palace of the Grand Dukes of Lithuania on the site of the original palace in the capital's lower castle complex has been completed 15 years after it was started, informs LETA/BNS.
28.06.2018
Statistics Lithuania informs that in May 2018, against April, construction input prices increased by 0.6%. The greatest influence on the overall price change was made by a 1.3% increase in wages and salaries, 0.4% increase in prices of construction materials and products, as well as by a 0.3% decrease in overheads. An increase in average gross hourly earnings was determined by increased lump sum premiums, bonuses and benefits.
28.06.2018
Latvians still regard real estate as the best investment option, Swedbank Latvia spokeswoman Kristine Jakubovska told LETA, citing the bank's latest survey.
27.06.2018
Data of the Central Statistical Bureau (CSB) show that, compared to April, in May 2018 the level of construction costs in Latvia grew by 0.5%. Labour remuneration of workers increased by 1.7%, maintenance and operational costs of machinery and equipment – by 0.3%, but prices of building materials – by 0.2%.
26.06.2018
Axis Industries, the winner of the tender for the construction and concession of a national stadium in Vilnius, and its partners agree to fund the construction and not to demand advance payment, informs LETA/BNS.
25.06.2018
An arbitration dispute with Aleksandr Rotko, a businessman whose companies illegally controlled the property of the Seaplane Harbor in Tallinn until the mid-2005s, could cost the state of Estonia over one million euros, informs LETA/BNS.
25.06.2018
Tax inspectors of the State Revenue Service in Latvia found violations of electronic working hours registration at most construction sites they inspected in the first quarter of 2018, the Revenue Service informed LETA.
22.06.2018
According to Statistics Estonia, in the 1st quarter of 2018, the Dwelling Price Index changed by 1.5% compared to the 4th quarter of 2017 and by 6.6% compared to the 1st quarter of previous year.