International Internet Magazine. Baltic States news & analytics
Tuesday, 21.04.2015, 11:16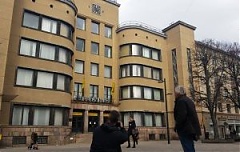 21.04.2015
The European Union has awarded a European Heritage Label to the modernist interwar architecture of Kaunas. The decision was announced in the Official Journal of the European Union, reported BC the Kaunas City Municipality.
20.04.2015
The prosecutor's office in Latvia has brought charges against eight persons in a criminal case on the collapse of the Maxima supermarket in Zolitude, reports LETA, according to a statement posted on the prosecutor office's website.
17.04.2015
The municipal waterworks company Rigas udens (Riga water) will cancel the April 30 auction of the historic Agenskalns water tower, and set up a task force to develop a concept on how the water tower could be utilized in order to make it available for the public.
17.04.2015
The Estonian government approved on Thursday of handing over real estate units near the Tallinn Seaplane Harbour from justice ministry to interior ministry in order to erect the European Union IT agency's permanent headquarters building there, interior ministry press department announced LETA.
17.04.2015
Following the major blaze at the Riga Circus complex in downtown Riga, and the shock and time period needed to come to grips with it, Riga Circus management now estimates it will be at full throttle again by early July 2015, reports LETA.
17.04.2015
The Riga Municipal Construction Board gave permission on April 16th for the start of repair work to correct defects in the new A Wing's Section 6 at Riga-Stradins Hospital and its energy hub, informs LETA.
16.04.2015
The amount of newly-issued loans in Latvia is expected to increase 20-25% in 2015, reports LETA, according to Swedbank forecasts.
16.04.2015
The State Police has handed over to the Prosecutor's Office another criminal process related to the Maxima supermarket tragedy, LETA found out from the State Police.
16.04.2015
The British newspaper Financial Times has written a special news story about the substantial reduction in the interest Russian buyers have in Latvia's high-end property market, cites LETA.
16.04.2015
Vilnius City Municipality Council approved of the construction of a multifunctional health, education and activity centre in Vilnius. A tender for investors should be announced in May 2015, reports LETA/ELTA.
15.04.2015
The topic of the international interior architecture symposium SISU 2015 is "The Impact of Space" and it will take place from 27th to 30th May at Von Krahl Theatre in Tallinn, Estonia.