International Internet Magazine. Baltic States news & analytics
Tuesday, 02.09.2014, 00:01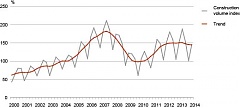 29.08.2014
According to Statistics Estonia, in the 2nd quarter of 2014 compared to the same quarter of the previous year, the total production of Estonian construction enterprises in Estonia and foreign countries decreased by 4%. The construction volumes have decreased for three quarters in a row.
28.08.2014
Four new hotels will have their grand openings in Riga in 2015, two of them with a five-star rating, according to information provided by Nozare.lv, cites LETA.
28.08.2014
East Capital Baltic Property Fund II managed by East Capital acquired Rimi Eesti Food's logistics centre and headquarters near Tallinn, at Põrguvälja tee 3, Jüri. The property was previously owned by Kinnisvaravalduse AS, a subsidiary of RIMI / ICA group, AS Rimi Eesti Food will remain a long term lessee of the property. The purchase price was 13.4 million euros, at the asset's capitalisation rate of 8%, reported BC head of marketing and communications Andrija Lilleoja.
28.08.2014
According to observations of Mr. Māris Laukalējs, a member of the Board of Directors of ARCO REAL ESTATE, in the 2nd quarter of 2014, the owners of apartments located in the city centre, have artificially raised prices hoping for a growing interest in real properties from the part of non-residents before the date of effect of the amendments to the Immigration Act.
27.08.2014
Compared to June, level of construction costs in Latvia in July 2014 decreased by 0.6%. Compared to July of the previous year, average level of construction costs reduced by 0.1%.
27.08.2014
When industry experts describe real estates, their vocabulary may include legal terms, the meaning of which is sometimes incomprehensible for others involved in the transaction. "If the buyer and the seller of a property are acutely aware of what the "price" is, such terms as "market value" or "cadastral value" are sometimes embarrassing" – explains Inga Ermale, Head of the 3rd Valuation Division of ARCO REAL ESTATE in Latvia.
27.08.2014
From all the transactions registered in the 2nd quarter of 2014 with apartments located in the Riga city centre new projects, 78% exceeded the current minimum threshold for obtaining a temporary residence permit, while only 13% reached the threshold of 250 000 EUR foreseen in the amendments to the Immigration Act.
27.08.2014
"Science and talented scientists will help Estonia punch above its weight more than one would presume by the size of our population," said the President, Toomas Hendrik Ilves, yesterday at the opening of the new physics building – or Physicum – at the University of Tartu, reports BC presidential press service.
27.08.2014
Merko Ehitus' Lithuanian subsidiary concluded a contract of 2.2 million euros for building a sports hall in Vilnius, writes Äripäev.ee/LETA.
26.08.2014
Following the Economy Ministry's proposal, the government approved the establishment of the Latvian Construction Board and its agenda today, reports LETA/Nozare.lv.
25.08.2014
Estonian real estate fund EfTEN Capital has increased its Latvian real estate portfolio by acquiring Nordic Technology Park in Sampeteris (western Riga) – a complex of office and industrial buildings of 45,000 square meters in area, and a production facility at 15/25 Jurkalnes Street in Riga for a total of EUR 20 million, EfTEN Capital spokeswoman Renata Kaupasa informed the business portal Nozare.lv, ciets LETA.