International Internet Magazine. Baltic States news & analytics
Saturday, 26.05.2018, 20:17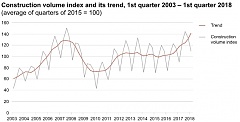 25.05.2018
According to Statistics Estonia, in the 1st quarter of 2018 compared to the same quarter of the previous year, the total production of Estonian construction enterprises in Estonia and foreign countries increased 21%. Taking into account only Estonian construction market, construction volume increased 29%.
21.05.2018
Kalnciema Iela, the company running the renovated Kalnciems Quarter, has won 30-year lease rights for Agenskalns Market and the adjacent territory, which was recently closed due to its rundown state, Olegs Burovs (Honor to Serve Riga), the head of the Riga City Council Municipal Property Committee, told journalists on May 18th, reports LETA.
21.05.2018
Agricultural services cooperative Latraps plans to invest EUR 5.445 million in a grain pre-treatment complex in Daugavpils, eastern Latvia, writes LETA, according to the website of the Procurement Monitoring Bureau.
18.05.2018
More than 400 new apartments in Tallinn and in areas bordering the city were put up for sale in April 2018, a bigger number than in any other month so far, informs LETA/BNS.
17.05.2018
Since 2015 when Latvian development finance institution Altum started offering under the government program for support to first-time home buyers, 8,400 families with more than 12,000 children have received the state-guaranteed loans, Altum reported LETA.
17.05.2018
The government has decided to create a system for relocating people of Lithuanian descent from humanitarian crisis zones, with a special law to be drawn up, informs LETA/BNS.
16.05.2018
According to the Ria.com Marketplace real estate portal operating on the Ukrainian market, the highest average price of real estate per square meter across the capitals of the Baltic countries is in Tallinn, informs LETA/BNS.
16.05.2018
Statistics Lithuania informs that, based on the data from the Building Permits and State Construction Supervision Information System the Republic of Lithuania (IS) Infostatyba, in I quarter 2018, against I quarter 2017, the number of building permits issued for the construction of new buildings (hereinafter referred to as the building permits) increased by 56%, of which for the construction of new residential buildings – by 59%.
16.05.2018
In April 2018, apartment prices in Soviet-era standard design houses in Riga were up 0.7% month-on-month and have climbed 2.9% since the beginning of the year, Arco Real Estate said in its latest report on the situation in the standard-design apartment market, cites LETA.
15.05.2018
Statistics Lithuania informs that in I quarter 2018, the volume of construction work carried out in the country amounted to EUR 448.4 million at current prices, and against the previous period, seasonally and calendar adjusted, increased by 11.9% (unadjusted – decreased by 45.1%).
15.05.2018
Daugava Stadium will reopen on May 28 after reconstruction of the stadium's western stands and construction of new stands, Daugava Stadium representative Laura Matusevica informed LETA.