International Internet Magazine. Baltic States news & analytics
Thursday, 25.08.2016, 09:09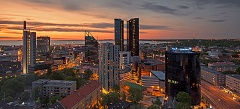 24.08.2016
The trust that Estonian citizens have in the major public institutions remains high, with Estonians giving higher scores to the trustworthiness of the legal system, the government and the European Union than citizens of EU member states on the average, reports LETA/BNS.
19.08.2016
Results of the Labour Force Survey conducted by the Central Statistical Bureau (CSB) show that in the 2nd quarter of 2016 in Latvia there were 898.5 thousand employed persons or 61.8 % of the population aged 15–74.
19.08.2016
Employment improved despite slow economic growth Registered unemployment increased in Ida-Virumaa The work ability reform is expected to boost registered unemployment and the labour force participation rate.
19.08.2016
According to Statistics Estonia, the unemployment rate was 6.5% and the employment rate was 66.9% in the 2nd quarter of 2015. The number of persons active in the labour market exceeded 700,000 for the first time.
19.08.2016
Crowdestate.eu, the leading Nordic real estate crowdfunding platform, will publish its first Latvian investment opportunity on Friday morning. A 2 - year subordinated loan will be paying 15% annual interest to its investors, reports BC Crowdestate.eu representatives.
18.08.2016
Nearly half of consumers in Latvia consider chances of finding a good job within a year to be slim, a Nielsen survey shows, cites LETA.
17.08.2016
In the second quarter of this year, 45.1% of employees in Latvia received up to EUR 450 in net monthly wage in their main job, which is a 3.8 percentage points reduction from the second quarter of 2015, the Central Statistics Bureau (CSB) reported.
16.08.2016
Among the three Baltic states, Lithuania and Latvia saw a decline in exports in the first half of 2016, as compared with the same period last year, Eurostat said. Exports remained stable in Estonia over the period, reports LETA/BNS.
16.08.2016
Kaarel Ots, who took over as manager of Nasdaq Tallinn a week ago, says it looks like things are finally beginning to move when it comes to listing stocks and bonds of Estonian state-owned companies on the securities market, reporst LETA/BNS according to Eesti Paevaleht.
15.08.2016
In Latvia, people take loans mostly to purchase cars and renovate or refurbish their homes, according to a survey conducted by DNB Banka. Other commonplace purposes for borrowing money include paying for medical services, education and travel, and also debt repayment.
15.08.2016
Economic situation did not differ much from the first quarter based on various indicators. Retail sales grew faster, and imports of capital goods and tax declarations indicate an increase in investment. Brexit will probably not have a major direct impact on Estonia, but Estonia's close neighbours may suffer more, which may have an indirect effect on the country.