International Internet Magazine. Baltic States news & analytics
Monday, 25.03.2019, 00:16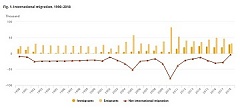 22.03.2019
In 2018, 28.9 thousand people immigrated to Lithuania, which is 1.4 times (by 8.5 thousand) more than in 2017. This is the highest number of immigrants recorded since the Restoration of Lithuania's Independence. In 2018, more than half (57.4 per cent) of the immigrants were the citizens of the Republic of Lithuania who returned to Lithuania.
22.03.2019
Data of the Central Statistical Bureau (CSB) show that, compared to January, in February 2019 the level of , producer prices in Latvian industry rose by 0.6 %. Prices of products sold on the domestic market grew by 1.2 %, but prices of exported products remained the same. Prices of products exported to euro area countries fell by 0.6%, but prices of products exported to non-euro area – increased by 0.6%.
22.03.2019
The situation on Latvia roads is the worst one in the past five or ten years, said non-risk insurer Balta, citing the company's data on damages to cars due to poor quality roads, reported LETA/BNS.
21.03.2019
The main obstacles to business growth in the Baltic countries include a heavy tax burden and complex regulatory and bureaucratic requirements, SEB Banka's external communications manager Martins Panke told LETA, referring to a survey of small and medium-sized enterprises carried out by the bank.
21.03.2019
According to the audited report, in 2018, Elering earned a net profit in the amount of 18.6 mln euros with revenue amounting to 144.8 mln euros compared to the net profit of 17.1 mln euros earned in 2017,Elering`s representative Ain Koster informed BC.
21.03.2019
As many as 55.6% of entrepreneurs doing business in Latvia believe that the taxes they are paying are too high, 36.5% consider them a bit too high and 7.2% believe the tax burden is optimal, according to Turiba University's Business Index writes LETA.
20.03.2019
Chinese investment activities in the Baltic Sea region have seen an increase over recent years. This corresponds well with the overall growth in Chinese investment in Europe over the past decade, a trend fueled at least in part by growing restrictions imposed in the United States under the Donald Trump administration.
20.03.2019
For the second year in a row, Finland has been named the happiest country in the world while Lithuania ranks 42rd in the latest World Happiness Report published by the United Nations on Wednesday.
20.03.2019
56.7% of businessmen in Latvia believe that the government's activities hamper business development, while 7.3% say that the government contributes to business development in Latvia, according to the Business Index released by Turiba University, referred LETA.
20.03.2019
Estonian labor market is going through major changes and the number of top-level specialists has grown 44% over the past ten years, it appears from an analysis carried out by the employer marketing agency Brandem citing LETA/BNS.
19.03.2019
Regardless of the weakening external demand and a decline in exports of agricultural products, the goods and services balance recorded a minimum surplus in the fourth quarter of 2018. This was largely supported by a sustainable services trade balance and slower growing imports of goods.