International Internet Magazine. Baltic States news & analytics
Saturday, 19.04.2014, 14:56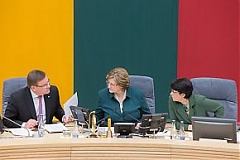 17.04.2014
In 2013, the representation expenses of the parliament leadership amounted to LTL 100,000 (EUR 29,000). During 10 months of 2013, Parliament Speaker Vydas Gedvilas (until he was replaced by his party fellow Loreta Grauziniene) was the one to spend the most funds for representation, informs LETA/ELTA, referring to Lietuvos zinios.
16.04.2014
Annual inflation in Latvia was 0.3% in March 2014 – the third lowest across the European Union, according to the latest data from the EU's statistical office Eurostat, cites LETA.
16.04.2014
Tougher sanctions on Russia would harm the business interests of several companies trading with our Eastern neighbour but companies have taken that into account and the effect on the Estonian economy as a whole should most likely be smaller than in Latvia, where transit and trade relations with Russia are closer, writes Äripäev/LETA.
16.04.2014
Russian Ambassador Alexander Veshnyakov, interviewed by LTV, reassured viewers that Latvia faces no threat from Russia. He said that he realizes that Russia's operations in Ukraine have upset many people in Latvia, who are concerned about state security, informs LETA/ELTA.
16.04.2014
Latvia's exports in January 2014 reduced by 3% when compared with the same month last year, which is the third smallest reduction in the EU, according to Eurostat.
16.04.2014
The Welfare Ministry told LETA yesterday that if the European Union imposes sanctions against Russia, many people in Latvia could lose their jobs, especially those working in the rail and fish processing sectors.
15.04.2014
The fact that Lithuania returned to one of the highest rating levels in Lithuania's sovereign credit history will make it possible to plan lower costs for servicing the public debt, says Prime Minister Algirdas Butkevicius. The savings will be directed towards education and health care, informs LETA/ELTA.
14.04.2014
Statistics Lithuania informs that, based on provisional data, in 2013, the value added per hour actually worked in the whole economy amounted to, on average, LTL 45.32 at current prices, which is by LTL 1.96 more than in 2012. The gross value added per person employed amounted to LTL 83 447.
14.04.2014
Compared to February 2013, industrial production output in Latvia decreased by 1.7% in February 2014 – the fourth largest reduction in the European Union, according to the EU's statistical office Eurostat. The largest year-on-year reductions were registered in the Netherlands – by 8.9%, Finland – by 5.4%, and Lithuania – by 2.1%, writes LETA.
14.04.2014
In March 2014, 3 out of 5 (59%) Lithuanians said that in their opinion housing prices would increase in the short run. 21% of residents expected that housing prices in the coming 12 months would remain the same, while 9% of those polled thought that housing prices in Lithuania would decline, a survey commissioned by SEB bank revealed, cites LETA/ELTA.
14.04.2014
In an interview to the Spanish newspaper ''El Mundo'', Latvian Foreign Minister Edgars Rinkevics (Reform Party) said that there will be no winner in the Ukraine crisis, and that only European Union and NATO membership is able to offer member states necessary stability, cites LETA.