International Internet Magazine. Baltic States news & analytics
Sunday, 17.12.2017, 23:41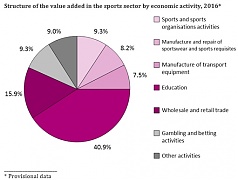 15.12.2017
Statistics Lithuania informs that, based on provisional data, in 2016, against 2015, the value added created in the sports sector decreased by 4.5% and amounted to EUR 263.2 million, or 0.8% of the country's gross value added. The largest negative influence on the change was made by a decrease in the value added generated by the enterprises engaged in manufacture of transport equipment and gambling and betting activities.
14.12.2017
The most searched words on Google in Latvia this year were "ss.com" (Latvian classified ads portal), "laikapstakli" (weather conditions), and "skrape un laime" (scratch and win), writes LETA, according to Google's Year in Search data.
14.12.2017
In a conference about taxes and taxpayers in Riga on December 13th, Finance Minister Dana Reizniece-Ozola (Greens/Farmers) said that the state will continue to fight shadow economy and under the table wages, informs LETA.
14.12.2017
During the 2nd quarter of 2017, Latvia recorded the smallest annual increase in employment among the European Union's member states, writes LETA, according to the latest Eurostat data.
13.12.2017
Business sentiment has become positive in all sectors in Latvia for the first time in the last four years, writes LETA, according to the latest Citadele Index.
13.12.2017
The latest data suggest that money laundering risks in Latvia have declined, yet corruption and contraband remain vital problems that need to be addressed urgently, according to the survey by the Latvian Chamber of Commerce and Industry on unobserved economy, corruption in the public sector and money laundering, informs LETA.
13.12.2017
More than a half of employees work overtime in Latvia, and 55% of them do not get paid for overtime work, according to a poll carried out by CV Market job portal, cites LETA.
13.12.2017
The state of human rights in Estonia is generally good but its further improvement has stopped, it can be seen in a report published by the Estonian Human Rights Center on December 12th, cites LETA/BNS.
13.12.2017
Of residents of Estonia 7.7% suffer from material and social deprivation, which is among the lowest such ratios in the European Union, Eurostat said on December 12th. In Latvia and Lithuania, the ratios were respectively 24.8% and 28.9%, reports LETA/BNS.
12.12.2017
A significant reduction in the health damage caused by alcohol has taken place in Estonia in 2017 compared with 2016, as mortality numbers, the number of crimes committed by people under the influence of alcohol and of road accidents involving a drunk driver have all decreased, provisional figures by the National Institute for Health Development and the police suggest, cites LETA/BNS.
12.12.2017
Although residents of Lithuania still think that many areas in the country are badly affected by corruption, the past few years marked a significant decline in the number of cases they faced corruption, shows the latest Eurobarometer survey, cites LETA/BNS.