International Internet Magazine. Baltic States news & analytics
Wednesday, 12.08.2020, 04:01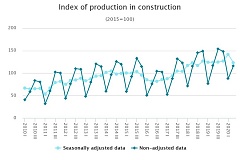 11.08.2020
The latest data compiled by the Central Statistical Bureau of Latvia (CSB) show that, compared to the 2nd quarter of 2019, in the 2nd quarter of 2020 construction output (1) reduced by 0.6 % (according to calendar adjusted data at constant prices). Construction output in construction of buildings decreased by 5 %, in civil engineering – by 7.7 %, but in specialised construction activities it rose by 12.3 %.
10.08.2020
The latest data of the Central Statistical Bureau (CSB) show that in July 2020, compared to July 2019, the average level of consumer prices* increased by 0.5 %. Prices of services went up by 1.6 %, while prices of goods didn't change.
10.08.2020
The number of registered unemployed in Estonia was 50,701 at the end of July, making up 7.8% of the total number of workforce from age 16 to retirement age, informed LETA/BNS.
10.08.2020
According to Statistics Estonia, in June 2020, compared to June 2019, the exports of goods remained at the same level and imports decreased by 8%. In the second quarter of 2020, exports decreased by 15% and imports by 18% year on year.
07.08.2020
Since the beginning of the Covid-19 crisis in Latvia this past March, when there was a substantial rise in the unemployment levels, a small drop in unemployment has been observed for the first time during this period, State Employment Agency director Evita Simsone told LETA.
07.08.2020
According to Statistics Estonia, the change of the consumer price index in July 2020 was 0.0% compared to June 2020 and -0.9% compared to July 2019. Goods were 0.2% and services 2.0% cheaper.
07.08.2020
Lithuania's exports contracted by 8.4 percent in January-June 2020 from a year earlier to 13.187 billion euros, and its imports shrank by 14.2 percent to 13.511 billion euros, the country's statistics office said on Friday, cites LETA/BNS.
07.08.2020
Expectations of a price drop in the Estonian real estate market have largely diminished and property valuers are currently not adjusting their figures downwards, Martin Vahter, manager of real estate brokerage 1Partner Kinnisvara, said LETA/BNS.
07.08.2020
The number of new cars sold in Estonia in July this year, more than 2,000, was smaller by 17.2% than the number of new cars sold in July 2019; however, the market is recovering from the slump caused by the coronavirus pandemic, writes LETA/BNS.
06.08.2020
Latvia took the 27th position among 85 countries of the world in the Digital Quality of Life Index, lagging behind its neighbors Estonia (13th) and Lithuania (21st), according to a study by privacy protection company Surfshark, cites LETA.
06.08.2020
SEB Banka issued loans in the amount of EUR 390 mln to companies in the first six months of this year, which is 93% more than in the same period last year, as the bank's representatives informed LETA.