International Internet Magazine. Baltic States news & analytics
Friday, 31.10.2014, 23:22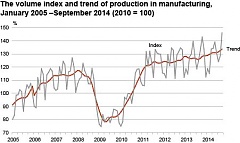 31.10.2014
According to Statistics Estonia, in September 2014, the production of industrial enterprises rose by 4% compared to September of the previous year. The production increased in manufacturing, but decreased in mining and energy.
30.10.2014
Statistics Lithuania informs that construction input prices in September 2014, against August, decreased by 0.2%. The change was mainly influenced by a 1.1% decrease in wages and salaries which was determined by lower lump sums, bonuses and premiums. Over the year (September 2014, against September 2013), construction input prices increased by 1.9%.
30.10.2014
In the 3rd quarter of 2014 compared with the 2nd quarter of 2014 Gross Domestic Product (GDP) value (seasonally adjusted data) increased by 0.4%, but compared with the 3rd quarter of 2013 it has risen by 2.2%, according to flash estimate* of the Central Statistical Bureau (CSB).
30.10.2014
Data of Central Statistical Bureau show that, compared to August, the total turnover of retail trade enterprises in Latvia in September 2014 dropped by 0.3%, according to seasonally adjusted data at constant prices.
30.10.2014
In a time period between January 1, 2004 and December 31, 2013, a total of 21,168 citizens of Latvia were registered in Latvian consular representations in the European Union, European Economic Area, and Switzerland, the European Latvians Association (ELA) informed LETA.
30.10.2014
According to a survey of finance directors at the largest Baltic companies conducted by SEB bank, companies in the Baltic States have become less optimistic about the business environment, reported BC the bank.
30.10.2014
There is no reason to celebrate Latvia's position in the World Bank's latest "Doing Business" study, Latvian Chamber of Commerce and Industry board chairman Janis Endzins told the Nozare.lv business portal, cites LETA.
29.10.2014
Data of the Central Statistical Bureau (CSB) show that in 2013, a total of 20.6 thsd children were born in Latvia (1), 9.2 thsd or 44.6% of which were extra-marital births.The majority or 53% of the first-born children were born outside marriage.
29.10.2014
Financial (regularity) audits for the year 2013 carried out by the National Audit Office in Lithuania assessed whether decisions in particular public investment areas are always implemented at the lowest cost and meet the needs of the society, reports LETA/ELTA, referring to the audit office.
29.10.2014
On the list of Doing Business 2015, a World Bank Group flagship report which was released this Wednesday Lithuania remained as one of the most favourably assessed countries in the world in terms of starting a business. In The overall ranking Lithuania is 24th, while Estonia on 17th position and Latvia 23 rd, informs LETA/ELTA.
29.10.2014
The emerging government's draft declaration stipulates that the government's main priority could be ensuring viable economic growth in order to increase residents' welfare and sense of belonging to Latvia, according to information acquired by LETA.