International Internet Magazine. Baltic States news & analytics
Wednesday, 07.10.2015, 01:43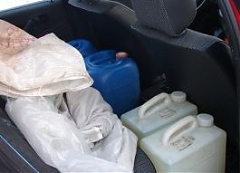 06.10.2015
Every fifth resident in Latvia, or 21%, have purchased illegal alcohol, cigarettes or gasoline the past year, according to a survey by SKDS, cites LETA.
05.10.2015
Latest data compiled by the Central Statistical Bureau show that, compared to July industrial production volume in Latvia in August 2015 (according to seasonally adjusted data at constant prices) decreased by 1.4%.
05.10.2015
By 1 October 2015, Lithuanian political parties had 118,813 members in total, according to data provided by 24 political parties to the Lithuanian Ministry of Justice, informs LETA/ELTA.
05.10.2015
The survey of members of the American Chamber of Commerce has shown that 58.4% of the respondents from major United States companies operating in Lithuania are unhappy with the current migration system in the country and regard it as poor or very poor, informs LETA.
05.10.2015
Largest market research and consulting company TNS LT carried out a study on customer experience concerning Lithuanian shopping centres. The study has shown that a positive opinion about a shopping centre is not enough – they have to find ways to stand out in order to attract more customers and establish strong ties with them, informs LETA/ELTA.
05.10.2015
In the near future, the Finance Ministry is planning to carry out a major revision of the tax system, however, capital gains tax rates will not be reviewed, as the Finance Ministry's Parliamentary Secreatry Arvilis Aseradens (Unity) said during a discussion organized by LETA.
05.10.2015
In 2013, 8.3 million persons worked as teaching staff (from pre-primary to tertiary level) in the European Union (EU), of which 5.8 million (70%) were women. Women were largely predominant in the early stages of education, representing 95% of all teachers at pre-primary education level and 85% at primary level, writes LETA/ELTA.
02.10.2015
Only 8.3 % of migrants' applications for asylum in Latvia are approved, and Latvia is ranked last in the European Union in this respect, according to data for the first six months of the year collated by Pew Research Center, writes LETA.
01.10.2015
Latvia has joined the groups of nations who support France's proposal to restrict the use of veto rights at the U.N. Security Council in cases of mass atrocities and genocide, Foreign Ministry spokesman Raimonds Jansons confirmed, writes LETA.
01.10.2015
The Baltic states are among the most vulnerable countries in the world to an unprecedented pace of aging population that is forecast to slow economic growth over the next 20 years, ''Moody's Investors Service'' said in a report published today, writes LETA.
30.09.2015
The seasonally-adjusted unemployment rate in the eurozone was at 11 % in August 2015, and thus remained unchanged from July 2015, according to the latest data presented by the EU statistical bureau Eurostat, writes LETA.