International Internet Magazine. Baltic States news & analytics
Friday, 06.03.2015, 16:06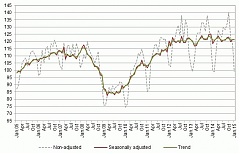 06.03.2015
Latest data compiled by the Central Statistical Bureau show that, compared to December 2014 industrial production volume in January 2015 (according to seasonally adjusted data at constant prices) declined by 3.1%.
05.03.2015
Statistics Lithuania informs that an annual publication Investment in Tangible Fixed Assets and Construction 2014 has been released. The publication provides the main statistical information on investment in tangible and intangible fixed assets, construction work carried out by cons¬truc¬tion enterprises, building permits issued and residential and non-residential building construction.
05.03.2015
According to Statistics Estonia, in January 2015, the production of industrial enterprises increased by 2% compared to January of the previous year. Production increased in manufacturing and mining, but decreased in energy production.
05.03.2015
The Austrian capital Vienna has the highest quality of life of any city in the world, followed by Zurich in Switzerland and Auckland, New Zealand, according to a survey published Wednesday. The highest ranking Baltic city was Vilnius (79th), followed by Tallinn (88th), and Riga (89th), informs LETA/AFP.
05.03.2015
In 2013, the gender pay gap stood at 16.4% in the European Union (EU). The gender pay gap represents the difference between average gross hourly earnings of male paid employees and of female paid employees as a percentage of average gross hourly earnings of male paid employees, Eurostat, the statistical office of the European Union announced, cites LETA/ELTA.
05.03.2015
The unemployment level has slightly increased in Latvia since January, Director of the State Employment Agency Inese Kalvane said in an interview with the LNT show "900 sekundes" this morning, cites LETA.
05.03.2015
The Eurobarometer survey carried out in January revealed that 59% of the polled Lithuanians went on holiday abroad in 2014, informs LETA/ELTA.
04.03.2015
Results of the survey on income and living conditions carried out by the Central Statistical Bureau (CSB) show that in 2014 housing maintenance expenditure of households (1) has slightly increased, reaching 138 euros per month.
04.03.2015
In January 2015, compared with January 2014, the volume of retail trade increased by 6.7% in Latvia, which is the fifth best growth among the European Union member states for which data are available, according to latest information provided by Eurostat. In Lithuania, retail volume rose by 3.3%, but in Estonia – by 2.8%, writes LETA.
04.03.2015
Banking sector is an important contributor to jobs and growth in the EU through the support for SMEs. The sector already provides in the EU-28 about €4 trillion in loans, a big share of which goes to SMEs. In some of the states, the sector's share in SMEs' lending is about 30-40%. Seeking to rebuild Europe's economy, this channel of funding shall be supported and developed.
04.03.2015
Annual greenhouse gas (GHG) emissions in Lithuania amount to 4-5 tons per capita and are among the lowest in the European Union (EU), the European Environment Agency (EEA) said in a report The European Environment – State and Outlook 2015, informs LETA/ELTA.