International Internet Magazine. Baltic States news & analytics
Saturday, 30.04.2016, 08:14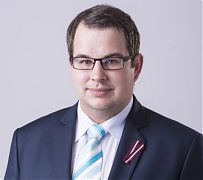 29.04.2016
Parliamentary Secretary, Ministry Edgar Putra thinks that the bank or the financial services industry Latvian should evolve in quality, rather than quantity direction, so that Latvia, like Switzerland, after some time be able to say that our banks work as precisely as a Swiss clock. Politician points to the important role of banks in economic growth, while developping loans.
29.04.2016
The assets of pension plans under the government-funded or second-pillar pension scheme in Latvia grew by EUR 73 million in the first quarter of 2016 to EUR 2.4 billion at the end of March, the Finance and Capital Market Commission (FCMC) said, cites LETA.
28.04.2016
Data of the Central Statistical Bureau show that, as compared to 2014, in 2015, due to 15.8% decrease in price indices of livestock products, especially decline in milk prices, price indices of agricultural output decreased by 7.5%. Price indices of crop products grew by 2.3%.
28.04.2016
According to an analysis drawn up by news site Politico, Estonia ranks 21st based on the country's influence among 33 countries that are European Union members or membership candidates, informs LETA/BNS.
28.04.2016
SEB Bankas, Lithuania's largest commercial bank by assets, has kept its Lithuanian GDP growth forecast for 2016 unchanged at 2.8%, informs LETA/BNS.
28.04.2016
Director general of the Estonian Police and Border Guard Board (PPA) Elmar Vaher would like a political agreement to be made regarding the salary of police officers and for it to be tied to the country's average salary, for instance, reports LETA/BNS.
28.04.2016
Roughly one in four employees in Latvia, or 24%, consider changing jobs this year, representatives of TNS Latvia pollster said, citing a survey on labor market trends, informs LETA.
27.04.2016
Data of the Central Statistical Bureau (CSB) show that, compared to February 2016, in March 2016 level of construction costs in Latvia grew by 0.2%. Labour remuneration of workers went up by 0.7%, maintenance and operational costs of machinery and equipment – by 0.3%, while prices of building materials went down by 0.1%.
27.04.2016
A quarter of 315 business executives surveyed in Estonia by the global consultancy Ernst & Young in 2016 find that anti-corruption measures damage their firms' competitiveness on the Estonian market, the figure is practically unchanged from last year, reports LETA/BNS.
27.04.2016
Riga is the most expensive city in the Baltics to live in, according to a study done by Swedbank Institute of Finances, cites LETA.
27.04.2016
According to the National Audit Office of Estonia, the merger of the Police Board, Border Guard Board and Citizenship and Migration Board has been effective, but its future could be jeopardized by a continued decrease in the number of employees, informs LETA/BNS.