International Internet Magazine. Baltic States news & analytics
Sunday, 25.09.2016, 11:50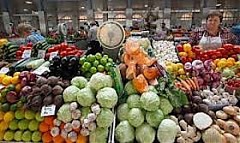 23.09.2016
Agricultural produce purchase prices in Lithuania dropped by 3.5% in August compared with a year ago, data from Statistics Lithuania showed on Friday, reports LETA/BNS.
21.09.2016
Some 3.166 mln passengers arrived in and departed from Lithuanian airports in the first eight months of this year, up by 13.8 % year-on-year, informs LETA/BNS.
21.09.2016
Executive Secretary of the the United Nations Framework Convention on Climate Change (UNFCCC) Patricia Espinosa in her article in Huffington Post, underlined the urgency of states' actions in climate actions and sustainability. The current rate of progress will only deliver success through every one's extensive sustainability efforts…
20.09.2016
EU's supranational administration concerning extensive economic integration requires more active oversight in capital and financial sectors. The British "City of London" is a renowned world financial leader being an efficient financial actor in both the UK and EU's economy. However, Brexit can damage that position argued some experts, acknowledging an impending tragedy.
20.09.2016
Lithuania recorded a current account deficit of 417.3 mln euros for the first half of this year, which accounted for 2.3 % of GDP for the period, the central bank said.
20.09.2016
According to Statistics Estonia, in the 2nd quarter of 2016, the Dwelling Price Index changed by 3.1% compared to the 1st quarter and by 1.8% compared to the 2nd quarter of 2015.
19.09.2016
The macroeconomic indicators available at this time unfortunately confirm our previously expressed concern: the Latvian economy is cooling down. The year 2016, in all likelihood, will be the year with the lowest growth since the crisis, reports in Forecasts of Latvijas Banka.
19.09.2016
According to Statistics Estonia, in the 1st quarter of 2016, 86% of households in Estonia had Internet access at home. There has been an increase in the share of people having used e-commerce services more than five times in the last three months.
19.09.2016
Commission's preliminary report on e-commerce sector in the EU confirms fast growth of e-commerce and identifies business practices that might restrict competition and limit consumer choice. The Commission's Digital Single Market Strategy has already identified a number of regulatory barriers that hinder cross-border e-commerce.
16.09.2016
The European Commission is compiling a first common EU list of non-cooperative tax jurisdictions and presenting pre-assessment indicators on all third countries. Now the EU states can choose which countries should be screened more fully so as to accurately pinpoint the countries which do not play by the EU taxation rules. Thus, a new "tax good governance" regime has emerged…
16.09.2016
Lithuania rose three notches to number fifteen, the highest ranking among the three Baltic countries, in the Fraser Institute's latest Economic Freedom of the World report, writes LETA/BNS.