International Internet Magazine. Baltic States news & analytics
Tuesday, 28.02.2017, 05:04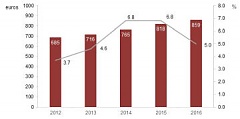 27.02.2017
Data of the Central Statistical Bureau (CSB) show that in 2016 the average monthly gross wages and salaries in the country amounted to 859 euros. Compared to 2015 when annual increase constituted 6.8%, in 2016 smaller rise in the average wages and salaries was recorded – 41 euros or 5.0.
22.02.2017
Latvia's harmonized annual inflation was among the highest in the European Union (EU) in January, Eurostat said on Wednesday.
21.02.2017
In 2016, the final electricity consumption in Lithuania totalled 10.47 kilowatt hours (or 10.47 terawatt hours, TWh). A record growth in the consumption was observed last year: residents, businesses, agriculture and transport used 4.5% more electricity compared to 2015. The growth rate in agriculture was as high as 8.4%, service sector 5.7%, residents 4.3%, and transport sector 4%. The lowest year-on-year growth rate (3.5%) was recorded in the industrial sector.
20.02.2017
According to the data of the Central Statistical Bureau (CSB), the turnover value of the external trade of Latvian goods in December dropped by 2.6% month-on-month, with goods exports dropping by 8.8% and imports increasing by 11.4%. Year-on-year, the goods export and import values posted positive growth by, respectively, 7.6% and 11.4%, which should be considered a good performance.
20.02.2017
The Estonian Institute of Economic Research (EKI) estimates that approximately EUR 8.5 mln of revenue generated by Estonians' alcohol purchases flowed into the Latvian state budget last year, writes LETA/BNS.
20.02.2017
Heated debate about the EU's future in the European Parliament recently showed that the EU faced big shocks if reforms were not introduced urgently. Three separate reports were debated in Strasbourg's plenary prepared by most influential party groupings: socialist, Christian democrats and liberal democrats.
17.02.2017
Statistics Lithuania informs that, based on the data from the Building Permits and State Construction Supervision Information System of the Republic of Lithuania (IS) Infostatyba, in IV quarter 2016, against IV quarter 2015, the number of building permits issued increased by 13.8%, of which for the construction of new residential buildings – by 27.9%.
17.02.2017
Lithuania in the fourth quarter of 2016 registered the largest quarterly increase in construction output in the European Union, figures from the EU statistical office Eurostat showed on Friday.
17.02.2017
The availability of financing of companies is aided by good access to bank lending, low interest rates, and profits built up earlier Companies are borrowing more than before from Estonia, and less from abroad Growth in household loans accelerated in 2016, but remained slower than growth in incomes and savings. The loan portfolio to companies and households will grow by around 5% in the years ahead, which is about the same rate as nominal GDP