International Internet Magazine. Baltic States news & analytics
Friday, 20.10.2017, 13:53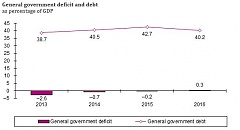 20.10.2017
Statistics Lithuania informs that in 2016, based on revised data, the general government surplus totalled EUR 103 million, or 0.3% of gross domestic product (GDP). In 2015, the general government deficit stood at 0.2% of GDP.
20.10.2017
Edvards Slesers, a son of Latvia's ex-politician Ainars Slesers, has for the first time made it to the list of Latvia's biggest earners, according to Latvia's Top100 Earners published by Dienas Bizness, cites LETA.
20.10.2017
Lithuania formed a surplus 2018 state budget for the first time since regaining independence in 1990, says Finance Minister Vilius Sapoka, adding this is necessary amid fast economic development and the need to accumulate reserves for a rainy day, reports LETA/BNS.
19.10.2017
Provisional demographic indicators compiled by the Central Statistical Bureau (CSB) show that during the first nine months of 2017 15 723 babies were born in Latvia, which is 1 113 children fewer than in the corresponding period of the last year.
19.10.2017
Data of the Community Survey on ICT Usage and E-Commerce in Enterprises conducted by the Central Statistical Bureau of Latvia (CSB) show that at the beginning of 2017 out of the enterprises employing 10 or more persons 98.7% used Internet, while 62.9% of the enterprises had website.
19.10.2017
For over ten years already, two ABLV Bank co-owners have been ranked first in the annual top of Latvia's millionaires collated by the business newspaper Dienas Bizness, cites LETA.
19.10.2017
Estonian Prime Minister Juri Ratas and Minister of Health and Labor Jevgeni Ossinovski participated in a meeting held in Brussels, in which leaders of European Union institutions and representatives of European employers and workers discussed ways to bolster the economy as well as the social well-being of Europe, informs LETA/BNS.
19.10.2017
European Union is one of the main trading blocks in the world. The 19 eurozone states are doing generally better than the EU-28: the latter recorded €5.1 bn deficit in trade in goods with the rest of the world in 2017 (in 2016 the deficit was €8.2 bn). But the eurozone countries are showing quite good results: a surplus of €145.3 bn in 2017, compared with a surplus of €172.2 bn in 2016; trade within the block has risen to about €1,2 trillion.
19.10.2017
According to a poll carried out by the European Parliament this fall, 81% Estonian citizens believe that Estonia has benefitted from being a member of the European Union, while the average indicator in the EU stands at 64%, reports LETA/BNS.
19.10.2017
The most valuable enterprise in the Baltic countries is Swedbank Group and the Latvian state-owned energy group Latvenergo is more valuable than the Estonian state-owned energy company Eesti Energia, it can be seen from a study carried out by the investment bank Prudentia and the Riga stock exchange, cites LETA/BNS.
18.10.2017
Our lives are filled with different milestones, such as starting school, leaving the parental home and starting work, getting married, having children, retiring… When it comes to education, employment, careers and earnings, but also childcare, health and nutrition habits, or cultural, sports and internet habits, there are large differences between women and men but also between EU Member States.