International Internet Magazine. Baltic States news & analytics
Thursday, 29.10.2020, 13:03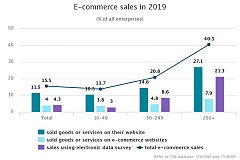 28.10.2020
Results of the Central Statistical Bureau (CSB) annual survey on the use of information and communication technologies (ICT) in enterprises show that 99.9 % of Latvian enterprises (1) used internet at the beginning of 2020, and 62.6 % of enterprises had their own website, of which 94.1 % of large enterprises, 81 % of medium-sized enterprises and 58.4 % of small enterprises (2).
27.10.2020
Representatives of the Estonian government, Confederation of Estonian Trade Unions and Estonian Employers' Confederation discussed the steps needed for exiting the economic crisis and topics relating to the Just Transition Fund at a trilateral meeting on October 26th, reports LETA/BNS.
26.10.2020
Even though 22% of Estonian people are weighing buying an electric car in the next five years, 71% cited said vehicles' range limitations and recharging times as the main obstacles to getting one, while 66% regarded an inadequate recharging network the main hindrance, it appears from a survey carried out by Citadele Bank and pollster Norstat in the three Baltic countries writes LETA/BNS.
26.10.2020
There is no reason to blame only banks or only entrepreneurs for insufficient lending by banks, the president of the Bank of Latvia, Martins Kazaks, told LETA.
26.10.2020
The results of Sunday's parliament election runoff in Lithuania show the new parliament will have representatives from ten political parties, as well as four lawmakers who ran for parliament independently, informs BNS/LETA.
23.10.2020
Transmission levels of Covid-19 in 23 member countries and the United Kingdom are now of "serious concern", the European Center for Disease Prevention and Control (ECDC) said on Friday, cites LETA/AFP.
23.10.2020
European lumber exporters have expanded their sales overseas from 30% to 45% over the past ten years, with Asia receiving a fifth of total exports in 2020, reports the Wood Resource Quarterly.
23.10.2020
According to the data of the Central Statistical Bureau, passenger turnover at Riga International Airport in September this year has dropped by 84.5 %, as compared to September 2019. In turn, for the first time since March, when the government implemented restrictions on air transport, the volume of cargo loaded and unloaded and post has increased by 6 % (1).
23.10.2020
According to Statistics Estonia, 30 full-length films were produced in Estonia last year, including 15 documentaries, 13 feature films and two animations. The number of short films (less than 60 minutes in length) produced last year was 132, including 62 documentaries, 44 feature films and 26 animations. Cinema attendance totalled nearly 3.7 million.
23.10.2020
The government debt to GDP ratio for Estonia as at the end of the second quarter of 2020 was 18.5%, being the lowest such indicator for European Union member states, writes LETA/BNS.
22.10.2020
According to the report by the European Environment Agency, none of the goals for improving the biodiversity status of the European Union have been achieved, but the biodiversity status of Estonian nature is better than the European average, informs LETA/BNS.