International Internet Magazine. Baltic States news & analytics
Thursday, 11.02.2016, 10:41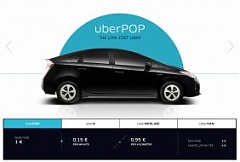 10.02.2016
The North prefecture of the Estonian Police and Border Guard Board continues to be of the opinion that drivers transporting passengers using the Uber app must have a corresponding operating license and doing it without a license constitutes an act of misdemeanor, reports LETA/BNS.
08.02.2016
Estonian citizens who have official dealings with institutions in other European Union countries will from the summer onwards no longer need to send documents by mail and can instead insist on the recognition of their electronic signature, LETA/BNS/Postimees says.
08.02.2016
Estonian startups' satisfaction with national government is almost three times higher than the global average, but a growing shortage of talent and capital are seen as the biggest drawbacks, it appears from an international startup ecosystem study, informs LETA/BNS.
08.02.2016
DocLogix, a document and process management solutions provider that is part of Alna Group, one of Lithuania's largest IT groups, has this year carried out its first project in Canada, where its system has been purchased by the pipe bending company Triple D Bending, the business daily Verslo Zinios reported on Monday, cites LETA/BNS.
05.02.2016
The examination of knowledge of the Constitution of the Republic of Estonia and of the Citizenship Act, which all applicants for Estonian citizenship must pass, are conducted electronically from the start of 2016, informs LETA/BNS.
05.02.2016
How do people differ in their approaches to innovation management depending on where they live? What effects do the respective economic and cultural environments have on future developments? Why is it that certain factors that have a favorable influence on the innovative potential of businesses in some regions tend to be inimical to innovation in others? The new Global Innovation Expert certificate program will provide answers to exactly these questions.
04.02.2016
SAF Tehnika group, which makes telecommunications equipment has reported unaudited consolidated net turnover of EUR 6.85 million euros for the first half of its 2015/16 financial year, up 2% from the same period in the previous financial year, according to the statement submitted to the Nasdaq Riga stock exchange, informs LETA.
04.02.2016
NAS Electronics, subsidiary of the Norwegian electronics manufacturer Nordic Automation Systems AS, is set to start manufacturing at its Saaremaa plant at full capacity in February 2016 and intends to start selling its solutions for electrical and pneumatic tools in Scandinavia, Germany and the UK soon, informs LETA/BNS.
04.02.2016
Estonian Foreign Minister Marina Kaljurand on February 3rd welcomed cyber issues appearing in the new European Union Global Strategy for Foreign and Security Policy, informs LETA/BNS.
03.02.2016
The National Center for Education (VISC) and the Latvian Association of Information and Communication Technologies (LIKTA) today signed a memorandum of cooperation aimed at reducing the shortage of labor in information and communication technology (ICT) industry in the future, informs LETA.
03.02.2016
The first industrial 3D printing technology center for small-scale production of plastic products in the Baltics has been opened in Riga, representatives of Baltic3D.eu company told LETA.