International Internet Magazine. Baltic States news & analytics
Thursday, 13.08.2020, 03:06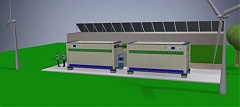 12.08.2020
Lithuanian researchers and their partners from various European countries have developed an environmentally friendly battery for storing green energy, informs LETA/BNS.
07.08.2020
Machine learning technology is increasingly entering people's daily lives and its application is becoming more extensive, from email filtering and computer vision solutions to forecasting tools and language processing. There are also practical and day-to-day solutions in Latvia that use machine learning methods. Find out what is new in the machine learning industry and interesting solutions for business development at the RIGA COMM Machine Learning Conference on October 15 in Ķīpsala.
06.08.2020
Latvia took the 27th position among 85 countries of the world in the Digital Quality of Life Index, lagging behind its neighbors Estonia (13th) and Lithuania (21st), according to a study by privacy protection company Surfshark, cites LETA.
06.08.2020
The leading startup and tech conference in the Baltics TechChill launches its next season, and will take place on 19-21 May, 2021 in Riga, Latvia. The main focus for the 2021 season is the Point of No Return - the agenda will explore the current course of action in HealthTech, EdTech and Digital Transformation, and how provoked adaptation in these industries has transformed into unforeseen opportunities.
06.08.2020
For the first time in Latvia, an autonomous bus will be running in Jelgava and Aizkraukle for two weeks in August, brought to Latvia by Zemgale Planning Region (ZPR) as part of the Sohjoa Baltic project that aims to facilitate the transition to autonomous and eco-friendly public transport in the cities around the Baltic Sea, as ZPR representative Ilze Lujane told LETA.
06.08.2020
The Tartu city government is exploring options for joining the European Commission's European Clean Hydrogen Alliance for the purpose of introducing hydrogen technologies more rapidly and extensively, informed LETA/BNS.
05.08.2020
TaxScouts, the United Kingdom based tax preparation startup founded by TransferWise and MarketInvoice alumni, has raised 5 million euros in Series A funding for European expansion, reports LETA/BNS.
04.08.2020
Yukon Advanced Optics Worldwide, a Lithuanian producer of digital night vision and other optical devices that is owned by Belarusian, Russian and Ukrainian citizens, has founded a new company for investment in undisclosed business areas, informs LETA/BNS.
04.08.2020
As the emergency situation in the country was lifted, the share of employees working remotely reduced. Accordingly results of the Labour Force Survey carried out by the Central Statistical Bureau, in June 2020, 15.5 % (117.1 thousand) of employees aged 15–74 years worked remotely¹, which is 2.7 percentage points (18.8 thousand) less than in May. 70 % of women and 30 % of men were working remotely.
04.08.2020
The Estonian direct selling market grew 2% year over year to over 50 million euros in 2019. Despite the sales growth, the number of people engaged in direct selling meanwhile declined 2.5%, informs LETA/BNS, citing the Baltic Direct Selling Association.