International Internet Magazine. Baltic States news & analytics
Thursday, 29.10.2020, 12:56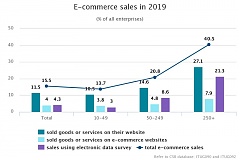 28.10.2020
Results of the Central Statistical Bureau (CSB) annual survey on the use of information and communication technologies (ICT) in enterprises show that 99.9 % of Latvian enterprises (1) used internet at the beginning of 2020, and 62.6 % of enterprises had their own website, of which 94.1 % of large enterprises, 81 % of medium-sized enterprises and 58.4 % of small enterprises (2).
27.10.2020
HCL Technologies Lithuania, an Indian-owned programming and IT company that opened a new office in Vilnius in 2019, has reported a net profit of 812,600 euros for the past financial year, a rise of 21% year-on-year, informs LETA/BNS.
26.10.2020
This year, the International Women's Club of Riga (IWCR) will take its visitors, friends and their families on an "International Christmas Journey" - a series of cross-cultural experiences from October 2020 until February 2021. IWCR offers this unique journey instead of its popular Christmas bazaar considering this year's special circumstances, informs IWCR in its press release.
26.10.2020
The Prosecutor's Office has charged Juris Gulbis, Chairman of the Board of SIA Tet, and four other persons of possible participation in fraud in the introduction of digital television, estimating the damage caused to the company in the amount of EUR 7,585,533 euros, TV3's investigative news program Neka Personiga reported last night, cites LETA.
26.10.2020
The Estonian business consultancy Miltton has announced its expansion, as part of which it is merging with the digital marketing agency Impact 80/20, informs LETA/BNS.
23.10.2020
The maintainer and project manager of the koroonakaart.ee website, which had been operating in cooperation with the Estonian Health Board, took down the website in protest against the Estonian government, informs LETA/BNS.
23.10.2020
According to Statistics Estonia, 30 full-length films were produced in Estonia last year, including 15 documentaries, 13 feature films and two animations. The number of short films (less than 60 minutes in length) produced last year was 132, including 62 documentaries, 44 feature films and 26 animations. Cinema attendance totalled nearly 3.7 million.
23.10.2020
In 2019, the financial technology company Sun Finance recorded a turnover of EUR 101.5 million in Latvia, an increase of almost three times compared with 2018 results, when the Group's turnover was EUR 36.5 million, according to the audited financial results of 2019. In turn, the Group's net profit last year was EUR 7.1 million, the company reports in its press release.
23.10.2020
The Environmental Investment Center is giving the transport board of the city of Tallinn four mln euros to finance a plan under which one hundred buses in Tallinn will start using biogas produced in Estonia from the beginning of 2021, writes LETA/BNS.
22.10.2020
Many supply chains will become shorter and simpler thanks to the Cvodi-19 crisis lessons, said Bank of Latvia president Martins Kazaks in an interview with LETA.
22.10.2020
The Estonian state-owned venture capital fund manager SmartCap will increase its anchor investment in the High-tech Enterprises Fund to 15 million euros, to which the private capital raised by the management company will be added, informs LETA/BNS.