International Internet Magazine. Baltic States news & analytics
Sunday, 05.07.2015, 10:43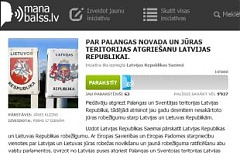 03.07.2015
A signature drive has been initiated at the manabalss.lv portal of public initiatives, claiming that Palanga "region and maritime territory be returned to the Republic of Latvia", reports LETA.
01.07.2015
Upon the conclusion of the Latvian Presidency of the Council of the European Union, on Tuesday, 30 June 2015, the Cabinet of Ministers reviewed the report on "Results of the Latvian Presidency of the Council of the European Union", informed BC the Latvian MFA.
30.06.2015
Rietumu Bank has launched a new online banking application iRietumu for devices operating on Android platform, both for mobile phones and tablets. Thus, the remote round the clock full-fledged banking is now available for devices of popular operating systems — iOS, Android, and Windows Mobile users can use Mobile Digipass, reported BC bank's press service.
30.06.2015
In the latest call for proposals for grants from the European funding facility Eurimages, a joint film production between Estonia, Latvia and Lithuania called "Pretenders" received a grant of 120,000 euros, writes LETA/Postimees Online.
30.06.2015
Latvia should use the experience and knowledge gained from the Presidency at the Council of the European Union for the country's further development, Prime Minister Laimdota Straujuma said today during a press conference at the Latvian National Library, the main venue for the Presidency, reports LETA.
29.06.2015
At the European Council session, President Dalia Grybauskaite underlined that it was necessary to accelerate the creation of a digital single market and to remove all barriers to free online trade across the European Union, reports BC the press service of the Lithuanian president.
29.06.2015
Health technology start-up enterprise Capster that develops cold treatment product received an angel investment with Tehnopol's Startup Incubator and Estonian Business Angels' Association EstBAN, writes Äripäev.ee/LETA.
20.06.2015
The European Commission launched infringement procedures against Austria, Cyprus, Germany, Malta, Poland and Spain on the grounds that their national rules include excessive and unjustified obstacles in the area of professional services. The Commission considers that requirements imposed on certain service providers are contrary to the EU Services Directive.
17.06.2015
On 17 June, Prime Minister Laimdota Straujuma opened the Digital Assembly 2015 by stressing the importance of the digital single market for strengthening Europe's competitiveness, reported press secretary to the prime minister Aiva Rozenberga.
16.06.2015
In 2014, mobile communications operator and digital electronics dealer LMT Retail&Logistics increased its profit almost twofold, earning EUR 2.88 million, as compared with EUR 1.56 million in 2013, according to "Firmas.lv" information, reported LETA.
12.06.2015
The 10th of June saw the opening of Saulėtekis (Sunrise) Valley's brand new Technology and Innovation Centre. Scientists in the centre will develop unique inventions and cutting edge technologies for use worldwide, reported BC the agency Invest Lithuania.