International Internet Magazine. Baltic States news & analytics
Thursday, 23.05.2013, 13:45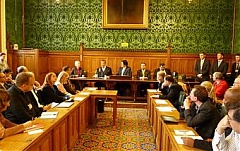 22.05.2013
Estonian President Toomas Hendrik Ilves spoke in front of the All-Party Parliamentary Group on Homeland Security in the UK House of Common on Tuesday, Estonian World reports.
21.05.2013
Decisions made shortly after regaining independence, such as computer classes in schools and ensuring free internet all over the country, along with functioning IT solutions and e-services have made Estonia greater beyond its geographical borders, Estonian President Toomas Hendrik Ilves said on Monday at the Google conference Zeitgeist 2013, reports LETA.
21.05.2013
Estonian telecommunication company EMT, Solutions MMC, Cybernetica AS, AS Finestmedia, The Division, and Gemalto S.A helped to launch Mobile ID in Azerbaijan.
20.05.2013
The European Union is in a time of change; generally, it is the short-term economic issues that attracts the decision-makers' attention. Through the EU main stream –innovations- various age groups are supposed to take part in changing the development trend in the member states; first of all through the Union's digital agenda.
20.05.2013
The new EuroLCDs liquid-crystal display production facility in Ventspils will manufacture products for European and U.S. markets, the facility's head Ainars Ozols informed LETA during the official opening ceremony on Friday, informs LETA.
17.05.2013
Company EuroLCDs opens a new liquid-crystal display production facility in Ventspils High-Tech Park today, as the company's board member Ilmars Osmanis told LETA.
17.05.2013
Norwegian business software and services provider Visma's Vilnius software development unit Visma Lietuva plans to grow to up to 500 staff in the coming years, informs LETA/ELTA.
16.05.2013
lsm.lv – the news platform of Latvia's new public medium – went online today, as National Electronic Mass Media Council Chairman Ainars Dimants informed during a press conference, informs LETA/Nozare.lv.
16.05.2013
Representatives of Lithuanian Business Confederation (LVK) urge school leavers to consider seriously the choices of further studies. They claim that professionals of technological science have much better prospects in today's job market, informs LETA/ELTA.
15.05.2013
BBC praises Estonia for its internet-dependence, fun, simple and cool approach to programming, and computer teaching to children in their early school steps in BBC's article published on May 15, reports LETA.
15.05.2013
Over 100 cultural heritage landmarks around Estonia will be marked with QR codes linking to visitestonia.com database, Estonian entrepreneurship support organization EAS said in a statement, informs LETA.