International Internet Magazine. Baltic States news & analytics
Sunday, 25.09.2016, 18:41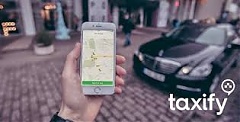 23.09.2016
The Estonian smartphone app Taxify that connects riders with local taxis and private drivers launched the service with 200 drivers in the Ukrainian capital Kiev on Friday, reports LETA/BNS.
21.09.2016
The Finance Ministry is about to make amendments to the Money Laundering and Terrorist Financing Prevention Act adopted this summer to enable residents and e-residents of to open a bank account without going to a bank office, writes LETA/BNS.
20.09.2016
The next generation 5G technology will reach users faster than it is thought today, the new chief executive officer of the Lithuanian and Latvian mobile communications group Bite says, adding that with mobile data consumption growing, 5G will help to internetwork various devices and will open up new possibilities for customers, reports LETA/BNS.
19.09.2016
The Baltic-Polish venture capital fund BPM Mezzanine Fund has invested an undisclosed amount of money in the paint producer Eskaro AS, a subsidiary of Eskaro Group AB, BPM mezzanine Fund representative informs BC.
19.09.2016
Denmark (3), Finland (7) and Sweden (9) give ScanBalt BioRegion a prominent representation at the top 10 of the list in overall biotechnology innovation according to the recently published 2016 Scientific American Worldview ranking.
19.09.2016
Commission's preliminary report on e-commerce sector in the EU confirms fast growth of e-commerce and identifies business practices that might restrict competition and limit consumer choice. The Commission's Digital Single Market Strategy has already identified a number of regulatory barriers that hinder cross-border e-commerce.
16.09.2016
It is no secret that the Baltic States represent a "trendy" destination for multinational companies to set-up shared service centers (SSCs).
16.09.2016
Dridex, an online banking malware that steals personal information through HTML injections, is now targeting also banks in Estonia, Latvia and Lithuania, warned LETA/BNS.
16.09.2016
Orion Asset Management, an investment company of the Swedish-owned group Scaent Baltic, and the Dutch-owned Energy Investment Fund are selling a 46-megawatt wind farm, worth around 72 mln euros, in the district of Mazeikiai, in northwestern Lithuania.
15.09.2016
The Fortum group companies Anne Soojus AS and Fortum Eesti AS received altogether 1.7 mln euros of renewable energy support in August, more than any other generating party in Estonia, figures published by the transmission system operator Elering show, reports LETA/BNS.
15.09.2016
The 21st international conference on innovation Baltic Dynamics 2016: Innovation and Technology for Convergence - Strategy for Smart Growth is taking place at Radisson Blu Hotel Latvija today, as organizers of the conference informed LETA.