International Internet Magazine. Baltic States news & analytics
Tuesday, 28.07.2015, 22:42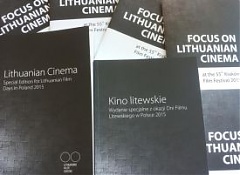 27.07.2015
The 15th T-Mobile New Horizons film festival was opened in Wroclaw (Poland) on July 23. Among other films it featured the most distinct Lithuanian films created from 1959 to 2015, reports LETA/ELTA, referring to the Lithuanian Film Centre (LFC).
24.07.2015
The innovative fund-of-funds investment initiative – the Baltic Innovation Fund (BIF), dedicated to boosting equity investments made into Baltic enterprises, launched by Lithuania, Latvia and Estonia and the European Investment Fund (EIF), has been increased., informs LETA/ELTA.
24.07.2015
U.S. Manhattan Federal Court sentenced three men with Estonian roots to jail in the so-called "ghost click" criminal case and sentenced them to pay a total of 4.5 million dollars, LETA/Public Broadcasting reports.
24.07.2015
The oldest Tele2 mobile Internet user is 99 years old, but the average age of a mobile Internet user is 37, refuting the popular belief that mobile Internet is used only by young people in Latvia, reports LETA, according to the telecommunications operator Tele2.
24.07.2015
More people have expressed the wish to become Estonia's e-residents in the first six months of the project than expected – the predicted number of applications for this year was already exceeded by two times by the start of July, Estonian economy and communications ministry reported LETA.
23.07.2015
Baltic e-commerce group Pigu reached turnover of EUR 50 million in 2014, with an increase of 31% compared to 2013, when the turnover was EUR 38,2 million, Roberts Ziminskis, representative of Pigu, told LETA.
22.07.2015
The Estonian state will invest over 40 million euros to make sure that by the year 2020, it would be possible, if desired, to carry out all the teaching in schools digitally, LETA/Postimees Online reports.
22.07.2015
72% Latvia's residents use e-services, of which 60% use e-services offered by public institutions, according to a survey carried out by the Environmental Protection and Regional Development Ministry and "Aptauju centrs" research center, cites LETA.
21.07.2015
Mobile communications operator Tele2 turned over EUR 47.7 million in the first half of the year 2015, which is 2% less than in the respective period last year. Meanwhile, the company's EBITDA (earnings before interest, taxes, depreciation, and amortization) increased by 3% to EUR 14.8 million, as representatives of Tele2 informed LETA.
21.07.2015
Researchers at Kaunas University of Technology (KTU) Organic Chemistry laboratories have developed material, which offers much cheaper alternative to the one which is currently being used in hybrid solar cells. The efficiency of the semi-conductors created by the team of KTU's chemists was confirmed at Swiss Federal Institute of Technology Lausanne, reports LETA/ELTA, referring to sciencedaily.com.
21.07.2015
Estonian biggest public service TV channel Eesti Televisioon (ETV) celebrated its 60th birthday on July 19th 2015, LETA/Postimees Online reports.