International Internet Magazine. Baltic States news & analytics
Monday, 30.05.2016, 07:57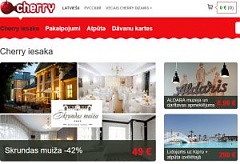 27.05.2016
The Estonian bargain website operator Cherry Media OU is to end its operations on May 27th, while the services previously bought by customers are guaranteed with contracts and most of the clients will not experience a loss, informs LETA/BNS.
26.05.2016
A total of 64 members of the Christian Democratic Union faction of the North Rhine-Westphalia state parliament visited software and business consultancy firm Nortal in Tallinn on 20th May with the aim to learn more about Estonia's e-government solutions.
26.05.2016
The online international money transfer service Transferwise from Estonia on Wednesday announced it has raised 26 million U.S. dollars (EUR 23.3 mln) from Scottish asset manager Baillie Gifford, reports LETA/BNS, referring to Businessinsider.com.
25.05.2016
First e-health services will become available before the Ligo! (June 23) holiday, as the National Health Service head Daina Murmane-Umbrasko told the Parliamentary Inquiry Committee of Saeima today, informs LETA.
25.05.2016
Uber, a US-based international ride-sharing network that launched operations in Lithuania last fall, opened an engineering center and a ride-sharing services support unit in Vilnius on May 25th. The sum invested in the center is withheld, reports LETA/BNS.
25.05.2016
Although unlicensed computer software is closely connected to increased cyber threats, 49% of computer software in use in Latvia are pirated, a study by Business Software Alliance (BSA) shows, cites LETA.
25.05.2016
Latvian Robotics Championship will take place at the Electronics and Telecommunications Department of the Riga Technical University (RTU) on Saturday, May 28, featuring robotics enthusiasts and fans from all Baltic countries whose robots will compete in seven categories, informs LETA.
25.05.2016
Presenting to the German government the Estonian experience with e-government and cyber security on May 24th, Prime Minister Taavi Roivas said the introduction of e-services does not have to mean that people's privacy will suffer, informs LETA/BNS.
25.05.2016
The Tartu-based company Frozen Kingdom OU is developing a game platform for children suffering from chronic illnesses and those being treated in a hospital, informs LETA.
24.05.2016
US Internet giant Google will provide free-of-charge training about the Internet and the use of technologies in Lithuania in the framework of a digital skills training project, Google Growth Engine, informs LETA/BNS.
24.05.2016
In April 2016, 31,000 new mobile telephones, more than in any other month so far this year, were bought in Estonia, of which 19% were bought through internet sales channels, a survey by GfK Retail and Technology indicates, cites LETA/BNS.