International Internet Magazine. Baltic States news & analytics
Friday, 20.09.2019, 19:44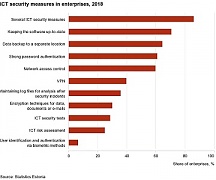 20.09.2019
According to Statistics Estonia, in 2019, 90% of households had internet connection at home and it is used daily or almost daily by 98% of 16–44-year-olds. Enterprises contribute increasingly to improving their ICT security measures and policies.
13.09.2019
Monese, a mobile-only current account provider of Estonian origin, is planning to expand to America and Asia as well as Romania, Bulgaria and Turkey in the near future, informed LETA/BNS.
13.09.2019
he Estonian government at its meeting endorsed a proposal to establish a cyber diplomacy department at the Ministry of Foreign Affairs, informed LETA/BNS.
12.09.2019
After successfully operating in the Nordic region for two years, ELKO Group signed an agreement for purchasing the remaining 15% of shares of Swedish-based distributor Gandalf Distribution AB at the end of August, thus concluding the acquisition.
12.09.2019
Höhle OÜ, a plastic microduct manufacturing company unique in Estonia, opened its new factory in Lõiuse village in Rapla county. The factory produces over 200 km of micro ducts per day, which go to the domestic market as well as to 12 European countries. The total investment for the factory was over 4 mln euros, BC informed Höhle OÜ representative.
11.09.2019
Network equipment manufacturer Mikrotikls last year operated with a turnover of EUR 258.711 mln, up 2.8% y-o-y, while the company's profit increased 1.8 times to EUR 79.349 mln, according to Firmas.lv informed LETA.
10.09.2019
Estonian companies Enefit Nortal, Datel and SMAGRINET will present innovative digital solutions at the World Energy Congress in Abu Dhabi on September 9-12. With over 150 countries represented, World Energy Congress is the world's largest and most influential energy event covering all aspects of the energy agenda President Kersti Kaljulaid will be the keynote speaker of the congress on September 10 and will also participate in a panel discussion "Getting to grips with the blockchain: Cutting through the hype".
09.09.2019
On 10 September this year in London, at the Exhibition Hall "EXCEL" Pavilion of Latvia will be opened at the most important exhibition of defence and security industries "Defence & Security Equipment International". At the international exhibition Latvia will be represented by manufacturers of dual-use products representing the sectors of information and communication technologies, aviation, electronics, ammunition and tactical wear.
09.09.2019
SES's latest solution, which will be showcased at IBC2019 in Amsterdam, synchronises over-the-top (OTT) and satellite broadcasts by delivering IP signals to OTT platforms as fast as satellite to create enhanced live viewing experiences, SES announced today. The new solution, named Satellite and OTT in sync, gives broadcasters the power to deliver a more consistent experience to viewers watching any screen, or even multiple screens, by eliminating the delay between their TV broadcast and OTT services.
29.08.2019
The agenda of TLDCON 2019, the 12th international conference for ccTLD registries and registrars of the CIS, Central and Eastern Europe, which will take place in Vilnius, Lithuania, has been published. The conference is organized by the Coordination Center for TLD .RU/.РФ with the support of DOMREG.LT (host), the Internet Technical Center (general partner), ICANN and the Vilnius Convention Bureau.
27.08.2019
Construction company 1Partner Ehitus has handed over to Silikaat Grupp the building of a boutique hotel named Nothel that will be opened already before the end of August, informed LETA/BNS.