International Internet Magazine. Baltic States news & analytics
Tuesday, 06.12.2016, 19:51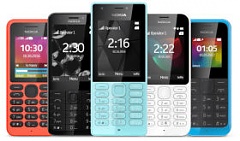 01.12.2016
Nokia confirms that the strategic agreement covering branding rights and intellectual property licensing with HMD Global Oy (HMD), originally announced on May 18, 2016 has come into force.
24.11.2016
New Commission's start-up and scale-up initiative aims to give EU's innovative entrepreneurs additional opportunities to become European-world leading companies. It pulls together all the possibilities that the EU already offers and adds a new focus on venture capital investment, insolvency law and taxation.
23.11.2016
The Estonian aircraft maintenance, repair and operations (MRO) company Magnetic MRO and MAC Interiors, a subsidiary acquired by it in February this year, are working to use 3D printing technology for more cost effective and quality interior solutions, reports LETA/BNS.
22.11.2016
On 17-18 November Riga hosted "eCom21" - the international conference on e-commerce and internet business issues, which is one of the largest in Europe.
22.11.2016
The Estonian Finance Ministry and the software company AS Nortal have signed a cooperation agreement based on which Estonia's practices of tax collection and administration of public finances will be showcased in the Gulf states, reports LETA/BNS.
21.11.2016
Accenture IT company today has recruited the 1000th employee in Latvia, but by August 2017 the company plans to recruit more than 200 new employees, the company said LETA.
21.11.2016
Australian venture capital fund Airtree has invested one million U.S. dollars in Jobbatical, an Estonian startup that helps travel enthusiasts get mostly fixed-term technology jobs around the world, reports LETA/BNS.
17.11.2016
Latvian Employers' Confederation has named router and wireless ISP system developer Mikrotikls co-owners Arnis Riekstins and John Martin Tully as businessmen who have made the biggest contribution to the national economy of Latvia this year, and Riga Technical University - the best university for training of employers, as the confederation informed LETA.
16.11.2016
Printful, a member of Latvia's Draugiem Group, has launched its second print on demand workshop in the United States and prepares for listing the company's shares on the U.S. stock market, the group's representative Janis Palkavnieks told LETA.
15.11.2016
The Estonian transmission system operator Elering AS and the Finnish company Baltic Connector OY signed an agreement with ILF Consulting Engineering Polska on Monday under which ILF Polska will act as the engineering, procurement and construction manager in the construction of the undersea section of the Balticconnector gas pipeline between Finland and Estonia, informs LETA/BNS.
15.11.2016
– Investors placed 97.8 million euros in startups of Estonian origin during 2015, almost half of which went to the money transfer service Transferwise, writes LETA according to Eesti Paevaleht.