International Internet Magazine. Baltic States news & analytics
Wednesday, 31.08.2016, 07:18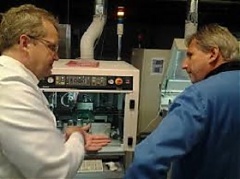 30.08.2016
The unaudited consolidated net turnover of HansaMatrix high technology company in the first half of this year was EUR 7.41 mln or by 20% higher than during the same period last year, the company said in a statement submitted to the Nasdaq Riga stock exchange.
23.08.2016
Business and training management software company Momook has announced that its highly-advanced full-flight simulator terminal is now available for sale and delivery. The software company, in cooperation with flight simulator maintenance solutions provider SimHelp, has launched an innovative solution developed specifically for aviation training center with at least one simulator, making the flight training process and simulator's maintenance fast, simple and cost-effective, BC informs MOMook representative.
23.08.2016
The Estonian taxi-hailing app Taxify which has recently expanded its operations to Budapest, Bucharest and Nairobi is planning to launch its operations in four other cities around the world in September, reports LETA/BNS.
19.08.2016
As of 18 August the Latvian Air Navigation Service Provider Latvijas Gaisa Satiksme (LGS) will deliver AFTN/AMHS system operator services for the Estonian Air Navigation Services (EANS), informs LGC representative BC.
17.08.2016
The manufacturer of wind turbines Eleon is about to set up a wind turbine control and software development center at Salme on Saaremaa island as part of its plan for the establishment of a manufacturing business that would build up to 60 new turbines every year, the regional newspaper Meie Maa said, cites LETA/ BNS.
16.08.2016
Europe's first unmanned civil flight to cross a marine area between countries is to land at the Kiltsi airfield in western Estonia on Tuesday after having taken off from Hanko, Finland, reports LETA/BNS.
15.08.2016
Newly published book provides insights into the state of the art for research and innovation regarding the Internet of Things (IoT), while exposing the challenges and opportunities within the future IoT ecosystems.
15.08.2016
Enterprise Estonia is set to launch in the next three years a virtual reality environment costing up to a million euros to showcase Estonia and the e-solutions available here, writes LETA/BNS.
12.08.2016
Railroad company Latvijas Dzelzcels, Czech company CZ Loko and Canada's Ballard Power Systems have signed a memorandum of understanding on cooperation in the development of technological solutions for manufacture of electric hydrogen-powered locomotives on the basis of the CME3 locomotive in Latvia, writes LETA.
12.08.2016
Meldonium, the main ingredient used in the production of Latvian-made Mildtronate medication, might be removed from the World Anti-Doping Agency's (WADA) list of banned substances already this year, Ivars Kalvins, director of the Latvian Institute of Organic Synthesis, said in an interview with LNT commercial TV channel, cites LETA.
10.08.2016
Understanding society and knowing where to find answers to various questions relating to daily life can facilitate integration in any country. With the help of About Estonia, an interactive mobile learning platform, IOM Estonia plans to offer foreigners new to the country the help that they will need to understand Estonian society and systems.