International Internet Magazine. Baltic States news & analytics
Thursday, 23.02.2017, 02:17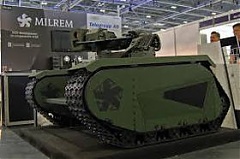 20.02.2017
The Estonian defense contractor Milrem has signed a memorandum of understanding with IGG Aselsan Integrated Systems (IAIS), a joint venture of the United Arab Emirates' International Golden Group and Turkey's Aselsan, informes LETA/BNS.
15.02.2017
As part of his dream of a traffic-free future, Elon Musk has been talking for a while now about boring a tunnel under Los Angeles from the HQ of his SpaceX company to LAX, the city's airport. In fact, he has actually started taking the first steps towards making this seemingly crazy idea come true. On Feb 3 a tweet showing a picture of the first drilling operations was accompanied by a single word: "Minecraft". That was inspiration enough for a team of Lithuanian techies, who decided to complete the entire project for Mr. Musk in just two days. In Minecraft.
15.02.2017
European regions and separate EU states are key players in helping entrepreneurs in business activity, in creating company, in providing grants or arranging taxes breaks. The Commission and other EU institutions decided to include regions and countries in "conversation" on business possibilities in Europe. Hence, the ideas of creating the Startup Europe Week (SEW), a European Partnership (SEP) and a Network (SERN).
14.02.2017
Estonia's e-health solution was awarded with the best technological solution award on Tuesday at the World Government Summit in Dubai, reports LETA/BNS.
14.02.2017
Estonian startups raised a record-breaking 102.5 million euros in investments during 2016, it according from figures published by Startup Estonia writing LETA/BNS.
14.02.2017
Operations of the e-health system can be continued, but immediately a plan of measures for improvement of the system should be developed, said Environment Protection and Regional Development Ministry's representative Laura Jansone.
10.02.2017
By the end of 2016 users of mobile ID in Estonia numbered 111,681 and during the year 41 million transactions were performed via mobile ID, it appears from the data of the certification center SK ID Solutions writes LETA/BNS.
09.02.2017
Shortage of specialists also this year will be the biggest challenge for Latvia's IT sector, said Signe Balina, the Latvian Information and Communication Technology Association (LIKTA) LETA.
08.02.2017
During the first six months of its fiscal year that lasted from July 1 to December 31, 2016, the group of Latvian telecommunications equipment maker SAF Tehnika generated EUR 8.155 mln in turnover, which was 16.8% more than a year ago, while its profit rose 36.6% to EUR 825,884, according to the company's report to the Nasdaq Riga stock exchange.
08.02.2017
Mainly internationally working growth company Toggl OÜ created a separate company for its office software solution Teamweek. The solution visualizes team members' projects and time management. The CEO of the new company Teamweek OÜ is Toggl's marketing manager of 4 years, Anneli Helendi and the company hopes to reach a turnover of 600,000 euros and earn a profit in 2017.
08.02.2017
"Blockchain can radically transform exchange sector", believes Kaidi Ruusalepp, CEO at Funderbeam (exchange for startups) and former CEO at the Estonian Nasdaq subdivision. On March 9, she will speak at Blockchain & Bitcoin Conference Tallinn.