International Internet Magazine. Baltic States news & analytics
Monday, 25.03.2019, 00:13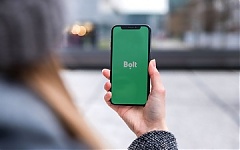 21.03.2019
Bolt, the ride-hailing company from Estonia previously known as Taxify, will start offering a food delivery service shortly, launching it first in Estonia, Finland and South Africa, reported LETA/BNS.
14.03.2019
The southern Estonian city of Tartu is to enter into cooperation with the robotics company Milrem Robotics to implement unmanned crawler-type vehicles developed for civilian use in the city's maintenance works, reported LETA/BNS.
13.03.2019
The software robotics company Flowit Estonia OU belonging to Estonian owners raised its profit 26% year over year to 192,000 euros in 2018, while revenue was stable at 1.1 mln euros, reported LETA/BNS.
13.03.2019
The Cyber Command of the Estonian defense forces is to hold together with the IT students' organization of the Tallinn University of Technology (TalTech) and the cyber defense unit of the Kaitseliit (Defense League) volunteer corps an event titled "K48 Defense Makeathon", informed LETA/BNS.
13.03.2019
Skeleton Technologies has appointed Renaud Lecompte as Chief Commercial Officer to drive the commercial effort as part of the company's growth plan and goal to become the market leader in ultracapacitor-based energy storage.
13.03.2019
With Chinese telecoms giant Huawei facing security gap or espionage suspicions from US and EU officials, Lithuanian Foreign Minister Linas Linkevicius says the security situation needs to be assessed responsibly, but, at the same time, the principles of law must be observed, writes LETA/BNS.
12.03.2019
Over the years, Estonia has in some way or another been targeted by the cyber spies of all Russian special services, it appears from a report made available by the Estonian Foreign Intelligence Service, citing LETA/BNS.
12.03.2019
The Investment and Development Agency of Latvia (LIAA) will organise the second international Magnetic Latvia Technology conference Deep Tech Atelier in Riga from April 12th-13th. The event will include an extensive practical and educational programme, gathering together science-based startups, research organisations, entrepreneurs, industry and government institution representatives, and technology fans in one place, informed LIAA representative.
08.03.2019
During the Award ceremony of the Latvian-American Innovation Award at the University of Latvia and Microsoft Innovation Center, the winners were announced, BC informed AmCham representative.
07.03.2019
24% of Estonia's manufacturing and mining enterprises have digitized their production processes, the rate is highest among medium and large businesses, according to the findings of a recent survey carried out by pollster Rait Faktum & Ariko among 300 Estonian industrial companies informed LETA/BNS.
07.03.2019
Israel's artificial intelligence and content management solutions startup Exai is set to open a software development unit in Vilnius that will hire about 30 professionals, according the business daily Verslo Zinios information reported LETA/BNS.