International Internet Magazine. Baltic States news & analytics
Thursday, 03.09.2015, 02:48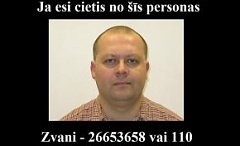 02.09.2015
The man, who was detained in May 2015 for gathering pornographic material of underage boys worked at the Riga municipal public transportation company Rigas satiksme, according to information obtained by LETA.
30.08.2015
Riga has the densest network of Wi-Fi hotspots compared to other capital cities of the European Union countries, shows a research by the telecommunications company Lattelecom, cites LETA.
29.08.2015
The team at Taxify have created a carpooling mobile application titled Hopp as a pilot project, writes Äripäev.ee/LETA.
27.08.2015
On August 28, 2015, Eesti Telekom will launch Vunk Garage48, an incubator for start-up companies, writes Äripäev.ee/LETA.
27.08.2015
According to market research company GfK Retail & Technology, during the first seven months of the year 2015 the number of 4G tablet computers per resident sold in Estonia is higher than in Latvia and Lithuania, writes LETA/Postimees Online.
27.08.2015
Starman managed to increase their sales revenue as well as profitability in H1 of 2015 in Estonia, writes LETA/Delfi.
26.08.2015
In the second quarter of the year 2015, Lithuanian payment institutions strengthened their positions both in the cash payments market and electronic payments market by taking over an increasingly larger share of them from commercial banks, reports BC the press service of the Bank of Lithuania.
25.08.2015
Finnish technology retailer Motonet is about to expand their business to Estonia, writes LETA/Postimees Online.
25.08.2015
This week, interior architecture students from the Estonian Academy of Arts (EAA) began construction of a wooden installation consisting of three giant megaphones, which will be placed in the forest near the RMK Pähni Nature Centre, in Võru County, and will be open to testing by everyone.
24.08.2015
Production of bioethanol is an alternative energy source of utmost importance in replacing ordinary fuel made from hydrocarbons. Latvian scientists have succeeded in producing bioethanol and furfural from plant waste – wheat straw. Co-generation of the two products – ethanol and furfural – is what makes their method unique.
24.08.2015
According to Nielsen's global e-commerce and new retail survey, only 2% of respondents in Estonia currently buy foodstuffs online, and 47% would be prepared to do so in the future, writes LETA/Postimees Online.