International Internet Magazine. Baltic States news & analytics
Saturday, 19.04.2014, 05:26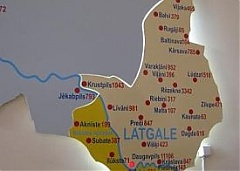 17.04.2014
A rally took place at the Latvian Embassy in Russia propagating Latgale as part of Russia, LETA was informed by Zigmars Zilgalvis, the second secretary at the embassy.
16.04.2014
Ukrainian and Russian risks on Estonian credit institutions are relatively low, Estonian Financial Supervision Authority (FSA) board member Andres Kurgpõld said, LETA/Postimees Online reports.
16.04.2014
On Tuesday, Foreign Minister Edgars Rinkevics was on a working visit to Finland where he met with the President of Finland Sauli Niinistö, Foreign Minister Erkki Tuomioja, Minister for European Affairs and Foreign Trade Alexander Stubb, and Chairman of the Foreign Affairs Committee of the Finnish Parliament Timo Soini, LETA was informed by the Foreign Ministry.
16.04.2014
Tougher sanctions on Russia would harm the business interests of several companies trading with our Eastern neighbour but companies have taken that into account and the effect on the Estonian economy as a whole should most likely be smaller than in Latvia, where transit and trade relations with Russia are closer, writes Äripäev/LETA.
16.04.2014
Russian Ambassador Alexander Veshnyakov, interviewed by LTV, reassured viewers that Latvia faces no threat from Russia. He said that he realizes that Russia's operations in Ukraine have upset many people in Latvia, who are concerned about state security, informs LETA/ELTA.
16.04.2014
Yesterday evening, Latvian Prime Minister Laimdota Straujuma (Unity) telephoned Stephen Harper, Prime Minister of Canada to discuss the situation in Ukraine. The phone call took place at the initiative of the Canadian side, LETA was informed by the State Chancellery.
16.04.2014
Heads of state are not panicking because of sanctions imposed by Russia against Lithuania's businesses. According to President Dalia Grybauskaite and Prime Minister Algirdas Butkevicius, Russia itself will feel the negative effect of such step, informs LETA/ELTA.
16.04.2014
Visiting U.S. Senator John McCain, following his meeting with President Andris Berzins today, denied reports that a new military base could be established in Latvia, informs LETA.
16.04.2014
Klaipeda City Municipality councillors, members of the political party the Lithuanian Russian Union are outraged at temporary prohibition to broadcast Russian television channels: First Baltic Channel, NTV Mir and RTR Planeta. They have expressed mistrust in the Radio and Television Commission of Lithuania (LRTK) and the country's justice system, informs LETA/ELTA.
16.04.2014
The Welfare Ministry told LETA yesterday that if the European Union imposes sanctions against Russia, many people in Latvia could lose their jobs, especially those working in the rail and fish processing sectors.
16.04.2014
During meeting in Luxembourg, European Union foreign ministers called for an end to the destabilization of Ukraine and decided to expand the list of restricted measures. Foreign Minister Urmas Paet said at the meeting of European Union foreign ministers in Luxembourg yesterday, that the actions of separatists in eastern Ukraine in recent days are unacceptable, the Foreign Ministry of Estonia said in a statement.