International Internet Magazine. Baltic States news & analytics
Wednesday, 26.06.2019, 09:44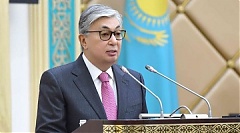 25.06.2019
The first President Nursultan Nazarbayev did not take part in the election for the first time ever in the history of the Republic. The expression "for the first time" is applicable to the elections because this electoral campaign has become unprecedented for Kazakhstan in terms of political competition and the range of candidates presented.
11.06.2019
An external service provider will accept visa applications in 53 countries where there are no Lithuanian diplomatic representations or consular institutions, informed LETA/BNS.
10.06.2019
Businessmen from Lithuania's port of Klaipeda, who win state tenders in Russia, also receive orders from Lithuania's strategic companies and the army, the investigation team from Lithuania's public broadcaster LRT has discovered, referred LETA/BNS.
03.06.2019
On 3 June 2019, during the concluding high-level meeting of the Latvian Presidency of the Council of the Baltic Sea States (CBSS) in Jūrmala, the Minister of Foreign Affairs, Edgars Rinkēvičs, met with the Deputy Minister of Foreign Affairs of the Russian Federation, Alexander Pankin.
03.06.2019
Lithuanian businessman Vidmantas Kucinskas says he has no knowledge of large-scale fraud charges against him in Russia. Russia's Alfa Bank is trying to recoup a debt of around 20 million euros from Kucinskas through courts, and the latter believes the bank might try to employ such tactics to bolster its position during the negotiations on the their dispute's out-of-court settlement, launched some six months ago, reported LETA/BNS.
03.06.2019
The Administrative District Court in Riga has granted refugee status to a Russia woman who was persecuted in her homeland for her religious views and had unsuccessfully applied for asylum at the Office of Citizenship and Migration Affairs, the court ruling shows, informed LETA/BNS.
31.05.2019
Estonian Minister of Economic Affairs and Infrastructure Taavi Aas is to attend the St. Petersburg International Economic Forum (SPIEF) to be held from June 6 to 8 and meet with the Russian Minister of Transport Yevgeny Dietrich, informed LETA/BNS.
30.05.2019
Estonia's Minister of Economic Affairs and Infrastructure Taavi Aas and a business delegation are about to visit Uzbekistan on Thursday to discuss cooperation in logistics, ICT and education with officials and business executives in that country, reported LETA/BNS.
30.05.2019
Investigators suspect that illegal workers from Ukraine and Belarus were hired for reconstruction works on Vilnius' landmark Gediminas Hill, the Financial Crime Investigation Service (FNTT) said LETA/BNS.
29.05.2019
LG Cargo, the freight transportation subsidiary of the state railway company Lietuvos Gelezinkeliai (Lithuanian Railways), is set to launch a new container train service between Klaipeda and Kiev in June.
28.05.2019
Lithuanian border officials on Tuesday barred Russian news website Sputnik Lietuva (Sputnik Lithuania) editor Marats Kasems from entering the country, informed LETA/BNS.