International Internet Magazine. Baltic States news & analytics
Tuesday, 22.10.2019, 12:31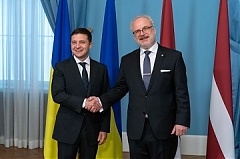 17.10.2019
kraine, which is fighting for its rights and paying a terrible price for it, is glad to have Latvia by its side in this complicated period, Ukrainian President Volodimir Zelensky said today after a meeting with Latvian President Egils Levits in Riga.
19.09.2019
A series of meetings are to be held between officials of Tallinn and St. Petersburg for the 20th time as part of the two cities' joint culture program in Tallinn from Sept. 26-28, informed LETA/BNS.
18.09.2019
Tallinn Deputy Mayor Vadim Belobrovtsev on Wednesday hosted a delegation of the city government of Moscow, which is visiting Estonia and Latvia this week to strengthen cultural and professional ties.
09.09.2019
Quite interesting events are taking place in distant Kazakhstan, which are economically important for our region. On September 2, the President of Kazakhstan Kassym-Jomart Tokayev, elected this year, first addressed to the people with a message in which he voiced the most important tasks facing this Central Asian state in the near future.
09.09.2019
Belarus might start importing oil through Poland and the Baltic states as an alternative to the Russian oil import if an agreement with Russia is not reached, LETA/INTERFAX referred the Belarussian President Alexander Lukashenko.
06.09.2019
The Kybartai, Ramoniskiai, Panemune and Nida border checkpoints on the Lithuanian-Russian border will temporarily closed due to power network maintenance in the Russian region of Kaliningrad, reported LETA/BNS,
30.08.2019
The Estonian government has decided in favor of a cheaper solution for the construction of the Estonian-Russian border costing 130.5 mln euros, 57.5 mln euros less than the more expensive option
14.08.2019
With Lithuania taking steps to block market access to electricity generated by Belarus' Astravyets Nuclear Power Plant (NPP), Latvia's electricity transmission grid operator is planning to import electrical energy from the facility under construction close to the Lithuanian border, informed LETA/BNS.
13.08.2019
The Latvian Foreign Ministry launches a grant project competition "Support for Development Cooperation and Development (Global) Education Projects Funded by the European Commission and Other International Aid Donors in the Recipient Countries Defined by the Republic of Latvia and in the Republic of Latvia", LETA learned from the ministry.
08.08.2019
Join the International Baltic Transport Forum taking place in Kaliningrad, Russia on the 11th & 12th September 2019.
08.08.2019
Latvian company Spectrum Baltic plans to import electricity to Lithuania from the Russian region of Kaliningrad. Lithuania's National Energy Regulatory Council confirmed it to LETA/BNS on Thursday it had issued the company the necessary permit.