International Internet Magazine. Baltic States news & analytics
Tuesday, 28.03.2017, 20:44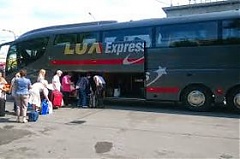 28.03.2017
The Estonian bus operator Lux Express is about to start operating regular services within Russia, specifically the St. Petersburg-Moscow and St. Petersburg-Pskov routes, this summer, LETA/BNS writes accordgin to the Postimees.
17.03.2017
The listed Estonian furniture and fiberboard maker Skano Group announced on Friday that it has finalized the sale of its Ukrainian retail subsidiary TOV Skano Ukraina to a company with Estonian capital operating in Ukraine, writes LETA/BNS.
15.03.2017
he wedge made by monopoly Latvijas Gaze (Latvian Gas) between the liberalized gas markets between Lithuania and Estonia will soon be removed – Latvia is the last of the three Baltic states to liberalize its gas market in a move that is expected to facilitate the trade among the countries, and Lietuvos Energija (Lithuanian Energy) holding hopes to offer gas at a better price than Latvijas Gaze, writes LETA/BNS.
14.03.2017
By exaggerating criticism of state institutions, we are playing into the hands of Russian propaganda activities in Latvia, Security Police Chief Normunds Mezviets told Latvian Television this morning writes LETA.
10.03.2017
Lithuania's KG Group, which is controlled by Tautvydas Barstys, is set to invest 10 million euros in its two companies in Belarus after securing a working capital loan from the European Bank for Reconstruction and Development (EBRD), reports LETA/BNS.
10.03.2017
The chairman of the Estonian parliament's Economic Affairs Committee, Aivar Kokk, says it is not possible to bring about a fast rise in the logistics and transit sector but small steps could lead to bigger success in the future, reports LETA/BNS.
08.03.2017
In order to better combat the crossing of illegal immigrants into the country and other offenders, a fence stretching several dozen kilometers will be erected on the Latvia-Belarus border, State Border Guard chief Normunds Garbars told LETA.
08.03.2017
Criminal groups made up of persons with Chechen ethnicity have taken the leading role in establishing illegal people smuggling networks on the Latvia-Russia border, the State Border Guard said in a report submitted to the Saeima's Defense, Interior Affairs and Corruption Prevention Committee citing LETA.
07.03.2017
The budget of Latvia's participation in Astana Expo 2017, an international trade fair to be held in the Kazakh capital this year, is around EUR 800,000, Janis Endzins, board chairman of the Latvian Chamber of Commerce and Industry (LCCI), told LETA.
07.03.2017
Nokia and the Russian communications and technology company "VimpelCom" (brand "Beeline") have signed a five-year agreement under which Nokia will become the major supplier of managed services for VimpelCom's fixed, mobile and transport network operations.
07.03.2017
LDz Cargo, a freight-shipping subsidiary of the Latvian state-owned railway company Latvijas Dzelzcels (Latvian Railway), carried 9.264 mln tons of freight in the first two months of 2017, up 5.9% from the same period in 2015, according to information released by the company.