International Internet Magazine. Baltic States news & analytics
Saturday, 29.11.2014, 11:39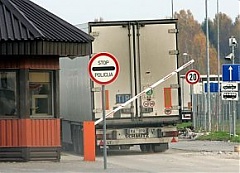 28.11.2014
Russia's tightened inspections on Lithuanian road carriers have increased the demand for Latvian carriers, however, there is no point in rejoicing prematurely, as there is no guarantee that Latvian business owners will remain exempt from such inspections, the head of road carrier association Latvijas auto Valdis Trezins said in an interview with Latvian Radio this morning, informs LETA.
28.11.2014
Latvian Interior Minister Rihards Kozlovskis (Unity) believes that Georgia is an important partner in the field of home affairs not only for Latvia, but the whole EU.
27.11.2014
Julius Misiunas, deputy president of the Lithuanian National Road Carriers' Association Linava, says that Russia is applying stricter inspection rules to Lithuanian trucks at the border because Russia had refused to participate in the TIR system activities and so no longer has means to ensure transparent transportation of goods into the country, informs LETA/ELTA.
27.11.2014
When starting his official visit to Georgia yesterday, Latvian President Andris Berzins emphasized that this visit was a testimony of the friendship and mutual understanding that has developed between the two peoples and countries, LETA was informed by the Presidential Press Service.
27.11.2014
If Russia completely closed all roads for goods and logistics from Lithuania, it would cost up to 4% of GDP to our economy, said Lithuanian Prime Minister Algirdas Butkevicius, adding that he does not believe in this worst-case scenario, writes LETA/ELTA.
27.11.2014
On 26 November, in Tbilisi, during the official visit to Georgia of the President of Latvia, Andris Bērziņš, the Foreign Minister of Latvia, Edgars Rinkevics met with the Foreign Minister of Georgia, Tamar Beruchashvili. Edgars Rinkevics congratulated Tamar Beruchashvili as Foreign Minister and expressed his support for the progress made by Georgia in the area of integration with Euro-Atlantic structures and the implementation of reforms, informed BC the Latvian MFA.
27.11.2014
According to the latest report from the European Travel Commission, the number of foreign tourists visiting Latvia increased by 18.9% in the first nine months of the year 2014 when compared to the same period last year, which was the second largest increase in Europe, reports LETA.
27.11.2014
Even though Russia's sanctions have continued for longer than anticipated and Lithuanian transport sector will incur losses, nonetheless it is yet too early to talk about the impact on Lithuania's gross domestic product (GDP) growth, says Head of Financial Markets at Danske Bank Giedre Geciauskiene, cites LETA/ELTA.
26.11.2014
On 25 November, Lithuania's Minister of Foreign Affairs Linas Linkevicius started a two day working visit to the Czech Republic and met with Minister of Foreign Affairs Lubomir Zaoralek to discuss bilateral cooperation in the fields of trade and security, and geopolitical situation in neighbouring countries, reported BC Lithuanian MFA.
26.11.2014
As retaliation for blacklisting Russian political Konstantin Simonov, Russia could in the near future blacklist a political scientists or official from Latvia in a tit-for-tat move, political observer Karlis Dauksts told LETA.
26.11.2014
The transport industry's losses could amount to EUR 1 billion if Latvian-Russian relations become worse, the Economy Ministry of Latvia informed the government yesterday, cites LETA.