International Internet Magazine. Baltic States news & analytics
Saturday, 20.12.2014, 02:50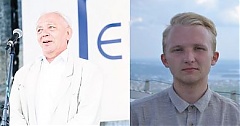 19.12.2014
The European Humanities University (EHU) was honored to host seven distinguished candidates who were invited to campus as finalists for the position of University Rector this week.
19.12.2014
Lithuanian economy has reached a stage of development where moderate GDP growth cannot be taken for granted and certain, SEB's analysts say in their latest Lithuanian Macroeconomy Review, reports LETA/ELTA.
19.12.2014
With the country's economy growing slower than expected, most business start-ups in Lithuania are taking the advantage of the situation in the domestic market. While the country's largest companies are estimating the consequences of Russia's embargo, our business start-ups are planning to further increase their sales volumes within the coming six months and recruit new employees to satisfy the growing demand, the bank DNB said in a statement, cites LETA/ELTA.
19.12.2014
Jurmala City Council representatives are denying the public rumors about "New Wave", "KVN", and "Comedy Club" exiting Latvia, the Jurmala City Council informed LETA.
19.12.2014
During a meeting with Foreign Minister of Kyrgyzstan Erlan Abdyldaev yesterday, Latvian President Andris Berzins emphasized that the European Union wishes to see Kyrgyzstan as a democratic country, LETA was informed by the Presidential Press Service.
18.12.2014
There has been a sharp decline in Russian demand for Christmas and New Year holidays in 2014 in Latvia, and some tourism operators have even seen a 70% drop in the number of clients from Russia, according to tourism operators questioned by LETA.
18.12.2014
Russian President Vladimir Putin said on Thursday he was confident in the country's current economic situation as he had the "insurance policy" represented by the state's right macroeconomic course of action and reserve funds for the fulfilment of social obligations, reports LETA/ELTA, referring to TASS.
18.12.2014
Economic growth of 2.9% of GDP in Lithuania should be the highest among the Baltic States in 2014. However, in 2015 it is likely to decrease to 2.7%, while Estonia's will be 2.3% and Latvia's 2.9%, forecasts Danske Bank, cites LETA/ELTA.
18.12.2014
In November, the average electricity price in the Lithuanian trading zone of the Nord Pool Spot was 17.4 ct/kWh, a drop down by 6% compared to October 2014, and was the lowest since May this year, reports BC Litgrid AB, the Lithuanian electricity transmission system operator.
18.12.2014
Estonian Ministry of Finance shall prepare an in-depth analysis on the fast fall of the Russian rouble exchange rate in recent days and its impact on the Estonian economy, Finance Minister Maris Lauri said on Wednesday in the parliament, LETA/Delfi Ärileht reports.
18.12.2014
Lithuania is going to open new visa centers in 7 foreign countries, reports LETA/ELTA.