International Internet Magazine. Baltic States news & analytics
Friday, 06.12.2013, 11:42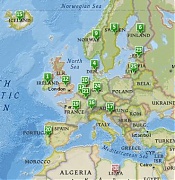 06.12.2013
Forbes Magazine has ranked world's top 25 countries to do business in and ranked Lithuania 25th, right behind Germany. Estonia is ranked even higher – 23rd and Latvia is placed 35th, informs LETA/ELTA.
03.12.2013
If German company E.ON Ruhrgas International GmbH (E.ON Ruhrgas) decides to sell its shares in Latvian gas supply company joint-stock Latvijas gaze (LG), then the state possibly becoming a shareholder will be discussed as a reserve option, Economy Minister Daniels Pavluts told the daily business newspaper Dienas Bizness, informs LETA/Nozare.lv.
03.12.2013
The growing glow of the cargos to the Eastern countries and the extended motor transports queues near the border are responsible for the increased demand for the railways, informs LETA/ELTA.
03.12.2013
Rail Baltica is one of the underlying projects of the Europe's railways which will connect Helsinki, Tallinn, Riga, Kaunas and Warsaw. The Lithuanian Railways is responsible for the implementation of the project Rail Baltica in the Lithuania's territory, informs LETA/ELTA, referring to Siauliu naujienos.
03.12.2013
Latvia has achieved remarkable progress in the promotion of naturalisation process, reducing the number of non-citizens from 29 % (730 000) in 1995 to 13.3 % (290 510) in July 2013. According to statistical data of 1 July 2013, 83.6 % of Latvia's population are Latvian citizens, informs Latvia's MFA.
03.12.2013
Lithuania's Prime Minister Algirdas Butkevicius rejects fears of businessmen that the Liquefied Natural Gas (LNG) terminal built in Klaipeda would become only an alternative channel to supply gas and it would not reduce gas price. The head of the Government also reveals that gas supply and its price is under negotiations not only with Russia-based Gazprom, but also with suppliers from Asia, informs LETA/ELTA.
03.12.2013
Due to events in Kiev, Valery Zhovtenko, Ukraine's Ambassador to Lithuania, was summoned to Lithuania's Ministry of Foreign Affairs, informs LETA/ELTA.
02.12.2013
At several meetings and conferences within the framework of Eastern Partnership (Vilnius, Lithuania, 28 November 2013), European Commissioner for enlargement and neighbourhood policy and the Commission's President reviewed the present state-of-art in enlargement as well as underlined challenges and perspectives.
02.12.2013
Russia has delayed its plans not to acknowledge TIR Carnets since 1 December 2013. Russian Federal Customs Service has informed the Russian Association of International Road Transport Carriers (ASMAP) that it has extended the agreement to 1 June 2014, informs LETA/ELTA.
02.12.2013
Road carriers now have a choice – to spend long nights at the border checkpoints or to make use of the new railway service and to transport their semi-trailer trucks to Belarus significantly faster. The new project of Lithuanian Railways (AB Lietuvos Geležinkeliai) and Belarus Railways has been symbolically named Nemunas, LETA/ELTA informs, referring to Lithuanian Railways.
02.12.2013
Latvian President Andris Berzins met with recently elected Georgian President Giorgi Margvelashvili on the sidelines of the Eastern Partnership Summit in Vilnius on Friday, LETA was informed by the Presidential Press Service.