International Internet Magazine. Baltic States news & analytics
Sunday, 01.02.2015, 15:13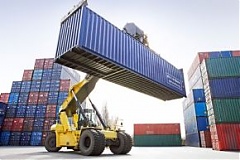 30.01.2015
Based on preliminary data of Statistics Lithuania, in 2014 export accounted for EUR 24.4 billion while import for EUR 26.5 billion. Compared with 2013, export decreased by 0.8% while import increased by 1%. Foreign trade deficit was EUR 2.1 billion, reports LETA/ELTA.
29.01.2015
In January-December 2014, the overall cargo handling in the Baltic Eastern Coast Seaports totalled 122 216 490.8368 161,5 thou. tn; the year-on-year change is +3,6% or +8 12 681,6 thou. tn, reports BC Klaipeda port's press service.
29.01.2015
The economy of Latvia is cooling, therefore specific measures need to be implemented in order to "warm it up", the Bank of Latvia President Ilmars Rimsevics said in an interview with the LNT show "900 sekundes" this morning, informs LETA.
29.01.2015
The Parliamentary Assembly of the Council of Europe (PACE) has extended sanctions against Russia until a plenary session in April 2015. The sanctions include suspension of voting rights, participation in standing committees and monitoring of elections as part of PACE delegations, reports LETA/ELTA.
29.01.2015
On 28 January, Lithuania's Deputy Minister of National Defence Marijus Velicka and Lieutenant General Leonid Holopatiuk, deputy defence minister of Ukraine, signed the Bilateral Cooperation Plan 2015 of Lithuania and Ukraine during Velicka's visit in Kiev, Lithuania's ministry reported LETA/ELTA.
29.01.2015
Lithuanian President Dalia Grybauskaite has attended the awards ceremony for winners of the contest Heroes Among Us, held at the Presidential Palace, reports LETA/ELTA.
28.01.2015
The number of Russian tourists visiting Latvia last year reduced by 6% when compared to 2013, reports LETA, according to statistics from the Economy Ministry and the Latvian Tourism Development Agency (TAVA).
28.01.2015
Due to a deterioration of the situation in Ukraine, both Latvian President Andris Berzins and Finnish President Sauli Niinisto expressed support today towards strengthening sanctions against Russia, reports LETA.
28.01.2015
European Union leaders have tasked their foreign ministers to consider tough new sanctions against Russia when they meet Thursday in response to a bloody upsurge in fighting blamed on Moscow, reports LETA/AFP.
28.01.2015
On 26 January, at Lithuania's request, the United Nations Security Council discussed the deadly shelling of Mariupol on January 23, when 30 people were killed and 90 wounded, reported BC Lithuania's Ministry of Foreign Affairs.
27.01.2015
Continuing geopolitical tensions in the East will continue to affect Lithuania's economy in 2015, says Nerijus Maciulis, Chief Economist of bank Swedbank. According to him, Lithuania's export to Russia will fall by at least 10%. Therefore, Lithuania's Gross Domestic Product (GDP) will grow less than projected earlier, 2.3%, reports LETA/ELTA.