International Internet Magazine. Baltic States news & analytics
Monday, 01.09.2014, 14:12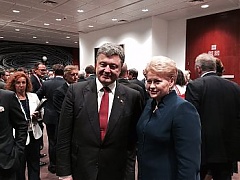 01.09.2014
Lithuanian President Dalia Grybauskaitė met with Ukrainian President Petro Poroshenko at the summit meeting of EU leaders in Brussels and expressed Lithuania's support for the European reforms implemented in Ukraine, to its sovereignty and territorial integrity, reports BC press service of Lithuanian President.
29.08.2014
Talks on the sale of the insolvent joint-stock metallurgical company Liepajas metalurgs will continue with two bidders – Luxembourg-based United Group, which belongs to Russian millionaire Igor Shamis, and the Ukrainian company KVV Group, as Liepajas metalurgs insolvency administrator Haralds Velmers told a press conference today.
29.08.2014
The number of Russian tourists in Europe has reduced by 30-40% due to the crisis in Ukraine, and this tendency will inevitably affect Latvia as well, CEO of the travel agency Baltic Travel Group Vlads Korjagins told LETA.
29.08.2014
Taking into account frequent information attacks and hostile propaganda, amendments to the Law on Provision of Information to the Public were prepared by the initiative of Lithuanian President Dalia Grybauskaite and submitted to the Seimas.
29.08.2014
Latvia condemns the invasion of Ukrainian territory by armed forces of the Russian Federation, the Foreign Ministry announced last night.
29.08.2014
The European Union (EU) is taking emergency measures to help dairy producers hit by Russia's import ban on the bloc's agricultural exports, the European Commission's announcement indicates, cites LETA/DPA.
29.08.2014
More than 40 leaders of Latvian food production companies participated in a meeting with Uzbekistani business owners yesterday. Although, specific cooperation agreements could be signed in November 2014 after the scheduled exhibition for food industry in Almaty, the Latvian Agricultural Consulting and Education Center spokeswoman Iveta Tomsone informed the business portal Nozare.lv, cites LETA.
28.08.2014
Less than half, or 46% of economically active residents ages 18 to 55 say that they will be buying more Latvia-produced goods in wake of Russia's food embargo, according to a survey carried out by the TNS research company in collaboration with the LNT television, informs LETA/Nozare.lv.
28.08.2014
Former chief editor of the Russian news site Lenta.ru, Galina Timchenko, has founded a company in Latvia, reports LETA/Nozare.lv.
28.08.2014
At the moment, there are 1.295 million Latvians and 0.583 million Russians living in Latvia, according to latest information provided by the Office of Citizenship and Migration Affairs, cites LETA.
28.08.2014
SEB banka has also reduced its economic growth forecast for Latvia. According to SEB banka, Latvia's gross domestic product will increase 2.5% this year, 2.7% in 2015 and 3.4% in 2016, as the bank informs in its latest Macroeconomic Review, cites LETA.