International Internet Magazine. Baltic States news & analytics
Monday, 03.08.2015, 16:05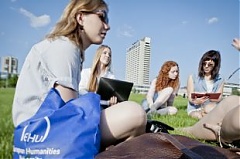 03.08.2015
The European Humanities University (EHU) Masters programs show a dramatic increase (up by 33%) in applications for fall of 2015. The acceptances to the International Law and European Union Law, the Public Policy, and the Historic and Cultural Heritage study programs have doubled, reports BC EHU press service.
01.08.2015
On 30 July 2015, the State Plant Service under the Ministry of Agriculture of Lithuania received a note from the Russian food safety supervising authority Rosselkhoznadzor where Russia asks the Plant Service to temporarily suspend phytosanitary certification of flowers grown in the Netherlands because harmful organisms were allegedly found in flowers brought from Lithuania, writes LETA/ELTA.
31.07.2015
The European Commission is aware of the challenges faced by EU's agro-producers and is expected to provide assistance. EU farmers will get support for dairy, fruit and vegetables sectors affected by the Russian ban: safety measures will be extended into 2016.
31.07.2015
Sanctions against Russia, which were introduced one year ago, have proven to be efficient and sent very clear signals in Russia and in the international arena, says Lithuanian President Dalia Grybauskaite, stressing that Russia continues to act as an aggressor, reports LETA/ELTA.
31.07.2015
The European Union will continue providing support into next year for farmers hard-hit by a Russian ban on European food exports, the bloc's executive said on July 30th, 2015, cites DPA/LETA.
30.07.2015
On July 29th, the Cabinet of Lithuania approved Prime Minister Algirdas Butkevicius' suggestion to grant support to citizens of Lithuania, people of Lithuanian origin and their families, who wish to move from war-torn regions of Ukraine to Lithuania and get integrated in here, reports LETA/ELTA.
29.07.2015
The Veterinary Supervision Authority of Kazakhstan has decided to introduce temporary restrictions on the import of Estonian and Latvian fish products, including canned fish, following the lead of Russia, LETA/Public Broadcasting reports.
29.07.2015
In June 2015, the average price for electricity in the Nord Pool Spot Lithuanian bidding area was 14% higher than in May and it reached 42.8 EUR/MWh. Compared to the same period last year, the price of electricity was 22% lower, reports BC Litgrid, Lithuania's electricity transmission system operator.
28.07.2015
In the United States' 2015 Trafficking in Persons Report, Latvia was placed in Tier 2, which is the same ranking as last year, LETA learned from the U.S. Embassy in Riga. Estonia and Lithuania are also in this category.
28.07.2015
The Russian food safety supervising authority "Rosselkhoznadzor" could ban import of flowers and other plant products from several European Union (EU) member states, including Latvia, according to a source at "Rosselkhoznadzor", cites INTERFAX/LETA.
28.07.2015
As of August 1, several Latvian fish canneries are banned from exporting their produce to Russia. The ban applies to the following Latvian companies – Ventspils zivju konservu kombinats, GAMMA-A, Sabiedriba IMS, UNDA, and Saldus galas kombinats, according to an announcement by the Russian Federal Service for Surveillance on Consumer Rights Protection and Human Wellbeing ("Rospotrebnadzor"), cites LETA/TASS.