International Internet Magazine. Baltic States news & analytics
Sunday, 25.02.2018, 05:32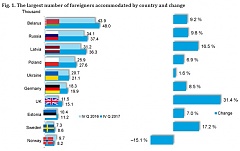 23.02.2018
According to Statistics Lithuania, in IV quarter 2017, the country's accommodation establishments received 607.4 thousand tourists, or by 8.9% more than IV quarter 2016. Compared to IV quarter 2016, the number of overnight stays grew by 7.5%. One guest stayed in an accommodation establishment for, on average, 2.2 nights.
20.02.2018
Lithuania in the late 2000s promised Latvia to support its efforts to build a liquefied natural gas terminal near Riga, but broke that promise, a former diplomat says, informs LETA/BNS.
20.02.2018
The CEO of Latvia's Norvik Banka, Oliver Bramwell, told the AP news agency that Bank of Latvia governor Ilmars Rimsevics has been extorting bribes from the bank for years, cites LETA.
19.02.2018
The Latvian airline airBaltic in January 2018 has transported 233 334 passengers or 24% more than last year to its network spanning Europe, Scandinavia, Russia, CIS and the Middle East. In addition, this is the record number of carried passengers in January in the history of the airline, informed BC the airline.
19.02.2018
The presidents of Lithuania and Poland share a negative opinion on the Russian and German plans of building a Nord Stream 2 gas pipeline on the bottom of the Baltic Sea, informs LETA/BNS.
16.02.2018
The Port of Riga company RIKON AS, which currently successfully competes in the market of manufacturing and maintenance of gantry cranes, plans to expand its production portfolio and launch manufacturing of mobile cranes, also, informed BC port's press service.
14.02.2018
Latest data compiled by the Central Statistical Bureau (CSB) show that 2.58 mln visitors stayed at Latvian tourist accommodation establishments in 2017, which is 11.9% more than during 2016. Compared to the previous year, the number of nights spent by visitors increased by 12.1%, reaching 4.95 mln. The average length of stay comprised 1.9 nights.
14.02.2018
Latvia's Olainfarm pharmaceutical company in 2018 plans to start packing five of its products for the Belarus market, the company said in its statement to the Nasdaq Riga stock exchange, cites LETA.
13.02.2018
Representatives of the Russian television channel RTR Planeta should arrive in Lithuania this week for a meeting with the Lithuanian Radio and Television Commission over the repeated violations of broadcasts to the country's viewers, informs LETA/BNS.
12.02.2018
Estonian customs officials found almost 50,000 cigarettes with Belarus tax stamps hidden in a BMW SUV that they checked on the Estonian-Russian border at the end of last week, informs LETA/BNS.
12.02.2018
Belarusian nitrogen fertilizer producer Grodno Azot intends to boost the flows of freight via Lithuania and its Klaipeda port, informs LETA/BNS.