International Internet Magazine. Baltic States news & analytics
Tuesday, 22.10.2019, 12:18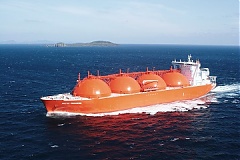 22.10.2019
A new large shipment of liquefied natural gas (LNG) from Norway arrived in the Lithuanian port of Klaipeda on Tuesday, reported LETA/BNS.
18.10.2019
International transport and logistics company Operail has launched a subsidiary in Finland, Operail Finland Oy, and is investing 50 million euros to begin freight transport on Finnish railways, informed Operail representatives.
18.10.2019
ithuanian cheeses, yoghurts and other dairy products are now subject to a new 25-percent import tariff imposed by the United States, according to the US Federal Register, writes LETA/BNS.
17.10.2019
European leaders on Thursday endorsed a Brexit withdrawal agreement drawn up between London and the European Union, which will now go to the British parliament for ratification, informed LETA-AFP.
17.10.2019
In 2018, 109.2 mln people, or 21.7% of the population, in the European Union (EU) were at risk of poverty or social exclusion. This means that they were in at least one of the following three conditions: at risk of poverty after social transfers (income poverty), severely materially deprived or living in households with very low work intensity.
17.10.2019
On the occasion of the 100th anniversary of Latvian National Institutions for Culture, Education and Science included among the anniversaries to be associated with UNESCO in 2018-2019 the audio visual installation "Alphabet of Latvian Culture" is opened at UNESCO Headquarters in Paris, France, Latvian National Commission for UNESCO representatives informed BC.
17.10.2019
The president of the European Commission, Jean-Claude Juncker, and British Prime Minister Boris Johnson said Thursday that a Brexit withdrawal agreement has finally been reached and will be presented to EU leaders, reported LETA-AFP.
17.10.2019
The Lithuanian parliament has started debating a draft amendment to the Criminal Code that would detail the president's right to pardon persons convicted of espionage, reported LETA/BNS.
17.10.2019
The OECD published a proposal to advance international negotiations to ensure that large and highly profitable multinational enterprises, including digital companies, pay tax wherever they have significant consumer-facing activities and generate their profits.
16.10.2019
Mayor of Tallinn Mihhail Kolvart and Deputy mayor of Helsinki Anni Sinnemaki concluded at a meeting held in Helsinki on Tuesday that the capital cities of Estonia and Finland should coordinate their efforts and develop a shared public transport ticketing system, according to the Postimees information reports LETA/BNS.
16.10.2019
Latvia has continued to improve its framework against bribery of foreign public officials and subsequent money laundering but the reforms need to translate into further effective enforcement, according to a new report by the OECD Working Group on Bribery.