International Internet Magazine. Baltic States news & analytics
Monday, 26.09.2016, 22:03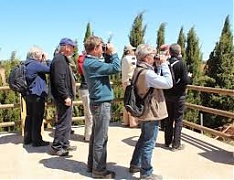 26.09.2016
10% of all nights in tourism accommodation facilities were spent by senior citizens over the age of 65 from Latvia, Bulgaria and Slovenia, which is the second lowest indicator in the EU, according to the latest Eurostat data for 2014.
26.09.2016
Newly published Commission's report shows that in 2015 the EU's share of world trade in goods accounted for almost 15%, worth €3.5 trillion. To manage this volume of international trade requires handling millions of customs declarations per year. However, more than 40 million products violating intellectual property right were detained at the EU's external borders, with a value of nearly €650 million.
23.09.2016
After Poland postponed the end of implementation of the Gas Interconnector Poland-Lithuania (GIPL) gas pipeline by 2.5 years, Lithuania's gas transmission company Amber Grid will have to terminate the tenders of pipeline acquisition and gas pipeline construction before calling new ones, reports LETA.
23.09.2016
Estonia's foreign direct investment position at the end of 2015 put it behind only Hungary in volume among the newer European members from Central and Eastern Europe.The Estonian current account in 2015 posted its largest surplus since independence was regained.Both exports and imports of goods and services were down last year, but imports by more.The current account was affected by large dividends paid out by the banking sector, informed Bank of Estonia.
22.09.2016
Latvia's largest producer of growing media, SIA Pindstrup Latvia of the Pindstrup Group, today opened a new wood fiber plant in the town of Baloži, Ķekava district, for the production of Forest Gold – a new component for growing media – for professional growers, Pindstrup representative told BC.
22.09.2016
Latvia's Valmieras Stikla Skiedra fiberglass maker has signed an agreement with its parent company P-D Management Industries-Technologies GmbH on sale of a 33% stake of Valmiera Glass USA Corp., according to a statement submitted to the Nasdaq Riga stock exchange.
22.09.2016
On 4 April 2017, the central banks of the euro area, including Eesti Pank, will release a new €50 banknote into circulation with a new design and security features. So that the new fifty-euro note can enter smoothly into circulation, it is important for companies to update their cash handling equipment in good time.
21.09.2016
The EU scrapped Wednesday a 90-day limit to its landmark free mobile phone roaming policy, promising checks to curb abuse after the initial plan ran into fierce criticism, reports LETA.
21.09.2016
Executive Secretary of the the United Nations Framework Convention on Climate Change (UNFCCC) Patricia Espinosa in her article in Huffington Post, underlined the urgency of states' actions in climate actions and sustainability. The current rate of progress will only deliver success through every one's extensive sustainability efforts…
20.09.2016
According to an analysis of the Organization for Economic Cooperation and Development (OECD), the biggest problems regarding education in Estonia are teachers, the demographic structure, a big number of people who fail to graduate university and education costs focusing on real estate.
20.09.2016
Lithuania recorded a current account deficit of 417.3 mln euros for the first half of this year, which accounted for 2.3 % of GDP for the period, the central bank said.