International Internet Magazine. Baltic States news & analytics
Thursday, 24.08.2017, 00:20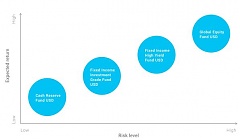 23.08.2017
The specialists of Rietumu Group have prepared an overview on the return of the investment funds of Rietumu Asset Management (RAM) for July 2017. Along with information on the structure and dynamics of the funds, the review contains the traditional analysis of the current political events and key economic factors that exert an influence on financial markets, informed BC Leonora Gailisha.
22.08.2017
A new iron curtain is descending over Europe as Russia retains its influence in some post-Soviet countries, Ukraine's former President Viktor Yushchenko said in Vilnius on August 22nd, cites LETA/BNS.
22.08.2017
Estonian businesses should pay more attention to the opportunities offered by the big Polish market, which generally has been of minor importance as a destination for Estonian exports so far, the Estonian Chamber of Commerce and Industry finds, cites LETA/BNS.
22.08.2017
The project for synchronizing the Baltic power grids with the Western European system must be carried out as soon as possible, or otherwise energy security would be put at risk, Lithuanian Energy Minister Zygimantas Vaiciunas said on August 22nd, cites LETA/BNS.
22.08.2017
The North European shipper DFDS, whose operations include freight services from the Estonian port of Paldiski to Kapellskar, Sweden and Hanko, Finland, saw its revenue in the second quarter of 2017 grow 4% year over year to 496 million euros. Earnings before interest, taxes and depreciation (EBITDA) rose 5% to 99 million euros, informs LETA/BNS.
22.08.2017
Timber manufacturer Stora Enso Latvija turned over EUR 51.846 million last year, a 2.2% decrease from 2016, while the company's profit rose 9.9% amounting to EUR 3.593 million, informs LETA, according to Firmas.lv.
22.08.2017
Latvian short film Sarauj, Just! (Just Go!) by director Pavels Gumennikovs has been selected for the final of Manhattan Short film festival, Iveta Dortane, a representative of the festival organizers, told LETA.
22.08.2017
Elering has signed a contract with Empower AS and Leonhard Weiss Energy AS on the implementation of the project for a third high voltage electricity interconnection between Estonia and Latvia for 60 million euros, reports LETA/BNS.
22.08.2017
There is no new economic crisis coming our way and Europe is in for a long period of economic growth, Ruta Arumae, economic analyst and teacher at Mainor business school, said on August 21st, cites LETA/BNS.
22.08.2017
The cornerstone for a plywood factory of Finland's Metsa Serla group in the southwestern Estonian regional capital Parnu will be laid at the 17 Kase Street plot on August 23rd, informs LETA/BNS.
21.08.2017
The industrial giant ABB has hired approximately 500 people in Estonia in 2017, including some 100 to work at its shared services center, cites LETA/BNS.