International Internet Magazine. Baltic States news & analytics
Saturday, 25.06.2016, 09:53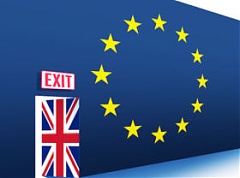 24.06.2016
Financial turmoil and a long-term threat to Britain's global influence are the result of the 'Brexit' vote announced today following the UK referendum on European Union membership, reported BC the European Council on Foreign Relations (ECFR).
22.06.2016
Present agreement among EU member states shows common approach towards far-reaching new rules to eliminate the most common corporate tax avoidance practices. It follows the agreement among OECD countries on recommendations to limit tax base erosion and profit shifting (BEPS).
22.06.2016
The three Baltic countries have agreed on the distribution of VAT revenue from the construction work on the European standard-gauge railway Rail Baltica, Lithuania's Transport Minister has said, adding that a respective agreement has already been signed and Lithuania will retain VAT revenue from work carried out in the country, informs LETA/BNS.
22.06.2016
A Stockholm arbitration court, which examined Lithuania's 1.4-billion-euro suit against Russia's gas supplier Gazprom over overcharging for gas supplies, has found no guilt on Gazprom's part, Lithuania's Energy Minister said, cites LETA/BNS.
22.06.2016
The Lithuanian Crime Investigation Service (FNTT) is conducting a probe into an illegal attempt to obtain nearly 4 million euros in support from the European Union (EU) and the Lithuanian budget for 11 projects, informs LETA/BNS.
22.06.2016
The mattress manufacturer Familon has decided to shut down its plant at Heinola, Finland and to relocate its operations to Estonia, informs LETA/BNS.
22.06.2016
Estonian manufacturer of module homes Harmet OU saw its revenue increase 42.1% year over year to 54.4 million euros in 2015, mainly as a result of a substantial increase in the share of the Swedish market, informs LETA/BNS.
22.06.2016
Spanish low-costs carrier Vueling is due to launch flights between Riga and Barcelona this Saturday, June 25, reported BC Sarmite Rinmane, a spokeswoman for Riga International Airport.
22.06.2016
There are options for Latvia to increase tax revenue but difficult decisions will be required and major adjustments will have to be made to the tax system, the World Bank experts have concluded, informs LETA.
22.06.2016
Latvia, Lithuania, Estonia, Poland and Finland as well as the European Coordinator for the North Sea-Baltic TEN-T Corridor, Catherine Trautmann, today signed a joint declaration about intention to continue active implementation of Rail Baltica project for construction of the European-gauge railway linking the Baltic States with the rest of Europe, reported LETA, referring to the Latvian Transport Ministry.
22.06.2016
Heads of the government offices of Estonia and Finland, Heiki Loot and Paula Lehtomaki, on Tuesday met in Tallinn to give an overview of implementing the recommendations made by the Organization for Economic Cooperation and Development (OECD) to the two countries in February 2016, reports LETA/BNS.