International Internet Magazine. Baltic States news & analytics
Monday, 21.09.2020, 22:32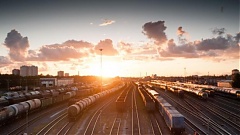 21.09.2020
The Covid-19 crisis has had a serious impact on the transport industry, but it has also revealed opportunities to improve the industry's efficiency and created preconditions for the industry to exit the crisis much stronger, Transport Minister Talis Linkaits (New Conservative Party) said at European transport ministers' virtual conference today, informs LETA.
21.09.2020
Not only did MEP from Latvia Tatjana Zdanoks (Latvian Union of Russians) vote against the European Parliament resolution demanding that sanctions against the Russian Federation should be strengthened and the construction of the Nord Stream 2 gas pipeline should be halted over the poisoning of Russian opposition politician Alexei Navalny, but also MEPs Nils Usakovs (Harmomy) and Andris Ameriks (Honor to Serve Riga), informs LETA.
21.09.2020
As the number of new coronavirus cases jumped over the weekend, Lithuania's COVID-19 management committee will meet to decide on measures to contain the spread of the virus, LETA/BNS informed.
18.09.2020
Investment companies Infracapital and AMP Capital announced on Friday that they have agreed the sale of their combined ownership interest in Adven, a leading provider of energy solutions across the Nordics and Baltics, to institutional investors advised by J.P. Morgan Asset Management, reports LETA/BNS.
18.09.2020
Estonia has banned direct flights between Estonia and Sweden, and Estonia and Norway, effective Saturday, as the coronavirus infection rate in those countries has again climbed above 25 per 100,000 inhabitants, informed LETA/BNS.
18.09.2020
At midnight Estonian time on the night between Friday, Sept. 18, and Saturday, Sept. 19, the Fiji Islands in the Pacific Ocean will kick off this year's global World Cleanup Day, initiated by Estonians, writes LETA/BNS.
18.09.2020
The Estonian Chamber of Agriculture and Commerce has described it as very important that the government pay the transitional national aid to agricultural producers in the biggest permitted amount next year and in the year after that, writes LETA/BNS.
18.09.2020
Estonian Minister of Economic Affairs and Infrastructure Taavi Aas and Latvian Minister of Economic Affairs Janis Vitenbergs earlier this week digitally signed a memorandum of understanding aimed at the development of an offshore wind farm by the two states, informs LETA.
18.09.2020
Lithuania and the United States have signed a joint declaration and agreed to step up cooperation on the development of 5G communication networks and carry out a rigorous evaluation of suppliers of hardware and software, informs LETA/BNS.
18.09.2020
Maxima Grupe (Maxima Group), a Vilnius-based retail chain operator indirectly owned by Lithuanian businessman Nerijus Numa (formerly known as Numavicius), posted 2.05 bn euros in consolidated revenue for the first half of this year, up 6.3% from the same period last year, with the group saying that its expansion in Poland had impact on the result, informed LETA/BNS.
18.09.2020
EUR 1.9 mln have been improperly spent from European Union (EU) funds in the first half of this year, according to a report prepared by the Ministry of Finance (MoF) on the use of EU funds.