International Internet Magazine. Baltic States news & analytics
Tuesday, 11.03.2014, 18:52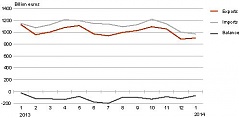 11.03.2014
According to Statistics Estonia, in January 2014, exports of goods decreased by 20% and imports by 15% at current prices compared to January 2013.
11.03.2014
When answering MPs questions in front of Estonian Riigikogu on Monday, the Minister of Economic Affairs and Communications Juhan Parts noted that the Rail Baltica project might be at risk from differences of positions between the participating counties, writes LETA/National Broadcasting.
11.03.2014
Lithuania's President Dalia Grybauskaite visited the Elektra enterprise. The enterprise operating in Virbaliu village for 2 decades employs nearly 80 local residents, informs LETA/ELTA.
11.03.2014
Spain's biggest low-cost carrier Vueling launches direct flights on the route Tallinn-Barcelona on June 20, 2014, LETA/Public Broadcasting reports.
11.03.2014
The week-long tests of electrobus were highly successful in Tallinn, the City of Tallinn said in a statement, cites LETA.
11.03.2014
As the Lithuania's politicians consider the country's Presidency of the European Union (EU) Council as successful and at the same time express their nuisance related to the stopped EU-Ukraine negotiations over the Association Agreement, Ambassador of Georgia to Lithuania Khatuna Salukvadze say that Vilnius Summit has become the historic event for Georgia, informs LETA/ELTA.
11.03.2014
Lithuania's President Dalia Grybausakite said that, having started the military actions in Crimea, Russia did not think about the pullback and the preservation of the dignity, informs LETA/ELTA.
10.03.2014
Statistics Lithuania informs that, based on non-final data obtained from customs declarations, Intrastat reporting and VAT returns data, exports in January 2014 amounted to LTL 5.9 billion, imports – LTL 6.4 billion. Exports of goods of Lithuanian origin amounted to LTL 3.5 billion. The foreign trade deficit of Lithuania amounted to LTL 0.5 billion.
10.03.2014
Latvia's share of renewable energy in final energy consumption amounted to 35.8% in 2012, the second highest in the European Union, according to the EU's statistical office Eurostat, cutes LETA.
10.03.2014
So-called social dumping becomes a problem among the EU states regardless of the fact that vast majority of people move from one country to another to find employment, rather than claiming benefits. "Moving workers" are of considerable benefit to the economies and the welfare systems of the receiving countries. Working migrants rose from 4.7 million in 2005 to 8 million in 2013. However, the annual mobility rate in 2011-12 was only about 0.2% of the total EU population.
10.03.2014
In early March 2014, the retail price for 95 octane gas in Latvia was EUR 1,313 per 1,000 liters – the fifth lowest price in the European Union, according to the European Commission's data on fuel prices in the EU, reports LETA.