International Internet Magazine. Baltic States news & analytics
Sunday, 21.09.2014, 15:07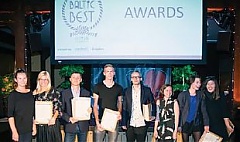 19.09.2014
DDB Latvia received a Gold Euro Effie for its campaign "Let's Beat Stanford" created for the Stockholm School of Economics in Riga Alumni Association at the Euro Effie Awards Gala in Brussels' Cercle de Lorraine business club last night.
19.09.2014
Minister of Agriculture Virginija Baltraitiene and Ukrainian Ambassador Valery Zhovtenko met on Thursday to discuss Lithuania-Ukraine cooperation opportunities with the greatest focus on export, informs LETA/ELTA.
19.09.2014
The European Parliament (EP) welcomes the ratification of the Association Agreement with Ukraine and steps being taken to restore peace in Ukraine, at the same time condemning the Russian Federation for waging an undeclared "hybrid war" against Ukraine, urging the European Union member states to cancel planned agreements with Russia in the energy sector and to support farmers affected by Russia's food embargo, as Marta Ribele, acting head of the EP Information Office in Latvia, informed LETA.
19.09.2014
On 18 September in Vilnius, Minister of Foreign Affairs of Lithuania Linas Linkevicius and new Ambassador of Spain to Lithuania Emilio Fernandez-Castano y Diaz-Caneja discussed partnership within international organisations, economic cooperation, and issues relating to the EU internal energy market, reported BC the Ministry of Foreign Affairs.
19.09.2014
In the first half of the year 2014, compared to the same period last year, the Latvian town of Sigulda registered a 27.8% increase in the number of guests staying at local accommodation establishments, LETA was informed by the Sigulda Regional Council.
19.09.2014
In its fresh economic report made public on Thursday, the European Bank for Reconstruction and Development (EBRD) reduced Estonia's economic growth forecast by one percentage point compared to the spring forecast, to 1%, LETA/Postimees Online reports.
19.09.2014
Compensation payments to farmers for the losses caused by Russia's embargo will become available by the end of the year 2015, however, their amount is currently unknown and will depend on the Agriculture Ministry's estimates, the European Commissioner for Agriculture Dacian Ciolos told the press representatives in Riga yesterday, cites LETA.
18.09.2014
Ukrainian President Petro Poroshenko has revealed that during one of his recent conversations with Russian President Vladimir Putin, the Russian leader had threatened to him that ''I could capture Riga, Vilnius, Tallinn, Warsaw and Bucharest within two days if I wanted to'', informs LETA/UNIAN.
18.09.2014
The amount of Russia's direct investments in Estonia has increased in the first half of the year 2014, commented economic analysts of four major banks at a debate on Wednesday, LETA/Delfi Ärileht reports.
18.09.2014
Today Saeima turned down amendments to the Immigration Law repeatedly proposed by All for Latvia! - For Fatherland and Freedom/LNNK (VL-TB/LNNK), stipulating that in order to prevent threat to national security, the government must suspend issuing residence permits to Russian citizens, informs LETA.
18.09.2014
"A lot was done in order to establish new guidelines for the Trans-European Transport network that will strengthen the economic and social cohesion of the Member States", Rimantas Sinkevicius, the Minister of Transport and Communications of the Republic of Lithuania said at the Informal Transport Ministerial Council held in Milan.