International Internet Magazine. Baltic States news & analytics
Sunday, 24.07.2016, 19:34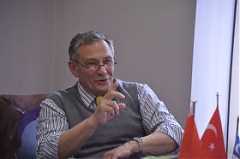 23.07.2016
The EU-2020 strategy, adopted by the European Council in June 2010, aims at establishing a smart, sustainable and inclusive economy with high levels of employment, productivity and social cohesion. Current situation revealed by Eurostat shows progress made since 2008 and the distance still to cover towards the Europe 2020 key targets.
21.07.2016
Currently, the attention of all those who work and conduct business in a united Europe is being paid to the behaviour of British authorities after Brexit. If the country withdraws from the EU, many thousands of companies incorporated in Britain are very likely to leave their legal motherland. And a certain share of this business can be bid for by Latvia.
20.07.2016
Mass economic migration from eastern Europe to wealthier countries has benefited the host nations but hampered growth in migrants' places of origin, including the Baltic states, AFP news agency informed today citing an International Monetary Fund discussion note, writes LETA.
20.07.2016
European Commission proposed amendments to two funds: European Venture Capital and the European Social Entrepreneurship funds regulations, marking another step towards the creation of the Capital Markets Union.
19.07.2016
Euronews unveils its revamped website euronews.com, offering an original user experience, based on the concept 'All Views'. Through a 'responsive web design' interface, the new website meets consumer needs and habits, in information-seeking across all types of platforms, BC informs Lydie Bonvallet Head of Press and Public Relations.
19.07.2016
Hungary's low-cost airline Wizz Air is planning to launch flights between Vilnius and the French city of Grenoble in mid-January 2017, informs LETA/BNS.
19.07.2016
The European Commission has awarded a EUR 50,000 grant to Latvian company Latima for commercialization of a cancer virotherapy medicine in the EU markets, informs LETA.
19.07.2016
During the first quarter of 2016, construction in Latvia slowed down by 19% from the first three months of last year, which was the third steepest drop among EU member states, according to updated Eurostat information on all 28 members of the bloc, writes LETA.
19.07.2016
Macroeconomic imbalance procedure is an integral part of the European Semester and helps to make efficient the regular cycles of European economic policy coordination and governance. Estonia has been subject to in-depth reviews for the first time this year; Latvia and Lithuania are in a better situation.
18.07.2016
The energy company Adven Eesti has endorsed an investment plan for 2017-2020 according to which it will invest 12 mln euros over the next three years to switch 13 remote heating areas to biomass fueled heating and overhaul remote heating networks, informs LETA/BNS.