International Internet Magazine. Baltic States news & analytics
Wednesday, 20.08.2014, 11:47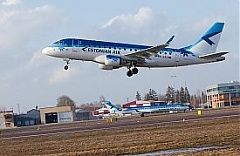 20.08.2014
The council of Estonian national carrier Estonian Air approved on Tuesday of the company's new restructuring plan, which was forwarded to the Ministry of Economic Affairs and Communications, who should in turn send it to the European Commission's Competition Office, LETA/Postimees Online reports.
19.08.2014
Automobile dealer Inchcape Motors Latvia (Inchcape) concluded 2013 with losses in the amount of EUR 1,498,887, reports LETA/Nozare.lv, referring to information provided by Firmas.lv.
19.08.2014
An eastern European crime gang has allegedly stolen 120 expensive BMW automobiles in Northern Ireland and shipped their parts to Latvia, informs BBC/LETA.
19.08.2014
The Estonian Highways Board has begun to gradually demand installing alco-locks or alcohol activated vehicle immobilisers in public transport buses and the police estimate these would also help keep problematic drivers away from driving ordinary cars too, LETA/Postimees writes.
19.08.2014
The Ventspils company Ventamonjaks has been acquired by Despina Capital, a company where 55% of shares belong to the Cyprus-registered Uralchem Freight, a subsidiary of the Uralkhim company, and 45% to the Latvia-registered joint-stock company Halcyon Capital, informs LETA/Nozare.lv.
19.08.2014
During the meeting with Latvian President Andris Berzins, Latvian Safety and Protection Industries Federation representatives announced about a chance for Latvia to participate in the international NATO project "Alliance Ground Surveillance", which would secure land and aerial surveillance and aerial, using "Global Hawk" unmanned aircraft, the Presidential Press Service informed LETA.
18.08.2014
Ryanair, Europe's favourite low fares airline, today Ryanair, Europe's favourite low fares airline, today (18 Aug) launched a new payment partnership with PayPal, providing customers, business travellers, travel agents and corporate travel departments with even more ways to book and pay for the lowest fares on the Ryanair.com website, informed BC Elina Hakkarainen.
18.08.2014
In evaluating the wobbly financial situation at the Pasazieru vilciens company, it is clear that new trains cannot be purchased all at once, therefore, starting in 2016, they have to be bought gradually, Transport Minister Anrijs Matiss (Unity) revealed today, cites Nozare.lv.
18.08.2014
If Russia decided to terminate all of its agreements with Latvia, including on energy supply, Latvia's gross domestic product would suffer a 10% reduction, Prime Minister Laimdota Straujuma (Unity) said in an interview with Latvian State Radio today, cites LETA.
15.08.2014
The Port Festival 2014, that has become a beautiful tradition, is part and parcel of the annual Riga City Festival. This year the main Port festival events "Ielu muzikas diena (The Street Music Day)", "Kanala Regate 2014 (Regatta of the Canal). The Freeport of Riga Cup" and 24-hour outdoor basketball tournament "Krastu Macs (The Game of Two River Banks)" will take place on August 16-17, 2014, reports BC the port's press service.
15.08.2014
Estonia is represented by other states in matters of Schengen visa issues in 98 countries, Estonian Foreign Ministry press service announced, cites LETA.