International Internet Magazine. Baltic States news & analytics
Monday, 25.03.2019, 00:17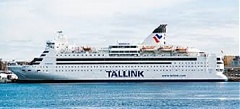 22.03.2019
Estonian shipper Tallink's Isabelle cruise ship that has been running between Riga and Stockholm will be renovated in Finland's Naantali shipyard, Tallink Latvija sales and marketing director Baiba Muceniece said.
21.03.2019
The Dutch shipbuilding company Damen has performed in the Yichang shipyard in China the inaugural cutting of metal for a liquefied natural gas (LNG) bunkering ship to be built for the Estonian company Eesti Gaas, reporting LETA/BNS.
21.03.2019
Bolt, the ride-hailing company from Estonia previously known as Taxify, will start offering a food delivery service shortly, launching it first in Estonia, Finland and South Africa, reported LETA/BNS.
21.03.2019
Austrian low-fare airline Laudamotion will launch direct flights between Riga and Vienna in October, Riga International Airport informed BC.
21.03.2019
More and more Belarusian cargo owners choose to ship their cargo through Latvia instead of Klaipeda in Lithuania, Edvins Berzins, CEO of Latvjas Dzelzcels (LDz, Latvian Railways) national rail company, told LETA, adding that cargos from Belarus grew by 10% last year.
20.03.2019
Austria's budget carrier Laudamotion is set to launch regular flights between Vilnius and Vienna next October, Lietuvos Oro Uostai (Lithuanian Airports, or LOU) said LETA/BNS.
19.03.2019
The state-owned Latvian airline airBaltic carried over 70,000 passengers on direct flights departing from Tallinn during the first two months of 2019, 34% more than in January and February 2018, informed aircompany.
18.03.2019
Henrik Hololei, director-general for mobility and transport at the European Commission, has expressed skepticism as regards the Tallinn-Helsinki tunnel project led by Finnish businessman Peter Vesterbacka, while also pointing out that the Chinese investors ready to finance Vesterbacka's plan must act in accordance with European Union (EU) rules, writes LETA/BNS.
18.03.2019
Latvian airline airBaltic in February 2019 has transported 245 349 passengers or 14% more than last year to its network spanning Europe, Scandinavia, Russia, CIS and the Middle East.
18.03.2019
Lithuania's fertilizer manufacturer Achema is set to purchase at least two liquefied natural gas (LNG) cargoes this year, according to publicly available information from Klaipedos Nafta, the Klaipeda LNG terminal's operator, informed LETA/BNS.
18.03.2019
Fuel prices this week have risen in Vilnius and Tallinn, but remained unchanged in Vilnius, LETA has found out.