International Internet Magazine. Baltic States news & analytics
Thursday, 04.06.2020, 08:43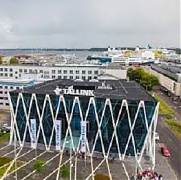 03.06.2020
The listed Estonian shipper Tallink Grupp is to lay off up to 190 employees in Estonia, the redundancies mainly concern service personnel on Tallink vessels, informed LETA/BNS.
03.06.2020
The resumption of international migration and the abolition of the self-quarantine requirements for residents of countries with low Covid-19 incidence will be a responsible and difficult moment for epidemiologists, Professor Girts Brigis, head of the Department of Public Health and Epidemiology at Riga Stradins University, told LETA.
03.06.2020
Bolt transport platform is offering electric scooter rent in Riga for the second summer in a row, providing several hundred electric scooters for rent in the city, the company's spokeswoman Krista Bulderbega infomed LETA.
02.06.2020
The State Police on Tuesday released businessman Igors Ivanovs who had been arrested as a suspect in the criminal case on organization of an alleged murder of lawyer Alla Jurasa. Ivanovs' lawyer Janis Davidovics told LETA that restrictive measures unrelated with deprivation of liberty have been imposed on him.
02.06.2020
This past May 2020, Riga International Airport serviced a total of 10,308 passengers, which was a three-fold increase on the previous month, the airport's spokeswoman Laura Kulakova told LETA.
02.06.2020
The Cabinet of Ministers on June 2nd in Latvia decided to redistribute EUR 600 million for different initiatives of ministries, including 103.2 million to be allocated for health care infrastructure projects, informs LETA.
02.06.2020
Data of the Central Statistical Bureau show that, compared to the 1st quarter of 2019, in the 1st quarter of 2020 freight transport by road reduced by 1.3%.
02.06.2020
Altogether 167,000 passengers in Estonia used the train for transport in April 2020, which is four times less than in the same month the year before, when the number of passengers totaled 708,500, informs LETA/BNS.
02.06.2020
The European Investment Bank (EIB) has signed a 95 million euro, 25-year tenor, loan agreement with the Estonian national railway company Estonian Railways, informs LETA/BNS.
02.06.2020
New passenger carriers could start working on regional bus routes in June of next year, the Minister of Transport Talis Linkaits (New Conservative Party) predicted in an interview with the Latvian Television morning news program Rita Panorama on JUne 2nd, reports LETA.
02.06.2020
Listed Estonian shipper Tallink Grupp announced on Monday that it will reroute its vessel Isabelle, which used to run on the Riga-Stockholm route, to operate on the Paldiski-Kapellskar route from Sunday, June 7, until the end of August 2020, informed LETA/BNS.