International Internet Magazine. Baltic States news & analytics
Monday, 20.10.2014, 07:23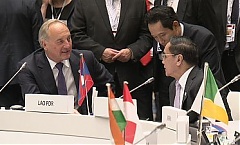 17.10.2014
During 10th Asia-Europe Meeting (ASEM) in Milan, Italy yesterday, Latvian President Andris Berzins commended transit and logistics opportunities offered by Latvia.
16.10.2014
About 40 electric automobiles have been registered in Latvia in 2014, Ingus Rutins, the vice president of "Automotive Association", told Nozare.lv/LETA.
16.10.2014
Stena Line's route between Nynäshamn and Ventspils has had a very positive development this year, increasing freight volumes by 23 percent. The demand continues to increase, so the sailing schedule is expanded with the help of M/S Ask and M/S Urd operating Travemünde-Liepaja.
16.10.2014
Freight transportation in East-West transport corridor via the port of Klaipeda, prospects of cooperation in Viking project, establishment of common public logistic centres, opening of direct flights between Vilnius and Baku, collaboration in information and communication technology were among the topics tackled by Rimantas Sinkevivius, Minister of Transport and Communications of the Republic of Lithuania, Azerbaijan's Transport Minister Ziya Mammadov and Ali M. Abbasov, Minister of Communications and High Technologies, reported BC the ministry.
16.10.2014
The attempts to set up a testing laboratory for Rail Skyway Systems Ltd. "string transport" near Zokniai military airfield in Siauliai city are probably not the only case of suspicious investments, informs LETA/ELTA.
16.10.2014
A study carried out by Lursoft shows that the Latvian transportation and logistics industry currently comprises over 5500 enterprises, 67.72% of which are registered in Riga and its surroundings. The industry has experienced an increase in popularity since 2004, when the number of enterprises operating in the industry started growing rapidly.
16.10.2014
Associate Director at KPMG Baltics Masane-Ose informed the business portal Nozare.lv yesterday that "this time out, the Freeport of Riga has decided to increase port fees either because they have not been increased for the past eight years, or because it is an attempt to compensate the recently-introduced 10% port dues", cites LETA.
16.10.2014
The Estonian state-owned port operator Tallinna Sadam (Port of Tallinn) announced that the projects and technical parameters of the new ferryboats the company will buy were developed and the necessary documentation for shipyards was compiled by the Norwegian engineering firm LMG Marin, LETA/Postimees Online reports.
16.10.2014
Yesterday, the central Latvia city of Ogre officially declared a state of emergency due to flooding caused by heavy rains, informs LETA.
15.10.2014
Compared to September of the previous year the volume of various cargos handled at the Freeport of Riga in 2014 has increased by 13.8% – almost 3, 5 million tons were transshipped within one month, reports BC port's press service.
15.10.2014
In 2014, the winner of the student project competition "The Port for the City", organized by the Freeport of Riga Authority, is the united team of Karlis Jonas (Riga Hanzas Secondary School) and Anna Elina Vitola (Riga French Lyceum), informs BC port's press service.