International Internet Magazine. Baltic States news & analytics
Monday, 09.12.2013, 15:21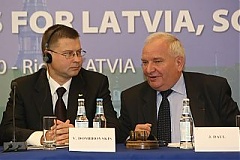 28.11.2013
Commenting on the resignation of the Prime Minister of Latvia, Valdis Dombrovskis, the Chairman of the EPP Group, Joseph Daul MEP, said:
25.10.2013
Latvia is one of the most interesting European economies, news agency Bloomberg Editor for Economics and Government in Europe John Fraher said opening Latvia Business Forum in London yesterday, informs LETA.
16.10.2013
Sergiy Makogon, sales manager of Polcopper Sp. z o.o. commented for BC after the of yesterday's newspaper Dienas Bizness publication, concerning the conflict between the Polish company Polcopper Sp. z o.o.and Liepajas Metalurgs.
16.10.2013
On 14th of October 2013, Vilnius Regional Administrative Court ruled to suspend the retransmission of the First Baltic Channel (PBK) in Lithuania for three months. Decision of the court, was made after the broadcast of a Russian television show "Man and Law" ["Chelovek I Zakon"] on October 4th which depicted an alternative view of events in Vilnius on January 13th 1991, is final and not subject to appeal.
27.09.2013
Remarks at the Reception of the 64th National Day of the P.R.C by H. E. Mr. Yang Guoqiang in Riga, reports BC the Embassy of China in Latvia.
25.09.2013
Chief Economist at bank Swedbank Nerijus Maciulis says that in case Lithuania does not deal with the shadow economy and state spending, the introduction of new taxes will be inevitable, informs LETA/ELTA.
19.09.2013
Latvian business community, academia and regional authorities organized a "regional day" in Latvia. BC's International Editor, Eugene Eteris participated at a conference in Latvian Academy of Sciences (17 September), where he presented a report on "Resources and opportunities in regional economic development: EU's assistance to Latvia and Danish experience".
12.09.2013
Citizens of other countries, by purchasing real estate in Latvia and thus obtaining a residence permit, exert positive influence on the overall situation in the country, create new working places, pay for goods and services purchased from merchants thus supporting the local business, pay taxes strengthening the Latvian economy, and arrange the environment. This view is expressed by Mr. Aigars Smits, Chairman of the Board of Directors of ARCO REAL ESTATE.
28.08.2013
Earlier this week, Institute of CIS States political scientist Mikhail Alexandrov wrote in his online blog that if the West intervened in Syria without the United Nations Security Council's consent, Russia should take its troops to the Baltic countries. Alexandrov also writes that half of the people in Latvia and Estonia would greet Russian tanks with flowers, just like – he says – they did in 1940, informs LETA.
27.08.2013
According to Nerijus Maciulis, Chief Economist at Swedbank Lithuania, the greatest risk related to the adoption of the euro in Lithuania is political one since the proposals to call for a referendum on this issue may be brought forward again especially after the presidential election campaign gets underway, informs LETA/ELTA.
23.08.2013
August 23 is the European Day of Remembrance for victims of Stalinism and Nazism. Today the world commemorates the victims of the totalitarian regimes of the 20th century.