International Internet Magazine. Baltic States news & analytics
Tuesday, 01.09.2015, 21:09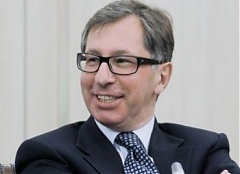 20.07.2015
No anti-Latvian sentiment is felt in Russia, however, one can observe anti-Russian sentiment in Latvia, Russian banker and billionaire Pyotr Aven says in an interview with the "Diena" newspaper, cites LETA.
30.06.2015
In an interview with LETA, European Parliament Member Roberts Zile (All for Latvia!-For Fatherland and Freedom/LNNK) said that the European Commission's proposed refugee quota system does not tackle the actual refugee problem.
11.06.2015
Russian Prime Minister Dimitry Medvedev said today that Russia is ready to develop relations with the Baltics on equal principles, however, because of political reasons they are not interested in cooperation with Moscow, cites TASS/LETA.
26.05.2015
The amount of newly-issued loans in the first quarter this year indicates that Latvian companies have started investing again. Swedbank would gladly issue EUR 1 billion in loans if companies were ready to accept it, CEO of Swedbank Maris Mancinskis said in an interview with LETA.
21.05.2015
In an interview with LETA, the former director of the Constitutional Protection Bureau Janis Kazocins said that if Russian President Vladimir Putin loses power, even darker times could fall on Russia.
19.05.2015
As the threat of Russia looms over peace and stability in the east, the EU must work to strengthen ties and cooperation with its eastern partners, writes Edgars Rinkevics.
12.05.2015
Latvia is among those five European Union (EU) countries, which felt the largest direct benefit from the EU budget, this according to Commissioner for Budget & Human Resources, Kristalina Georgieva, in an interview with LETA.
07.05.2015
Russian Ambassador to Latvia Alexander Veshnyakov hopes that pragmatic forces, that wish for neighborly relations with Russia, will prevail in Latvia, reports LETA.
13.04.2015
Just recently my colleague Inga Latkovska and me have finished a research "Latvian PR sphere practitioners opinions monitor 2015", which was held in cooperation with the Latvian Association of PR professionals, cv-online.lv and the Faculty of Social Sciences of the University of Latvia. In the survey of 250 Latvian PR specialists we have been able to make a slice of the sphere and to understand what the main trends are in the industry of public relations in Latvia.
09.04.2015
Journalist of the British newspaper The Times Roger Boyes confirmed on Thursday that even though the President of Estonia used during the interview to him the term "useful idiots", he did not point out any country, LETA/Public Broadcasting reports.
31.03.2015
Address by Latvian Prime Minister Laimdota Straujuma at the Social Partners' Forum "The Role of Social Dialogue in Ensuring Economic Growth and High Quality Jobs".