International Internet Magazine. Baltic States news & analytics
Thursday, 23.05.2013, 18:15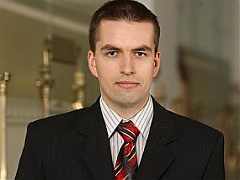 16.05.2013
Unemployment continues to decrease in Latvia while employment is going up, proving that the Latvian labor market is continuing to recover – however, this is mostly true of Riga and Greater Riga. In regions, the unemployment "enclaves" could be liquidated with the help of special programs fostering employment, tailored for every such region's needs and developed there in line with local specifics – not in Riga, as the Bank of Latvia Olegs Krasnopjorovs opines on the Makroekomonika.lv website, cites LETA/Nozare.lv.
23.04.2013
Estonian public relations expert Janek Mäggi wrote in an opinion column Aripaev that Estonians need to ask a better price for their work because this is the only way to increase people's wealth, LETA/BBN reports.
23.04.2013
President of the Republic of Uzbekistan Islam Karimov attended the opening ceremony of the international conference "Modern housing construction as a driving force of comprehensive development and transformation of rural areas, enhancing the living standards of population" at Tashkent's Palace of Symposiums on April 17. Following is the text of his keynote speech, which was given to BC by the Embassy of Uzbekistan in Latvia.
21.04.2013
Slovak Prime Minister Robert Fico´s Speech at the International Conference GLOBSEC 2013, in Bratislava, Slovakia.
19.04.2013
We, the Ministers of Foreign Affairs of the Czech Republic, Hungary, Poland and Slovakia, reconfirm our commitment to strengthen the EU's ability to respond to security challenges including through the instruments of military and civilian crisis management. CSDP as a key instrument in dealing with conflict and crises deserves regular attention and support at the highest political level.
19.04.2013
A few quotes from yesterday's speeches from Zbigniew Brzezinski at the Global Security Forum GLOBSEC 2013 in Bratislava.
18.04.2013
Opening remarks by Lithuanian President Dalia Grybauskaitė at the LOGIN 2013 conference in Vilnius on April 17th, reports BC presidential press service.
15.04.2013
The lat, kroon, frank or gulden is just a sign characterizing a period in history, not the identity of the nation or a characteristic thereof, a group of dignitaries state in a letter sent to President Andris Berzins, Saeima Chairwoman Solvita Aboltina (Unity) and Prime Minister Valdis Dombrovskis (Unity).
11.04.2013
Ardo Hansson, Governor of Estonia's central bank Eesti Pank, said on Wednesday, comparing the economic adjustment made in the Baltic States with that in Greece, Ireland and Portugal, that rapid economic adjustment helped prevent reform fatigue, the build-up of excessive debt and the economic damage caused by a prolonged period of uncertainty, informs LETA.
05.04.2013
Speech by the Prime Minister Valdis Dombrovskis at the Baltic Sea Forum, Saint Petersburg on 5 April 2013, presented to BC by the State Chancellery.
03.04.2013
I am sincerely glad to welcome all who are preparing to participate in the next Moscow International Energy Forum "Russian Energy and Fuel Complex in the XXI Century" (MIEF-2013).