International Internet Magazine. Baltic States news & analytics
Tuesday, 22.10.2019, 12:43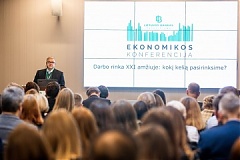 15.10.2019
Dear guests and distinguished speakers: A sincere 'thank you' for joining us at the yearly Lithuanian economics conference organised by the Bank of Lithuania.
02.10.2019
Currently there is one retirement age person per three working age inhabitants in Latvia and other Baltic countries. This ratio is expected to increase substantially in the near future.
26.09.2019
For the economy to develop in the circumstances when the external demand is shrinking and growth is decelerating, availability of bank loans for making productive investment and financing current assets to support shorter-term cash flows is extremely important.
25.09.2019
Coworking centres, where different companies, teams and independent contractors share an office space, have a consistently growing share in relation to classical office environments.
24.09.2019
Despite interest rates remaining low, the bank deposits of households and companies are growing more and more. The deposits of households totalled 7.9 bn euros in August, which was 10% more than a year before, while those of companies were up 6% at 6.9 bn euros.
24.09.2019
A sad premiere: in 2018, financial assets in industrial and emerging countries declined simultaneously for the first time; even in 2008, at the height of the financial crisis, this was not the case, writes Allianz in the Global Wealth Report 2019.
16.09.2019
Wider global use of the European Union (EU) single currency would benefit European companies and households and would strengthen the euro area economy and the stability of its financial system. This is the position put forward by Vitas Vasiliauskas, Chairman of the Board of the Bank of Lithuania, who is taking part in discussions in the EuroFinancial Forum held in Helsinki.
12.09.2019
Ann Natunewicz is a speaker at BREL forum this year who will have interesting and useful insights for everyone, whether you're in retail, manage an investment portfolio or real estate projects, which makes hers one of the talks we're looking forward to most.
11.09.2019
During my work at Rietumu Bank, for a number of years I have been supervising the operation of our departments which ensure and support transactions of customers on international financial markets. Some changes have been observed in this operation recently. If earlier the bank serviced mostly big investors from countries located to the east of the EU, then, following last year's events, which have changed the rules of the game for banks considerably, there are increasingly more residents of Latvia and neighbouring countries among our customers.
10.09.2019
Consumer prices were up 2.4% on a year earlier in August. Inflation was slowed most by energy prices, but pushed up by rising prices for services.
06.09.2019
Signals of decelerating export growth are becoming increasingly stronger, and GDP growth is mostly sustained by domestic demand. Without the support of exports, however, domestic demand alone cannot ensure sustainable growth. Hence, the growth rate is moderating gradually.