International Internet Magazine. Baltic States news & analytics
Tuesday, 23.09.2014, 07:18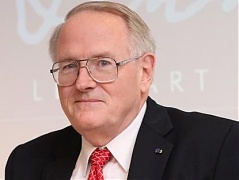 17.09.2014
The Russian government is laying the groundwork for a Ukrainian scenario in the Baltic countries, arguing that the three are mistreating ethnic Russians, that the West has failed to oppose such actions, and that Moscow is compelled under the circumstances to work to protect these members of "the Russian world," American analyst and expert on Soviet Union matters, Paul Goble warns, cites LETA.
20.08.2014
German Chancellor Angela Merkel's opinion on military solidarity can be considered a good signal for Latvia and the rest of the Baltic countries, Center for East European Policy Studies CEO Andis Kudors told LETA.
19.08.2014
Latvian MEP Andrejs Mamikins has sent a letter to the President of the European Comission Mr. José Manuel Durão Barroso concerning the mutual sanctions between EU and Russia. BC publicizes the message uncensored.
15.08.2014
Since Russian President Vladimir Putin came to power, it seems that he did not have the opportunity to escape his past and move on to the next stage in understanding his own country and the world, as author and public activist Igor Vatolin said in an interview with LETA.
11.08.2014
The Russian government's announcement of sanctions on some food stuffs imported from the EU, Norway, USA, Canada and Australia will hit some countries harder than others. Yet the impact on the Russian economy may be even more significant.
07.08.2014
Russian President Vladimir Putin ordered the government Thursday evening to restrict food and agricultural imports from countries that have imposed sanctions against Russia; Estonian Agriculture Minister Ivari Padar said that Estonians are already hardened to Russian sanctions, reports LETA reffering to Postimees Online.
06.08.2014
In an interview to the Latvian Radio program 'Kruspunkta' today, Foreign Minister Edgars Rinkevics (Unity) said that the inclusion of the so-called Donetsk and Luhansk ''republics'' on the terrorist list would be a very strong signal, informs LETA.
05.08.2014
The joint-stock company Pasazieru vilciens (Passenger Train) has to buy new trains by 2016 as the service life of its current rolling stock will expire in 2016, Transport Minister Anrijs Matiss (Unity) said in an interview with the Latvian State Television today, informs LETA.
05.08.2014
Estonian Agriculture Minister Ivari Padar said after his Tuesday meeting with hunters and pig farmers that most likely the African swine plague virus is already in Estonia, informs LETA reffering to pastimes Online.
31.07.2014
Economy Minister Vjaceslavs Dombrovskis (Reform Party) told Latvian Television this morning that there is a real possibility that Russia's response to the EU sanctions in Latvia could affect the food and transit industries, informs NOZARE.LV/LETA.
31.07.2014
Lithuania's Minister of Finance Rimantas Sadzius says that despite lower than expected economic growth, the results show that events taking place around us have had no significant impact on Lithuania's economic situation, informs ELTA/LETA.