International Internet Magazine. Baltic States news & analytics
Saturday, 19.08.2017, 16:04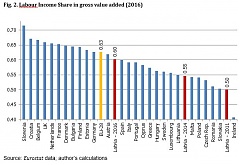 18.08.2017
The labour force survey data received today are not surprising: unemployment in Latvia continues to drop. At 8.9%, unemployment rate is the lowest since 2008 and lower than Latvia's historical average. It is also slightly lower than the current euro area average. Moreover, unemployment may have even dropped slightly below the natural rate (Fig. 1).
14.07.2017
The current European Union funding mechanisms for business are not suited for supporting contemporary forms of entrepreneurship, former Estonian president Toomas Hendrik Ilves said in an interview, cites LETA/BNS.
28.06.2017
The development of Helsinki–Tallinn cooperation has long been a subject of study in official working groups. But in practice, people have already voted with their feet: the cities are already one extensive urban area. In 2016, the Gulf of Finland was crossed almost 9 mln times. Breakfast in Helsinki and lunch in Tallinn. Shopping in both. Museum visits. Such is everyday life in an extensive urban cluster - cheerful cultural relations.
27.06.2017
The state of Latvian banks' internal control systems has proved disappointing in previous years, Peteris Putnins, chairman of the Financial and Capital Market Commission (FCMC), told journalists today as he commented the fining of three Latvian banks for their involvement in circumventing sanctions against North Korea.
26.06.2017
In May, the news came from Kyrgyzstan stating that four Latvian citizens were sentenced to 20 years each in prison. Such a tough punishment was also determined for Valeri Belokon. It should be immediately emphasized that the Latvian citizens are not actually imprisoned. The court issued the default judgment (a judgment given in default of appearance in a civil action linked to criminal proceedings). What this all is about? And how does this story has emerged?
20.06.2017
Late autumn 2014 we met with Alexander Hug, principal deputy of the OSCE observation mission in Ukraine for the first time. It was Brussels, the European Parliament and the hearing on the future of Minsk Agreements held there. Now we are again together. This time in Helsinki talking about the future of Minsk Agreements.
15.06.2017
When Estonia, Latvia, Lithuania and Poland requested and received U.S. and NATO military support following Russia's invasion of Ukraine in 2014, it garnered massive attention – and rightly so. The measured response to Russian aggression, which supplemented on-going training, exercises, and Baltic Air Policing, demonstrated U.S. commitment to the region's security and stability, and helped to ease the increasing anxiety resulting from Russia's actions. As important as this was, defense cooperation is but one facet of U.S. engagement in the Baltic region. Equally important are the commercial, scientific, education, and other ties that round out one of the most dynamic sets of relations the United States has anywhere in the world.
15.06.2017
The country's banking sector operates profitably and is resilient to potential shocks. Lithuania's lending growth is one of the highest in Europe and, if the real estate (RE) market and credit growth rates remain at present levels or increase further, risk to stability may increase over the next few years.
15.06.2017
As expected, annual inflation rate decreased in May (to 2.8%). This was the first decrease in nine months. In the coming months, inflation will be positively affected by a gradual appreciation of services and negatively by oil price dynamics.
13.06.2017
On 12 May 2017, in Kyrgyzstan, without giving a prior notice to the attorneys, a confidential court hearing was called and during a few hours, the judgment was issued in absentia and conviction was handed down against the following citizens of the Republic of Latvia - the former shareholder of Manas Bank Valeri Belokon and former executives of Manas Bank Jevgenijs Verbickis, Anita Lase and Yuri Kachnov. They were sentenced to serve 20-years custodial service, and property forfeiture (confiscation) was ordered.
12.06.2017
Since gaining sovereignty and independence a quarter of the century ago Belarus has made wide strides in its political, social and economic development against very heavy internal and external odds.