International Internet Magazine. Baltic States news & analytics
Saturday, 04.07.2015, 02:39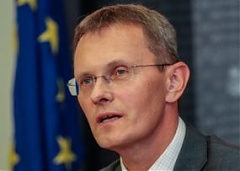 02.07.2015
In an interview with Latvian Television today, former Latvian Finance Minister Andris Vilks said that every EU country is trying to help Greece as much as they can, but that Greece's behavior is the most shameless the EU has ever witnessed. ''They are trying to screw everyone over,'' said Vilks, cites LETA.
19.05.2015
As the threat of Russia looms over peace and stability in the east, the EU must work to strengthen ties and cooperation with its eastern partners, writes Edgars Rinkevics.
12.05.2015
Latvia is among those five European Union (EU) countries, which felt the largest direct benefit from the EU budget, this according to Commissioner for Budget & Human Resources, Kristalina Georgieva, in an interview with LETA.
07.05.2015
Russian Ambassador to Latvia Alexander Veshnyakov hopes that pragmatic forces, that wish for neighborly relations with Russia, will prevail in Latvia, reports LETA.
13.04.2015
Just recently my colleague Inga Latkovska and me have finished a research "Latvian PR sphere practitioners opinions monitor 2015", which was held in cooperation with the Latvian Association of PR professionals, cv-online.lv and the Faculty of Social Sciences of the University of Latvia. In the survey of 250 Latvian PR specialists we have been able to make a slice of the sphere and to understand what the main trends are in the industry of public relations in Latvia.
09.04.2015
Journalist of the British newspaper The Times Roger Boyes confirmed on Thursday that even though the President of Estonia used during the interview to him the term "useful idiots", he did not point out any country, LETA/Public Broadcasting reports.
31.03.2015
Address by Latvian Prime Minister Laimdota Straujuma at the Social Partners' Forum "The Role of Social Dialogue in Ensuring Economic Growth and High Quality Jobs".
25.03.2015
In order for banks to resume lending to the national economy, projects for which financing is requested need to be of better quality, believes Juris Bikis, Director of Latvijas Finieris and Prime Minister Laimdota Straujuma's (Unity) advisor on economic matters, cites LETA.
04.03.2015
In an interview with the Lithuanian news portal Delfi.lt, former Georgian President Mikheil Saakashvili said that, in the event of war, the Baltics lack the strategic advantages held by Ukraine, reports BNS/LETA.
26.02.2015
Today, in Brussels, Latvian Prime Minister Laimdota Straujuma, in addressing the Centre for European Policy Studies at the conference "More or Less Europe", highlighted the key aspects driving current economic, security and geopolitical challenges, reports BC press secretary to the Prime Minister Aiva Rozenberga.
16.02.2015
European Commission's "e-health in focus newsletter" published Interview with Peteris Zilgalvis, Head of Unit Health and Wellbeing in the Commission, in which he underlined the achievements in 2014 and showed main challenges for sustainable healthcare in Europe. Below are listed some of Zilgalvis' opinions on the EU's e-health system.