International Internet Magazine. Baltic States news & analytics
Tuesday, 26.09.2017, 15:58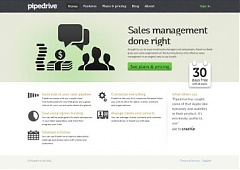 26.09.2017
The Estonian startup Pipedrive is planning to localize its sales management software tools into Indian languages to grow its business in the South Asian market, informs LETA/BNS.
18.09.2017
The Latvian pharmaceutical group Olainfarm generated EUR 8.04 million in sales in August 2017, up 19% year-on-year, informs LETA, according to the preliminary consolidated results published by the company.
14.09.2017
Estonian delivery solutions company Cleveron is planning to expand to the markets in the United Kingdom and Ireland for which the company has launched cooperation with a local representative, informs LETA/BNS.
11.09.2017
Provisional data of the Central Statistical Bureau (CSB) show that in July 2017 Latvian foreign trade turnover amounted to EUR 2.04 bln, which at current prices was 14.4% more than in July 2016, of which the exports and imports values of goods were 6.9% and 20.5% higher, respectively.
11.09.2017
According to Statistics Estonia, in July 2017, the exports of goods increased by 6% and imports by 9% compared to July 2016. Increased imports of base metals and articles of base metal and transport equipment contributed to the growth in imports.
11.09.2017
Sales of the Estonian manufacturer of water sports equipment Tahe Kayaks OU fell 24% year over year to 4.8 million euros in 2016, informs LETA/BNS.
08.09.2017
Statistics Lithuania informs that, based on non-final data obtained from customs declarations, Intrastat reporting and VAT returns data, exports in July 2017 amounted to 2.03 billion, imports – EUR 2.33 billion. Exports of goods of Lithuanian origin amounted to EUR 1.15 billion. The foreign trade deficit of Lithuania amounted to EUR 298 million.
08.09.2017
Enefit, a subsidiary of the Estonian state owned energy group Eesti Energia, has formalized a contract with its first customer in Poland and the company is wanting to sell energy products to companies and industrial customers and negotiations concerning consecutive contracts are ongoing, informs LETA/BNS.
08.09.2017
Orkla Foods Latvija, created by merging the operations of Latvian food companies Spilva and Gutta, in the first eight months of 2017 has increased its exports by 54.4% compared to the respective period last year, LETA learned from the company.
07.09.2017
Sales of Latvia's Madara Cosmetics company in the first six months of 2017 rose by 37.9% to EUR 3.59 million, the company's board member and co-owner Uldis Iltners said, cites LETA.
07.09.2017
Estonian business operators use various e-solutions and social media for showcasing their products and services, but do not take advantage of all e-trade and e-marketing opportunities in export, the Estonian Chamber of Commerce and Industry said, cites LETA/BNS.