International Internet Magazine. Baltic States news & analytics
Thursday, 03.09.2015, 22:11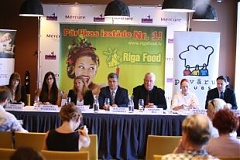 02.09.2015
Due to the losses caused by Russia's embargo in 2014, food producers should view Russia only as a secondary market, not their main market, President Raimonds Vejonis said at the opening ceremony for the food industry fair "Riga Food 2015" today, reports LETA.
27.08.2015
During the first half of 2015, the Latvian forest industry's exports increased by 5.2%, reaching EUR 1.03 billion, compared to EUR 988 million in the same period in 2014, reports LETA, according to data provided by the Forest Department of the Ministry of Agriculture.
27.08.2015
Lithuanian Minister of Economy, Evaldas Gustas, presented to the Government accomplishments in business promotion and mitigation of the Russian embargo. He said that implemented measures have given results, informs LETA/ELTA.
20.08.2015
Russian consumer rights supervision service "Rospotrebnadzor" has presented to Latvia a list of measures that need to be carried out so export of Latvia-made sprats to Russia could resume, according to the "Rospotrebnadzor" head Anna Popova, cites INTERFAX.
19.08.2015
If there will be no weather damage in late summer 2015, Estonian farmers expect to reap very good grain crops this year, and hence expect also to increase exports, writes LETA/Postimees.
18.08.2015
In order to reduce the impact of Russia's food embargo, dairy producers this year will receive financial aid in the amount of EUR 7.6 million, which will be invested in dairy cows, according to the Agriculture Ministry's instructional project, which is to be reviewed during a government meeting Tuesday, cites LETA.
18.08.2015
Kredex Krediidikindlustus (Credex Credit Insurance) organised a survey among exporting enterprises in Estonia, and found that entrepreneurs expect a significant increase in exports to take place in coming years, writes LETA/Postimees Online.
14.08.2015
Already in 2014 the Food and Veterinary Service was tasked with providing guarantees to third countries that despite the presence of African swine fever in Latvia, fodder exports through Riga Port will continue along the same lines, however, due to the spread of the disease this year, the said exports may be threatened, the Food and Veterinary Service Director Maris Balodis told LETA.
11.08.2015
Provisional data of the Central Statistical Bureau (CSB) show that in June 2015 as compared to May foreign trade turnover at current prices grew by 3.8%, of which exports value of goods increased by 1.6% and imports value of goods – by 5.6%. In June, Latvia exported goods in the amount of 810.5 mln euros, and imported – in the amount of 1 040.6 mln euros.
10.08.2015
According to Statistics Estonia, in June 2015, exports of goods increased by 3% and imports by 1% compared to June of the previous year. In the first half-year of the year 2015, exports decreased by 1% and imports by 4% compared to the same period of the previous year.
07.08.2015
Statistics Lithuania informs that, based on non-final data obtained from customs declarations, Intrastat reporting and VAT returns data, exports in June 2015 amounted to EUR 2 billion, imports – EUR 2.3 billion. Exports of goods of Lithuanian origin amounted to EUR 1.1 billion. The foreign trade deficit of Lithuania amounted to EUR 0.3 billion.