International Internet Magazine. Baltic States news & analytics
Wednesday, 20.06.2018, 14:34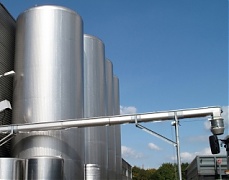 20.06.2018
Hochdorf Baltic Milk, a loss-making Lithuanian producer of milk protein, has been acquired from its Swiss owner Hochdorf Group by the company's management and several Lithuanian milk producers, and an undisclosed foreign investor is set to join in later, informs LETA/BNS.
11.06.2018
Provisional data of the Central Statistical Bureau (CSB) show that in April 2018 the foreign trade turnover of Latvia amounted to EUR 2.13 billion, which at current prices was 13.0% more than in April 2017, of which the exports value of goods was 15.3% and imports value of goods was 11.0% higher. In April, Latvia exported goods in the amount of EUR 985.9 million but imported – in the amount of EUR 1.14 billion. Compared to April 2017, foreign trade balance has improved as exports in total foreign trade amount increased from 45.3% to 46.3%.
11.06.2018
According to Statistics Estonia, in April 2018, the exports of goods increased by 16% and imports by 13% compared to April 2017. The growth in trade in April of this year was broad-based, with increased exports and imports in both mineral products and mechanical appliances.
11.06.2018
Statistics Lithuania informs that, based on non-final data obtained from customs declarations, Intrastat reporting and VAT returns data, exports in April 2018 amounted to EUR 2.07 billion, imports – EUR 2.33 billion. Exports of goods of Lithuanian origin amounted to EUR 1.18 billion. The foreign trade deficit of Lithuania amounted to EUR 0.26 billion.
01.06.2018
Latvian fish cannery Brivais Vilnis in the first quarter of this year posted EUR 1.717 million in sales, up 23.9% year -on-year, while the company's loss was cut by 43.1% to EUR 158,841, writes LETA, according to the company's report to Nasdaq Riga.
01.06.2018
Latvia's Olainfarm pharmaceutical company in the first quarter of this year posted EUR 3.114 million in net profit, down 15% from the respective period a year ago, the company said in a report to Nasdaq Riga, cites LETA.
25.05.2018
Prime Minister Saulius Skvernelis says that Lithuania is ready to continue its cooperation with China and sees the world's largest country by population as one of its key agricultural and food product export markets, reports LETA/BNS.
21.05.2018
Exports grew in all three Baltic states in the first quarter of 2018, the latest Eurostat figures show, cites LETA/BNS.
18.05.2018
Despite a reduction in price based competitiveness, the market share of goods exported from Estonia has grown in all the Nordic countries in the past ten years, Swedbank Chief Economist Tonu Mertsina says, cites LETA/BNS.
14.05.2018
After growing steadily for almost 18 months, Latvia's exports unexpectedly decreased in March by 6.1% year on year, Citadele economist Martins Abolins told LETA.
14.05.2018
Latvia's gross domestic product (GDP) this year might grow 4.2%, the Economics Ministry said in its latest macroeconomic outlook, reports LETA.