International Internet Magazine. Baltic States news & analytics
Thursday, 12.12.2013, 04:12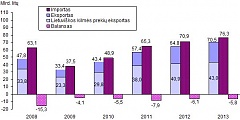 11.12.2013
Statistics Lithuania informs that, based on non-final data obtained from customs declarations, Intrastat reporting and VAT returns data, exports in October 2013 amounted to LTL 7.9 billion, imports – LTL 8.5 billion. Exports of goods of Lithuanian origin amounted to LTL 4.6 billion. The foreign trade deficit of Lithuania amounted to LTL 0.6 billion.
06.12.2013
Joint-stock steelworks company Severstallat consolidated sales in the first nine months of the year increased 19% from the same period in 2012, whereas the company's earnings before interest, taxes, depreciation and amortization increased 22% to a total of USD 9.7 million (LVL 4.99 million), Severstallat representative Olga Nesterova told Nozare.lv, cites LETA.
04.12.2013
Lithuania-based dairy Pieno Zvaigzdes's sales over first nine months of 2013 totaled 608.4 million litas, or 7.3% more as compared to a corresponding period a year ago, the company said in a statement, cites LETA.
02.12.2013
Pharmaceuticals manufacturer Olainfarm turned over LVL 37.7 million in the first nine months of 2013, 7% more than in the same period in 2012, according to the company's non-audited profit and loss statement submitted to NASDAQ OMX Riga, informs LETA.
01.12.2013
The financial statements of the pharmaceutical company Grindeks for the first nine months of 2013, submitted to the "NASDAQ OMX Riga" stock exchange, indicate that the group's turnover was LVL 56.5 million in the first nine months of the year, which was LVL 6.4 million or 12.8% more than in corresponding period in 2012, informs LETA/Nozare.lv.
29.11.2013
9-month results of 2013 of the Baltic's largest producer of alcoholic beverages joint-stock Latvijas balzams have seen rises in both profit figures and turnover, the company said in an announcement to the ''NASDAQ OMX Riga'' stock exchange, cites LETA/Nozare.lv.
28.11.2013
A third of enterprises in Parnu County in Estonia are planning to be more active on export markets in 2014, and about two thirds are also planning to invest, as indicated in the survey "Parnu County Business Barometer 2014" conducted among SEB's business clients, reports LETA, referring to SEB.
25.11.2013
The issue of Lithuanian dairy imports to Russia remains unresolved despite every effort made by Lithuania, informs LETA/ELTA.
19.11.2013
Latvia's exports increased 2% in January-August 2013 – the 11th steepest increase in the European Union, according to the latest data from the EU's statistical office Eurostat, cites LETA.
18.11.2013
In the first nine months of the year 2013, compared to the same period last year, the value of Latvian wood furniture exports grew by 2%, amounting to LVL 55.12 million and constituting 5.6% of the forest industry's total exports, reports LETA/Nozare.lv, referring to data from the Agriculture Ministry's Forest Department.
15.11.2013
Provisional data compiled by the Central Statistical Bureau of Latvia show that, in comparison with the nine months of 2012, exports of goods (at current prices) during the nine moths of 2013 has grown by LVL 165.0 million (EUR 234.7 million) or by 3.3%, while imports – only by LVL 33.9 million (EUR 48.3 million) or by 0.5%.