International Internet Magazine. Baltic States news & analytics
Sunday, 25.02.2018, 05:36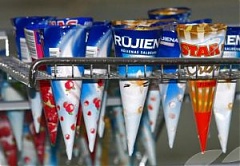 23.02.2018
Latvian ice-cream maker Rujienas Saldejums in 2018 plans to enter altogether six new sales markets, said the company's CEO, Igors Miezis, cites LETA.
14.02.2018
Lithuania's laser company Eksma, together with its South Korean partners, has established a subsidiary to manufacture laser medical equipment for Europe, the business daily Verslo Zinios reported on February 13th, reports LETA/BNS.
14.02.2018
Latvia's Olainfarm pharmaceutical company in 2018 plans to start packing five of its products for the Belarus market, the company said in its statement to the Nasdaq Riga stock exchange, cites LETA.
13.02.2018
Turnover of Latvia's Sakret Holding, construction materials producer, last year rose 9% from 2016, to EUR 19.3 million, while the company's sales increased 14%, the company reported LETA.
09.02.2018
Swedbank chief economist Tonu Mertsina said that regardless of the growth in export, Estonia has not been able to increase its market share in the European Union and the competitiveness of exporting companies on the European market has worsened in 2017, informs LETA/BNS.
31.01.2018
The bulk of Lithuania's engineering industry exports goes to the European Union (EU) market, however, the successful sector features alarming signs, Lietuvos Zinios daily said on Wednesday, cites LETA/BNS.
31.01.2018
Lithuania's goods exports rose by 17.3% in 2017 compared with 2016 to reach 26.5 billion euros and its imports grew by 16.3% to 28.7 billion euros, Statistics Lithuania said on January 30th, cites LETA/BNS.
30.01.2018
During the first eleven months of 2017 Latvia still trailed behind its Baltic neighbors Estonia and Lithuania by export and import volumes and also showed the widest trade gap among the Baltic states, the Latvian Central Statistical Bureau said, cites LETA.
29.01.2018
Dalius Misiunas who took the top position at Lithuania's SBA furniture production concern last fall aims to lift the furniture group to a new level, the international arena, says SBA vice-president Egidijus Valentinavicius, reports LETA/BNS.
26.01.2018
The Latvian producer of candied fruits and syrups, Ramkalni Nordeco, in 2018 plans to start selling its products in new markets in Asia and Europe, said the company's co-owner, Viktors Grutups, reports LETA.
26.01.2018
The United Arab Emirates has expanded the list of Lithuanian food product imports to include bovine animals, birds, chicks, hatching eggs and fodder, the Lithuanian State Food and Veterinary Service said, cites LETA/BNS.