International Internet Magazine. Baltic States news & analytics
Wednesday, 26.11.2014, 11:56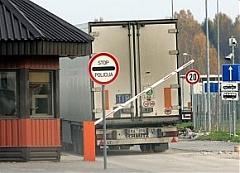 26.11.2014
The transport industry's losses could amount to EUR 1 billion if Latvian-Russian relations become worse, the Economy Ministry of Latvia informed the government yesterday, cites LETA.
19.11.2014
The famous Finnish bakery Fazer has begun constructing its new factory in Ogre, investing EUR 5 million in the project and introducing frozen bread products to export markets, Managing Director at Fazer Bakery Baltic, Mindaugas Snarskis informed LETA.
13.11.2014
Delegation from the Lithuanian public company Versli Lietuva (Enterprise Lithuania) returned from the 10th annual Trade Promotion Organization (TPO) Network World Conference with the first place award which was granted for the export leaders program Wings, reports LETA/ELTA, referring to Lietuva.lt.
12.11.2014
Estonian women's lingerie producer Silvano Fashion Group announced on Tuesday of increased third quarter profit but warned that the concern's outlook has deteriorated in mist of the concern's main markets, informs LETA.
11.11.2014
Provisional data of the Central Statistical Bureau (CSB) show that in September 2014 compared to previous month exports value of goods at current prices grew by 12.7%, but imports value of goods – by 15.2%.
10.11.2014
According to Statistics Estonia, in September 2014, exports of goods increased by 7% and imports by 9% at current prices compared to September of the previous year. The increase in exports and imports was mostly influenced by the trade of electrical equipment and raw materials and products of chemical industry.
10.11.2014
Statistics Lithuania informs that, based on non-final data obtained from customs declarations, Intrastat reporting and VAT returns data, exports in September 2014 amounted to LTL 7.8 billion (EUR 2.3 billion), imports – LTL 8.2 billion (EUR 2.4 billion). Exports of goods of Lithuanian origin amounted to LTL 4.4 billion (EUR 1.3 billion).
28.10.2014
The high-tech and intellectual technology manufacturer SIA Hanzas Elektronika has received EUR 4.7 million from Citadele Bank for refinancing purposes, as well as a loan of EUR 1.5 million to develop the company. This will allow Hanzas Elektronika to increase job numbers at its manufacturing facilities in Ogre and Ventspils, as well as to open a new engineering centre in Mārupe, reported BC head of corporate communications at Citadele Baiba Ābelniece.
28.10.2014
During the first eight months of 2014, Latvian forest industry's export increased by 11.3%, reaching EUR 1.359 billion, compared to EUR 1.221 billion in the same period in 2013, according to data provided by the Forest Department of the Ministry of Agriculture.
28.10.2014
In the first six months of the year, compared to the same period last year, there has been a reduction in the number of Latvian companies exporting their food or agricultural products to Russia, according to a report released by the Economy Ministry on the consequences of the Russian sanctions, informs LETA/Nozare.lv.
24.10.2014
During a meeting with Agriculture Minister Janis Duklavs (Greens/Farmers) yesterday, Turkish Agriculture Minister Mehmet Mehdi Eker said that Turkey could import more Latvian-made food products most affected by the Russian food embargo, informs LETA/Nozare.lv.