International Internet Magazine. Baltic States news & analytics
Friday, 22.05.2015, 14:30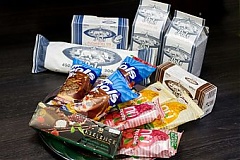 20.05.2015
Dairy company Food Union sends its first container of ice cream to China to the city of Shanghai today, informs LETA.
15.05.2015
The optimistic view that small and medium-sized producers of Latvia will have new opportunities for export to the United States after the European Union signs the Transatlantic Trade and Investment Partnership (TTIP) with the United States, is unfounded, as Latvian Merchants' Association President Henriks Danusevics told LETA.
14.05.2015
The metal building structure manufacturer S.B.C. turned over EUR 22,816,783 last year, which is 12% more than in 2013, reports LETA, according to Firmas.lv information.
14.05.2015
Joint-stock dairy company Preilu siers from Latvia increased turnover by EUR 2.39 million in 2014, reaching EUR 50.56 million, reports LETA.
12.05.2015
Chocolate truffles producer Pure Chocolate increased its turnover by 45% in 2014, at the same time suffering a 41% fall in profit, reports LETA, according to Firmas.lv information.
12.05.2015
Beverages produced by JSC Latvijas balzams (LB), the largest producer of alcoholic beverages in the Baltics and part of Amber Beverage Group, have received gold and silver medals at one of the most prestigious competitions of the US beverage industry – Wine & Spirits Wholesalers of America, reports BC head of communications for Latvijas balzams and Amber Beverage Group Dana Hasana.
12.05.2015
The Latvian dairy processing company Smiltenes Piens turned over EUR 16.560 million in 2014, which is 9.63% more than in 2013, when the company turned over EUR 15.104 million, reports LETA, according to Firmas.lv information.
12.05.2015
This week specialists from the Ministry of Agriculture, Forestry and Fisheries of Japan are visiting Lithuania to examine how food and veterinary control is implemented in the beef sector. Inspection results will determine further negotiations over export of Lithuanian beef and its products to Japan, reports LETA/ELTA.
12.05.2015
Due to the falling ruble, as well as fluctuations of other foreign currencies, the Latvian pharmaceuticals company Olainfarm suffered losses in the amount of EUR 4.5 million in 2014, reports LETA, according to the company's council report on last year.
11.05.2015
Provisional data of the Central Statistical Bureau (CSB) show that in March 2015 compared to February exports value of goods at current prices grew by 12.2%, but imports value of goods – by 14.2%.
11.05.2015
Bank DNB analysts say that it is clear when evaluating Lithuania's short-term export prospects that the first six months of 2015 will be the hardest. Producers who incurred losses due to harsh sanctions imposed by Russia are now reorienting towards new markets and reforming their business models, informs LETA/ELTA.