International Internet Magazine. Baltic States news & analytics
Friday, 22.11.2019, 18:26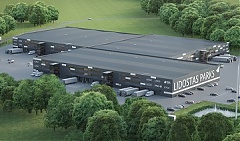 22.11.2019
East Capital's third real estate fund has acquired a logistic park near Riga International Airport from specialist developer Piche for 19 mln euros, reported LETA.
06.11.2019
Central banks both in Europe and in the U.S. continue to conduct their expansionary monetary policy, which means that interest rates are going to be kept at very low levels also looking forward. These are good news for the borrowers as loans are not expected to become more expensive. On the other hand, it is not possible to get decent returns on the invested cash in this environment: deposit rates just marginally exceed zero percent level, while government bond yields are virtually 0%. If one also adds the inflation rate, it becomes clear that the cash capital is losing its value.
04.11.2019
European Open Science Cloud (EOSC) ultimate aim is to create a "global data structure", which - as a result of standardization, data repositories and processing of relevant data -can be used by scientists and others for the benefit of national socio-economic development. In the Supplement, there is info on more than 20 EOSC projects covering ICT cooperation in various fields of scientific research.
04.11.2019
Magnetic Latvia Startup, together with TechChill, organizes a startup-investor matchmaking breakfast in Helsinki on November 22 as part of Slush 2019, the international startup and technology conference. The registration for the event is open, and startups are asked to sign up until November 10.
04.11.2019
Construction of Phase 1 of Via Jurmala Designer Outlet Village in Pinki, near Riga, which has cost over EUR 25 mln, will be completed at the end of this year, representatives of the project's developer Outletico informed LETA.
29.10.2019
Smart Energy Fund powered by Ignitis Group and managed by Contrarian Ventures invested in Israel-based company H2Pro which develops innovative and green hydrogen production technology that produces 30% more hydrogen than traditional electrolysis per kWh, Ignitis Group representatives informed BC.
28.10.2019
Lithuania's Modus Group, a solar park developer and biogas power plant builder owned by businessman Kestutis Martinkenas, plans to invest over 25 million euros into the construction of five biogas power plants with a total capacity of 5 MW, reported LETA/BNS.
28.10.2019
Commission's "investment plan for Europe" since 2015 played a key role in boosting jobs and growth in the EU member states. Investments by the European Investment Bank (EIB) Group backed by the EU's Fund for Strategic Investments (EFSI) have increased EU's GDP by about one per cent and added over 1 million jobs.
25.10.2019
International energy company Ignitis Group in Poland, which is one of the key markets for the company, focuses on the development of Pomerania wind farm. The project of this park won a guaranteed tariff in Poland's auction for renewable energy projects last year. Meanwhile, a conditional agreement between Ignitis group and Wento, a Polish company developing wind and solar power plants, was terminated due to unfulfilled one of the main conditions of agreement.
24.10.2019
The State Chancellery has announced a tender to pick a new director for the Latvian Investment and Development Agency, according to an announcement published in the official gazette Latvijas Vestnesis writes LETA.
21.10.2019
Investors from Latvia, Ukraine and the Czech Republic have been eyeing Latvia's Olainfarm pharmaceutical group, Gundars Berzins, chairman of the Olainfarm supervisory board, said on Latvian Radio on Monday, cited LETA.