International Internet Magazine. Baltic States news & analytics
Wednesday, 26.09.2018, 16:09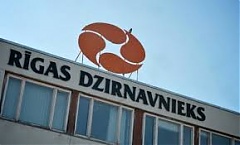 26.09.2018
Lithuanian Baltic Mill, the parent compamy of Latvia's Rigas Dzirnavnieks grain mill, plans to invest EUR 10 mln in its Baltic plants in the coming years to strengthen their positions in the market, the company reported LETA.
19.09.2018
Baltic International Bank will invest EUR 12 million in reconstructing and refurbishing of the Old Riga quarter situated between Kaleju Street and Vecpilsetas Square, the bank's spokeswoman Inese Malnaca reported.
19.09.2018
E Energija, a Lithuanian energy group controlled by the European Bank for Reconstruction and Development and businessman Virginijus Strioga, plans to invest around 150 million euros into a wind farm in the district of Kelme, western Lithuania, according the Verslo Zinios business daily information writes LETA/BNS.
18.09.2018
ithuania's northern district of Akmene barely lags behind other cities in Siauliai County in terms of the average salary. But the unemployment level here is one of the highest in the country, writes LETA/BNS.
18.09.2018
IMMER Group is one of the world's leading manufacturers of flexible packaging. One of the Group's enterprises IMMER Digital has been operating in the Latvian town of Ventspils since February 2017. Some days ago, the IMMER Group President, Mrs. Irina Mirochnik, was awarded the Third-Class Order of Merit by the decree of the President of Ukraine. This was followed by Pentawards, the most prestigious award in the packaging design world. This time the conversation with Irina is about business climate in Latvia, about relations with the state authorities and prospects of a modern enterprise.
18.09.2018
A group of residents have started collection of signatures against the wind park project in Dobele and Tukums counties, said Zita Savica, director of Baltic Candles company and a representative of the initiative group informed LETA.
17.09.2018
Smart Continent LT will assess the attractiveness of Vilnius and its five foreign competitors among investors after winning a tender called by Vilnius tourism and business development agency Go Vilnius, informs LETA/BNS.
17.09.2018
The decision by a consortium led by private equity funds managed by Blackstone to invest 1 bln euros into Luminor, a Scandinavian bank operating in the Baltic states, should make the US administration pay more attention to the Baltic states, and also attract more investors from this country, informs LETA/BNS referring to political scientists.
17.09.2018
According to a report from the Finance Ministry, EU funding investments facilitated economic growth in Latvia by 2% of GDP in 2017, cities LETA.