International Internet Magazine. Baltic States news & analytics
Wednesday, 01.04.2015, 12:22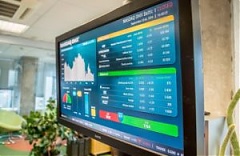 01.04.2015
The start of the European Central Bank "money print" left Estonian investors indifferent, because after two months of robust increases, the Tallinn Stock Exchange again got stuck in March 2015, LETA/Postimees Online reports.
30.03.2015
LETA has learned that Latvian citizen, ethnic Afghan Gulam Mohammad Gulami has sent a letter to the Cabinet of Ministers (also addressed to the State Chancellery director and PM Straujuma), requesting it to "foster equality and renewal of justice."
27.03.2015
StormGeo, the biggest global provider of decision support solutions and services for weather-sensitive operations for the oil and gas, wind energy and shipping industries, is establishing a product development office in Vilnius, reports BC Invest Lithuania.
27.03.2015
On March 26th 2015, Lithuanian Prime Minister Algirdas Butkevicius met with one of the most famous Swedish investors Marcus Wallenberg to discuss investment environment in Lithuania. The PM also stressed the benefits of Swedish investments in Lithuania and discussed further cooperation, reports LETA/ELTA.
26.03.2015
Main EU's strategic economic partners, e.g. Argentina, Brazil, China, India, Japan, Russia, and the United States, maintain a variety of barriers that significantly hinder international trade and investment opportunities for EU companies.
26.03.2015
Companies will have access to EUR 80 million for modernization purposes as part of the European Union's (EU) funding program for the period until 2020, the Economy Ministry informed LETA.
26.03.2015
At the informal discussion of the EU Trade Ministers on 24-25 March in Riga, Deputy Minister of Foreign Affairs of Lithuania Rolandas Krisciunas underlined that trade policy must serve business and society, the Ministry reported BC.
26.03.2015
The Lithuanian Film Centre (LKC) granted EUR 32,700 of state funding for the pre-production of two films. This concludes the first competition for state funding of 2015, the Centre reported BC.
26.03.2015
On 25 March in Canberra, Minister of Foreign Affairs of Lithuania Linas Linkevicius and the Speaker of the House of Representatives of Australia Bronwyn Kathleen Bishop discussed Lithuania's goal and preparation to join the Organisation of Economic Co-operation and Development (OECD) among other bilateral political and economic topics, reports LETA/ELTA.
25.03.2015
The EU seas are of immense environmental and economic importance. Strategies in the Baltic, the Mediterranean and the Atlantic maritime areas show that the process needs to be participatory and inclusive. Cooperation among the states is essential to seek job creation in coastal tourism, fisheries and shipping. The interests often overlap, hence the need to approach each activity in a regional context.
25.03.2015
Latvian company Latvijas Finieris-owned Kohila Vineer OÜ has ordered nearly 31 mln euros worth of equipment from the Finnish timber industry equipment producer Raute OY, in order to expand the Estonian plywood factory, LETA/Postimees Online reports.