International Internet Magazine. Baltic States news & analytics
Sunday, 29.05.2016, 08:47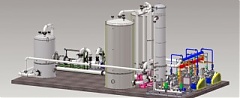 27.05.2016
Ventspils nafta terminals (VNT), one of the largest taxpayers in Ventspils and the largest contributor to the cargo turnover in the Ventspils Freeport, is in the process of investing EUR 5 million into the installation of a permanent vapour recovery unit (VRU) in the port of Ventspils.
26.05.2016
The European Commission has officially demanded that Latvia, Lithuania, Bulgaria, Hungary and Slovakia amend their legislation regulating purchases of agricultural land, arguing that they restrict free movement of capital and the freedom of doing business, warning that it might take the above countries to the Court of Justice of the European Union, informs LETA.
26.05.2016
The Foreign Investors' Council in Latvia presented the report on Shadow economy in Latvia from the investor's viewpoint that will take place on Thursday, 26 May, from 10:00 to 12:00 in Radisson Blu Hotel Latvija.
26.05.2016
Dutch investment fund Homburg Eastern European Fund B.V., the owner of Homburg Zolitude company, which was developing a property in the Zolitude area in Riga where a Maxima supermarket used to stand before its roof caved in, killing over 50 people in November 2013, has notified the State Chancellery about an investment dispute that might be referred to the International Centre for Settlement of Investment Disputes, informs LETA.
26.05.2016
The Latvian Treasury on May 25th sold long-term government bonds worth EUR 20 million, the Treasury reported LETA.
26.05.2016
The online international money transfer service Transferwise from Estonia on Wednesday announced it has raised 26 million U.S. dollars (EUR 23.3 mln) from Scottish asset manager Baillie Gifford, reports LETA/BNS, referring to Businessinsider.com.
24.05.2016
Warsaw-listed, Lithuania-based aircraft leasing company AviaAM Leasing and China's Henan Civil Aviation Development and Investment Company (HNCA) have signed an agreement to establish a joint venture for aircraft leasing, informs LETA/BNS.
24.05.2016
With the situation in the metal industry gradually improving, some potential investors have started showing interest in the assets of Latvia's struggling metallurgical company KVV Liepajas Metalurgs, Vladimirs Loginovs, board chairman of the Privatization Agency (PA), said on Latvian Radio today, cites LETA.
24.05.2016
The purchasing side in an off-exchange trade made with shares of the listed Estonian shipper Tallink Grupp on the Tallinn stock exchange on May 13 in the total amount of 18.5 million euros was Baltic Cruises Investment, the third biggest shareholder in the shipper, which increased its holding by 3.4%, informs LETA/BNS.
24.05.2016
Over the last decade, the Baltic States and the surrounding region have gradually imposed themselves as a place-to-be for flourishing business, supported by a "corporate-friendly" environment.
24.05.2016
Trilini Energy, subsidiary of the Estonian investment company Infortar, has been cleared by the Competition Authority to acquire the Russian energy giant Gazprom's 37% shareholding in Eesti Gaas, informs LETA/BNS.