International Internet Magazine. Baltic States news & analytics
Wednesday, 05.08.2015, 07:19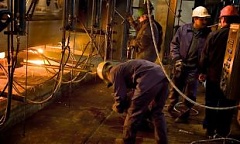 04.08.2015
Several former and current workers at the joint-stock metallurgical company KVV Liepajas metalurgs have sent an open letter to top state officials, to inform them about the complicated situation at the company and calling for a solution, reports LETA.
31.07.2015
Swedbank has issued more than EUR 11 million to Latvian poultry companies Putnu fabrika Kekava and Lielzeltini, which will use the loan over a period of three years in order to renovate poultry farms, modernize processing plants, and purchase new equipment, reports LETA, according to the bank's board member Reinis Rubenis.
31.07.2015
Estonian state-owned main grid operator Elering posted a net loss of 5.5 million euros in the second quarter of the year 2015, LETA/Public Broadcasting reports.
31.07.2015
As of the end of June 2015, the Estonian stabilisation reserve volume was 373 million EUR in market value; the volume of the reserve grew by 5 million EUR or 1.4% in a year, LETA/Postimees Online reports.
30.07.2015
The Latvian wood processing company Gaujas koks turned over EUR 55.85 million in 2014, which is 1% more as compared with EUR 55.74 million in 2014, reports LETA, according to Firmas.lv information.
30.07.2015
The Riga municipal public transportation company Rigas satiksme achieved a 3% increase in turnover last year, reaching EUR 144.7 million, reports LETA, according to Firmas.lv.
29.07.2015
The Lithuanian Film Centre has granted EUR 390,378 of state funding for 14 national film projects. 9 projects – including one interactive project – were granted financial assistance for development, and 5 film projects – two features, one documentary, one short animation, and one short fiction film – received support for the production, the Centre reported LETA/ELTA.
29.07.2015
The national airline airBaltic is currently in talks with two prospective investors – aviation companies, the possibility to involve all three Baltic countries in airBaltic is also under consideration, Transport Minister Anrijs Matiss (Unity) told LNT television this morning, reports LETA.
28.07.2015
Main present "measurement key" in the national economy is GDP, i.e. size of gross domestic product. However, generally the states' progress are measured by the governments' expenditures, which among EU-28 states are about half of the GDP. Recent Eurostat's account proves that. In order to get a closer look at the issue, we provide examples from the United States' government expenditure.
28.07.2015
Lithuanian dairy Vilkyskiu Pienine AB has signed a contract on connection to a gas distribution system with the energy company Lietuvos Dujos AB. Gas supply to the dairy farm is expected from the fourth quarter of 2016, the dairy reports LETA/ELTA.
27.07.2015
Moody's Investors Service announced that it affirmed Estonia's A1 government bond rating with a stable outlook, informs LETA.