International Internet Magazine. Baltic States news & analytics
Friday, 04.12.2020, 16:16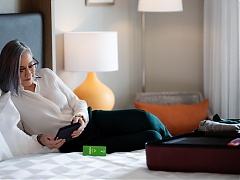 03.12.2020
The European Commission has approved Latvia's support mechanism intended to help crisis-stricken hotels cover their operating costs in the current times of crisis, writes LETA, according to the Economics Ministry's statement published in the official gazette Latvijas Vestnesis.
02.12.2020
An analysis of the risk mitigation practices related to the financial markets of listed Baltic companies by SEB revealed that only a few companies on the Baltic Main List pay attention to reducing the risks arising from changes in exchange rates, interest rates and commodity prices, cites LETA/BNS.
01.12.2020
The Mayor of Riga Mārtiņš Staķis who was elected earlier this year during Extraordinary Elections of the Council of Riga on the platform to change the corporate governance culture in Riga and reshape Riga into orderly, open, green and people-friendly metropolis of Northern Europe, last week spoke to the Norwegian investor community in Latvia and presented his personal priorities and the plans of the newly-established "Riga Change Coalition".
01.12.2020
In spring, international car manufacturer Volkswagen established a subsidiary in Estonia, Car.Software Estonia AS, the revenue of which according to the Tax and Customs Board was 237 million euros in the third quarter, this is likely to be an intra-group transfer of assets, the "Aktuaalne kaamera" news program of public ETV television reported, cited LETA/BNS.
30.11.2020
Developing and operating software for the number 1 Swiss telecommunications provider and one of the leading IT companies in the Swiss market from Latvia: Swisscom locates its second European DevOps Center in Riga. The investment project has been implemented in close cooperation with the Investment and Development Agency of Latvia.
26.11.2020
Russian drone developer Fixar has obtained Latvian start-up visa, selecting Latvia as a starting point for the company's development in international market, LETA learned from the company representatives.
26.11.2020
YIT Lietuva was selected as an investor and construction partner for the microduct systems production unit by the German polymer company REHAU in Klaipeda Free Economic Zone (FEZ). The construction permit for the plant was obtained at the end of October. Consequently, REHAU will start to operate in the facility from January 2022.
26.11.2020
Opiku Majad OU, a subsidiary of Mainor Ulemiste AS, has entered into a contract with listed builder AS Nordecon for the construction of a 30-million-euro office building in Ulemiste City, informs LETA/BNS.
25.11.2020
olish company IZIM, a portfolio company of BaltCap, the largest private equity fund manager in the Baltic states, will fund a street lighting project in Poland, worth 2.6 million euros, informs LETA/BNS.
25.11.2020
The Norway-based global developer of learning platforms Kahoot on Wednesday announced the acquisition of Drops, a start-up founded in Estonia that is one of the fastest growing language platforms in the world, informs LETA/BNS.
24.11.2020
Germany's Nordex Energy SE & Co. KG has won a contract to build Ignitis Grupe's wind farm in Lithuania's northwestern district of Mazeikiai and maintain it for 15 years, reports LETA/BNS.