International Internet Magazine. Baltic States news & analytics
Thursday, 23.02.2017, 02:19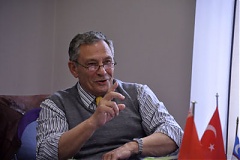 23.05.2016
Commission proposed (18 May) its 2016 country-specific recommendations (CSRs), setting out economic policy guidance for all EU states for the next 12-18 months. In addition to efforts already identified in EU-2020 strategy, this economic guidance instrument focuses on priority reforms to strengthen the recovery of EU-28 economies by boosting investment, implementing structural reforms and pursuing fiscal responsibility.
22.05.2014
Recently I have participated in the international roundtable seminar "Modern trends in the media market", organized by the Baltic International Academy and online magazine Baltic-Course.com. Besides the fact that I was very interested to hear the opinion of journalists and publishers on this topic, I thought about what the future of the media would be in terms of corporate communications. In this context, I want to mention two surveys of communication professionals that I conducted four years ago and at the beginning of this year.
15.05.2013
Pension issues in the EU member states are regulated by the so-called supplementary division of competences and are subject to different means from numerous policies. Several Commissioners are responsible for integration process concerning persons under retirement age, i.e. mostly those on pensions. At the same time, these issues are, generally, within the member states competence. Hence, most of them need both political and socio-economic solution.
06.12.2011
There is strong evidence that countries with more flexible and open labor markets and free economies are better equipped to seize opportunities presented by globalization. Can this global economic crisis become a turning point for Europe's economic policies?
02.12.2011
Issues of job and labour have been always at the forefront of the Union's development from the start of the integration process. Hence, free movement of workers and freedom of establishment have been an integral part of the EU's agenda and single market. Optimal labour structures and relationship are becoming even more important in the aftermath of the present economic crisis. This is why the Union's employment policy has become a decisive part of the EU-2020 development strategy.
02.12.2011
At present, in connection with economic problems, the stream of the Latvians leaving both for earnings and permanent residence to England and Ireland has increased. The issues connected with processes of social adaptation of Latvian emigrants and preservation of their ethnic identity remain poorly understood. Research objective is studying of ethnic identity and social adaptation of Latvian emigrants living in different cultural environments.
29.11.2011
As communication specialists we are used to constantly ask ourselves of what does the audience expect from us, what message would address them, what action would they enjoy, what images would attract their attention… Perhaps, this research could help us a little bit in the process. In the research, 624 Latvian social media users have expressed their opinion about their expectations from companies, organizations or brands in social media environment.
25.05.2011
Prime Investment, one of the leading investment banking companies in the Baltics, has issued semi annual report Baltic ICT Market News. The report highlights important corporate and M&A events of the Baltic ICT market and provides proprietary ratings of the leading Baltic IT service companies. Baltic IT sector grew by 1.6% during 2010, and 12 out of 20 rated companies experienced growth in revenues from IT services.
11.05.2011
European Commission has been coordinating the so-called eHealth research in the member states for over 20 years. Since 2004, when the first eHealth Action Plan was launched in the EU, policy initiatives aimed at fostering widespread adoption of eHealth technologies across the EU had been developing too. The Commission is preparing the eHealth Action Plan 2012-2020 to be presented at the end of 2011. Present eHealth week in Hungary has invited health care professionals, representatives of patients as well as medical, pharmaceutical and ICT industries, legal experts and policy makers.
11.05.2011
It is no secret that today's labour market in Latvia has a shortage of qualified middle-level managerial personnel. It looks like a logical step the implementation of an ERP system as a way to relieve the existing staff from routine duties, and as an opportunity to provide the groundwork for the strategic development of the enterprise. What problems are faced by business grown to the implementation of an ERP system?
27.04.2011
Information technology (IT), in a general sense, as well as innovations and research are within the main guidelines of the EU-2020 Strategy. However, the European Union's IT policy is much broader in the context and includes numerous "communication issues"; hence the notion of information and communication technology (ICT). Some of the ICT issues are in the Commission within the Enterprise & Industry DG, others in Research & Innovation as well as in the Information Society with the EU Digital Agenda. Thus, at least three commissioners are involved in the Union's ICT issues.