International Internet Magazine. Baltic States news & analytics
Sunday, 24.07.2016, 17:39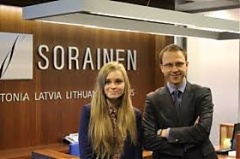 18.07.2016
Consolidated revenue of the Sorainen AS legal services group increased 6 % year over year to 9.3 mln euros in 2015 and profit grew 13 % to 2.6 mln euros.writes LETA/BNS.
07.01.2016
Riga City Council's Executive Director Juris Radzevics, following the Security Police's instructions, issued a decree on January 5 ordering Riga City Council employees and councilmen to hand in full information about their trips to Russia, Belarus, other CIS countries and China planned for this year, as well as their past official and unofficial visits to these countries, LETA found out this morning.
06.01.2016
Indrek Teder, attorney at law and former Chancellor of Justice, established Law Firm Teder together with partners Mariana Hagström, Pille Pettai and Marko Pikani. The new firm aims to innovate legal services and make them more accessible, informs BC Mariana Hagström.
05.01.2016
The State Chancellery's Director Martins Krievins proposed at the government's meeting today that the Inter-Ministerial Coordination Center be liquidated, reported LETA.
02.12.2015
Since the amendments to the Law on Citizenship of Latvia were adopted on October 1, 2013, which allow certain categories of people to obtain Latvian citizenship as a second (dual citizenship), the flow of willing to take this opportunity is not decreasing. It is not surprising!
06.10.2015
On April 23, 2015, the Saeima of the Republic of Latvia passed several amendments to the Micro-enterprise Tax Law. One of the amendments shall enter into legal force on January 1, 2016, and the other on January 1, 2017.
17.06.2015
After reviewing the case because of appeal of Vladimir Vashkevich on the decision of Sigulda city court on the civil suit on recall of information on affront of honour and dignity, Riga city District court took a break on 5 days, reported Gaida Matisone.
04.06.2015
Taking into account the continued relevance of the topic and a number of changes in the legislation in Latvia, we would like once again to discuss the responsibility of members of the board.
09.02.2015
Each company from time to time needs to register in the Register of Enterprises of Latvia the changes in the composition of shareholders or the board or any other information. Although the Register of Enterprises is trying to provide as much information and sample documents on its website as possible still one makes a great deal of mistakes while filling out the documents.
10.12.2014
We all wish to live well! Sooner or later a necessity to sell immovable property may arise and one would wish to save on tax payments. Our lawyer recommend how to do it right.
25.11.2014
"Please help me to dissolve a marriage registered in Ireland!", "I would like to dissolve a marriage with a foreigner here in Latvia, it is urgent!" – quite a number of clients call us regularly with similar requests. Since from February 1st, 2011 it has become possible to dissolve a marriage at the sworn notary we often receive calls and e-mails from women who married a foreigner in another country and now they are willing to dissolve their marriage in Latvia.