International Internet Magazine. Baltic States news & analytics
Sunday, 23.10.2016, 17:11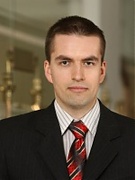 21.10.2016
Several years ago "economics guru" could argue that economic growth is hindered by "expensive money". Nowadays, with historically low interest rates and Latvian commercial banks literally rolling in money (having 3 billion euro on corresponding accounts with Latvijas Banka), the economic growth is indeed weak. Despite the fact that politicians have been mentioning the word "reforms" for years and the need to address bottlenecks in crucial sectors is obvious to everyone, little is being done in reality, and the majority of true reforms die out because of red tape.
06.10.2016
The Commission adopted a proposal to revise existing Europass papers, which have been quite a suitable tool and service to assist transparency of skills and qualifications across the EU. These "papers" consist of, e.g. Europass CV, the EU-type of diplomas and certificate supplements. The new Europass will include online tools and EURES job mobility portal.
04.10.2016
Virginijus Siksnys of the Institute of Biotechnology at Vilnius University (VU) has a realistic chance of winning a Nobel Prize in chemistry on Wednesday, VU Rector Arturas Zukauskas said LETA/BNS on Tuesday.
27.09.2016
The University of Latvia has received another donation worth EUR 1 million from Mikrotikls company, manufacturer and distributor of telecommunications systems, BC learned from the university.
27.09.2016
Valmiera town in north-eastern Latvia has been admitted to the UNESCO Global Network of Learning Cities (GNLC) that was created to jointly look for solutions to globalization, urbanization, demographic problems and other urban development challenges of the 21st century, writes LETA.
23.09.2016
To promote the research and analysis of Latvia's and euro area's macroeconomic issues by involving the most talented young economists in this work, Latvijas Banka announces the current Competition of Student Scientific Research Papers.
20.09.2016
According to an analysis of the Organization for Economic Cooperation and Development (OECD), the biggest problems regarding education in Estonia are teachers, the demographic structure, a big number of people who fail to graduate university and education costs focusing on real estate.
14.09.2016
The Estonian Ministry of Economic Affairs and Communications and the IT training provider AS BCS Koolitus have concluded an agreement to carry out a pilot project whereby 500 people with no prior training in IT will be trained as junior software developers over the next four years, reports LETA/BNS.
12.09.2016
The International Council for the Exploration of the Sea will hold its annual conference in Riga on September 19 to discuss the main marine resource management and research matters for the Atlantic Ocean and Baltic Sea, reports LETA.
06.09.2016
Vilnius University (VU) is among the world's top 500 universities in a new global university ranking, reports LETA/BNS.
05.09.2016
The education minister's idea about reducing the amount of homework is right, Latvian ombudsman Juris Jansons said on the morning news program of the public Latvian Television cites LETA.