International Internet Magazine. Baltic States news & analytics
Wednesday, 22.11.2017, 07:35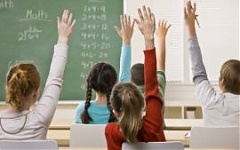 22.11.2017
Estonian 15-year-old students achieved the best score among European countries in a global PISA collaborative problem-solving assessment based on data for 2015, informs LETA.
15.11.2017
European Commission has formulated its vision on creating a European Education Area by 2025. With the debate on the future of Europe in full swing, the Commission's leaders are concentrating their efforts on collective steps to overcome the forthcoming challenges and making the EU more resilient to possible risks. Increasing educational potentials as drivers for jobs and growth is in the common interests of all EU states.
15.11.2017
The Estonian Ministry of Economic Affairs and Communications and representatives of the Estonian construction sector in Singapore on November 13th signed an agreement, the aim of which is in cooperation with universities to enhance the level of implementing Building Information Modeling and Management (BIM), informs LETA/BNS.
14.11.2017
The EU member states have to do more to overcome inequalities in education systems. Education has a special role in building a fairer society by offering equal chances to everybody. That was the outcome of a new Commission's Monitor published recently.
13.11.2017
Even though many issues related to self-driving cars and buses remain yet to be solved, Tallinn will try and bring together regular bus service and a self-driving bus performing the so-called last mile in at least one location next year, Eesti Paevaleht writes, cites LETA/BNS.
10.11.2017
The world economy knows many examples of fairly rapid growth of the economy of the state; first of all, these are Asian countries – Singapore, South Korea, the provinces of the People's Republic of China – Hong Kong and Taiwan. What is the phenomenon of such rapid economic development in Uzbekistan?
09.11.2017
The salaries of both kindergarten teachers and school teachers of Estonia will increase in 2018, and the average monthly salary of school teachers will rise to at least 1,380 euros a month, the Ministry of Education and Research said on November 8th, reports LETA/BNS.
08.11.2017
Estonia in cooperation with the European Space Agency (ESA) at the Tallinn Science Park Tehnopol on November 7th opened the space business incubator ESA Business Incubation Center (ESA BIC) Estonia, which is the first of its kind in the Baltics and 17th in the whole of Europe, informs LETA/BNS.
08.11.2017
At the "Future and Emerging Technologies" debate, Commission Vice-President Andrus Ansip underlined that combined and coordinated efforts among the EU institutions and the member states are needed towards gaining fore-front positions in the world. Some new directions have been mentioned: "human brain project", which provides additional understanding of the human brain and its diseases, as well as graphene and quantum research projects.
07.11.2017
Latvia is short of some 10,000 employees that could work in science-related fields, because lured by better-paying jobs, such professionals tend to migrate to foreign countries, Raimonds Aleksejenko, the Economics Ministry's deputy state secretary for entrepreneurship matters, said on Latvian Radio on November 6th, cites LETA.
06.11.2017
The Baltic states regained independence from the Soviet Union in August 1991. The years before had been marked by economic hardship, food shortages and high inflation. When the new governments set out to reform the economies and introduce market-based economic systems a key objective was therefore to support economic growth and raise living standards towards levels in Western Europe. The convergence path turned out to be more twisted and challenging than anticipated.