International Internet Magazine. Baltic States news & analytics
Friday, 01.07.2016, 23:36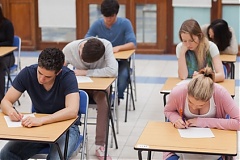 30.06.2016
The number of students who failed at high school centralized graduation exams this year – 234 – is twice as high as in 2015, as the National Center for Education told LETA.
20.06.2016
The education quality improvement solution Edurio, created in Latvia, has received support worth EUR 1.86 million from the European Union's research and innovation grant program Horizon 2020 for the company's further development and improvement of education quality on the European level, LETA was informed by the company's representatives.
17.06.2016
The European University Association (EUA) has released a review of the European Fund for Strategic Investments (EFSI) and found that there seems to be no benefit for universities – even though the scheme was created with funds taken from Horizon 2020, informed BC Jessica Carter from EUA.
13.06.2016
Commissioner P. Moscovici in a recent speech called "Structural reforms 2.0: for a stronger and more inclusive recovery" described his views on structural reforms' importance for fostering growth and jobs in Europe, as well as on the "priority-type reforms" presently needed. Most of his thoughts can serve as guidelines for the Baltic States government's structural policies.
13.06.2016
Although training and employment are within the member states competence, the EU often makes some recommendations. Thus, the Commission adopted recently a new and comprehensive "skills agenda" with the aim to ensure development of a broader set of new skills from early on in life and efficiently use human capital, which would ultimately boost employability, competitiveness and growth in the member states.
13.06.2016
In the first four months of the year 2016, the average monthly salary of teachers of municipal schools in Estonia was 1,135 euros, which marks a year-on-year rise of 6.3%, informs LETA/BNS.
10.06.2016
The Launch of Latvia's first satellite Venta-1 into orbit planned this month has been put off, Aigars Krauze, a researcher at Ventspils University College and a coordinator of Venta-1 project, told LETA.
09.06.2016
The European Commission has registered a new European Citizens' Initiative called "More than Education" to modernise the existing education systems in the EU states. The European Citizens' Initiative (ECI) is a reflection of "citizens' democracy": a registered ECI with 1 million signatures from seven EU states forces the Commission to take actions.
07.06.2016
Estonian parliament (Riigikogu) on June 7th adopted changes to the Private Schools Act, according to which the state will continue to pay an operating subsidy to private schools until the end of 2019, informs LETA/BNS.
01.06.2016
The number of foreign students in Latvia has trebled in the past three years, and their contribution to the national budget reaches EUR 148 million a year, a study by Certus think tank shows, cites LETA.
30.05.2016
Steps have been taken this year to establish in Turkey the first Latvian Society and the week-end school for Latvian children, the Latvian embassy in Turkey announced LETA.