International Internet Magazine. Baltic States news & analytics
Wednesday, 31.08.2016, 08:57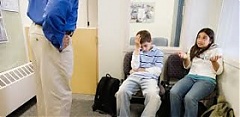 30.08.2016
More than half of Latvia's residents believe that the largest problem in Latvia's schools is the lack of student discipline, the latest Baltic International Bank Barometer survey shows.
15.08.2016
Newly published book provides insights into the state of the art for research and innovation regarding the Internet of Things (IoT), while exposing the challenges and opportunities within the future IoT ecosystems.
15.08.2016
This year 102 people had filed appeals against results of centralized graduation exams, the Latvian National Center for Education (VISC) reported, informs LETA.
08.08.2016
A program to develop medical education in Vietnam, written under the leadership of medical researchers from the University of Tartu, has received an European Commission grant of 958,804 euros, reports LETA/BNS.
05.08.2016
Rent prices in Lithuania's capital Vilnius have increased by about 5% this summer, as compared with the summer of 2015 – the fact has been admitted by real estate agents, saying that the price increase has not slowed down the market but, quite the opposite, provides better opportunities for owners of popular homes, according to delfi.lt writes LETA/BNS.
19.07.2016
Euronews unveils its revamped website euronews.com, offering an original user experience, based on the concept 'All Views'. Through a 'responsive web design' interface, the new website meets consumer needs and habits, in information-seeking across all types of platforms, BC informs Lydie Bonvallet Head of Press and Public Relations.
13.07.2016
The publication is inspired by the active European Commission's integration plan that was adopted in mid-2014. Although "the plan" was shaped as a political guidance, it has held an overwhelming "agenda for jobs, growth, fairness and democratic change".
11.07.2016
Organizer - Latvian Institute IRIS-ALKONA - traditionally receives in July scientists, researchers, academic staff, as well as businessmen and practitioners. The main purpose: to share their research and practical (professional) views, to discuss topical issues in economics, business and finance.
30.06.2016
The number of students who failed at high school centralized graduation exams this year – 234 – is twice as high as in 2015, as the National Center for Education told LETA.
30.06.2016
The Lithuanian parliament Seimas has given the green-light to the state to sign contracts with higher education providers based on what professionals it needs and has allowed reducing the time needed for a bachelor's degree by a year to three years, informs LETA/BNS.
29.06.2016
As a result of reforming the teacher remuneration system, the earmarked subsidy for teachers' salaries will increase for about 88% of local governments in Latvia, informs LETA.