International Internet Magazine. Baltic States news & analytics
Wednesday, 12.12.2018, 09:47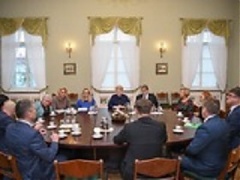 06.12.2018
Lithuanian President Dalia Grybauskaite has submitted, as a matter of urgency, amendments to the recently introduced pay system for teachers, aimed at facilitating the implementation of the new model, the presidential office said.
27.11.2018
Karlis Sadurskis (Unity) will resign as Latvian education and science minister to become a member of the European Parliament,
27.11.2018
The Latvian government on Tuesday approved a new standard of basic education, developed by the Education and Science Ministry and intended to teach children competencies essential for life in the 21st century, informed LETA.
23.11.2018
Rectors of the four universities that make up the U4 Network decided to accept the University of Tartu as the network's fifth full member, informed LETA/BNS.
22.11.2018
Teachers in Lithuania vow to continue their ongoing protests over the new tenure-based pay system introduced in September, the trade union behind the industrial action said LETA/BNS.
22.11.2018
The University of Tartu is to appeal the decision made by the labor dispute committee, with which the committee declared null and void the dismissal of former university library director Martin Hallik and ordered the university to pay a large financial compensation to Hallik, informed LETA/BNS.
16.11.2018
There were at least 1.6 million degree mobile students from abroad who studied at tertiary education level across the European Union (EU) in 2016. These are internationally mobile students enrolled in a degree programme in a country other than the one where they completed their upper secondary education, informed Eurostat.
15.11.2018
The Estonian government on Thursday authorized Minister of Education and Research Mailis Reps to establish a foundation by the name of Euroopa Kool that would take over management of the Tallinn European School from the Innove foundation, informed LETA/BNS.
14.11.2018
The Constitutional Court has accepted for hearing another lawsuit contesting the constitutionality of the amendments to the Education Law providing for a transition to education in Latvian in all ethnic minority schools, the court's representative Ketija Strazda told LETA.
13.11.2018
Of Estonian high school students 7% are definitely planning to continue their studies in a specialty related to information technology and 16% say they are very likely to do it, it appears from the findings of a study by Kantar Emor commissioned by Transferwise, cities LETA/BNS.
13.11.2018
Tallinn University of Technology (TalTech) and Estonian car dealer Silberauto have entered into a cooperation arrangement to build a self-driving bus suited for operation on the streets of Tallinn, which is expected to be completed next year, informs LETA/BNS.