International Internet Magazine. Baltic States news & analytics
Thursday, 27.10.2016, 15:44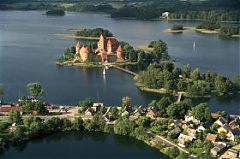 19.10.2016
Lithuania will until 2020 use a new tourism brand to market itself to foreign tourists, reports LETA/BNS.
05.10.2016
Lithuania's port city of Klaipeda is wrapping up the season of cruise ships on Wednesday, setting a new record this year, writes LETA/BNS according to Lietuvos Zinios daily said.
05.10.2016
SmartLynx Airlines is planning a busy 2016/2017 autumn/winter season. With the colder weather setting in, flights will be resumed to the most popular destinations of hot sandy beaches and warm seas – Egypt, the Canary Islands, Madeira and the United Arab Emirates. In turn, in winter flights to Switzerland and Italy will be available for those seeking to conquer the mountains. Overall SmartLynx will fly to 12 destinations from Riga and Tallinn, SmartLynx informs BC.
04.10.2016
DNB Banka has issued a EUR 9.5 mln loan to the Radisson Blu Daugava hotel, which will be used to re-finance an existing loan as well as to carry out renovation works.
30.09.2016
The number of guests in Riga hotels and other tourist facilities this year might grow by about 10 %, said Riga Tourism Development Bureau (RTAB) head Vita Jermolovica in an interview with LETA.
29.09.2016
A newly established company, RCM Invest OU, has taken over running the popular Tallinn concert venue Rock Cafe after the bankruptcy of the previous owner, RC Meelelahutuse OU, writes LETA/BNS.
29.09.2016
The Baltic state are becoming more popular in the Japanese tourism market, writes LETA according to Latvian Investments and Development Agency's representative Inese Sirava said.
28.09.2016
One of the biggest airlines in the world, Turkish Airlines, is opening a customer service centre in Vilnius to service its clients in Scandinavian and Baltic countries, BC informed Turkish Airlines representative.
27.09.2016
The majority of guests utilizing healthcare services at Latvia's resort cities are from Russia, Belarus and Scandinavia, however, there is also an increase in the number of medical tourists from other countries as well, the chairwoman of the Latvian Association of Resort Cities Gunta Uspele told LETA.
26.09.2016
10% of all nights in tourism accommodation facilities were spent by senior citizens over the age of 65 from Latvia, Bulgaria and Slovenia, which is the second lowest indicator in the EU, according to the latest Eurostat data for 2014.
26.09.2016
The Russian shipper St. Peter Line that operates the Tallinn-St. Petersburg route with a fleet of two ships, Princess Anastasia and Princess Maria, is to sell the ships to Italian cruise ship operator Moby Lines, lemarin.fr reports cites LETA/BNS.