International Internet Magazine. Baltic States news & analytics
Monday, 02.03.2015, 17:01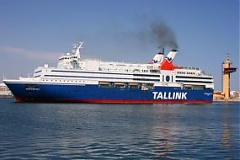 27.02.2015
Estonia's largest passenger shipping company Tallink informed the Tallinn stock exchange that it has decided to sell its ferries Regina Baltica and Silja Festival, informs LETA.
24.02.2015
The traveler portal "Premier Traveler" has ranked the Karosta Prison in Liepaja among world's 10 most unusual places to stay during a trip abroad, reports BC the Latvian Institute.
24.02.2015
The organizers of the annual New Wave pop-music contest/festival have not reserved the dates for the festival in Jurmala in 2015, thus these dates have been reserved for other events and New Wave will not be held in the Latvian coastal resort city this summer, the head of the Dzintari Concert Hall Guntars Kirsis confirmed to LETA.
23.02.2015
According to the data of the Central Statistical Bureau (CSB), in 2014 the number of visitors in hotels and other accommodation establishments comprised 2.1 mln people who spent there 4.2 mln nights. Compared to 2013, the number of persons served rose by 14.1%, but the number of overnight stays – by 10.1%.
19.02.2015
On Thursday, 19 February 2015, budget airline Ryanair congratulated its 2 millionth passenger in Vilnius International Airport, reports LETA/ELTA.
17.02.2015
Travelers Andzs Ubelis and Martins Sils are planning to visit twenty countries during a 25,000-kilometer motorcycle expedition "2 Rati 2 Ragi" (2 Wheels 2 Horns) that will take three months, as the expedition's public relations consultant Arita Kruze told LETA.
16.02.2015
During the year 2014 the Freeport of Riga has reached the unprecedented volume of cargo handling – a threshold of 41 million tons (+ 15.8%) was exceeded, which is the largest amount ever handled during the year by one of the Latvian ports. The results of January 2015 show that the growth trend continues – 3.5 million tons were handled in January, which is by 8.3% more than in January 2014, reports BC port's press service.
16.02.2015
Estonian residents travel more than before, but for shorter times, Estonia's central bank Eesti Pank said in its fresh report. Foreign visitors made 6.2 million visits to Estonia in 2014, which is about 1% more than in 2013, informs LETA.
13.02.2015
On February 12th 2015, Estonian Minister of Economic Affairs and Infrastructure Urve Palo and the Port of Tallinn concluded a contract for organising ferry traffic on the Rohuküla-Heltermaa and Kuivastu-Virtsu lines, reports BC the ministry's press service.
13.02.2015
On Friday, 13 February, Riga International Airport welcomed the first flight of Turkmenistan Airlines from Ashgabat. The new direction will help attract more passengers and open new travel opportunities for transit passengers, reported BC airport's press service.
13.02.2015
The "Corner House" exhibition at the former KGB building at 61 Brivibas Street in Riga will reopen to the public this afternoon, as the Latvian Museum of the Occupation representatives informed LETA.