International Internet Magazine. Baltic States news & analytics
Wednesday, 18.07.2018, 00:16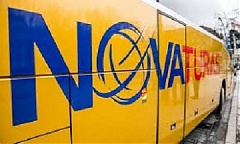 16.07.2018
Novaturas, one of the largest tour operators in Lithuania, posted 80.2 mln euros in revenue in the first half of this year, up 43% from the same period last year, informs LETA/BLNS.
05.07.2018
The Latvian trade union of taxi drivers decided at an extraordinary meeting today to set the maximum taxi fare for a ride from Riga International Airport to the city center at EUR 25 and the maximum fare for a ride from the airport to other districts of Riga at EUR 30, the union's leader Genadijs Aksjonovs told LETA.
05.07.2018
In May 2018, 300,000 passengers passed through Tallinn Airport, 15 percent more than in the same month the year before, which is the largest ever monthly number of passengers serviced, reports LETA/BNS.
03.07.2018
Rietumu Bank would like to inform that starting 31 August Collinson Group Company terminates the Priority Traveller program for credit cardholders.
02.07.2018
The Estonian state-owned airline Nordic Aviation Group (NAG) operating under the Nordica trademark in 2017 made a profit of 900,000 euros and the number of the company's passengers grew 68% on year, reports LETA/BNS.
02.07.2018
Vilnius has started collecting a tourist fee of 1 euro per spent night as of Jul 1, 2018, with exemptions for minors and disabled people, informs LETA/BNS.
28.06.2018
Enterprise Estonia (EAS) in the next five years will focus on three main directions -- export, foreign investments coming to Estonia and increasing tourism income, Minister of Entrepreneurship and Information Technology Urve Palo said at the government's press conference on June 28th, cites LETA/BNS.
28.06.2018
The Latvian Transport Ministry is in the process of drafting regulatory amendments intended to address persisting problems with taxicab services at Riga International Airport, the ministry's representative Ilze Greizkalna told LETA.
25.06.2018
Statistics Lithuania informs that in 2017, against 2016, the number of overnight trips of foreigners increased by 9.9%, and the number of same-day trips increased by 1.4%.
22.06.2018
The number of nights spent by guests at Latvia's hotels and other tourist facilities in the first four months of this year grew by 12.1% against the same period last year to 1.268 million, writes LETA, according to the data released by the Central Statistics Bureau (CSB).
21.06.2018
The Lithuanian seaport of Klaipeda handled 18.223 million tons of cargo during the first five months of 2018, up 5.8% from 17.232 million tons a year ago, the port's authority told BNS/LETA.