International Internet Magazine. Baltic States news & analytics
Thursday, 28.08.2014, 08:06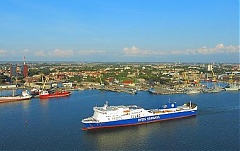 27.08.2014
In January-July 2014, the overall cargo handling in the Baltic Eastern Coast Seaports totalled 122 216 490.8 thou. tn; the year-on-year change is +4,3% or +8 917,1 thou. tn, reports BC Klaipeda port's press service.
20.08.2014
Travel agency Tez Tour turned over EUR 21,583,681 and earned EUR 446,663, reports LETA/Nozare.lv, according to information provided by Firmas.lv.
18.08.2014
The average turnover of Latvian companies in the lodging industry has grown by 14.27% since 2011, according to information provided by Lursoft, cites LETA/Nozare.lv.
15.08.2014
The Port Festival 2014, that has become a beautiful tradition, is part and parcel of the annual Riga City Festival. This year the main Port festival events "Ielu muzikas diena (The Street Music Day)", "Kanala Regate 2014 (Regatta of the Canal). The Freeport of Riga Cup" and 24-hour outdoor basketball tournament "Krastu Macs (The Game of Two River Banks)" will take place on August 16-17, 2014, reports BC the port's press service.
15.08.2014
Compared to July 2013, the volume of various cargos handled at the Freeport of Riga in 2014 has increased by 15, 8% – almost 3, 5 million tons were transshipped within one month, informed BC the port's press service.
14.08.2014
During the first half of 2014, the coach operator Ecolines carried 10% more passengers than in the respective period of 2013, whereas the company's turnover increased by 2%, the company informed the business portal Nozare.lv, cites LETA.
14.08.2014
Estonian passenger shipping company Tallink informed the Tallinn Stock Exchange that its net profit fell by a third in the second quarter of the year 2014, as both geopolitical events, as well as ship maintenance work had a major impact on results, informs LETA.
13.08.2014
Liepaja Port handled 2,977,299 tons of cargo in January-July 2014, a 7.2% increase on the respective period in 2013, reported BC the Latvian Institute.
12.08.2014
According to Statistics Estonia, 335,000 tourists or 6% more than in the same month of the previous year stayed in accommodation establishments in June 2014. The number of both domestic and foreign tourists increased.
12.08.2014
Latvijas Banka issues the very first 2 euro coin of special design "Riga – European Capital of Culture 2014". It is legal tender in the Republic of Latvia and the other euro area countries.
12.08.2014
The number of passengers who used the ports managed by the state-owned Tallinna Sadam (Port of Tallinn) grew to a record 1.264 million in July and a bit over a million of them used the Tallinn-Helsinki route, LETA/Public Broadcasting reports.