International Internet Magazine. Baltic States news & analytics
Tuesday, 28.04.2015, 03:33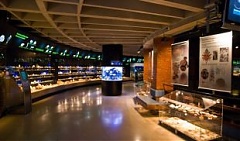 24.04.2015
In 2014, 3,862 libraries (2,561 of them in educational establishments), 632 culture centres, 104 museums, 39 theatres, 7 state concert organisations, 28 cinemas and film halls operated in Lithuania, reports LETA/ELTA.
20.04.2015
The Port of Riga concluded the 1st quarter of 2015 with the 6.7% increase of cargo turnover compared to the same period of the last year. Overall, 10.58 million tons of various cargos were handled at the port of Riga during the first three months, reports BC port's press service.
15.04.2015
In 2014 as compared to 2013, the number of foreign travellers has increased by 7.3%, according to the data of Central Statistical Bureau (CSB). Foreign travellers crossed the border of Latvia 6.2 mln times and spent 668.5 mln euros, which is more by 60.2 mln euros or 9.9% than a year ago.
15.04.2015
Estonian Tourism Companies Union (ETCU) estimates that the government coalition's plan to raise VAT on accommodation establishments by 11% would hit the businesses in rural areas hardest, LETA/Public Broadcasting reports.
10.04.2015
According to Statistics Estonia, 177,000 tourists used the services of accommodation establishments in February 2015, which is 1% fewer than in February 2014. The number of foreign tourists decreased and the number of domestic tourists increased.
10.04.2015
Despite the tense political/economic situation, the Jurmala City Council nevertheless projects an increase in tourist numbers this year, Jurmala Mayor Gatis Truksnis (Greens/Farmers) told Latvian Television today, reports LETA.
09.04.2015
Turkmenistan Airlines has temporarily suspended its Ashgabat-Riga-Ashgabat flights between April 11 and July 1, 2015, the newspaper Neatkariga reports, cites LETA.
09.04.2015
One of the key aspects of his Minsk visit is the broad-based cooperation agreement between the Belarus capital and Riga signed by Mayor Nils Usakovs (Harmony) on April 8th 2015, reports LETA.
08.04.2015
After opening the Embassy of Israel in Vilnius, joining the euro zone and being chosen by the Lonely Planet as one of the world's top touristic attractions, Lithuania is becoming more accessible and welcoming to the Israeli tourists, reports LETA/ELTA.
07.04.2015
The Estonian ferry company Tallink is looking for ways to once again have two ferries running on the Riga-Stockholm route, the newspaper ''Dienas Bizness'' reports today, cites LETA.
02.04.2015
Real estate sector remains not only one of really working force of Latvian economy. It opens new ways of development for Latvian business. A memorandum of cooperation, concluded by the chairwoman of the Real Estate Expert council Inara Vilkaste and Head of Association of development of small and medium-sized business KAZadvancementElmira Saimardenova, confirms it.