International Internet Magazine. Baltic States news & analytics
Thursday, 29.10.2020, 13:34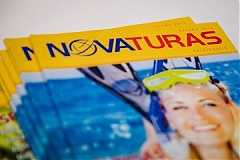 29.10.2020
Novaturas, a leading Lithuanian tour operator, has reported a net loss of 3.7 million euros for the three quarters of 2020 as the COVID-19 pandemic sent revenue plunging to 30.5 million euros, informs LETA/BNS.
23.10.2020
Laura Kulakova, a representative of Riga International Airport, said in an interview with Latvian Radio on Friday that 1.87 million passengers were served at Riga Airport in 2020 by October 19, which is almost 71% less than in the corresponding period last year, writes LETA.
21.10.2020
Turkish tour operator OTI Holding, operating Coral Travel travel agencies in Eastern Europe, has set up its business in Lithuania, writes LETA, according to the Lithuanian Center of Registers.
20.10.2020
From December 9, Latvian airline airBaltic will launch direct flights between Riga and to Finnish ski resort town of Kittila, LETA was informed by airBaltic spokeswoman Alise Briede.
19.10.2020
Webhelp LT, a Latvian-owned travel and leisure consultancy, is laying off all employees as part of its exit from Lithuania, reported LETA/BNS.
19.10.2020
Starting from Monday, the restriction on the freedom of movement does not apply to passengers arriving in Estonia from Cyprus, Greece and Norway, reported LETA/BNS.
16.10.2020
Estonia wishes for the single space of movement made up of the Baltic countries and Finland to be restored, as the COVID-19 related epidemiological situation in the region is similar and a single movement space will enable to keep life in the region as normal as possible, informs LETA/BNS.
15.10.2020
Accordingly data of the Central Statistical Bureau, in August 2020 the number of foreign and resident visitors comprised 300.2 thousand, which is 22.7 % less than in August 2019. As compared to August of the previous year, the number of nights spent by visitors has reduced by 27.6 % and comprised 535.7 thousand nights.
15.10.2020
The recommendations of the European Commission for the coordination of travel restrictions between states are insufficient and are undermining tourism, the Estonian Travel and Tourism Association (ETFL) finds, informs LETA/BNS.
15.10.2020
Latvian national airline airBaltic plans to carry about 1.5 million passengers in 2020, said the airline's CEO Martin Gauss in an interview with the Latvian public television today, informs LETA.
14.10.2020
Turkish airline Turkish Airlines is resuming flights between Vilnius and Istanbul as Lithuanian citizens are no longer subject to the self-isolation requirement in Turkey or Lithuania as of October 12, informs LETA/BNS.