International Internet Magazine. Baltic States news & analytics
Wednesday, 01.04.2015, 16:08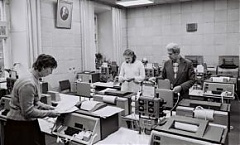 01.04.2015
Four telegrams delivered by the Lithuanian Telegram Agency ELTA back in 1920 will be sold at an auction held in Basel (Switzerland) on 15 April 2015, reports LETA/ELTA.
01.04.2015
The start of the European Central Bank "money print" left Estonian investors indifferent, because after two months of robust increases, the Tallinn Stock Exchange again got stuck in March 2015, LETA/Postimees Online reports.
01.04.2015
According to the Ministry of Finance, central government debt at the end of February 2015 stood at EUR 13.658 billion and accounted for 36.5% of the projected 2015 GDP (EUR 37.374 billion), writes LETA/ELTA.
01.04.2015
The Citadele Group last year posted record profit and concluded 2014 with EUR 32.4 million in audited profit, which was 138% more when compared to 2013.
01.04.2015
Old-age pensions will increase by 6.3% in Estonia starting April 1, 2015 due to the new pension index; the average monthly pension will be 375 euros, LETA/Public Broadcasting reports.
01.04.2015
Nearly 651,500 Estonian people submitted their income declarations on last year's income by deadline on March 31, 2015, which exceeded the expectations of the tax and customs board, LETA/Public Broadcasting reports.
01.04.2015
The most expensive new automobile to be registered in Latvia in 2014 is a "Ferrari F12 Berlinetta", its registered worth was EUR 302,000, as online automobile portal Latauto.lv sales manager Andris Malnieks told LETA.
01.04.2015
The government of Latvia on March 31 approved to allocate EUR 16 million from the state budget to cover the first construction round of the new wing at Pauls Stradins Clinical University Hospital, informs LETA.
01.04.2015
Siauliu Bankas introduces its renewed brand alongside with a slogan Our Strength is in Our Roots. At the same time, Siauliu Bankas sets an ambitious goal of becoming one of the most valued brands in Lithuania, Siauliu Bankas announced BC.
31.03.2015
Pauls Stradins Clinical University Hospital concluded the year 2014 with an insignificant profit, while Riga East Clinical University Hospital suffered EUR 8.8 million losses, this according to the Health Ministry's spokeswoman Gundega Ozolina during today's meeting of Saeima's Social and Employment Matters Committee, cites LETA.
31.03.2015
Total budget tax revenue in Latvia in January and February 2015 was EUR 1.1 billion, or 98.8% of the target, the Finance Ministry told LETA.