International Internet Magazine. Baltic States news & analytics
Sunday, 25.06.2017, 20:30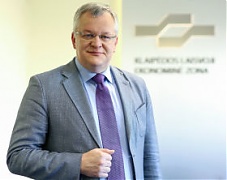 22.06.2017
In 2016, investors operating in Klaipėda Free Economic Zone (FEZ) purchased goods and services for EUR 200,5 mln from Lithuanian suppliers, 1,9% more than a year ago. Last year was the first time when purchases by FEZ companies in Lithuania exceeded EUR 200 mln.
20.06.2017
The State Police has arrested three premium class cars and EUR 380,000 financial resources of the suspected insolvency administrators, reports LETA/BNS.
20.06.2017
The sales revenue of the Estonian confectionery maker Kalev owned by the Norwegian Orkla group increased by 6.9% to 46.7 mln euros in 2016, while profit for the same period surged 31.2% to 5.5 mln euros, reports LETA.
20.06.2017
The Estonian Center for Defense Investment is about to announce a tender for the procurement of automatic weapons for the defense forces and other institutions of the state shortly.
20.06.2017
Last year, non-residents' share in the structure of Latvia's government debt was the second highest in the European Union (EU), with non-residents holding 72.4% of Latvia's government debt, the latest Eurostat data shows.
20.06.2017
The Commission has reached a "principle deal" with the member states to restart EU's securitisation markets and to strengthen funds for venture capital and social entrepreneurship. Commission presented to the member states' finance ministers the Capital Markets Union mid-term review and expressed hope for a strong political support. Commission vice-president V. Dombrovskis presented these and other Ecofin actions.
19.06.2017
Prices in Lithuania are this year driven by global tendencies – growing prices for oil and food, analysts of the central Bank of Lithuania say, projecting a slow-down in the pace of inflation next year, writes LETA/BNS.
19.06.2017
The Bank of Lithuania, at its own expense and using its own resources, is the first in the euro area to have conducted a cyber exercise to check the resilience of our country's financial market participants – mainly banks – to cyberattacks.
16.06.2017
By June 14 this year, the Latvian Central Finance and Contracting Agency has approved EU co-financed projects worth nearly EUR 2.3 bln which is equal to 52% of the total EU funding available to Latvia in the amount of EUR 4.4 bln, reports LETA.
16.06.2017
Estonia and Finland have established a nonprofit association titled Nordic Institute for Interoperability Solutions (NIIS) to develop the X-Road data exchange layer in information systems, which allows databases and registers to communicate securely, reports LETA/BNS.
16.06.2017
After the Latvian health sector's reform, those patients that do not make social security contributions will only be entitled to family physicians' services, emergency care and treatment of some specific conditions, information released by the Health Ministry suggests LETA.