International Internet Magazine. Baltic States news & analytics
Sunday, 26.10.2014, 03:15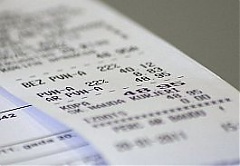 24.10.2014
An estimated EUR 177 billion in value added tax (VAT) revenue was lost in the European Union due to non-compliance or non-collection in 2012, according to the latest VAT Gap study published by the European Commission. This equates to 16% of total expected VAT revenue of 26 member states, reports LETA.
24.10.2014
The Riga City Council will allot additional EUR 10.2 million to Rigas satiksme in order to provide public transport services, the Riga City Council Budget Commission decided yesterday, informs LETA.
23.10.2014
The Bank of Estonia stated that banks operating in Estonia earned a total of 80 million euros in net profits in the third quarter of 2014, writes Äripäev.ee/LETA.
23.10.2014
In the first nine months of the year, DNB Group in Latvia posted EUR 14.8 million in profit, which is 3.7 times more when compared to the same period last year, cites LETA/Nozare.lv.
23.10.2014
SEB Group in Latvia concluded the first three quarters with a net profit in the amount of EUR 23.7 million, SEB banka reports. Over the three quarters of the year 2014 by AB SEB bankas is LTL 216.5 million (EUR 62.7 million) and by AB SEB bankas Group is LTL 219.5 million (EUR 63.6 million) and SEB's Eesti units ended the third quarter of 2014 with a 15.6 million euros profit, writes LETA.
23.10.2014
As of the end of September 2014, the Estonian government's stabilisation reserve volume was 368.5 million EUR in market value; the volume of the reserve grew by 9 million EUR in a year, LETA/Public Broadcasting reports.
23.10.2014
AB DNB Bankas, part of Norway's largest financial services group, earned a pre-tax profit of LTL 42.3 million (EUR 12.26 million) in the first nine months of 2014, up from LTL 36.4 million (EUR10.55 million) in the same period a year ago due to the further growth of business volumes and higher operating efficiency, the bank said in a report today, cites LETA/ELTA.
23.10.2014
According to the Baltic Household Outlook, prepared by SEB and introduced to the public today, 80% of Estonians are satisfied with the adoption of the euro, and this year positivity even exceeds the EU average, writes LETA/Estonian Public Broadcasting.
23.10.2014
The Estonian Riigikogu completed on Wednesday the first reading of the 2015 state budget, which has revenues of 8.4 billion and expenditures of 8.5 billion euros planned in it, LETA/Public Broadcasting reports.
23.10.2014
Nordea bank in Latvia posted EUR 32.8 million in operational losses in the first nine months of 2014, the bank's spokeswoman Signe Lonerte informed the business portal Nozare.lv, cites LETA.
23.10.2014
In September 2014, the portfolio of overdue debts of Lithuanian residents increased by LTL 50 million (EUR 14.5 million) and at the end of the period amounted to LTL 3.62 billion (EUR 1.049 billion), informs LETA/ELTA.