International Internet Magazine. Baltic States news & analytics
Wednesday, 10.02.2016, 06:41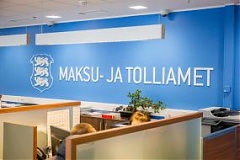 09.02.2016
The Estonian Tax and Customs Board in January 2016 collected 627 million euros in taxes, 12.6% more than in January 2015, the Ministry of Finance said, cites LETA/BNS.
09.02.2016
The two passenger ferries under construction for Port of Tallinn subsidiary TS Laevad at the Sefine shipyard in Turkey cost 22.8 million euros apiece and the other two being built in the Remontowa shipyard in Poland cost 31.5 million euros each, the weekly Eesti Ekspress claims, cites LETA/BNS.
09.02.2016
Sales of organic farming products in Estonia are estimated to have totaled 10.5 million euros in 2014, it appears from figures made available by the Institute of Economic Research, cites LETA/BNS.
09.02.2016
Lithuania this week will redeem a 1-billion-euro Eurobond issued ten to eleven years ago, informs LETA/BNS.
09.02.2016
Insufficient measures are being taken in Ukraine to eradicate corruption, Lithuanian Minister of Foreign Affairs Linas Linkevicius says after Ukraine's Lithuanian-born Minister of Economic Development and Trade Aivaras Abromavicius resigned, informs LETA/BNS.
08.02.2016
The Commission's winter forecast shows that the overall growth outlook has changed little since the autumn. There is a risk that growth could turn out worse, mainly as a result of external factors. In the euro area, growth is projected to increase to 1.7% this year from 1.6% last year, and to climb to 1.9% in 2017. EU economic growth is forecast to remain stable at 1.9% this year and rise to 2.0% next year.
08.02.2016
In 2015, tax revenues to the general government consolidated budget were EUR 7 billion, growing by 4.9% from EUR 6.67 billion collected in 2014 in Latvia, the information published by the Finance Ministry suggests, cites LETA.
08.02.2016
In 201, Latvia's local government consolidated budget showed a deficit of EUR 25.5 million, informs LETA, according to the Finance Ministry's data.
08.02.2016
SEB Bankas' economist Gitanas Nauseda regards plans by recession-hit Russia to privatize some state-owned companies as the right path that other countries in a poor macroeconomic situation should follow as well, the Delfi news website reported on Monday, cites LETA/BNS.
08.02.2016
According to the latest Eurobarometer survey, 73% Latvian residents believe that corruption is widespread in the country, informs LETA.
05.02.2016
Lithuania this month ranks 81st in the world in terms of gold holdings, one notch down from number 80 last month, informs LETA/BNS, according to the latest figures from the World Gold Council. Latvia is ranked 79th.