International Internet Magazine. Baltic States news & analytics
Wednesday, 16.01.2019, 16:59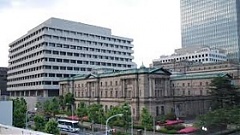 16.01.2019
The Japan Bank for International Cooperation (JBIC) is to invest 40 million euros in the fund focusing on venture capital investments in the Nordic and Baltic region and early stage investments in technology companies, informed LETA/BNS.
15.01.2019
In 2017, enterprises paying the reduced microenterprise tax failed to declare an estimated 35.6 % of their employees' wages, according to the State Revenue Service's information writes LETA.
14.01.2019
Latvian households on average in 2017 spent 9.9 percent of their income on culture and entertainment.This is 1.4 percentage points more than in Lithuania, and 1.7 percentage points more than in Estonia. according to Eurostat.
14.01.2019
The listed Estonian beverage company Linda Nektar AS has entered into an agreement with AS LHV Pank to undertake market making in its shares, informed LETA/BNS.
14.01.2019
Under the European Central Bank's Public Sector Purchase Program (PSPP), the Bank of Latvia has purchased securities issued by the Latvian government and international organizations located in the euro area totaling EUR 7.423 bn by the end of 2018, Latvia's central bank announced today.
11.01.2019
he main risks to the electrification of Latvijas Dzelzcels railroads and construction of Skanste tram line by Rigas Satiksme public transport company are these projects' tight deadlines, Diana Rancane, head of the Finance Ministry's Department for Supervision of European Union Funds, told Saeima European Affairs Committee today referred LETA.
11.01.2019
To date, over 5,400 people without state health insurance have voluntarily paid health insurance contributions, the total amount of which has exceeded EUR 783,000 the National Health Center's representative Evija Stalberga told LETA.
11.01.2019
Danske Bank, which is embroiled in a major money laundering case linked to its Estonian branch, may come under formal investigation for a second time in France, Estonian public broadcaster ERR reports, citing Reuters.
09.01.2019
The financial accounts data for Q3 2018 published today shows that at the end of Q3 2018, the financial assets of non-financial corporations amounted to €45.7 bn and were more than twice larger than their debt (€19.5 bn) informed Bank of Lithuania.
09.01.2019
Euro celebrates 5 years in Latvia and 20 years in the EU. Europeans are feeling strength, convenience and stability of the common currency. Global community acknowledged euro as a reliable international currency: it is part of an SDR's basket with the US$, the UK pound and the Japanese yen. But euro is only a part –though important –in a national growth; sound economic policies, which are in the hands of politicians, are key issues.
09.01.2019
The Estonian government is about on Thursday to approve the allocation under the 2019 state budget of money from the municipalities' support fund for the operation of general education schools in the amount of 342 mln euros, informed LETA/BNS.