International Internet Magazine. Baltic States news & analytics
Friday, 25.09.2020, 13:57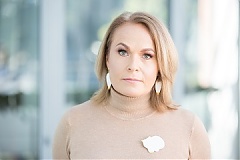 25.09.2020
Estonian companies and residents made an average of 462,000 payments a day in August, and 90% of them reached the payee in just a few seconds. All payments made in Estonia within one bank and 61% of interbank payments are settled instantly.
24.09.2020
The Finance Ministry will have to come up with a clear solution to compensate local governments for a reduction revenues as projected in the draft 2021 budget, the Association of Large Cities of Latvia told LETA after a meeting with the Finance Ministry's representative.
23.09.2020
On 23 September Ignitis Grupė signed the contract with the European Investment Bank (EIB) for the loan of EUR 110 mln which will be used by Energijos skirstymo operatorius (ESO) to implement an IT solution for smart meters and their data collection and management.The loan duration fixed in the contract is up to 16 years. No additional measures that would guarantee performance of additional obligations (guarantees, securities, mortgage, etc.) are provided in this contract, informed company.
23.09.2020
Along with the Covid-19 crisis, most believably, foreign investments in Latvia will not grow considerably, but there is not steep reduction expected, either, said Gunta Jekabsone, the board chairwoman of the Foreign Investors' Council in Latvia (FICIL), in an interview with LETA.
23.09.2020
Tradecore Group, a UK company providing financial services, has established a company in Lithuania, informs LETA/BNS.
22.09.2020
Ignitis Inovaciju Fondas (Ignitis Innovation Fund), an investment fund established by Ignitis Grupe (Ignitis Group), Lithuania's state-owned energy group, has invested 295,000 euros in Eliq, a Swedish startup creating software solutions for the energy sector, the group said.
22.09.2020
Luminor Bank has loaned 1.9 million euros for the construction of a new plastic packaging plant of Terekas, a Lithuanian company that operates abroad under the FlexBlow brand, in the western district of Kretinga, informs LETA/BNS.
22.09.2020
EBV Finance, a Vilnius-based tax refund services provider, is setting up an operations center in Lithuania after becoming part of the global corporation Edenred, informs LETA/BNS.
22.09.2020
The average amount of bribes figuring in criminal cases that the Corruption Prevention Bureau forwarded to the prosecutor's office from 2013 to 2019 was EUR 20,000 to EUR 30,000, LETA learned at the bureau.
22.09.2020
The Cabinet of Ministers on Tuesday supported allotting extra funds from the 2021 budget for increasing healthcare workers and teachers' salaries, as well as changing several taxes to improve social protection of residents, informs LETA.
22.09.2020
US billionaire Ahmad Khawaja was arrested by Lithuanian law-enforcement officials in Vilnius on September 3, according the 15min.lt news website information reported LETA/BNS.