International Internet Magazine. Baltic States news & analytics
Monday, 01.09.2014, 10:28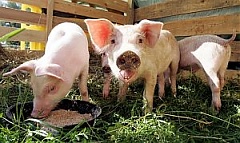 01.09.2014
Estonian Minister of Agriculture Ivari Padar said that the Russian food imports ban has hit the producers of milk and pork and the fisheries industry the hardest, writes LETA/National Broadcasting.
29.08.2014
The asset management company Reverta (formerly Parex banka) has returned EUR 66.7 million to the State Treasury in the first six months of 2014, including a significant amount of debt before the term, reports LETA.
29.08.2014
In 2014, AB SEB Bankas Group offered a full-range of banking services to private individuals, corporate customers and finance institutions. As of 30 June 2014, AB SEB Bankas and two companies: UAB SEB Investiciju Valdymas, UAB SEB Venture Capital were the members of the Group in Lithuania, the bank announced, cites LETA/ELTA.
29.08.2014
The total amount of premiums signed by insurance companies in Latvia, increased 6% in the first half of 2014, according to information provided by Latvian Insurers Association, cites LETA.
29.08.2014
While it has not yet been calculated precisely how much Estonia will spend on organising the visit of President Barack Obama to Tallinn next week, Minister of Internal Affairs Hanno Pevkur estimated that the amount would exceed half a million euros, writes LETA/Postimees Online.
28.08.2014
Over July 2014 the net external assets of monetary financial institutions (MFIs) grew by LTL 754.4 million (EUR 218.4 million) and amounted to LTL 12.8 billion (EUR 3.7 billion), reported LETA/ELTA, referring to the Bank of Lithuania.
28.08.2014
Latvia can hope for support for farmers from the European Union, nevertheless, it will not cover the entire damage caused by Russia's embargo, the head of the European Commission Representation in Latvia, Inna Steinbuka said in an interview with LNT television this morning, cites LETA.
28.08.2014
The NASDAQ OMX Group, Inc. (NASDAQ:NDAQ) announces that as of 1 September 2014, the sub-funds Rietumu Asset Management Cash Reserve Fund-USD (ticker: RAMCRUFR) and Rietumu Asset Management Cash Reserve Fund-EUR (ticker: RAMCREFR) managed by AS Rietumu Asset Management IPS will be listed on the Baltic Fund List by NASDAQ OMX Riga, informs LETA.
28.08.2014
Personal income tax revenue in municipalities' budgets in Latvia in 2014 could exceed the annual plan by EUR 4.1 million, the Finance Ministry forecasts, cites LETA.
28.08.2014
Teachers could receive a EUR 709 salary in 2015/2016, Education and Science Ministry's Education Department Director Evija Papule said during the Latvian Trade Union of Education and Science Employees meeting yesterday, informs LETA.
28.08.2014
Statistics reported by the Tax and Customs Board in Estonia indicate that the number of people earning less than 3,200 euros per year is falling, as is the number of people earning more than 380,000 euros, writes LETA/Äripäev.