International Internet Magazine. Baltic States news & analytics
Monday, 21.08.2017, 05:41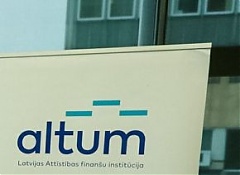 18.08.2017
Development Finance Institution Altum (Altum) has so far granted over 6,100 loan guarantees under the government support program helping families with children buy their first housing, Altum representatives told LETA.
18.08.2017
The government has approved the financial report of the Estonian state for 2016, which offers an overview of the achievement of the goals set out in the state budget, the financial standing of the state, economic performance and cash flows, cites LETA/BNS.
18.08.2017
Companies of Fortum Eesti group were the biggest recipients of renewable energy support and high-efficiency cogeneration support in Estonia in July 2017, receiving altogether 1.7 million euros, writes LETA.
17.08.2017
The dynamics of average monthly household expenses was different in the three Baltic countries in July 2017, with downward movements compared with the preceding month registered in Latvia and Lithuania and a minor increase in Estonia, it appears froma survey by Baltic Market Insights (Baltmi), cites LETA/BNS.
17.08.2017
Lithuania's central government and local authorities collected a total of 4.74 billion euros in budget revenue in January through July 2017, some 153.8 million euros, or 3.4%, more than planned, reports LETA/BNS.
17.08.2017
The Financial Police of the State Revenue Service in August 2017 busted an organized group that had been illegally selling luxury automobiles and household equipment, avoiding to pay more than EUR 2.8 million in value added tax (VAT), LETA was told at the Revenue Service.
17.08.2017
The Digital Freedom Festival, in cooperation with the association Latvian Business Angel Network (LatBAN), announces an invitation to pre-seed startups to submit applications for the November Investment Session. For the first time, the top 10 startups will have an opportunity to present their business ideas to Latvian and international business angels at the Digital Freedom Festival taking place on November 28. It is anticipated that the festival will welcome up to 1300 participants from the whole region, including investors, corporate executives and journalists, informed BC Digital Freedom Festival Press Secretary Inga Tauriņa.
17.08.2017
Latvian state-owned Latvijas Dzelzcels (Latvian Railroad) railway company will not pay dividends into the state budget from the profit of 2016, but will spend its profit on infrastructure investment projects, the government decided on August 16th, cites LETA.
16.08.2017
The average monthly amount that a person living in Latvia needs to fulfill all one's dreams is 3,342 euros, informs LETA, according to the poll conducted by SKDS pollster.
16.08.2017
Inbank, the financial services company that started operations in April 2015 and that has evolved from the Cofi financial technology startup established in 2011, earned a profit of 5.7 million euros in the first six months of this year, marking a 429.4% increase compared to the year before, reports LETA/BNS.
16.08.2017
The criminal gang detained in Latvia on August 14th had swindled more than EUR 2 million from residents of China, said Criminal Police chief Janis Lazdins in a press conference on August 15th, cites LETA.