International Internet Magazine. Baltic States news & analytics
Saturday, 29.04.2017, 20:37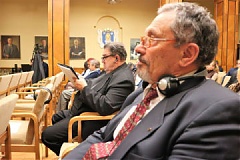 28.04.2017
After 25 years of the renewed independence, a pivotal even took place in Latvian developmental history - first economic forum with the main idea of defining national economic identity and Latvian role in the EU and the world. The forum has laid down the first bricks in the new narrative, i.e. Latvian political economy.
03.04.2017
The EU-27 member states discussed on 25th of March the EU's future. The 60th anniversary Rome Declaration included five key issues: (1) developing European social dimension; (2) deepening the Economic and Monetary Union; (3) harnessing globalisation; (4) Europe's defence, and (5) the EU finances. Some reflections on the Rome Declaration are seen below.
27.03.2017
Happiness is becoming an important factor in socio-economic development. Happiness is determined by several factors, such as income, employment, education, health and family life, etc. Recent World Happiness Report makes analysis of 155 countries by the happiness index. Happiness, as a new dimension in economic policies includes such determinants as caring, freedom, generosity, honesty, education, health, income and good governance.
26.03.2017
European Social Fund, ESF has been an important driver of job creation, promoting better education, more modern public administrations and social inclusion, and therefore plying a key tool in the EU "social cohesion". During 2014-2020 millions of people will benefit from ESF thanks to fund's investments of €86.4 bln. These days the ESF turns 60!
23.03.2017
Increasing the use of wood in construction and in everyday products plays an important role in tackling climate change, developing green jobs - particularly in rural areas - and boosting the bio-economy. Wood industry's development is becoming a vital EU policy area to make European cities more save and sustainable.
15.03.2017
Cross-border financing flows are becoming more complicated and varied. Hence, the interest in the issues' key trends, in transatlantic capital flows and regulations, etc. Besides, several developing economies' integration into the global financial system makes the scene more complicated to manage...
03.03.2017
The Commission in its White paper published on the 1st of March reveals five main scenarios reflecting main challenges and opportunities for Europe in the coming decade. It presents perspectives of how the Union evolves by 2025 depending on the chosen responds to both global and regional challenges by the EU-27 states leaders and people.
03.03.2017
Five top trends will determine global development. The World Economic Forum's predicts for the coming decade the following: rising income and wealth disparity; changing climate; increasing polarization of societies; rising cyber dependency and ageing population. All countries have to make fundamental changes in their development strategies through social and political challenges. Baltic States' leaders shall be responsive…
22.02.2017
Global leaders have recognized 17 most important world's issues to be resolve by 2030. They are called Sustainable Development Goals, SDGs and health is among most vital for humanity. It is ranked third in priorities and all countries has to make "health for all" a priority in national development. Practical efforts released by a Danish "health engineer" are the good and valuable steps in the right direction.
20.02.2017
Heated debate about the EU's future in the European Parliament recently showed that the EU faced big shocks if reforms were not introduced urgently. Three separate reports were debated in Strasbourg's plenary prepared by most influential party groupings: socialist, Christian democrats and liberal democrats.
15.02.2017
European regions and separate EU states are key players in helping entrepreneurs in business activity, in creating company, in providing grants or arranging taxes breaks. The Commission and other EU institutions decided to include regions and countries in "conversation" on business possibilities in Europe. Hence, the ideas of creating the Startup Europe Week (SEW), a European Partnership (SEP) and a Network (SERN).