International Internet Magazine. Baltic States news & analytics
Wednesday, 16.10.2019, 07:57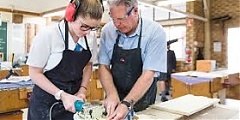 15.10.2019
During present Finnish Presidency of the Council of the EU, the 2019 European Vocational Skills Week in Helsinki (14-18.x.) took place with the idea of encouraging people of all ages to 'discover their talent' through vocational education and training (VET).
27.09.2019
Investing in education is of paramount importance for a perspective growth in any state. But it is the teacher that makes the greatest impact on students' educational quality. The teaching profession is facing several important challenges across the EU: shortages in staff, attracting talented teachers, and ensuring innovation in teaching and learning practices.
23.09.2019
OECD's member states are still supporting fossil fuel production and use, regardless of global appeal to effective reduction. Contrary to popular believe, the carbon pricing politics, however, often seems inadequate. Fuel excise and carbon taxes are presently the most simple and cost-effective tools to limit negative impact on climate conditions.
18.09.2019
Annual conference of Baltic Sea States sub-regional co-operation (BSSSC, 18-20 September in Klaipeda) is devoted to sustainable maritime economy. Representatives of all Baltic States will exchange knowledge and develop joint trans-regional initiatives in order to contribute to the goals of EU Strategy for Baltic Sea Region (EUSBSR).
16.09.2019
The EU statistics office, Eurostat provides regular accounts of regional statistics for all EU-28 member states' regions. Recent regional yearbook-2019 offers additionally interactive applications to help visualise and analyse regional and local data, including "Regions and cities", "Statistical atlas", and "My region"; also in a mobile application.
11.09.2019
The European Commission is heavily investing in young peoples' education and creating new opportunities for them to shape society. To create a better Europe, actually, means empowering young people. The Baltic States' education ministries and science academies shall follow good examples.
10.09.2019
Since 2013, the OECD and G-20 countries are working together on implementing 15-poins Action Plan on BEPS (base erosion & profit shifting). Already over 130 countries are collaborating to put an end to tax avoidance strategies that exploit gaps and mismatches in tax rules to drastically reducing tax payments.
10.09.2019
President-elect Ursula von der Leyen has agreed to the draft list of Commissioners-designate provided by the Council of the European Union. This follows a series of formal interviews President-elect von der Leyen held, over the past weeks, with each of the persons suggested by the states as candidates for Commissioner.
05.09.2019
Food production, consumption, recycling and reuse are among most serious issues for national, regional, as well as global, governance. Food industry takes part in active implementation of the UN sustainable development goals (SDGs), concerning in particular, SDG-12, which required sustainable production and consumption. The Bite-19 in Copenhagen has showed most optimal ways…
20.08.2019
Sustainability concept includes circular and bio-economy, sustainable food systems, "greening" energy as well as new trends in structural economies: from horizontal policy tools to education and digitisation to finance and taxation. Modern societies are already on a sustainable transition path by integrating the SDGs into their economic governance.