International Internet Magazine. Baltic States news & analytics
Thursday, 04.06.2020, 07:01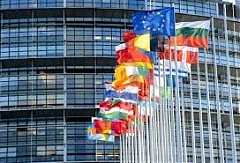 28.05.2020
The new financial supplement to the rescue plan with €750 bn and a long-term €1.1 trillion for 2021-27 will be discussed on 19 June. It seems that nationalism dominates over solidarity, as differences in approaches are to large...
10.04.2020
At the present turbulent times and afterwards, affected by the corona virus, the unprecedented approaches and decision-making in all spheres of socio-economic growth are needed. Scientific community is the only valuable resource in EU and the Baltic States to help the governments in formulating optimal answers to new visions in changing policies, governing structures, businesses and universities.
07.04.2020
Commission and European Investment Fund (part of EIB Group) unlock €1 bn in finance guarantees for 100 thousand SMEs. This will allow providing liquidity in the states in the amount of about €8 bn.
03.04.2020
Working online has inspired the education community to reassess the teacher's role in delivering knowledge and secure student's analytical skills. Education process has been changed since the widespread digital facilities entered students and teachers' environment. The age-old education systems are facing dramatic challenges, a sort of "educational revolution".
02.04.2020
SMEs are the backbone of the member states' economies: they represent over 95 percent of all entrepreneurship's activities (about two-thirds of the total employment in the private sector) and create about 85 per cent of new jobs. However, recently SMEs have been under severe stress; besides, most of them are "turning digital" – the process entails several problems to be resolved.
27.03.2020
In mitigating negative effects to the member states economy, the governments are facing numerous challenges: disruption of supply chains, lower consumer demand, production deficiencies, as well as decrease in investment and liquidity constraints for undertakings. The Commission has approved Latvian loan guarantee scheme and subsidize for companies affected by coronavirus outbreak.
20.03.2020
Cultural and creative sector, including SMEs, remains poorly exploited and at risk, European Commission acknowledges. Great and important cultural sector's potentials in all EU states require some support: hence, modern European guarantee's program is aimed at providing support. The Baltic cultural sphere shall be more active in acquiring these funds.
19.03.2020
European socio-economic integration has experienced numerous positive member states' involvement in the process through some modernized "adaptation" means, like cohesion, subsidiarity, division of competence, European Semester, etc. However, some additional approaches are needed to mitigate growing discontent; in this regard a "balancing model" is suggested to specify most optimal relations between the EU institutions and the states.
18.03.2020
The Commission's "green deal" adopted in December 2019, represents a European ambitious plan towards a climate-neutral circular economy, strengthened competitiveness, protecting the environment and giving additional rights to consumers. The "green deal" requires the member states' governments to take decisive actions in adopting circular economy plans as the main part of new EU priorities.
15.03.2020
As a universal goal, the relevance of happiness is recognized in many countries as a vital means for reaching citizens' well-being. Importance of this recognition in public policy requires an active state's objectives and priorities towards more inclusive, equitable and balanced approach to economic growth that promotes sustainable development.
12.03.2020
In March 2019, the European Council called for a comprehensive and long-term strategy for the member states concerning industrial policies with an integrated approach for a deeper and stronger single market. The new "EU's industrial path" is part of the Commission's political guidelines for 2024 and includes the European "green deal" and the digital agenda. The Baltic States have to be ready for a certain "home work"...