International Internet Magazine. Baltic States news & analytics
Wednesday, 18.07.2018, 00:14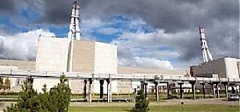 17.07.2018
Lithuania is seeking to secure all necessary funding for the dismantling of the Ignalina Nuclear Power Plant's reactors and the government is now asking the European Commission for more funds to ensure that works are not interrupted during the switchover from one EU budget period to another, Energy Minister Zygimantas Vaiciunas said on Tuesday, informs LETA/BNS.
12.07.2018
The Baltic states will test their planned desynchronization from the Russian-Belarussian power system (BRELL) next year, representatives of Augstsprieguma Tikls transmission operator told LETA.
12.07.2018
Elinta Charge took home a major award at the "Red Dot: Product Design" awards in Essen, Germany on 9th July 2018 for its "CityCharge V2" electric vehicle charging station, which was designed and developed for public and commercial use, company representative informed BC.
11.07.2018
Warm and dry weather in the Baltic states pushed electricity prices up last week, independent producer Elektrum Lietuva says, informs LETA/BNS.
06.07.2018
In my previous article (EU Gas Import Infrastructure – why more is good and why looking at annual utilisation figures alone is wrong) I explained why looking at annual utilisation figures was misleading when looking at usage of import infrastructure, and whether Europe needs more gas import infrastructure. In this article, I will explain why the argument that Europe already has enough import infrastructure is wrong from a market economics standpoint.
06.07.2018
Over the past year I have been surprised at the discussion regarding gas import infrastructure to the EU. Many have argued that Europe does not need more import pipelines. The arguments often take the following form: current pipelines are not full when looking at annual utilisation figures, and in any case there is plenty of spare LNG import capacity. Both arguments ignore gas market fundamentals, namely the difference between annual average demand and peak day demand on the one hand, and how competitive gas markets work on the other. Below I explain why.
05.07.2018
A court has ordered Orlen Lietuva, the Lithuanian unit of Poland's oil group Orlen, to pay a group of inventors another 1.983 million euros for the use of a piece of equipment they invented, reports LETA/BNS.
05.07.2018
Reactors at Belarus' Astravyets Nuclear Power Plant (NPP) should not come online until all recommendations by the European Commission's experts have been fulfilled and other safety questions raised by Lithuania have been answered, the Lithuanian State Nuclear Power Safety Inspectorate (VATESI) said on July 4th, informs LETA/BNS.
05.07.2018
According to Latvian Environment, Geology and Meteorology Center, air quality indexes were within the norm in all Latvian cities in 2017, the center's public relations officer Oskars Vizbulis told LETA.
04.07.2018
Data compiled by the Central Statistical Bureau (CSB) show that, compared to May 2017, in May 2018 industrial production output (1) decreased by 1.1% (according to calendar adjusted data at constant prices). A drop was recorded in electricity and gas supply (of 16.4%), as the warm and dry weather provoked a decline in the production of electricity at hydropower stations and in gas supply to consumers. In turn, an increase in production output was recorded in manufacturing (of 2.9%), as well as in mining and quarrying (of 7.1%).
03.07.2018
Over the last 10 years the European gas market has seen huge changes. Thanks to rules introduced by the EU, competition between gas suppliers and security of supply have improved enormously, benefitting European consumers.