International Internet Magazine. Baltic States news & analytics
Wednesday, 21.11.2018, 14:20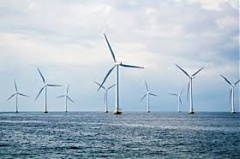 20.11.2018
Offshore wind farms will be built in the Baltic Sea in 2021-2022 at the earliest, Lithuanian Energy Minister Zygimantas Vaiciunas told a Baltic energy conference, organized by the Verslo Zinios daily in Vilnius.
15.11.2018
Electricity bills of Elektrum customers will grow by 0-15% starting from January 1, 2019, Latvenergo power company project manager Ilvija Livmane said LETA.
15.11.2018
The council of the rural municipality of Luganuse in northeastern Estonia on Wednesday backed giving permission to the state-owned energy group Eesti Energia to set up a new oil shale mine in the municipality's territory, the news portal of public broadcaster ERR information referred LETA/BNS.
15.11.2018
Lithuania's electricity transmission grid operator Litgrid saw its consolidated net profits for January through September plunge to 2.68 mln euros, down from 7.317 mln euros in the same period last year, informed LETA/BNS.
14.11.2018
Latvian natural gas transmission and storage operator Conexus Baltic Grid (Conexus) has lodged an appeal against the Public Utilities Commission's (regulator) decision to certify the operator on conditions the company's shareholders – Russian gas giant Gazprom and Luxembourgian investor Marguerite Fund - are expected to meet by 2020, Conexus spokeswoman Dace Baltabola told LETA.
14.11.2018
The United States could take steps to prevent the construction of the North Stream 2 gas pipeline project aimed at delivering Russian gas to Europe, warned Washington's ambassador to the European Union, citing LETA/BNS.
13.11.2018
Lithuania's natural gas trade company Litgas continues to supply liquefied natural gas (LNG) to Polish and Estonian companies after signing new contracts for gas deliveries by LNG carriers from Klaipedos Nafta's LNG reloading station, informs LETA/BNS.
13.11.2018
The price of electricity rose 11% in Lithuania over a week, and the growth was the fastest among the Baltic states. A drop of 30% in the generation capacity of the Estonian-Finnish power link EstLink contributed to the rise in power prices in the region, informs LETA/BNS referring to Lithuania's independent power provider Elektrum Lietuva.
13.11.2018
The state-held energy group Eesti Energia plans to establish Estonia's second largest oil shale mine in the territory of Luganuse rural municipality, East-Viru county, informs LETA/BNS referring to the news portal of public broadcaster ERR.
12.11.2018
Inter RAO Lietuva, a power provider controlled by Russian energy giant Inter RAO, sold 23% more energy in Lithuania, Latvia, Estonia and Poland in the first three quarters of 2018 and earned almost 8 mln euros in net profit, informs LETA/BNS.
09.11.2018
With oil prices high and production booming, 2018 was supposed to be a year of profits for US shale oil and gas companies. A report from the Institute for Energy Economics and Financial Analysis (IEEFA) and the Sightline Institute shows that hasn't happened. As 3Q 2018 results start coming in, investors around the world should be considering if there is a fundamental problem with the fracking business model, says Nick Cunningham of Oilprice.com.