International Internet Magazine. Baltic States news & analytics
Saturday, 07.12.2013, 09:27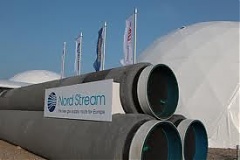 06.12.2013
As of 6:00 CET December 5, Nord Stream has successfully completed the final 30-day test of the pipeline system, informed BC Nord Stream's press service.
06.12.2013
The preliminary sales revenues of Lithuania-based company Klaipedos Nafta during eleven months of 2013 comprise LTL 116.0 million (EUR 33.6 million) and are lower by 5.1% compared to the same period of 2012 (LTL 122.2 or EUR 35.4 million). The company during eleven months of 2013 reloaded 5,454 thousand tons of oil products into its storage tanks, i.e. by 12.1% less than during eleven months of 2012 (6,208 thousand tons), informs LETA/ELTA.
05.12.2013
At the beginning of December, the retail price for 95 octane gas in Latvia was EUR 1,300.14 per 1,000 liters – the fifth lowest price in the European Union, according to the European Commission's data on fuel prices in the EU. Estonia registered the third lowest price, informs LETA.
05.12.2013
Lithuania-based electricity production company Lietuvos Energijos Gamyba informed that on December 4, 2013, UAB Technologiju ir Inovaciju Centras (Technology and Innovaton Center, was established and registered at the Register of Legal Entities, informs LETA.
05.12.2013
On 4-5 December, the traditional meeting of EU Water and Marine Directors to discuss EU water and marine policies, their implementation in Member States, and future plans is taking place in Vilnius. At the meeting, informal consultations on the European Commission's planned proposals for EU legal acts on water and marine policies are taking place, writes LETA/ELTA.
03.12.2013
If German company E.ON Ruhrgas International GmbH (E.ON Ruhrgas) decides to sell its shares in Latvian gas supply company joint-stock Latvijas gaze (LG), then the state possibly becoming a shareholder will be discussed as a reserve option, Economy Minister Daniels Pavluts told the daily business newspaper Dienas Bizness, informs LETA/Nozare.lv.
03.12.2013
Lithuania's Prime Minister Algirdas Butkevicius rejects fears of businessmen that the Liquefied Natural Gas (LNG) terminal built in Klaipeda would become only an alternative channel to supply gas and it would not reduce gas price. The head of the Government also reveals that gas supply and its price is under negotiations not only with Russia-based Gazprom, but also with suppliers from Asia, informs LETA/ELTA.
02.12.2013
After criticism issued by the Seimas opposition towards the activities of the Government led by Chair of the Lithuanian Social Democratic Party Algirdas Butkevicius in the area in energy, Butkevicius retorts that in a year it was achieved more in this sector than it was achieved by the Cabinet led by Andrius Kubilius (Homeland Union – Lithuanian Christian Democrats Party) in several years, informs LETA/ELTA.
02.12.2013
Having corrected the gas price for the consumers from January, the National Control Commission for Prices and Energy (VKEKK) had to prove its decision for the Government on Monday, informs LETA/ELTA.
02.12.2013
AB Kauno Energija signed a tripartite agreement with the Ministry of Economy and the Lithuanian Business Support Agency (LVPA) regarding financial support from the European Union Structural Funds for three biofuel projects – reconstruction of a power plant and two boiler plants to use biofuel. LTL 16 million (EUR 4.6 million) will be provided in support in accordance with the agreement, informs LETA/ELTA.
29.11.2013
Dolphin Energy Limited has announced that it has signed a Memorandum of Understanding (MoU) with Nord Stream AG, the company that is providing a new natural gas supply from Russia to Europe, informs energyglobal.com.