International Internet Magazine. Baltic States news & analytics
Friday, 20.10.2017, 22:54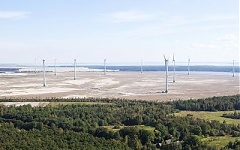 19.10.2017
The Estonian government on October 19th finally endorsed the national development plan of the energy sector until 2030, according to which Estonia should have by 2030 a functioning open and free fuel and electricity market and the country's power system should be in the European Union frequency range, informs LETA/BNS.
18.10.2017
Veolia, a French concern that withdrew from the Vilnius heating sector last spring, along with its company Vilniaus Energija (Vilnius Energy) have filed a suit against the municipality and the municipal company Vilniaus Silumos Tinklai (Vilnius Heating Network, VST) with the Stockholm arbitration, writes LETA.
18.10.2017
Achemos Grupe (Achema Group), one of Lithuania's largest business conglomerates, expects securing large loans from European banks for new acquisitions and investments in Klasco stevedorer and other companies in the group, says CEO Audrius Bendaravicius, cites LETA/BNS.
18.10.2017
The European Commission's proposal for a carbon dioxide limit on power plant subsidies is supported by the Council of Ministers, and now the issue is more how it can be managed, Estonia's chief energy official told Euractiv, reports LETA/BNS.
18.10.2017
Cardissa, a small gas carrier of one of the world's largest gas trading companies Shell, arrived in the Lithuanian port city of Klaipeda on October 17h, informs LETA/BNS.
17.10.2017
Riepu Bloki company has appealed a EUR 12.9 million fine imposed by the State Environmental Service for storing in Riga huge amounts of used tires well above the permitted limit, LETA was told at the Liepaja courthouse of Administrative Regional Court.
17.10.2017
Companies of Fortum Eesti, a holding of the Finnish Fortum Power and Heat OY energy group, were the biggest recipients of renewable energy support and high-efficiency cogeneration support in Estonia in September, receiving altogether 1.5 million euros, writes LETA/BNS.
16.10.2017
The EU says Lithuania can levy funds from gas consumers to finance its own energy companies. Achema, Lithuania's largest consumer, disagrees. The European Commission and the European Court of Justice are currently considering state aid complaints against Lithuania. The outcome could have repercussions for every gas consumer in the country and massive ramifications for one company in particular.
13.10.2017
Russia's violation of the Budapest memorandum, which provided security guarantees to Ukraine, has seriously weakened trust in nuclear disarmament efforts, Latvian Ambassador to the UN Janis Mazeiks said during a UN debate on nuclear disarmament, reports LETA.
13.10.2017
Lithuania's State Nuclear Power Safety Inspectorate (VATESI) has given a green light to the Ignalina Nuclear Power Plant (NPP), which is no longer operational, to start hot tests of the radioactive waste sorting and storage complex, reports LETA/BNS.
13.10.2017
Consultations are currently in progress on settlement of the dispute between Orlen Lietuva, a concern operated by Poland's PKN Orlen, and Lietuvos Gelezinkeliai (Lithuanian Railways, LG) after the European Commission imposed a large fine on the state-run railway company for removed tracks, Poland's Ambassador to Lithuania Urszula Doroszewska said, cites LETA/BNS.