International Internet Magazine. Baltic States news & analytics
Monday, 24.11.2014, 14:12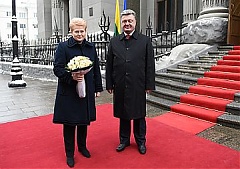 24.11.2014
Lithuanian President Dalia Grybauskaite met with President Petro Poroshenko of Ukraine in Kyiv. The Presidents co-chaired the seventh session of the Council of Presidents of the Republic of Lithuania and Ukraine. They discussed concrete measures Lithuania could offer Ukraine to help implement the necessary reforms and ensure its national and regional security, reports BC press service of Lithuanian president.
22.11.2014
The Estonian Ministry of Environment is investing nearly 60 million euros over five years in the environmental pollution fight capacity, LETA/Public Broadcasting reports.
21.11.2014
Economic growth and energy security are the backbones of the European Union's resilience, but are both the weak spots in the chainmail of Europe. This challenge should be addressed by the creation of an integrated set of energy, transportation, and digital links, a North-South Corridor spanning across Central Europe, linking the Baltic to the Adriatic and Black Seas.
21.11.2014
The prosecutor in charge of the so-called Daugavpils siltumtikli affair has brought charges against six persons for bribery, abuse of authority, and fraud.
21.11.2014
The final natural gas price for heat producers (those buying from the new company Lietuvos Duju Tiekimas, owned by Lietuvos Energija Group, and from LITGAS) in 2015 will be by 6-7% or by LTL 100 (EUR 29) / 1,000 cubic metres cheaper than this year, the Ministry of Energy says, cites LETA/ELTA.
21.11.2014
The average electricity price was 40.22 EUR per MWh in October in the Nordic electricity bourse Nord Pool Spot (NPS) Estonian price region, by 6.4% lower than in September, LETA/Postimees Online reports.
20.11.2014
Minister of Energy in Lithuania Rokas Masiulis welcomed the participants of the Baltic Energy Forum 2014. He emphasized that the Liquefied Natural Gas (LNG) terminal will change the rules that the energy market operates under, writes LETA/ELTA.
20.11.2014
Indrek Kuivallik, the owner of wind farm developer Winergy, has filed a claim against the state Latvia, as Winergy legal advisor Julija Brice informed LETA.
20.11.2014
At its Thursday session, the Estonian government decided to reduce dividends paid in 2014 by the state-owned energy giant Eesti Energia by 20 million euros to 93.6 million euros, LETA/Postimees Online reports.
20.11.2014
Lithuania's Deputy Minister of Foreign Affairs Rolandas Krisciunas took part in the EU's General Affairs Council meeting, which continued a debate on a strategic agenda for the European Union and discussed one of its pillars – the creation of an Energy Union, reported BC the ministry.
19.11.2014
After the Estonian and Finnish prime ministers concluded an agreement on liquefied natural gas (LNG) this week, the best location for the Estonian regional LNG terminal in the changed situation now is the port of Muuga, announced oil products' transit and storage company, Dutch firm Royal Vopak's Estonian subsidiary Vopak E.O.S., LETA/Postimees Online reports.