International Internet Magazine. Baltic States news & analytics
Wednesday, 27.07.2016, 08:43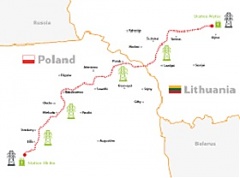 21.07.2016
In preparation for synchronization of the electricity networks of the Baltic states and continental Europe, Lithuania's electricity transmission system operator Litgrid has announced a tender for a study of the second interconnection with Poland, LitPol Link, writes LETA/BNS.
08.07.2016
Viru Keemia Grupp (VKG), the northeast Estonia-based shale oil producer that announced nearly 500 lay-offs at the beginning of this year, is going to relaunch two of its oil plants using the Kiviter technology and rehire 350 workers.
05.07.2016
The price of electricity in Nord Pool Spot's Lithuanian bidding area averaged 40.5 euros per megawatt-hours (MWh) in June, up 23% compared with May, but down 5% from a year earlier, Litgrid said on Tuesday, writes LETA/BNS.
30.06.2016
On 30 June, 2016 JSC Viešųjų investicijų plėtros agentūra (i.e. Public Investment Development Agency, hereafter – VIPA), organized a meeting informing the stakeholders that on 1 April, 2016, together with organizations from other six members of the European Union (EU), it had joined the BUILD2LC project "Boosting Low Carbon Innovative Building Rehabilitation in European Regions" of the European territorial cooperation programme "Interreg Europe".
28.06.2016
A new shipment of around 140,000 cubic meters of liquefied natural gas (LNG) from Norway's Statoil has been delivered to Klaipeda. It is the tenth shipment to Lithuania this year so far, reports LETA/BNS.
28.06.2016
Energy Minister Rokas Masiulis says that the development of liquefied natural gas (LNG) filling stations in Lithuania and elsewhere in Europe is not fast enough and that decisions in principle will have to be taken on the so-called "blue corridors" in the country, informs LETA/BNS.
27.06.2016
A total of 14.9 million tons of oil shale was extracted in Estonia in 2015 and losses totaled 4.6 million euros, while a year earlier 15 million tons of oil shale was extracted and losses totaled 4.2 million tons, it can be seen from data published by the Land Board, cites LETA/BNS.
27.06.2016
The Lithuanian subsidiary of Sweden's engineering and automation company ABB in 2016 expects revenue to come in at least at last year's level, informs LETA/BNS.
27.06.2016
Lithuania's state-owned energy group Lietuvos Energija (Lithuanian Energy) is considering possible ways of cooperating with Blue LNG, a joint venture between Klaipedos Nafta and Germany's Bomin Linde LNG, informs LETA/BNS.
23.06.2016
There are presently two global initiatives of cities and local governments combating destructive climate change while striving for sustainable energy: the EU Covenant of Mayors and the Compact of Mayors. They announced the formation of a new, first-of-its-kind initiative – Global Covenant of Mayors for climate and energy.
22.06.2016
A Stockholm arbitration court, which examined Lithuania's 1.4-billion-euro suit against Russia's gas supplier Gazprom over overcharging for gas supplies, has found no guilt on Gazprom's part, Lithuania's Energy Minister said, cites LETA/BNS.