International Internet Magazine. Baltic States news & analytics
Saturday, 22.10.2016, 11:46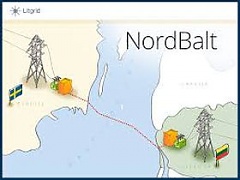 21.10.2016
The NordBalt power interconnection between Lithuania and Sweden is back in service on Friday after an outage of several hours due to unknown reasons, reports LETA/BNS.
18.10.2016
With prices in Nord Pool's fourth Swedish bidding area having reached the same average level as in Lithuania, electricity is flowing from Lithuania to Sweden via the NordBalt interconnection, writes LETA/BNS.
17.10.2016
The price of electricity in Nord Pool Spot's Lithuanian bidding area last week averaged 38.4 euros per megawatt-hour, up by 1.4% from a week earlier, but down by 40% from a year earlier, Litgrid said on Monday.
17.10.2016
Last week electricity prices in Latvia and Lithuania were EUR 38.4 per MWh, which is by 1% higher than a week ago, according to Latvia's Latvenergo power utility reported writes LETA.
14.10.2016
The state owned Estonian energy generating group Eesti Energia has sold the combined heat and power (CHP) production equipment of the plant it built for the rapeseed oil producer Werol to a buyer based in Russia, reports LETA/BNS.
14.10.2016
European states are eager to strengthen cross-border energy security and build strong common electricity market. Energy flows are growing closer through a pan-European approach uniting various electricity markets. The task of adjusting different EU states' into a "common entity" is still a rather complex problem both for the Union and the Baltic States.
12.10.2016
Danish parliament (Folketinget) hosted recently an inter-parliamentary meeting of the European Forum for Renewable Energy Sources (EUFORES). Commission Vice-President, Maroš Šefčovič responsible for Energy Union delivered Commission's vision on the EU energy transition, including its efficiency and use of renewables.
12.10.2016
After Lithuania's court of appeals has suspended the contract of construction of the waste burning part of the Vilnius Cogeneration Power Plant, the state-owned energy group Lietuvos Energija (Lithuanian Energy) intends to ask Japan's Hitachi energy corporation that filed the suit over the tender to compensate possible damages to the power utility and heating consumers, reports LETA/BNS.
08.10.2016
– Specialists of Estonia's state-owned energy company Eesti Energia are evaluating projects pitched at Europe's largest green technology business idea competition ClimateLaunchpad that is taking place in Tallinn this weekend, looking for ideas that could be used to increase competitiveness, Eesti Energia representative said LETA.
06.10.2016
Latvia's Sadales Tikls lectricity distribution company will buy electricity for EUR 33.7 million from Latvia's Latvenergo power utility and Lithuania's Geton Energy company, according to a statement published on the Internet website of the Latvian Procurement Supervision Bureau, writes LETA.
05.10.2016
According to data of the Nordic power exchange Nord Pool the average price of electricity in September was 32.4 euros per megawatt-hour in bidding area Estonia, the Estonian transmission system operator Elering reports LETA/BNS.