International Internet Magazine. Baltic States news & analytics
Friday, 01.08.2014, 00:37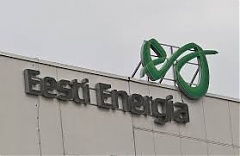 31.07.2014
Estonian state-owned energy company Eesti Energia announced on Thursday that its turnover fell by 5%, profit seven times in the third quarter of this year as compared to the same time last year, informs LETA.
24.07.2014
New European Commission's 6th Report on Economic, Social and Territorial Cohesion shows the policy is delivering on the growth goals in the EU-2020 Strategy by creating jobs and reducing disparities across Europe. The report outlines that EU funds and investments will be focused on key areas: e.g. energy efficiency, employment, social inclusion and SMEs. During 2014-20 over €150 bln is expected for Cohesion investments in the member states.
22.07.2014
Electricity consumption increased by three percent in June in Estonia as compared to the year-ago period, to 560 GWh while production, which had been in recession for a longer time, rose by as much as 14 percent to 935 GWh, Postimees Online cites Elering, reports LETA.
22.07.2014
On October 27-28, 2014, the 13th Energy Investment and Regulation Conference organised by the Energy Regulators Regional Association (ERRA) will take place in the capital of Azerbaijan, Baku. The Regulator as the authority responsible for regulation of the energy sector will represent Latvia providing up-to-date information about the energy sector in Latvia, reported office of Regulator in Latvia.
18.07.2014
On 17 July, the Minister of Energy Jaroslav Neverovic met with Stefan Fule, European Commissioner for Enlargement and European Neighbourhood Policy, during his visit to Lithuania, reported BC the Ministry of Energy.
17.07.2014
LNG Carrier Independence built for the Liquefied Natural Gas (LNG) terminal in Klaipeda is sailing to Lithuania and has entered the Red Sea, reports LETA/ELTA, referring to Klaipeda.
17.07.2014
Based on preliminary unaudited data, normalised earnings of state-owned enterprises amounted to LTL 146.6 million (EUR 42.4 million) in the first quarter of 2014, i.e. by one quarter more year-on-year, reports LETA/ELTA.
17.07.2014
According to the consolidated balance sheet of Estonian mineral resources in 2013, the most actively mined resources are oil shale, sand and gravel, LETA/Postimees Online reports.
16.07.2014
Ventspils nafta Terminals (VNT), subsidiary of Ventspils nafta, transhipped 6.4 million tons of oil and petroleum products in the first six months of 2014. The amount of petroleum products transported by LatRosTrans (LRT) via the pipeline reached 3.3 million tons, informed BC Ventspils nafta press service.
16.07.2014
In the Nordic electricity bourse Nord Pool Spot (NPS) Estonian price region, the average electricity price was 35.81 EUR per MWh in June, by nearly 3% lower than in May, LETA/Public Broadcasting reports.
15.07.2014
The Estonian government launched last December the environmental impact assessment of the Balticconnector gas pipeline between Estonia and Finland, which was now approved of with the decision of the Estonian Environment Minister, LETA/Public Broadcasting reports.