International Internet Magazine. Baltic States news & analytics
Sunday, 24.05.2015, 12:11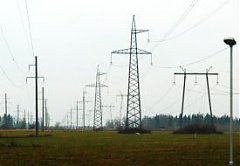 22.05.2015
Estonian state-owned power grid company Elering announced that it signed a financing agreement with the European Commission, according to which the European Union finances the construction of the third Estonian-Latvian electricity connection with 112 million euros, informs LETA.
19.05.2015
Since the establishment of the European Coal and Steel Community in 1952, energy policy has been at the centre of European legislation. According to the paper issued by the Commission in 1995, EU energy policy should be based on three pillars: sustainability, competitiveness and security of supply.
19.05.2015
In the last three months of 2015, oil prices have not changed substantially despite short-term fluctuations. Nevertheless Lithuanian drivers say they have to dig deeper into pockets when filling up in petrol stations, reports LETA/ELTA, referring to Vakaro zinios.
19.05.2015
Under preliminary unaudited information, in January-March 2015, sales revenue of Lietuvos Energijos Gamyba, Lithuania's national electricity generation company, was EUR 37.23 million and has decreased by 10.9% in comparison to January-March 2014 (EUR 41.79 million), the company reported LETA/ELTA.
18.05.2015
Provisional data of the Central Statistical Bureau of Latvia (CSB) show that in 2014 there were 175 active CHP plants (1) in Latvia with total installed electrical capacity of 1265.3 megawatts (MW).
18.05.2015
Income from sales of the Lithuanian gas distribution system operator AB Lietuvos Dujos in three months of 2015, compared with the previous year, increased by 2% and amounted to EUR 20.5 million (in 2014: EUR 20.2 million respectively), the company said in a statement, cites LETA/ELTA.
18.05.2015
During the first quarter of 2015 the net profit of LESTO, based on preliminary unaudited financial statements of the company, amounted to EUR 27.619 million – 2.3 times more compared to the same period of 2014 when it was equal to EUR 11.782 million, the company reported LETA/ELTA.
15.05.2015
In April 2015, imports of natural gas to Estonia reached 41 million cubic meters; the gas bought by new gas market participants from Lithuania formed 27% of total imports, Estonia's main grid company Elering announced, cites LETA.
15.05.2015
Joint-stock power utility Latvenergo profit increased 33% in 2014, reports LETA, according to Firmas.lv.
15.05.2015
At the 24th Annual Meeting of the Board of Governors of the European Bank for Reconstruction and Development (EBRD) Finance Minister Rimantas Sadzius met with EBRD President Suma Chakrabarti to discuss the bank's plans and Lithuania's prospects, reports LETA/ELTA.
15.05.2015
Lithuania's efforts to reduce fuel smuggling have given results. Less fuel was smuggled into Lithuania after control of fuel import was tightened in 2014. Meanwhile legal trade in diesel fuel grew substantially, informs LETA/ELTA.