International Internet Magazine. Baltic States news & analytics
Sunday, 08.12.2013, 11:03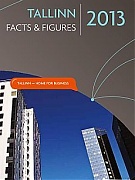 08.10.2013
The edition "Tallinn. Facts and Figures" gives a substantial overview of important information using diagrams and figures to characterize the city of Tallinn, LETA/Tallinn.ee reported.
14.06.2013
Taking over the EU Council Presidency, Lithuania will focus on pursing credible, growing and open Europe, country's Minister of Foreign Affairs Linas Linkevičius said at the launch event of the Official Guide to the Lithuanian EU Council Presidency, hosted by the Permanent Representation of Lithuania to the EU together with Hill+Knowlton Strategies on 13 June, reports BC Lithuania's MFA.
10.05.2013
A new open access book entitled "Active Ageing and Solidarity between Generations in Europe – First Results from SHARE after the Economic Crisis" will be presented in Brussels on June 27, 2013, the Tallinn University said in a statement.
03.05.2013
Latvia's political system is increasingly characterized by irresponsibility and bickering, President Andris Berzins pointed out during the presentation of a book on the heraldry of Latvian regions at the House of the Blackheads yesterday, informs LETA.
23.04.2013
A book portraying the history and featuring photos of 27 of the most important lighthouses and beacons of Latvia has been made available on iTunes, informed BC the Latvian Institute.
19.04.2013
Latvian Literature Annual Awards ceremony was held in Riga on Thursday with the lifetime achievement award going to novelist Alberts Bels, reports LETA.
12.04.2013
On Thursday, April 11, Finnish historian and acclaimed researcher of Estonian history Seppo Zetterberg's new book "Kulttuuria ja kumouspuuhia" has been presented at the Estonian Embassy in Helsinki, reported BC the Estonian Foreign Ministry.
10.04.2013
On Tuesday, April 9, the unveiling of the Polish-language translation ("Historia państw Bałtycki") of the book "A History of the Baltic States" by professor of Baltic politics in the political science department at Tartu University Andres Kasekamp took place at the Polish Institute of International Affairs (PISM), Estonian Foreign Ministry said in a statement.
28.01.2013
Estonia-based Integration and Migration Foundation Our People (MISA) has presented a new edition about the Dagestani making a part of the series "Nationalities in Estonia" presented in Tallinn, the fund MISA said in a statement, informs LETA.
02.01.2013
Estonian Defense Ministry continues tradition of sending a military history book as a gift to schools that teach national defense, told the Estonian Defense Ministry in a statement, informs LETA.
10.12.2012
Approximately 90% of factories that operated in the Latvian SSR fulfilled military orders, historian Ilgonis Upmalis said today at the presentation of the new book called ''Padomju Savienibas nodaritie zaudejumi Baltija'' (Losses sustained by Baltics under Soviet rule).