International Internet Magazine. Baltic States news & analytics
Tuesday, 07.07.2015, 09:57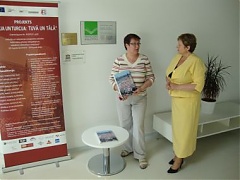 29.06.2015
Presentation of the book "Latvia and Turkey: Distant and Near" took place in Ventspils on June 25, 2015 in the frames of the European Third-Country Nationals Integration Fund 's Project (Grant Agreement Nr. IF/2013/1.a/20).
24.02.2015
"Attempt on the state" is a modern detective story based on real events and irrefutable facts, which reflects a harsh story of a Latvian businesswoman and a tough confrontation between a high-ranking official and a group of criminals assisted by employees of the special services, and then by corrupt politicians. This story is resolved by life itself. What kind of resolution will it be? Justice is remaining silent for now.
19.11.2014
The book explores Swedish national policy in regional development in line with the EU regional policy ideas to strengthen economic, social and territorial cohesion by reducing disparities in the level of development among regions in the member states. It means, literary, investing in regions' indigenous potential to promote competitiveness of regional economies and providing permanent catch-up of those lagging behind with more prosperous areas.
08.10.2014
Latvian writer Janis Jonevs is one of the winners of 2014 European Union (EU) Prize for Literature for his novel "Jelgava '94", according to a press release published by the European Commission, informs LETA.
23.09.2014
Human rights activists from different countries met in Warsaw last week to express support to Latvian entrepreneur Inara Vilkaste, wife of former director of Customs Criminal Board Vladimir Vashkevich, whose family is being harassed in their home country.
09.09.2014
New book on Estonia and Latvia cooperation "Estonia-Latvia Stories" has been published in Estonian, Latvian and English. It contains sixty-seven short stories about cooperation between partners in Estonia and Latvia, written by eight writers from both countries and illustrated by six photographers.
28.07.2014
The pocket-sized reference book provides information about the economic indicators of Estonian agriculture, agricultural land use, the area and yield of field crops and fruit and berry plantations, the number and production of livestock, and the use of mineral and organic fertilisers. Comparisons with previous years ensure a thorough overview of the development of Estonian agriculture. The information is presented as tables and diagrams.
04.07.2014
The US and European economies are the strongest and biggest in the world. It's good for entrepreneurs: that keeps them engaged. At the same time, there is a need for a fair supply of adequate information on each other blocks' economies and business affairs. Besides, negotiations on the Transatlantic Trade and Investment Partnership (TTIP) require, in part, a better understanding of "business environment". When completed, TTIP would make the biggest globally bilateral dealt between the two blocks' economies.
01.07.2014
As one of most young EU members Bulgaria is steadily filling the gap of serious academic research in the field of the EU politics. The very first wave of academic books produced on these matters were some popular descriptions of the EEC which appeared in the initial years of the democracy transition or translations from other European sources (for example one of important sources at that time was the book of prof. Wolfgang Wessels about the EU – Europa von A-Z: Taschenbuch der europaischen Integration, Werner Weidenfeld, Wolfgang Wessels Bonn, Europa Union Verlag, 1997).
13.06.2014
On June 17, the Bank of Latvia will be issuing a new EUR 5 collector coin dedicated to "The White Book" by the famous Latvian writer Janis Jaunsudrabins, informs LETA.
05.06.2014
The tourist guidebook publisher "Lonely Planet", in its latest e-book about Europe's top secret travel destinations, has included scenic Sigulda, and Latvian sauna traditions, informs LETA.