International Internet Magazine. Baltic States news & analytics
Friday, 25.04.2014, 06:01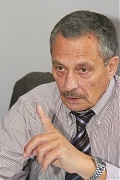 08.04.2014
Recent eurozone leaders' decisions aim at the new integration efforts: from late 2014 or early 2015 national banking policy in two Baltic States –Estonia and Latvia will transfer from a national to the European level. Lithuania will most certainly, follow suit. Decision-makers in the Baltics have to know more about the new EU banking union.
24.02.2014
According to the EU-2020 strategy, the share of industrial development shall reach 20 percent in GDP. This aim is to be "transposed" into the member states' economic policies, where it is at the level of 15 per cent. EU authorities suggested re-industrialisation process where manufacturing and services shall take the main lead. It seems a difficult task for the Baltic States.
03.02.2014
At the end of January 2014, the European Commission proposed changes in the activities of the largest banks in the continent. They will be, for example, banned from speculative trading that contributed to financial crisis. The plans have to be approved by the European Parliament and individual countries and would likely start in 2017.
20.01.2014
Commission published its "top agenda" items for the by-monthly period (January–February). The Baltic States will face EU initiatives concerning energy, industrial development, reforms in financial sector, etc.
10.01.2014
Greece embarks on its fifth Council Presidency since the country joined "the club" in 1981. Growth, employment and promoting social cohesion will be Greece's priorities during its 6-month presidency of the EU (from January to the end of June 2014). Official ceremony took place in Greece on 8 January, at which high EU officials were present.
02.01.2014
Two Nordic/Baltic cities: Rīga in Latvia and Umeå in Sweden are the European Capitals of Culture in 2014. The cultural programme will officially begin on 17 January in the Latvian capital and on 31 January in Umeå. The title of "European Capital of Culture" is hugely important for tourism, job creation and regeneration in the European Capitals.
20.12.2013
Historically, economists used a classification of country's wealth based on income and percentage of growth. It was a static concept that could not reveal national competitiveness. Now they have to think again; the tip is innovativeness…