International Internet Magazine. Baltic States news & analytics
Tuesday, 02.09.2014, 07:15

28.07.2014
The latest Eurobarometer survey results published in July 2014 is the first EU-wide opinion poll conducted since the European Parliament elections in May which were organised under the slogan "This time it's different". The opinions collected have shown that this time it was different with positive developments in several areas.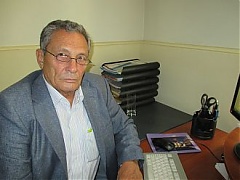 07.07.2014
Growth and employment, strengthening citizens' rights and a stronger role for Europe in the world will be Italy's priorities during its 6-month presidency of the EU. The Italian presidency coincides with the start of a "trio of presidencies", with Latvia and Luxembourg to follow Italy. The 3 governments have drawn up the work program for the EU Council's next 18 months until December 2015.
24.06.2014
The Commission approved huge financial support for the three Baltic States during the coming seven years: in total, they would get over €17,7 bln: Latvia – 5,72 bln; Lithuania – 7,57 bln and Estonia – 4,42 bln. The support, called "partnership agreements" is regarded as an additional investment into various socio-economic sectors, including research, innovations, transport, education system and combating poverty.
27.05.2014
The eighth direct elections for the European Parliament since 1979, that took place at the end of May, revealed enormous differences among electorates. The differences reflect a complicated mix of European political debate with specific national agendas (results in the Baltic States are shown as well). Changes in popular and political perceptions following the elections would definitely affect business.
08.04.2014
Recent eurozone leaders' decisions aim at the new integration efforts: from late 2014 or early 2015 national banking policy in two Baltic States –Estonia and Latvia will transfer from a national to the European level. Lithuania will most certainly, follow suit. Decision-makers in the Baltics have to know more about the new EU banking union.
24.02.2014
According to the EU-2020 strategy, the share of industrial development shall reach 20 percent in GDP. This aim is to be "transposed" into the member states' economic policies, where it is at the level of 15 per cent. EU authorities suggested re-industrialisation process where manufacturing and services shall take the main lead. It seems a difficult task for the Baltic States.
03.02.2014
At the end of January 2014, the European Commission proposed changes in the activities of the largest banks in the continent. They will be, for example, banned from speculative trading that contributed to financial crisis. The plans have to be approved by the European Parliament and individual countries and would likely start in 2017.