International Internet Magazine. Baltic States news & analytics
Saturday, 01.11.2014, 11:39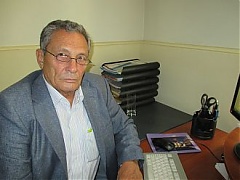 16.10.2014
The UK plans to set up the British Business Bank (BBB), as an integrated entity for managing SMEs access to finances in the country. The European Commission has concluded that the plan is in line with EU state aid rules. Good example for politicians and business community in the Baltic States!
08.10.2014
Both, a recent Commission's report and a Eurobarometer survey (October 2014), underline that Europe's future is based on science achievements. While EU's member states are still facing many challenges, a lot of solutions to these problems would come from science and new technologies.
15.09.2014
In the new Commission's team for 2014-20 the Baltic Sea States –including the three Baltic countries – have greatly increased their influence on the EU affairs. It's high time for the Baltic States to form a "true Baltic Course".
28.07.2014
The latest Eurobarometer survey results published in July 2014 is the first EU-wide opinion poll conducted since the European Parliament elections in May which were organised under the slogan "This time it's different". The opinions collected have shown that this time it was different with positive developments in several areas.
07.07.2014
Growth and employment, strengthening citizens' rights and a stronger role for Europe in the world will be Italy's priorities during its 6-month presidency of the EU. The Italian presidency coincides with the start of a "trio of presidencies", with Latvia and Luxembourg to follow Italy. The 3 governments have drawn up the work program for the EU Council's next 18 months until December 2015.
24.06.2014
The Commission approved huge financial support for the three Baltic States during the coming seven years: in total, they would get over €17,7 bln: Latvia – 5,72 bln; Lithuania – 7,57 bln and Estonia – 4,42 bln. The support, called "partnership agreements" is regarded as an additional investment into various socio-economic sectors, including research, innovations, transport, education system and combating poverty.
27.05.2014
The eighth direct elections for the European Parliament since 1979, that took place at the end of May, revealed enormous differences among electorates. The differences reflect a complicated mix of European political debate with specific national agendas (results in the Baltic States are shown as well). Changes in popular and political perceptions following the elections would definitely affect business.