International Internet Magazine. Baltic States news & analytics
Wednesday, 01.04.2015, 17:25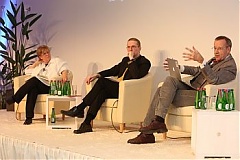 01.04.2015
The 8th Lennart Meri conference under the title "World Order Borders" will take place on 24 -26 April 2015 in Tallinn, when renowned experts, politicians and officials across the world come together to discuss the international situation, LETA/Delfi reports.
30.03.2015
At 24.00 on April 11, the submission of entries to VII International advertising and marketing Festival White Square, Minsk, Belarus, will be finished. No more prolongation!!!
30.03.2015
On 26–27 March 2015, in Bishkek, the capital of Kyrgyzstan, during a conference organised by the Organisation for Security and Cooperation in Europe (OSCE), Maris Rukers, a delegate from Latvia with pertinent expertise, presented Latvia's experience on the establishment of a single national system for registration of residents, the right to privacy and mechanisms for personal data protection and their importance – given the potential risks that arise when they are absent, reported BC the Latvian MFA.
27.03.2015
The annual Latvian Literature Award's experts' committee has decided to present the Lifetime Achievement Award to poet, translator and publisher Leons Briedis for his contribution to Latvian poetry, fostering intellectual thought in Latvia, and for the works he has translated into Latvian, informs LETA.
27.03.2015
On 26 March, during his working visit to Chisinau, the Latvian Foreign Minister, Edgars Rinkevics, met with the Prime Minister of Moldova, Chiril Gaburici, and Deputy Prime Minister and Minister for Foreign Affairs and European Integration, Natalia Gherman to discuss the relations between the European Union and Moldova in the context of the Riga Summit, the internal political situation in Moldova, bilateral cooperation between Latvia and Moldova, and developments in the region, reported BC Latvian MFA.
26.03.2015
One of the Commission's a priority is to create a Digital Single Market. However, there are some obstacles to remove in order to boost growth and create jobs in the sector. The College of Commissioners has had a first discussion on the EU Digital Strategy to be unveiled in May, and set out the main areas to focus on triggering real changes for consumers and businesses.
26.03.2015
According to the Council Regulation (EU) No 390/2014 of 14 April 2014 establishing the 'Europe for Citizens' program for the period 2015-20, the Commission invites interested parties to take part in projects reflecting citizens views on Europe, as well as WW-II remembrance and debating the Europe's future.
26.03.2015
Latvia came under about 400 cyber attacks in 2014, said State Police Chief Ints Kuzis during European Police College (CEPOL) conference on cyber crimes in Jurmala on March 25, reports LETA.
25.03.2015
The EU's political steps to reduce its energy dependence need to be accompanied by in-vestments in the energy infrastructure. A good starting point in this process may be the construction of the North–South Corridor of energy, transportation and telecommunica-tions, as promoted in a report presented by Central Europe Energy Partners (CEEP) and the Atlantic Council.
25.03.2015
The acceptance of entries to the VII International advertising festival White Square in Minsk will be completed on March 28! There are just 3 days left!
25.03.2015
Several dozen people have gathered on Town Hall Square in Riga yesterday to demand a ban on the LGBT "EuroPride" event in summer 2015, reports LETA.