International Internet Magazine. Baltic States news & analytics
Monday, 24.11.2014, 00:11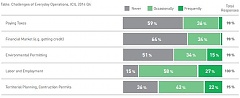 22.11.2014
Investor Confidence Index for Lithuania (ICIL) survey indicates increasing investor confidence in Lithuanian business environment. The upward trend has remain solid throughout the year and the overall index value reached 1.181 (out of maximum value of 2) in the last quarter of 2014. The positive expectations came through even despite the unpredictable geopolitical situation in Eastern Europe, reported BC ICIL press service.
19.11.2014
Estonian Prime Minister Taavi Rõivas yesterday in Helsinki said in his presentation speech held at Slush – the biggest event of start-ups and technology – that e-residency enables Europeans to start their business anywhere in the world and Estonia will be a landmark in this field, reports BC government's press service.
14.11.2014
The year of Estonian presidency ends in the Baltic Sea Region Border Control Cooperation Network, during which the focus was on preventing and fighting cross-border crime, enhancing the exchange of information and compiling a risk assessment, LETA/Public Broadcasting reports.
14.11.2014
The question of Russia will have to be discussed in all seriousness in the future, but in the meantime, it needs to be remembered that Eastern neighbors have to be respected, High Representative of the Union for Foreign Affairs and Security Policy, Federica Mogherini said at a press conference in Riga yesterday, reports LETA.
13.11.2014
Delegation from the Lithuanian public company Versli Lietuva (Enterprise Lithuania) returned from the 10th annual Trade Promotion Organization (TPO) Network World Conference with the first place award which was granted for the export leaders program Wings, reports LETA/ELTA, referring to Lietuva.lt.
12.11.2014
International Information and Communication Technology Fair RIGA COMM 2014 will give a great start for innovative technological solution called iBeacon. It will explore new doors for whole Europe.
11.11.2014
Around 200 cultural events will be organized during Latvia's Presidency of the Council of the European Union, as Selga Laizane, head of the Latvian Presidency's public diplomacy and culture program, said while presenting the cultural program for Latvia's presidency at the Riga Bourse Art Museum on Monday, informs LETA.
11.11.2014
During the China Shenzhen International Logistics and Transportation Fair, held from 14th to 16th October 2014, Luc Nadal, Chairman of the GEFCO Group Management Board, spoke at the "Strategic Partnership 1520" Forum in the plenary conference dedicated to transshipment logistics between Asia and Europe, informs BC Dita Bukovska.
10.11.2014
The U.S. Embassy starts celebrating the power of entrepreneurship and innovation as part of Global Entrepreneurship Week (GEW) 2014. Under the theme of "Supporting Small and Medium Enterprises (SMEs) from the Start," the Embassy in Riga is organizing a range of events scheduled November 3-23.
10.11.2014
On Friday, November 7, Prime Minister Laimdota Straujuma together with Prime Ministers of Nordic and Baltic countries and UK, experts and entrepreneurs participated in the Northern Future Forum held in Helsinki. Within the framework of the Forum, the participants discussed the promotion of innovative entrepreneurship and competitiveness of the education system, informs BC senior expert of the communication fepartment Sabīne Spurķe.
07.11.2014
Next Wednesday and Thursday, 12-13 November, an international conference-exhibition Innovative Energy Solutions for Military Applications (IESMA 2014) will take place in Vilnius. It is organised by NATO Energy Security Centre of Excellence in partnership with the Georgian military technical research centre Delta, reports LETA/ELTA.