International Internet Magazine. Baltic States news & analytics
Monday, 25.03.2019, 00:12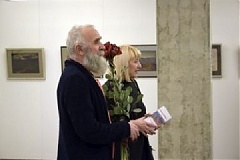 21.03.2019
An exhibition named the "Cimmerian Summer" of the Latvian painter Nikolajs Djomins has opened in Rietumu Bank's Gallery.
08.03.2019
During the Award ceremony of the Latvian-American Innovation Award at the University of Latvia and Microsoft Innovation Center, the winners were announced, BC informed AmCham representative.
07.03.2019
On Thursday, the representatives of ports and cruise companies of the Baltic Sea and North Sea meeting in Tallinn handed over to the public and all stakeholders the Green Cruise Port Action Plan 2030, that sets out an overall vision to decouple growth from negative sustainability of the cruise industry.
28.02.2019
Tallinn Architecture Biennale proudly announces the winning proposal for the TAB 2019 Installation Programme Competition"Huts and Habitats" to be "Steampunk" by SoomeenHahm Design, Igor Pantic and Fologram.
28.02.2019
On Tuesday, at the official ceremony in the Art Academy of Latvia, the Latvian Television and Latvian Radio Kilogram of Culture awards were presented. Similarly to previous years, this event took place with the support of Rietumu Bank's Charity Fund.
26.02.2019
Spring is coming in 2 days and it's the reason to be looking forward to the end of February. But what also finishes in 2 days is discount period at White Square International ad festival – since March the fees will get higher and remain this way till the final deadline! That's why it's better not to waste the last days of winter but upload the entries to adfest.by/en with discount! Your Moment is Now!
22.02.2019
Precision Navigation Systems, a startup team from Estonia, grabbed the main prize at Fifty Founders Battle during TechChill - the biggest Latvian tech event of the year. The lucky team is going home with 10 000 EUR from TechChill Foundation and a fast track to the Silicon Vikings Startup World Cup Finals in San Francisco, the conference representatives reported.
20.02.2019
An international architectural idea competition for the National Concert Hall has been launched. Architects from all over the world are invited to design one of the most important future spaces in the capital city of Lithuania and to submit their proposals to Vilnius City Municipality.
20.02.2019
In April the trends of a new creative season in Europe will be known. The most promising newest creative ideas and projects in international advertising will be indicated at White Square International marketing and advertising festival that is scheduled to be held in Minsk on April 17-19, 2019.
19.02.2019
On February 20th 2019 already fourth year in a row Riga Venture Summit - an international startup ecosystem policy roundtable - will bring leading Baltic startup minds together. This policy-making event will host local and international experts to discuss how to turn visions and innovative ideas into actions driven by governments and ecosystems.
14.02.2019
Just during two days, February 14 and 15, each participant who submits 5 or more entries to White Square will be presented a full entry pass to all the events of business, educational and evening programs of the upcoming festival!