International Internet Magazine. Baltic States news & analytics
Tuesday, 02.09.2014, 21:54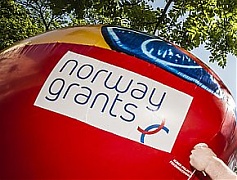 02.09.2014
Norway has decided to provide support to nine Latvian cities, offering opportunities to participate in international exhibitions with an aim to attract potential investors, representative of the Ministry of Environmental Protection and Regional Development, Marika Vanka informed LETA.
28.08.2014
The contemporary culture forum "White Night 2014" will gather numerous international artists and reveal new culture places from September 6 to September 7, "White Night 2014" spokeswoman Linda Vitola-Baranova informed LETA.
27.08.2014
On 25 August in Vilnius, Deputy Minister of Foreign Affairs of Lithuania Rolandas Krisciunas and Moldova's Deputy Minister of Justice Sabina Cerbu discussed issues relating to justice bilateral cooperation, informs BC the Ministry of Foreign Affairs.
25.08.2014
Thirty participants of the project Students – to the Government started week long placement at the Office of the Government and ministries in Lithuania, reports LETA/ELTA.
25.08.2014
On Sunday, the Eurobus was seen off from Vilnius and started touring across Lithuania's cities and towns. In more than two months it will visit all 60 municipalities, three events will be held in each one. The bus will inform residents about the most important topics related to the euro adoption, reports LETA/ELTA.
22.08.2014
On 10 September, 2014, the Competition Council in partnership with Vilnius University will hold the 11th Baltic Competition Conference, the Competition Council informs.
19.08.2014
Ukrainian Parliament Speaker Oleksandr Turchynov who is paying a visit to Lithuania and is attending the Conference of Nordic and Baltic Parliament Speakers stressed that despite everyday losses Ukraine has already chosen its path and will do everything it can to protect its independence. Such Ukraine's choice, according to him, will destroy post-Soviet Russian empire, informs LETA/ELTA.
18.08.2014
Ukrainian Parliament Speaker Oleksandr Turchynov has arrived in Lithuania to attend the Conference of the Speakers of the NB8 (Finland, Sweden, Denmark, Norway, Iceland, Lithuania, Latvia and Estonia) Parliaments, which begins on Monday in resort town Palanga, reports LETA/ELTA.
18.08.2014
Estonia's second Festival of Opinion Culture (Arvamusfestival) that took place on Friday and Saturday in central Estonian town of Paide, gathered two times more visitors than during its first year – 4,000, LETA/Postimees writes.
18.08.2014
The current conflict between Ukraine and the following trade war between Russia and Western states will end with partial disintegration of Russia, former Estonian prime minister Juhan Parts said at the annual Festival of Opinions Culture that opened on Friday in Paide, central Estonia, LETA/Public Broadcasting reports.
12.08.2014
Artist and trailblazer Anita Savicka debuts Anita Sondore at the JA NEW YORK Show, marrying rich cultural heritage with Modern jewelry design. Already a household name in numerous European private collections, Anita Sondore is excited to invite U.S. partners and distributors.