International Internet Magazine. Baltic States news & analytics
Wednesday, 29.06.2016, 19:17
Skele's Empire: from rise to fall
By Olga Pavuk, BC, 30.11.2006.

Print version
The next Latvian economic history's review (previous one was published in the BC-22) is devoted to privatization history of the group of companies with an attractive name Ave Lat. The group has been dominating in a very important country's economic sector during 1990s. It was the period when the foodstuff sector in the country has been closely connected to Mr. A. Skele, a millionaire himself and three times being Latvian prime minister. It is quite complicated to find strictly documented evidences about Mr. Skele's direct connections to Ave Lat Grupa, though he himself regards his role in it as quite significant.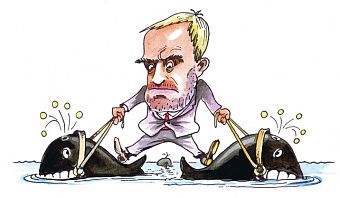 It was in autumn 1995 that friends-businessmen advised the author of this review to display the history of the foodstuff sector's privatization story. Journalist's investigation has revealed the group of leading Latvian companies, which at the end of 1995 covered major spheres of the foodstuff sector. Such as egg-production (Balticovo Ltd), child-nutrition (Lize Ltd), meat processing (Rigas galas parstrades sabiedriba Ltd), sweet-food and chocolates (JSC Laima, JSC Grauss and JSC Uzvara). There were several companies in grain-flour production, i.e. JSCs' Abra, Rezeknes dzirnavnieks and Hanzas maiznica with a couple of other companies with limited liability, i.e. Rezeknes maiznieks and Baltmaiznieks. Companies in fish-products' processing — JSC Kaija, in agro-food processing — Ave Lux Ltd and Ave Sargs Ltd in guarding and security business shall not be forgotten either. A joint owner of all these companies, Ave Lat was a uniting consolidated factor; that is a private limited liability company registered by several physical persons in Latvian Company House in February 1992. Already at the end of December 1994 Ave Lat was re-registered under a slightly different name — Ave Lat Grupa.
Can't do without offshore registration
In November 1992 to the list of private owners was added an offshore company, Quainton Ltd, registered in the Isle of Men offshore jurisdiction; its director was Mr. A. Skele. The new company's corporate address belonged to the firm Abacus Ltd that registered the company, with the legal address in Riga, at Republicas iela, nr. 2. The registration address coincided with the address of Latvian Agricultural Ministry. It has to be noted that at that time Mr. A. Skele performed the functions of the executive agriculture minister the wide public in the country did not know a thing about his entrepreneurial activities. His hidden business mysteries have been closed to public eyes up to 1995 when the 37-years old A. Skele was nominated for the post of country's Prime Minister.
Up to that time the offshore company was re-registered on Skele's companions, i.e. Harijs Krongorns (Ave Lat Grupa's financial director) and Erik Masteiko; the latter together with Skele's old friends Normunds Putans and Varis Jakovitskis have been founding-people in most of the companies, which were controlled by Ave Lat.
In order to clear up the quickly growing group structure of offshore companies in Ave Lat, journalists undertook extensive efforts. The first official information about Skele's involvement in Quainton Ltd's activities appeared in the Business&Baltija daily in 1995, where at that time the author of this publication worked. Only in 1998 Ave Lat Grupa's Chairman of the Board and its general director Mr. E. Masteiko acknowledged this fact in an interview to Klubs' magazine. To the magazines' question of how long he would use "Quainton's offshore company" Mr. E. Masteiko said, "let's see how the state would perform".
By the year 1998 offshore company Quainton Ltd had already controlled tens of Latvian companies involved in foodstuff production (there were already more than 15 companies in Ave Lat Grupa). At that time Mr. Skele was publicly called an unofficial Ave Lat's boss.
Long live, Latvia!
Let's try to find out how almost unknown businessman could take over the country's foodstuff industry being, at the same time, out of the public limelight.
We have to return to the beginning of 1990s when first Ave Lux Ltd has been established, followed by Ave Lat Ltd in 1992. These firms have been created within the then Institute for agricultural electrification and mechanization, so-called Stars' industrial and science development company (during 1981-1990 Mr. A. Skele worked in this Institute taking various positions, from an engineer to deputy-director). His father, Edgars Skele has been at that time the professor in Jelgava's Agricultural Academy and part-time consultant in the Stars. Several future Ave Lat's partners have been working in the Stars too, e.g. Andris Feldmanis (who was promoted later to the head position in Kaija Company), Andris-Karlis Dambergs (later to become the head of Hanzas maiznica) and Elmars Gozitis, to head Laima. Next to the Stars' company has been Dailrade's office, from which Valdis Grimze has been promoted to the head position in another company, Balticovo.
According to the then Stars's director, Mrs. Nadezhda Kotikova, the ambitious Ave Lat name originated from the initial names' letters of its founding fathers, i.e. A. Skele, V. Grimze and E. Masteiko. The additional "Lat" in the title was a commonly used abbreviation in many Latvian firms. Mr. Skele himself denied this version, saying that Ave Lat just meant, "Long live, Latvia". It is to be remembered that Mr. Skele did not, directly, take part in Ave Lat's establishment; even in offshore documents his business colleagues quickly substituted his name.
At the initial stage Ave Lux and Ave Lat have been involved in tractors' and other agro-machinery imports from Belarus, and later on started to supply machinery for foodstuff industry.
A small but interesting remark is to be mentioned an article written in NRA daily in 1998, i.e. a new partner appeared in Ave Lat on 11th February 1993, Mr. Ivan Guzenok, a Belarus citizen. What a big deal, one might say. But for his 100 dollars foreign country's investment in the company Ave Lat got solid tax benefits and deductions for the next four years. That was done in the right time, as already in 12 days' time or on 23rd of February that year the state annulled these benefits.
Good knowledge of legal issues and good command of appropriate information served perfectly well several times during Mr. Skele's professional business carrier.
No doubt, important place in Ave Lat creation has played Zemes banka, Latvian financial institution. Most of the G-24 credits during the first independence years have been administered and channeled by this bank. During Kaija privatization, the bank has been included into the list of companies in the Ave Lat's holding. Once in an interview to the Business&Baltija daily (and the author of the review) Zemez banka's president, Mr. Andris Ruselis called himself A. Skele's banker (in 1998 Zemes banka has been affiliated with Hansabanka — editor's note). Mr. Skele's connection to another bank, Unibanka can be traced through his membership in the bank's Board of Directors until the bank's second privatization term in 1995.
By 1998
Ave
Lat
has developed into a rather powerful structure involving some quite big companies, e.g.
Balticovo
,
Salacgriva'95
,
Kaija
,
Hanzas
maiznica
,
Laima
,
Rigas
piena
kombinats
,
Rigas
vini
, with more than 6.5 thousand employees and 3.7 mln lats profit. After 1996 re-construction, the concern was headed by
Ave
Lat
Grupa
, which was holding major share of stocks in the companies connected to it. The group's registered capital has reached 15 mln lats. Mr. E. Masteiko has become the concern's Board of Directors, whom mass media called the "empire's boss", at the same time A. Skele seemed to agree being the "empire's brains".
Legal literacy and lax of responsibility
Mr. A Skele undoubtedly assisted Ave Lat Groupa in its quick rush into free market changing already in 1990 the director's post in the above mentioned Institute for the post of deputy minister in agricultural ministry, where he worked until August 1993. Mr. Godmanis, who once defended in this institute his Ph.D. thesis, occupied the Prime Minister's post while Mr. Gegers occupied the post of agricultural minister.
Plenty of irregularities connected with Mr. Skele happened during that period. Thus, through Agro-ministry's initiative the Council of Ministers adopted a set of special laws for foodstuff industry's privatization in such spheres as milk, meat and bread production and other property assets' privatization in agro-service business.
The idea of special laws in privatization was emulated from Central European states' experience. Thus, these companies were relieved of all taxes and duties as was set in the "Privatization Law on State and Municipal Property".
The peculiar aspect of all the special laws on privatization in the foodstuff sector was the fact that the controlling stock's share of about 65-85% was regarded as solid and undivided. The author of all these laws was Andris Miglavs, the head of the mentioned Agro-Economic Institute. According to the Country's Land Ministry, during April with the adoption of such special laws 49 foodstuff companies have been privatized, out of the total of 60. In 1996 Latvian Council of Ministers repealed all these special laws.
Precisely with these special laws the very first companies in the Ave Lat's concern have been privatized. But as Mr. A. Skele personally acknowledged to the author, the procedure was not used in his companies' privatization. Most of the companies have been bought in 1994 following special laws' privatization scheme by other people, e.g. such companies as Balticovo, Rigas maiznieks, Baltmaiznieks, Abra, Rezeknes maiznieks, Rezeknes dzirnavnieks. It has to be added that Ave Lat bought a good share of these companies in good time, i.e. just a couple of weeks before the new re-evaluation occurred fixing new companies' market value; the latter increased ten-fold.
After the process of mass-privatization began in 1994 the drive for the concern's enlargement went on; now, the privatization vouchers came into circulation.
It is interesting to mention that Mr. Skele was at the period one on the candidates for the post of Latvian Privatization Agency (LPA). Due to the "Lavijas Celsh" leading party's efforts to the opposite, he became only an LPA's adviser. No doubt, that one of the first companies set for LPA's privatization auction was the former state-owned fish-processing firm Kaija. That was one of the most expensive properties, which was privatized with the help of LPA's procedure required for the acquisition company of not less than 3 mln LVL. Thus, Kaija's 54% of shares (1,805,583 shares, each of one lat's value) has been acquired by a single strategic investor — Ave Lux Ltd; the payment occurred in two trenches – 25% in cash and 75% in privatization vouchers. Mr. A. Skele has again become the newly created Kaija's JSC Board of Directors chairman. Another concern's company, i.e. financial and industrial firm Rigas vini has acquired the controlling stake of shares (80%) in another state-owned beverages-production company, Riga using the abovementioned procedure (the required initial capital was 400 thousand lats).
Other concern's companies has acquired the JSC's status following Ministry of Economics' orders, i.e. Laima and Uzvara, some of them have been sold and bought later — Salacgriva'95, Latvijas Balsams and Rigas alus.
In April 1997 Ave Lat Grupa's director, E. Masteiko publicly announced that the group would like to take part in privatization procedures concerning the biggest Latvian companies, e.g. Latvenergo, Latvijas Gaze, Latvijas Kugnieciba and Ventspils nafta.
Up to 1998 all concern's companies successfully worked providing good profits to their owners. Thus, in 1997 Kaija, the fish-processing factory earned 730.9 thousand lats (after taxes), Salacgriva'95 earned 195.6 thousand lats, Latviajas Balzams – 2.3 mln lats and Rigas alus 184.4 thousand lats.
Other interests
Mr. A. Skele has had some additional interests to explore; thus during three periods, i.e. from December 1995 to January 1997, from February to July 1997 and from October 1998 to July 1999 he occupied the Prime Minister's post in Latvia, representing People's Party. Before taking over the Prime Minister's position, he headed the board of directors in many companies, e.g. Latviajas Kugnieciba, Rigas miesnieks, Uzvara, Rigas vini, Rigas alus and Kaija.
During the time he joined the politics, he became the focal point in several scandals, the most prominent being the one connected to the so-called pedophile case. The latter provoked Mr. Skele's drastic fall in his popular ratings reducing him for the long time to come to the rank of most unpopular politicians in Latvia. At the same time, the privatization process within
Ave
Lat
for several years has been the supervision subject in various state bodies, e.g. State Security Office, State General-Attorney Agency, State Combating Crime Office and Revenue Service.
Ave Lat Grupa: buying and selling
After the Russian financial and de-fault crisis in 1998 the foodstuff companies working with Russia have experienced a tough time, most of them being on the brink of bankruptcy. It seemed that Mr. A. Skele, an experienced adviser himself (having an advisory status in a state agency and possessing his own consultancy company) had done practically nothing in order to streamline foodstuff's West-East import flows.
In spring 1999 Mr. Skele had become officially the owner of the companies in Ave Lat Grupa concern after the company Uznemumu vadiba un konsultacijas (A. Skele was a co-owner in it too) had bought the concern. At that time Mr. Skele bough an offshore company — Quainton Ltd owned previously by Mr. E. Masteiko.
The amount of the deal was not made public; in an official announcement A. Skele said that for the concern's acquisition he took a loan in one of the largest Latvian banks. Though neither bank nor the amount of money had been revealed.
In 1999 Mr. Skele became the country's Prime Minister again and was forced to abandon his foodstuff business. Therefore on 17th of August he requested PricewaterhouseCooper, an international accountancy company to find a manager for stocks' sale in Ave Lat Grupa. On November 16th the international accountancy firm informed that the stocks had been transformed, according to the agreement reached, to a company called Abacus Ltd. At that time nobody noticed that the Abacus Ltd had the same registered address on the Isle of Men as a previously registered in 1992 the Quainton Ltd. A little bit later the managers exchanged Abacus Ltd for another offshore company — Bolster Management, registered in Channel Islands; the latter in January 2000 had acquired 99.9% of shares in Ava Lat Grupa, according to Latvian Company House register. Thus, Mr Skele had received a promissory note of 29 mln USD nominal value.
Quite interesting that in an interview with the author in 1998 Mr. Skele did not deny offshore companies' ownership, having said, "that he had one — in Ireland, but that had nothing to do with the Ave Lat company".
Mr. E. Masteiko has got all Hanzas maiznica's shares, most of which he later sold. Most of Mr. Skele's business-colleagues, sach as E. Masteiko, N. Putans, V. Grimze and others are presently in the list of the richest businessmen and millionaires in Latvia.
Financial account's data in Ave Lat Grupa for 1999 revealed that all its companies have been a very profitable business.
On the 9th of March 2000 at the Ave Lat Grupa shareholders' meeting it was announced that due to changes in the main activity's directions in the company, it had changed its name. Since that time Ave Lat Grupa acquired a much more difficult for pronounciatione name — New Technology and Business Development Corporation, NTBDC in order to take over information technology lines in business. Mr. Janis Leimanis has been nominated for the post of NTBDC's chairman and he said to the press that he communicated with the Bolster Management only by post.
Instead of concentrating on information technology, the new company started internal re-organizations. The process of registering several newly firms, e.g. NTBDC LB, NTBDC SL, NTBDC SLG, etc. clearly indicated the massive forthcoming sell-out of NTBDC's companies' assets.
Step-by-step such companies as Kaija, Rigas alus, Balticovo and others, being for several years within the Ave Lat Grupa's structure, have been sold to the new owners. Each of these deals aroused huge attention in the public and press; some experts tried to calculate, whether the former foodstuff giant Ave Lat Grupa was worth the mysterious 29 mln dollars promissory note. Afterwards, the former giant Ave Lat Grupa has had in the concern only two companies, i.e. Ave Lat Sargs and Latvijas Balzams; the latter after long considerations had been sold to Russian Sojuzplodimport.
Mysterious bill
Precisely in this words one of Latvian daily's journalists have described the famous Skele's promissory note, one of the most mysterious financial documents in Latvian modern history.
During several, three in fact, State Revenue Service's control-checks it turned out that Mr Skele made a deal to sell Ave Lat Grupa's shares, and the promissory note had become a specific means of payment. Although the question still remains, who was the new Ave Lat Grupa's owner?
The recent control group from the State Office for Combating Crime has concluded its last review in late 2005 without finding any irregularities, according to the office's report to the public, Mr. Aleksej Loskutov. Though, he added, the promissory note's control would be renewed if any new information concerning its history had appeared. So far it seems that everybody was quite satisfied with Mr. Skele's explanations.
Mr. Skele's assistant, Jurgis Liepnieks already in the year 2000 acknowledged that as long as the former prime minister was involved in politics his promissory note worth 29 mln dollars would not be used. The bill will be "sleeping" even if Mr. Skele will not join the new government, said to LETA, the Latvian news agency Mr. J. Liepnieks.
According to Mr. Skele's tax declaration, the value of his famous promissory note reduced from 29 mln to 20 mln in 2005.
A final period in the Ave Lat story
In February 2002 Latvian Company House put a last period in the Ave Lat history by liquidating joint stock company New Technology and Business Development Corporation. Though numerous companies, which have been for several years within the biggest foodstuff concern in Latvia, still provide the citizens with cheese and sweets, salami and fish, as well as various beverages.
Former sweet, fish and milk producing giants, as integral parts in Ave Lat Grupa's business strategy have disintegrated; these companies have acquired new owners. Former Ave Lat managers rather successfully work in the companies, which previously were integral parts of the concern's structure. In case they want to change employment, they can always find a new position in other firms. Some minor Ave Lat Grupa's shareholders have become successful businessmen too and established their own companies. None of the group's companies went bust under the new owners' leadership; on the contrary — they work quite successfully.
Such companies as Latvijas Balzams, Kaija, Rigas alus, Laima, Rigas pienu kombinats, Hanzas Maiznica and Balticovo are still leaders in corresponding foodstuff sectors and are having all the opportunities to stay in the business in the future.
The group's leader was in full-fledged readiness for the next parliamentary elections and his constant adviser, J. Liepnieks created an organization called "the society for the freedom of speech", which paid for the Peoples' party advertising clips and slogans. Mr. Skele has become the main new society's sponsor; he is at the same time a founding-father of Peoples Party and, according to observers is the party's "gray cardinal" sponsoring the party with 300 thousand lats.
On Riga's streets one can still sometimes ten see the cars decorated with the Ave Lat Sargs advertising sticks reminding us of the then famous A. Skele's empire.