International Internet Magazine. Baltic States news & analytics
Sunday, 24.05.2015, 14:08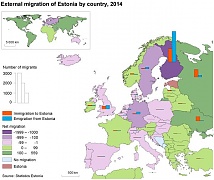 22.05.2015
According to Statistics Estonia, 4,637 persons emigrated from Estonia and 3,904 persons immigrated to Estonia in 2014. The volume of emigration was 30% smaller than in the previous three years.
21.05.2015
Latvia's gross domestic product may grow 2% in 2015, and inflation may reach 0.5%, the Economy Ministry predicts, cites LETA.
21.05.2015
The Finance Ministry in Latvia has worked out a proposal for implementing a proportionate non-taxable minimum, stipulating gradual adoption by 2020, reports LETA.
21.05.2015
The Eastern Partnership was launched in 2009, as a joint initiative between the European Union (EU) and six Eastern European and South Caucasus partner countries: Armenia, Azerbaijan, Belarus, Georgia, the Republic of Moldova and Ukraine, reports BC Eurostat Press Office.
21.05.2015
Latvia continued to see a reduction in the number of residents registered as living below the poverty line in April 2015, the Welfare Ministry informs LETA.
20.05.2015
According to Statistics Estonia, in April 2015, the producer price index of industrial output changed by –0.6% compared to March 2015 and by –1,3% compared to April 2014.
20.05.2015
Compared with the most developed countries, Latvian business leaders admit that the level of corruption in Latvia's economic environment is significantly higher. Hence, 55% of Latvian business leaders agree with the statement that corruption in Latvia is very common, as compared with 35% in the most developed economies, according to the latest EY (former Ernst&Young) survey on fraud and corruption "Fraud and Corruption – The Easy Option for Growth?", informs LETA.
19.05.2015
According to Statistics Estonia, in 2014, the average monthly gross income per employee was 954 euros. Compared to 2013, the average gross income increased by 6%. The growth rate has been at this level for the last few years.
19.05.2015
As the threat of Russia looms over peace and stability in the east, the EU must work to strengthen ties and cooperation with its eastern partners, writes Edgars Rinkevics.
19.05.2015
The consumer price level in Latvia in April 2015, compared with the same month of the previous year, increased 0.6%, which was the third highest increase in the EU, reports LETA, according to the latest data from the EU's statistical office Eurostat.
19.05.2015
The opportunity of obtaining and submitting information online at various state registries is used at least once a week by 14% of respondents surveyed in Latvia, 26% – in Lithuania, and 35% – in Estonia, reports LETA, according to GfK CR Baltic's survey on the role of technology in people's daily life.