International Internet Magazine. Baltic States news & analytics
Monday, 29.08.2016, 20:59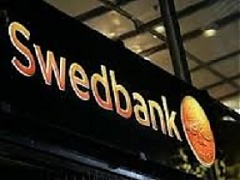 29.08.2016
Swedbank on Monday lowered Estonia's economic growth forecast by 0.5 percentage points to 1.5%, while next year's forecast was left unchanged, reports LETA/BNS.
26.08.2016
Lending to the private sector in eurozone countries picked up somewhat in July, AFP news agency reported, citing the information released on Friday by the European Central Bank (CEO), writes LETA.
26.08.2016
Average gross monthly earnings in Lithuania's economy, excluding sole proprietorships, rose by 8.1 percent in the second quarter of 2016 compared with a year earlier to reach 771.9 euros, Statistics Lithuania information cites LETA/BNS.
26.08.2016
Tax revenues in the Latvian budget beat the target by 0.4 percent in the first seven months of this year, the Finance Ministry informed LETA.
25.08.2016
While the new joint unit for Baltic banking of Nordea and DNB will increase competition on the Estonian retail market, risks of the Latvian and Lithuanian banking market will have a greater impact on the financial stability of Estonia in the future, the Bank of Estonia said on Thursday, reports LETA/BNS.
25.08.2016
Over the last few years, the information and communications technologies sector (ICT) has been among those with fastest growth. It is no secret that in recent years rapid expansion of different ICT services could be observed in Latvia: programming, data storage, development of mobile applications, development of various complex ICT solutions, etc. However, unlike retail trade or manufacturing, the sector usually is not in the spotlight of economic analysts and policy makers. This can be explained by the size of the sector – ICT only accounts for about 5% of the total value added, even though this level is close to the European Union's average. Nevertheless, the success of the sector should be noted: it is one of the fastest growing, with high productivity levels, high average salary, implementation of latest technologies, and other positive features.
25.08.2016
The loan and lease portfolio continued to increase relatively quickly in July, growing by 5% over the year.The average interest rate on loans has risen slightly in recent months.The volume of deposits was 7.3% larger in July than a year earlier
25.08.2016
ata of the Central Statistical Bureau (CSB) show that, compared to June, in July 2016 the level of construction costs in Latvia grew by 0.3 %. Prices of building materials increased by 0.5 %, maintenance and operational costs of machinery and equipment rose by 0.3 %, whereas labour remuneration of workers did not change significantly.
25.08.2016
Material investments in Lithuania totaled 2.4 bln euros in the first six months of 2016, down by nearly 2% year-on-year, Statistics Lithuania said on Thursday, cites LETA/BNS.
25.08.2016
Agricultural produce purchase prices in Lithuania declined by 6.9% in July year-on-year, Statistics Lithuania said on Thursday, reports LETA/BNS