International Internet Magazine. Baltic States news & analytics
Tuesday, 21.10.2014, 06:42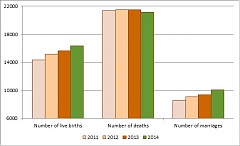 20.10.2014
During the first nine months of 2014 mortality decline was observed in Latvia. Provisional data of the Central Statistical Bureau (CSB) show that 21 155 deaths were registered in the country, which is 387 fewer than in the first nine months of 2013. However, the number of deaths increased in September.
20.10.2014
During a meeting on October 17th with Chinese Premier Li Keqiang on the sidelines of the EU-Asia Summit, President Andris Berzins proposed to expand the scope of economic cooperation, as well as strengthen cooperation in transportation and logistics, as well as in food exports, LETA was informed by the Presidential Press Service.
17.10.2014
Lithuania's Prime Minister Algirdas Butkevicius who is attending the 10th Summit of the Asia-Europe Meeting (ASEM) in Milan has talked at the first session on Thursday about promotion of financial and economic growth by enhancing co-operation between Europe and Asia, informs LETA/ELTA.
17.10.2014
Latvia's exports in the first seven months of the year 2014 increased by one% when compared with the same period last year, which is the smallest increase in the EU, according to Eurostat. Meanwhile, Lithuania saw a two% reduction in exports, while Estonia registered a 5% reduction, writes LETA.
16.10.2014
SEB banka projects that Lithuania will have the fastest growth in the Baltics in 2015, informs LETA/Nozare.lv.
16.10.2014
Annual inflation in Latvia was 1.2% this past September – the fourth highest across the European Union, according to the latest data from the EU's statistical office Eurostat, cites LETA.
16.10.2014
Parliament Speaker Loreta Grauziniene who is paying an official visit to South Korea has asked to support Lithuania's accession to the Organisation for Security and Co-operation in Europe (OSCE), informs LETA/ELTA.
16.10.2014
Minister of Social Security and Labour in Lithuania Algimanta Pabedinskiene says that additional investment and creation of new jobs can considerably contribute to the reduction of poverty, informs LETA/ELTA.
15.10.2014
According to the final results of the 2013 Farm Structure Survey, there were 19,200 agricultural holdings in Estonia, of which nearly 1,000 largest ones produce more than three-quarters of standard output, announces Statistics Estonia. At the same time, there are 4,500 agricultural holdings which do not produce agricultural products but only maintain their lands in good agricultural and environmental condition.
15.10.2014
Lithuanian President Dalia Grybauskaite who opened the conference on poverty reduction in Lithuania stressed that close cooperation of the public sector and non-governmental organisations (NGO) is a must in fighting with poverty, reports LETA/ELTA.
15.10.2014
The investment banking and financial advisory company Prudentia and stock exchange Nasdaq Riga presented a list of ten most valuable Baltic companies today, reports LETA.