International Internet Magazine. Baltic States news & analytics
Saturday, 04.07.2020, 15:51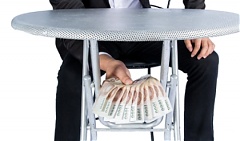 03.07.2020
A study carried out by the Estonian Institute of Economic Research (EKI) into the prevalence of cash-in-hand wages shows that unfair tax practices likely resulted in a 127-million-euro loss in tax revenue for the Estonian state in 2019, cites LETA/BNS.
01.07.2020
A total of 18,503 new passenger cars were registered in Lithuania in the first half of 2020, down 29.2% from 26,152 in the same period last year, the market research company Autotyrimai said LETA/BNS.
01.07.2020
Three months spent in a lockdown have resulted in a considerable deterioration of the economic environment and have had negative repercussions in almost all sectors of the economy. With the COVID-19 outbreak starting to subside and the economic activity gradually recovering, we can now look back at the developments in the monetary aggregates over the most recent months.
01.07.2020
Latvia's GDP will see a reduction of 7.3% this year, but next year economic growth will reach 4.7%, the international ratings agency Moody's Investor Service, Inc (Moody's) points out, cites LETA.
30.06.2020
Lithuania's economic downturn, triggered by the coronavirus pandemic, likely bottomed out in April 2020 and should be replaced by a gradual recovery in the second half of 2020 following the lifting of restrictions on economic activity in Lithuania and the European Union, the country's Finance Ministry forecasts based on the latest statistical data, cites LETA/BNS.
29.06.2020
Calendar adjusted data (at constant prices) compiled by the Central Statistical Bureau (CSB) show that, compared to May 2019, in May 2020 total retail trade turnover reduced by 0.6%. Turnover of retail trade in food products grew by 1.6%. Retail trade in non-food products (except for retail sale of automotive fuel) decreased by 3.9%, but turnover of retail sale of automotive fuel – increased by 3.3%.
29.06.2020
Colliers predicts a new revolution in office occupancy, which will see businesses balance collective in person collaboration with focused remote working opportunities.
29.06.2020
According to Statistics Estonia, 27,989 women and 3,920 men received parental benefit in Estonia in 2019. The average monthly parental benefit paid to men was a third higher than that paid to women.
29.06.2020
Data of the Central Statistical Bureau (CSB) show that, compared to April, in May 2020, the level of construction costs in Latvia increased by 0.1%. Labour remuneration of workers rose by 1.4%, maintenance and operational costs of machinery and equipment – by 0.1%, but prices of building materials – reduced by 0.5%.
29.06.2020
Global peacefulness has deteriorated over the past year, with this being the fourth time in the last five years that the world has seen a fall in peacefulness, according to the latest Global Peace Index.
29.06.2020
As Lithuania's statistics service, Statistics Lithuania, said on Monday the monthly inflation rate for June is estimated at 0.4%, Aleksandr Izgorodin, an economic from ME Finance, says cheaper vegetables and lower fuel prices caused by a drop in oil prices slowed inflation growth in Lithuania cited LETA/BNS.