International Internet Magazine. Baltic States news & analytics
Sunday, 22.04.2018, 23:01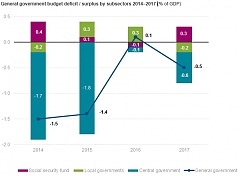 21.04.2018
Provisional (1) results compiled by the Central Statistical Bureau (CSB) show that, in 2017 general government budget deficit accounted for EUR 131.1 million or 0.5% of the Gross Domestic Product (GDP), whereas consolidated gross debt amounted to EUR 10.8 billion or 40.1% of the GDP. Only Social security fund concluded last year with budget surplus, while expenditure in central and local governments exceeded revenues.
20.04.2018
Foreign investors are on the whole satisfied with business environment in Latvia but in a number of investment criteria have given the country lower ratings compared to the previous year and are critical of Latvia's tax reform in particular, writes LETA, according to the annual survey carried out by the German-Baltic Chamber of Commerce in Estonia, Latvia and Lithuania (AHK).
20.04.2018
In Latvia, 20% of the population are reluctant to conduct financial transactions via their smartphones but the number of people willing to use their phones in financial transactions is growing, writes LETA, according to a survey by Swedbank Latvia.
19.04.2018
Provisional data of the Central Statistical Bureau (CSB) show that since 2016 birth number in Latvia is reducing – in 2017 number of live births may be approximately one thousand smaller than in 2016. Number of newborn registered during the first three months of 2018 (4 612 children) also was smaller than that recorded in the same period of 2017– by 336 children.
19.04.2018
Most people in Latvia, or 54.6%, expect property prices to grow in the coming 12 months, which is the highest figure since 2009, when SEB launched its Housing Price Indicator, SEB Banka spokeswoman Jelena Kontusa told LETA, citing the latest SEB Housing Price Indicator.
18.04.2018
According to Statistics Estonia, 47.7% of Estonian enterprises were innovative in 2016. Industrial enterprises are the most active innovators.
18.04.2018
In March 2018, Latvia saw higher inflation than the European Union and the eurozone on average, according to the latest inflation data on 27 member states released today by Eurostat, cites LETA.
18.04.2018
Latvia is expected to register faster economic growth than its Baltic peers in 2018, the International Monetary Fund (IMF) said on April 17th, reports LETA/BNS.
17.04.2018
A researcher predicts that Lithuania in 2018 may record the lowest number of births in the past 60 years, the Delfi news website reported on April 17th, writes LETA/BNS.
17.04.2018
Lithuanian economists and trade union officials say that the government's planned tax and pension system reform unveiled on Monday will lead to a rise in wages, but will not help to drastically curb emigration, writes LETA/BNS.
16.04.2018
Lithuania's government plans to recover 200 million euros from the shadow in 2019 in an effort to reduce the scope of shadow economy, Prime Minister Saulius Skvernelis said on April 16th, cites LETA/BNS.