International Internet Magazine. Baltic States news & analytics
Saturday, 24.08.2019, 16:48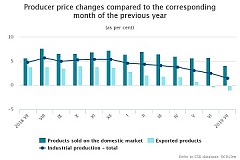 21.08.2019
Data of the Central Statistical Bureau (CSB) show that, compared to June, in July 2019 level of producer prices in Latvian industry fell by 0.2%.
19.08.2019
National education facilities in the states shall be geared towards teaching SDGs and training necessary specialists. Hence, the second article shows that existing education institutions and teaching methods shall be reassessed fundamentally alongside the teaching methods. Sustainable economic growth needs new types of general and professional skills for SDGs' practical implementation, the skills that have never been trained before.
19.08.2019
Estonia and Lithuania saw their exports grow in the first half of 2019 compared with the same period last year, while Latvia's exports remained on the level of the first half of 2018, informed LETA/BNS.
16.08.2019
There were 359,000 children in Latvia early this year, which is by 16,000 or 4.3% fewer than in 2010, according to te Central Statistical Bureau.
16.08.2019
The global sustainable agenda requires the states to take all necessary measures ("what it takes") to implement UN sustainable development goals by 2030. Generally, these measures involve three spheres of national governance: social, environmental and economic; but none of them shall be effective without adequate reforms in existing national education and training policies.
15.08.2019
Latest data of the Central Statistical Bureau (CSB) show that 781.1 thousand visitors stayed at Latvian tourist accommodation establishments in the 2nd quarter of 2019, which is 1.1% more than in the 2nd quarter of 2018.
15.08.2019
In II quarter 2019, the unemployment rate stood at 6.1% and, against I quarter 2019, decreased by 0.4 percentage points, against the respective period 2018, increased by 0.2 percentage points.
15.08.2019
According to Statistics Estonia, the employment of 50–74 year olds keeps growing. The number of employed people of that age group is the highest in 10 years
15.08.2019
Results of the Labour Force Survey conducted by the Central Statistical Bureau (CSB) show that in the 2nd quarter of 2019 Latvian unemployment rate constituted 6.4%. Compared to the previous quarter, unemployment rate fell by 0.5 percentage points, and compared to the rate recorded a year ago, it dropped by 1.3 percentage points.
14.08.2019
The labour market remains favourable for employees. The unemployment rate was 5.1% in the second quarter. The number of short-term workers from abroad rose noticeably. Employers in industry have become more pessimistic about continued growth in employment.