International Internet Magazine. Baltic States news & analytics
Friday, 06.03.2015, 02:00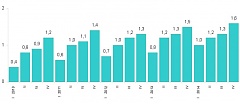 05.03.2015
Statistics Lithuania informs that an annual publication Investment in Tangible Fixed Assets and Construction 2014 has been released. The publication provides the main statistical information on investment in tangible and intangible fixed assets, construction work carried out by cons¬truc¬tion enterprises, building permits issued and residential and non-residential building construction.
05.03.2015
The Eurobarometer survey carried out in January revealed that 59% of the polled Lithuanians went on holiday abroad in 2014, informs LETA/ELTA.
04.03.2015
Results of the survey on income and living conditions carried out by the Central Statistical Bureau (CSB) show that in 2014 housing maintenance expenditure of households (1) has slightly increased, reaching 138 euros per month.
04.03.2015
In January 2015, compared with January 2014, the volume of retail trade increased by 6.7% in Latvia, which is the fifth best growth among the European Union member states for which data are available, according to latest information provided by Eurostat. In Lithuania, retail volume rose by 3.3%, but in Estonia – by 2.8%, writes LETA.
04.03.2015
Banking sector is an important contributor to jobs and growth in the EU through the support for SMEs. The sector already provides in the EU-28 about €4 trillion in loans, a big share of which goes to SMEs. In some of the states, the sector's share in SMEs' lending is about 30-40%. Seeking to rebuild Europe's economy, this channel of funding shall be supported and developed.
04.03.2015
Annual greenhouse gas (GHG) emissions in Lithuania amount to 4-5 tons per capita and are among the lowest in the European Union (EU), the European Environment Agency (EEA) said in a report The European Environment – State and Outlook 2015, informs LETA/ELTA.
04.03.2015
The so-called Global Cyber Security Index 2014, devised by the ABI Research company, shows Latvia in seventh place among the countries, who were rated according to five criteria. Estonia is leading among Baltics with 5th place and Lithuania is placed 14th, informs LETA.
04.03.2015
Deputy Director of the Special Investigation Service (STT) Romas Zienka says that in 2025 Lithuania should come within the top 10 of the most transparent Member States of the European Union, informs LETA/ELTA.
03.03.2015
According to the data compiled by the Central Statistical Bureau (CSB), in 2014 the total number of passengers carried by public transport decreased by 0.7%.
03.03.2015
According to Statistics Estonia, in January 2015 compared to January of the previous year, the retail sales of goods of retail trade enterprises increased 5% at constant prices.
03.03.2015
In 2014, 73% of households in Latvia had access to broaband Internet. For comparison, in 2004, only 5% of households had broadband Internet access, reports LETA, according to the Central Statistical Bureau.