International Internet Magazine. Baltic States news & analytics
Thursday, 29.06.2017, 13:51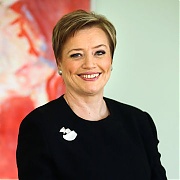 28.06.2017
The development of Helsinki–Tallinn cooperation has long been a subject of study in official working groups. But in practice, people have already voted with their feet: the cities are already one extensive urban area. In 2016, the Gulf of Finland was crossed almost 9 mln times. Breakfast in Helsinki and lunch in Tallinn. Shopping in both. Museum visits. Such is everyday life in an extensive urban cluster - cheerful cultural relations.
26.06.2017
The confidence index of Estonian industrial enterprises rose one point month over month to 11 points in June, compared with 2 points registered for June 2016, data available from the Estonian Institute of Economic Research shows.
26.06.2017
Statistics Lithuania informs that based on the provisional data of the Household Budget Survey, in 2016, average household consumption expenditure equalled EUR 298 per capita per month. Compared to 20121, monthly consumption expenditure grew by 20.3%, or EUR 50. Consumer price growth adjusted, compared to 2012, consumption increased by 18.9%.
26.06.2017
More than a half or 58% of Latvia's population believe that globalization increases social inequalities, according to the Eurobarometer survey carried out in April this year.
26.06.2017
The civic empowerment of the Lithuanian population grew last year, experts from the Civil Society Institute said on Monday as they presented their annual Civic Empowerment Index (CEI), writes LETA/BNS,
22.06.2017
ccording to retailers questioned by LETA, there has been a substantial increase in demand for shashlik (marinaded BBQ meat), cheese, beer and wine for the midsummer Ligo! holidays.
21.06.2017
According to Statistics Estonia, in May 2017, the producer price index of industrial output changed by 0.3% compared to April and by 4.2% compared to May 2016.
21.06.2017
Provisional data of the Central Statistical Bureau (CSB) show that, in 2016 gross energy consumption1 in Latvia comprised 184.5 petajoules (PJ), which is only 0.3 % more than in 2016. Over the past five years (from 2011 to 2016), the gross energy consumption has not changed significantly, however the share of renewables in it has increased.