International Internet Magazine. Baltic States news & analytics
Tuesday, 28.07.2015, 04:27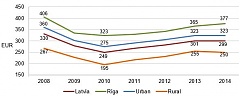 27.07.2015
The latest data of the Central Statistical Bureau of Latvia (CSB) shows that in 2014 average monthly household consumption expenditure per household member comprised EUR 299 (1), which is EUR 1.24 or 0.4% less than in 2013.
27.07.2015
Tax policy and tax system need to be stable and predictable in the long term, which will foster investors' confidence in Latvia, President Raimonds Vejonis agreed during a meeting with representatives from the Latvian Employers' Confederation on July 24th, reports LETA.
27.07.2015
On 23 and 24 July 2015, Foreign Minister Edgars Rinkevics participated in the informal meeting of the European Union (EU) General Affairs Council in Luxembourg. Minister Rinkevics expressed support for Luxembourg's priorities in the field of migration. Reported BC the Latvian MFA.
26.07.2015
Federal medical authorities in Latvia report that 365 people committed suicide in 2014, compared to 381 in 2013, cites LETA.
24.07.2015
Data of the Central Statistical Bureau (CSB) show that in 2014 as compared to 2013 the number of births rose in all three Baltic States. However, the largest birth rate growth of 5.6% was registered in Latvia.
24.07.2015
Statistics Lithuania informs that an annual publication Demographic Yearbook 2014 has been released. The publication provides statistical information about the structure and demographic development of the Lithuanian population: birth and death rates, marriages, divorces, migration. Comparable demographic statistics of the European Union member states and population projections of the Statistical Office of the European Union (Eurostat) are provided.
24.07.2015
In 2014, from all the people who visited Estonia, 4.3% were from Latvia, and that is a 3% growth compared to 2013. Last year a total of 170,000 Latvians used overnight accommodations in Estonia, and that is 12,000 more than in 2013, the Estonian Tourist Board informs LETA.
24.07.2015
Lithuania is a tiger in the European zoo. The future looks bright for a country that chose a totally different path from Greece. Investors and entrepreneurs take note!
24.07.2015
It would be the greatest and worst mistake to raise the value added tax – there is no country, except Greece, that is considering increasing VAT during budget talks, the Bank of Latvia President Ilmars Rimsevics said on July 23rd, cites LETA.
24.07.2015
Having conducted a financial audit of the Ministry of Social Security and Labour of the Republic of Lithuania the National Audit Office stated that State funds in the area of labour and social care were used irresponsibly, the office reports LETA/ELTA.
24.07.2015
More people have expressed the wish to become Estonia's e-residents in the first six months of the project than expected – the predicted number of applications for this year was already exceeded by two times by the start of July, Estonian economy and communications ministry reported LETA.