International Internet Magazine. Baltic States news & analytics
Friday, 01.07.2016, 01:59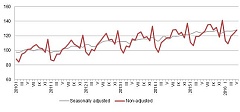 30.06.2016
Calendar adjusted data (at constant prices) compiled by the Central Statistical Bureau (CSB) show that, compared to May 2015, total retail trade turnover in May 2016 rose by 3.4%. Turnover of retail trade in food products increased by 2.1%, whereas the turnover of retail trade in non-food products grew by 3.9%.
30.06.2016
The Lithuanian parliament on June 29th gave its final green light to start in 2017 a reform of the pay-as-you-go social security system that provides for introducing a ceiling on social insurance contributions and for using state budget funds to pay basic pensions, informs LETA/BNS.
29.06.2016
Data of the Central Statistical Bureau (CSB) show that, compared to April, in May 2016 the level of construction costs in Latvia increased by 0.2%. Labour remuneration of workers went up by 1.2%, maintenance and operational costs of machinery and equipment increased by 0.1%, whereas the prices of building materials went down by 0.2%.
29.06.2016
Because of better salaries and a friendlier tax system, 40% of Latvian residents would be prepared to move to Estonia, according to a survey carried out by the Latvian job advertisement portal cvmarket.lv, cites LETA.
28.06.2016
Statistics Lithuania informs that, based on provisional data, in May 2016, the turnover (VAT excluded) of retail trade enterprises amounted to EUR 793.4 million at current prices; against April 2016, seasonally and calendar adjusted, it decreased by 0.1% at constant prices (seasonally and calendar unadjusted – increased by 5.1%).
28.06.2016
Results of a study commissioned by the Estonian Ministry of Economic Affairs and Communications and carried out by Praxis show that the sale of goods and services over the internet is not very developed in Estonia and it should be nationally promoted, informs LETA/BNS.
28.06.2016
The world's financial markets on June 27th showed signs of stabilization after last Friday's shock reaction to Britain's vote to leave the European Union, but Lithuanian analysts interviewed by BNS say that no fast recovery is in sight, adding that with no good news expected in the near future, the fall is likely to continue, informs LETA/BNS.
27.06.2016
Commissioner Jonathan Hill responded to modern issues concerning deepening of the single market, building a Capital Markets Union, and supporting strong pensions market in Europe. At the "Pensions Europe Conference", he claimed that the number of retired people will double in the near future and that pension funds can strengthen EU financial sector.
27.06.2016
The United Kingdom is likely to continue to enjoy free trade with the European Union when it leaves the bloc in the future, provided that London agrees to maintain the principle of free movement of labor, a Lithuanian economist said, cites LETA/BNS.
27.06.2016
While the decision of the United Kingdom to leave the European Union increases uncertainty, it will probably not result in a major decline of the economy, the Bank of Estonia (Eesti Pank) finds, cites LETA/BNS.
27.06.2016
The number of indigent people in Latvia kept shrinking also in May 2016, informs LETA, according to the Welfare Ministry's data.