International Internet Magazine. Baltic States news & analytics
Thursday, 25.04.2019, 07:44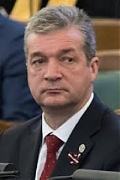 24.04.2019
The prosecutor's office has asked Saeima to strip MP Atis Zakatistovs' (KPV LV) of immunity from prosecution, reported LETA.
18.04.2019
Bill Browder, an investor who campaigns to expose corruption, has taken a criminal complaint against Swedbank to Latvian authorities, alleging it was involved in a Russian money laundering scandal, reported LETA.
15.04.2019
The Corruption Prevention Bureau (KNAB) on Monday conducted searches at Riga Hospital No. 1 and detained three persons in a criminal case, according to the information obtained by LETA.
15.04.2019
Nasdaq Riga on Monday applied observation status to Grindex pharmaceutical company shares, the stock exchange said in a statement.
12.04.2019
Criminal police on Tuesday searched the offices of six companies involved in agriculture in order to investigate the potential committing of a competition crime and the submission of false information to the Estonian Agricultural Registers and Information Board (PRIA) with the purpose of receiving subsidy, according the regional Tartu Postimees information reports LETA/BNS.
11.04.2019
A Russian citizen suspected of embezzlement in his country has established a company in Lithuania, informed LETA/BNS.
10.04.2019
Lithuania's shutdown Ignalina Nuclear Power Plant (INPP), which has been undergoing decommissioning for almost a decade now, has won an arbitration case against Nukem, a German company controlled by Russia's nuclear energy giant Rosatom, over a technology for handling and storing damaged spent nuclear fuel assemblies, informed LETA/BNS.
10.04.2019
The Corruption Prevention Bureau (KNAB) has turned to the Prosecutor's Office with the request to bring charges against MP Atis Zakatistovs (KPV LV) and businessman Viesturs Tamuzs, according to information obtained by LETA.
09.04.2019
Based on audit company Ernst&Young's report on the situation at municipal public transport company Rigas Satiksme, the Corruption Prevention Bureau has launched at least three investigations, the bureau's deputy chief Ineta Cirule told LETA.
05.04.2019
Th European Parliament on Thursday voted in favor of the so-called Mobility Package which defines requirements for EU haulers and drivers taking cargo outside the borders of their country, the Parliament's press service said.
04.04.2019
Salmonella bacteria has been found in one of the houses of the large farm of egg producer Dava Foods Estonia AS near Tallinn, Postimees reported on Thursday, informed LETA/BNS.