International Internet Magazine. Baltic States news & analytics
Monday, 17.06.2019, 10:32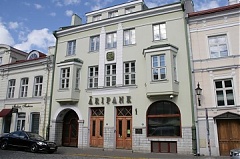 14.06.2019
Officers of the Central Criminal Police on Tuesday detained for 48 hours three employees of Tallinn Business Bank, one of whom is suspected of money laundering and the other two of accepting a bribe and money laundering, informed LETA/BNS.
05.06.2019
In relation to a possible corruption scandal in the project of Ventspils Music School, the Latvian Environment Investment Fund (LVIF) has suspended financing to the project, according to the Latvian Environment Protection and Regional Development Ministry information reported LETA.
05.06.2019
The State Revenue Service this week carried out procedural activities at beauty care company Kolonna, which is run by the Latvian-German joint venture Reho, sources told LETA.
05.06.2019
Latvijas Dzelzcels (Latvian Railways, LDz) national rail company's president Edvins Berzins and his deputy Aivars Straksas have asked the State Police to start criminal proceedings against Transport Minister Talis Linkaits (New Conservative Party, JKP), accusing him of defamation, Berzins told LETA.
04.06.2019
Lithuania's state-run railway company Lietuvos Gelezinkeliai (Lithuanian Railways, LG) and its subsidiaries have paid almost 130 million euros over a decade to Latvia's Sigmen controlled by former Latvian KGB officer Yuri Simonenkov, according the Lithuanian national radio and television LRT's investigation team has disclosed writes LETA/BNS.
03.06.2019
Saeima Human Rights and Public Affairs Committee has proposed a legislation stipulating that the head of Latvian Orthodox Church must be a citizen of Latvia who has resided in the country for at least the past ten years, informed LETA.
03.06.2019
Lithuanian businessman Vidmantas Kucinskas says he has no knowledge of large-scale fraud charges against him in Russia. Russia's Alfa Bank is trying to recoup a debt of around 20 million euros from Kucinskas through courts, and the latter believes the bank might try to employ such tactics to bolster its position during the negotiations on the their dispute's out-of-court settlement, launched some six months ago, reported LETA/BNS.
03.06.2019
The Administrative District Court in Riga has granted refugee status to a Russia woman who was persecuted in her homeland for her religious views and had unsuccessfully applied for asylum at the Office of Citizenship and Migration Affairs, the court ruling shows, informed LETA/BNS.
28.05.2019
The Corruption Prevention Bureau (KNAB) today detained Maksims Tolstojs (Harmony), a former board member of the municipal foundation Riga Tourism Development Bureau (RTAB), according to information obtained by LETA.
28.05.2019
Riga City Council lawmakers elected to the European Parliament, Nils Usakovs (Harmony) and Andris Ameriks (Honor to Serve Riga), have not been assigned any official status in any of the criminal cases investigated by the Corruption Prevention Bureau (KNAB), LETA learned from KNAB.
22.05.2019
Lithuania's police said on Wednesday it was involved in an international operation which led to the exposure of an armed gang of 22 persons who were involved in arms and drugs smuggling, informed LETA/BNS.