International Internet Magazine. Baltic States news & analytics
Tuesday, 15.10.2019, 12:06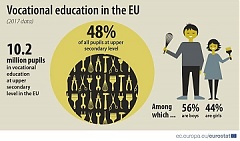 15.10.2019
In 2017, 21.4 mln pupils were studying at upper secondary level in the European Union (EU), out of which more than 10.2 mln (or 48%) were enrolled in vocational education, informed Eurostat.
14.10.2019
By the end of 2020, Latvia's government debt might grow to EUR 11.65 bn, according to the Finance Ministry's review of government debt trends, 2019-2022, writes LETA.
11.10.2019
Latvian ports' cargo turnover in January-September this year amounted to 47.249 mln tons, which is 3% less than in the first half of 2018, according to the Transport Ministry's data.
11.10.2019
The financial account statistics published by Eesti Pank today show that the growth in the debt of Estonian companies has accelerated a little this year. Companies invested more in the first half of 2019 than they did in previous years, and so they borrowed more to fund the investment. Even so, the growth of 4% in corporate debt over the year in the second quarter was notably less than the nominal growth in the economy.
11.10.2019
Freight transportation using the Latvian railway infrastructure amounted to 31.645 mln tons in the first nine months of this year, down 12.4% from the same period in 2018, the data of the Transport Ministry shows.
11.10.2019
According to the Lithuania's gas transmission system operator Amber Grid, within three quarters of 2019, gas consumption in Lithuania has increased by 10%, and under favorable conditions in the international gas market, gas transmission to the neighboring Baltic States has almost doubled, the Amber Grid`s head of communication Laura Sebekiene informed BC.
11.10.2019
The next multiannual financial framework (MFF) should be fit for the EU's present and future challenges to deliver on the member states and citizens' expectations. The Commission calls on EU Heads of State and/or Government to provide political guidance and new impetus to the negotiations in order to reach an agreement on a fair and balanced MFF.
10.10.2019
Provisional data of the Central Statistical Bureau show that in August 2019 the foreign trade turnover of Latvia amounted to EUR 2.37 bn, which at current prices was 9.5% less than in August 2017, of which the exports value of goods was 2.1% lower, but imports value of goods – 15.1% lower.
10.10.2019
Latvia has been losing around 1% of GDP each year due to the loss of budget revenue resulting from the 2017 tax reform, Inna Steinbuka, a member of the Fiscal Discipline Council, told journalist LETA.
10.10.2019
Lithuanian businessman Igor Udovickij says a controversial deal on Biriu Kroviniu Terminalas' (Bulk Cargo Terminal, or BKT) investments in Klaipeda is necessary to be able to handle Belarus' growing fertilizer exports via the Lithuanian seaport, informed LETA/BNS.
10.10.2019
Several EU states focus this October on circular economy: e.g. during "Circular Days/Circular weeks" in Poland (07-13.10.2019), many activities are devoted to promoting sustainable consumer behavior, supporting circular business models and establishing cooperation among stakeholders.