International Internet Magazine. Baltic States news & analytics
Tuesday, 07.04.2020, 17:40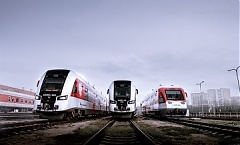 07.04.2020
LG Keleiviams, the passenger transportation subsidiary of Lithuania's state-run railway company Lietuvos Gelezinkeliai (Lithuanian Railwways), will temporarily suspend services on another 30 routes as of Wednesday but will ensure inter-city connection, the company said.
06.04.2020
Lowering the excise duty on diesel fuel would help Estonian road transport operators survive the crisis and remain in competition with Latvian and Lithuanian businesses, Estonian transport companies said. LETA/BNS.
02.04.2020
A 16 kilometers long line of passenger cars has built up at the Grenctale crossing on Latvian-Lithuanian border, Zane Plone, a representative of the Latvian Road Transport Administration, told LETA.
02.04.2020
As part of a joint order placed by Estonia and Latvia, 2.6 mln pieces of personal protective equipment arrived in Tallinn on Thursday, informed LETA/BNS.
02.04.2020
As part of the economic measures taken to ease the economic impact of the coronavirus crisis, Estonia is about to lower the excise duty on diesel to the level valid in Lithuania, which means that the price of diesel would decline by 14.5 cents per liter, reported LETA/BNS.
01.04.2020
As many countries across the world have closed their borders and suspended flights, air companies have started looking for places to leave their planes safely. There are now 60 such planes at Lithuanian airports, mainly in Vilnius. informed LETA/BNS.
01.04.2020
Due to the travel restrictions introduced around the world to help battle the spread of Covid-19, there will be some airlines that will not resume their work when these restrictions are lifted, the CEO of Latvian airline airBaltic Martin Gauss told LETA.
01.04.2020
Since the state of emergency was declared in the country, passenger transportation in the regions has reduced y between 50 to 60% Minister of Transport Talis Linkaits (New Conservative Party) told LETA.
01.04.2020
The Finnish government has informed about new restrictions for passenger traffic on the ferries plying cargo routes between Finland and Estonia and Finland and Sweden, but it failed on Tuesday to agree about the time when the information reported LETA/BNS.
31.03.2020
In an interview with LETA, the chief executive officer of Latvian airline airBaltic Martin Gauss said that the airline will fly with a reduced fleet after the Covid-19 crisis and only with Airbus aircraft.
31.03.2020
Lithuania's wet-lease and charter services provider GetJet Airline has given lay-off notices to 370 employees, the Employment Service said LETA/BNS.