International Internet Magazine. Baltic States news & analytics
Monday, 30.03.2020, 22:32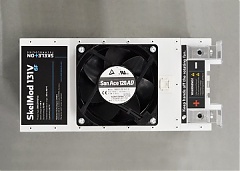 25.03.2020
Estonian developer and manufacturer of ultracapacitor systems Skeleton Technologies has launched the production of an ultracapacitor module for medical equipment.
11.03.2020
Gundars Strautmanis has stepped down from the supervisory board of HansaMatrix high-tech company, the company said in its statement to the Nasdaq Riga stock exchange.
10.03.2020
The "State of Digital Communication" report revealed by the Commission provides a qualitative assessment of the European digital communicators' activity, which is becoming ever more important for modern socio-economic development in the EU states. Hence, the challenges include, e.g. integrating environmental sustainability and people's welfare with an increased growth by using smart, efficient and new types of connected technologies.
06.03.2020
The metaphor of tiger's leap is no longer sufficient in the digital development of Estonia, as continuous rapid development is necessary rather than major leaps, Marten Kaevats, adviser on digital innovation at the Government Office, said an at economic conference on Friday.
05.03.2020
SES S.A. announced financial results for the year ended 31 December 2019 with results in line with SES' financial outlook, including a second successive year of revenue growth in SES Networks. SES also announced the next phase of strategic transformation to position itself for future growth and deliver value to both customers and stakeholders that includes the potential separation of its Networks business within SES, a programme of innovation, greater operational and strategic focus and resource rationalisation and optimisation across the business.
04.03.2020
The bigger Estonian businesses get and the more they grow over the border, the greater the risk of economic crime, both from internal as well as external parties, PricewaterhouseCoopers (PwC) Estonia leading consultant Erki Magi said based on a survey carried out by PwC, reported LETA/BNS.
04.03.2020
Russian-based ride-hailing company Yandex Taxi has confirmed that it provides information about the history of taxi passenger rides to Russian security services, Russian portal Mediazona reports referred LETA.
03.03.2020
The Latvian Road Transport Administration has told electronic communications providers to block the mobile app and website of Yandex Taxi transport services platform because it continues to provide services without registration, the transport authority's representative Zane Plone told LETA.
02.03.2020
Xolo, Estonia's biggest provider of services for e-residents, and German bank Wirecard have launched a new banking service that enables e-residents to open a bank account without visiting Estonia, informed LETA/BNS.
02.03.2020
A joint proposal by Transparency International (TI) chapters in Estonia and Latvia, Ministry of Justice of Estonia, School of Data in Latvia and Open Knowledge Estonia, aiming to harvest open data for early detection of conflicts of interest in public procurement, has made it to the to the final of International Monetary Fund's (IMF) Anti-Corruption Challenge, writes LETA/BNS.
28.02.2020
On Thursday in Washington, Latvian Foreign Minister Edgars Rinkevics and U.S. Secretary of State Mike Pompeo signed a joint declaration on cooperation in 5G security, LETA was informed by the Foreign Ministry.