International Internet Magazine. Baltic States news & analytics
Thursday, 23.10.2014, 21:32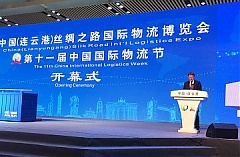 23.10.2014
Lithuanian Deputy Minister of Transport and Communications Arijandas Sliupas together with the leaders of Lianyungang region (People's Republic of China) opened The China (Lianyungang) Silk Road International Logistics Expo and marked the symbolic beginning of the New Silk Road initiative, reports BC the ministry.
22.10.2014
The Lithuanian airline Air Lituanica expands its business in Belarus with agency Ticketing Airport Services Belarus becoming the official commercial representative of the company. The agency will be responsible for the distribution of Air Lituanica flight tickets on the Belarusian market and represent the company in terms of marketing and the market of tourism, the airline said in a statement, cites LETA/ELTA.
21.10.2014
Next week liquefied natural gas (LNG) carrier Independence will arrive to Lithuania, it will ensure Lithuania's energy freedom, says Jovita Neliupsiene, Chief Advisor on Foreign Affairs to President Dalia Grybauskaite, cites LETA/ELTA.
20.10.2014
Based on preliminary unaudited data, in the first half of 2014, normalised earnings of state-owned enterprises (SOE) in Lithuania totalled LTL 262.8 million (EUR 76.1 million), by 1.2% more year-on-year, informs LETA/ELTA.
20.10.2014
Cargo turnover at the Baltic countries' ports increased by 1.1% in the first nine months of 2014, amounting to 106.78 million tons, as compared to the respective period of 2013, according to information provided by portal "RZD Partner", cites LETA/Nozare.lv.
20.10.2014
Lithuanian and Kazakh representatives agreed over more active co-operation in order to boost cargo volumes transported between the two countries, including co-ordinated actions seeking to attract transit cargo from China, informs LETA.
20.10.2014
During a meeting on October 17th with Chinese Premier Li Keqiang on the sidelines of the EU-Asia Summit, President Andris Berzins proposed to expand the scope of economic cooperation, as well as strengthen cooperation in transportation and logistics, as well as in food exports, LETA was informed by the Presidential Press Service.
20.10.2014
Lithuanian Minister of Energy Rokas Masiulis has said that the incident in the Swedish waters should not hamper Lithuania's Liquefied Natural Gas terminal project, reports LETA/ELTA.
17.10.2014
During 10th Asia-Europe Meeting (ASEM) in Milan, Italy yesterday, Latvian President Andris Berzins commended transit and logistics opportunities offered by Latvia.
17.10.2014
Lithuania's Prime Minister Algirdas Butkevicius who is attending the 10th Summit of the Asia-Europe Meeting (ASEM) in Milan has talked at the first session on Thursday about promotion of financial and economic growth by enhancing co-operation between Europe and Asia, informs LETA/ELTA.
17.10.2014
The Ministry of National Defence is procuring additional Javelin advanced medium range anti-tank guided missile systems for the value of USD 20 million to strengthen national defence capabilities and increase the Lithuanian Armed Forces' stock of medium-range anti-tank weaponry, reports LETA/ELTA.