International Internet Magazine. Baltic States news & analytics
Thursday, 23.10.2014, 00:40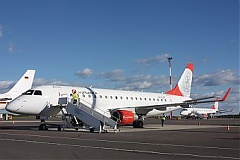 22.10.2014
The Lithuanian airline Air Lituanica expands its business in Belarus with agency Ticketing Airport Services Belarus becoming the official commercial representative of the company. The agency will be responsible for the distribution of Air Lituanica flight tickets on the Belarusian market and represent the company in terms of marketing and the market of tourism, the airline said in a statement, cites LETA/ELTA.
20.10.2014
During a meeting on October 17th with Chinese Premier Li Keqiang on the sidelines of the EU-Asia Summit, President Andris Berzins proposed to expand the scope of economic cooperation, as well as strengthen cooperation in transportation and logistics, as well as in food exports, LETA was informed by the Presidential Press Service.
20.10.2014
Lithuanian Minister of Energy Rokas Masiulis has said that the incident in the Swedish waters should not hamper Lithuania's Liquefied Natural Gas terminal project, reports LETA/ELTA.
17.10.2014
During 10th Asia-Europe Meeting (ASEM) in Milan, Italy yesterday, Latvian President Andris Berzins commended transit and logistics opportunities offered by Latvia.
17.10.2014
Lithuania's Prime Minister Algirdas Butkevicius who is attending the 10th Summit of the Asia-Europe Meeting (ASEM) in Milan has talked at the first session on Thursday about promotion of financial and economic growth by enhancing co-operation between Europe and Asia, informs LETA/ELTA.
17.10.2014
The Ministry of National Defence is procuring additional Javelin advanced medium range anti-tank guided missile systems for the value of USD 20 million to strengthen national defence capabilities and increase the Lithuanian Armed Forces' stock of medium-range anti-tank weaponry, reports LETA/ELTA.
16.10.2014
During the Russian Energy Ministry's October 6 discussion on increasing the oil product transshipment amounts at Russian ports, Russian oil pipeline company Transneft suggested that this could be done at the expense of Latvian ports, business newspaper "Vedomosti" reports, cites LETA.
16.10.2014
In the first nine months of the year 2014, new car registrations were up by 20% compared to the first nine months of last year, Ingus Rutins, the vice president of "Automotive Association", told Nozare.lv, writes LETA.
16.10.2014
About 40 electric automobiles have been registered in Latvia in 2014, Ingus Rutins, the vice president of "Automotive Association", told Nozare.lv/LETA.
16.10.2014
Stena Line's route between Nynäshamn and Ventspils has had a very positive development this year, increasing freight volumes by 23 percent. The demand continues to increase, so the sailing schedule is expanded with the help of M/S Ask and M/S Urd operating Travemünde-Liepaja.
16.10.2014
Freight transportation in East-West transport corridor via the port of Klaipeda, prospects of cooperation in Viking project, establishment of common public logistic centres, opening of direct flights between Vilnius and Baku, collaboration in information and communication technology were among the topics tackled by Rimantas Sinkevivius, Minister of Transport and Communications of the Republic of Lithuania, Azerbaijan's Transport Minister Ziya Mammadov and Ali M. Abbasov, Minister of Communications and High Technologies, reported BC the ministry.