International Internet Magazine. Baltic States news & analytics
Wednesday, 14.10.2015, 07:01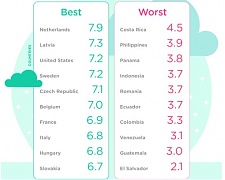 13.10.2015
The team of the popular driving application Waze has evaluated the driving experience of 50 million users in 32 countries and 167 metro areas to create the world's first "Driver Satisfaction Index", a single numerical score from satisfying (10) to miserable (1), the company informs LETA.
13.10.2015
Lithuania is preparing to establish a Liquefied Natural Gas (LNG) centre of excellence in Klaipeda. In a month the heads of ministries will be presented a letter of intent signed with social partners and an activity plan for an LNG cluster, informs LETA/ELTA.
13.10.2015
Alexela Group's company Reola Gaas will merge with the company Alexela Energia; after the merger, Alexela Energia will become one of Estonia's largest electricity and gas sales businesses, Äripäev.ee/LETA reports.
12.10.2015
City of Riga Vidzeme District Court has received a notice confirming that the EUR 400,000 bail bond has been posted for the release of Latvijas Dzelzcels former CEO Ugis Magonis, as the court informed LETA.
12.10.2015
Loreta Grauziniene, Speaker of the Lithuanian Seimas, and Adilbek Dzhaksybekov, Akim of Astana, Kazakhstan, discussed the future development of bilateral relations, the Seimas press service reported BC.
12.10.2015
Pursuant to preliminary data as of the 5th of October 2015 the cargo handling turnover in Klaipeda Seaport in September of 2015 increased by 11,2% or by 356,6 thou. tn to 3,54 mln tn comparing with September of 2014. It is absolutely the best September within the entire history of Klaipeda Seaport, informed BC Mantas Stončius from Klaipeda Seaport.
12.10.2015
Vilnius and Astana, the capitals of Lithuania and Kazakhstan, should be connected by direct flights. Such mutual desire was expressed during a meeting between Minister of Transport and Communications of the Republic of Lithuania, Rimantas Sinkevicius, and Mayor of Astana, Adilbek Dzhaksybekov, the Ministry of Transport and Communications reports BC.
12.10.2015
Irish company Foras Fuels Ltd informed the Environmental Protection Agency (AAA) under the Ministry of Environment of Lithuania that it will not ship municipal waste treatment residue to Lithuania after the AAA suspended the licence of Lithuanian company UAB AV Investicija Plius to import such cargo, reports LETA/ELTA.
12.10.2015
The 5th of October 2015 was the official termination of cruise season in Klaipeda Seaport. It might treated as a symbolic sign that cruise ship " Aida Cara" that had launched this cruise season in Klaipeda Seaport was last cruise ship calling Klaipeda Seaport, reports BC port's press service.
12.10.2015
In an interview on Latvian Radio today, State Border Guard Chief Normunds Garbars said that while Vietnamese citizens who illegally enter Latvia use it as a transit country, citizens of Iraq and Afghanistan see Latvia as a destination where they can claim asylum, reports LETA.
12.10.2015
The Latvian tanker ''Flagman 1'', which ran aground in Daugavgriva yesterday night, has been successfully pulled off the sandbank, LETA was informed by the National Armed Forces.