International Internet Magazine. Baltic States news & analytics
Saturday, 20.01.2018, 20:28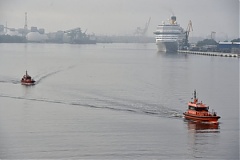 19.01.2018
In 2018, the marketing activities of the Freeport of Riga Authority will be focused both on preserving existing markets and active work in new regions, attracting new cargo and passenger flows to the port, In the marketing area, the Freeport of Riga Authority will continue strategic cooperation with port operators, supporting them in attracting cargo and investments, informed BC port's press service.
19.01.2018
The state-owned port company AS Tallinna Sadam (Port of Tallinn) has put on sale the assets and structures of the Muuga coal terminal for up to 3.3 million euros with the plan of clearing out the quayside and having it make money, informs LETA/BNS.
18.01.2018
Jaan Tamm, CEO of state-owned Estonian Airline company Nordic Aviation Group operating under the Nordica brand, said that Nordica is a viable company and that it is not the legal successor of Estonia's former national airline Estonian Air, informs LETA/BNS.
18.01.2018
The Liepaja port in south-western Latvia reloaded 6.589 million tons of cargo last year, which is a 16% rise from 2016,writes LETA, according to the management of the Liepaja Special Economic Zone (SEZ).
18.01.2018
The 2017 growth of the amount of illicit tobacco products in Lithuania was the biggest over the past five years, with smuggled cigarettes accounting for nearly a fifth of the cigarette consumption level, according to an empty pack survey carried out by Nielsen, cites LETA/BNS.
18.01.2018
Riga International Airport served 6.098 million passengers in 2017, which is a 12.9% growth from 2016, the airport informed LETA.
18.01.2018
The Lithuanian seaport of Klaipeda forecasts that cargo volumes will fall slightly this year from last year's record high levels, a senior executive of the port said on January 17th, cites LETA/BNS.
18.01.2018
Latvia spent EUR 65.1 million on road maintenance in 2017, Aldis Lacis, director of the road management and maintenance department of the state-owned company Latvijas Valsts Celi (Latvian State Roads), told journalists on January 17th, cites LETA.
17.01.2018
Lithuania's new car sales grew at the fastest rate in the EU in 2017, figures from the European Automobile Manufacturers' Association (ACEA) showed on Wednesday, cites LETA/BNS.
17.01.2018
Feniks LLC, a company running a multipurpose marine freight handling complex at Bronka Port of St. Petersburg, is planning to build railway infrastructure by 2022 to redirect the handling of bulk cargoes from ports in the Baltic countries to Russia, informs LETA.
17.01.2018
The number of transactions on the mergers and acquisitions market of Estonia and the Baltic countries alike is set to continue this year, and in addition to the financial and telecom sectors increases are due to take place in infrastructure and transport, Toomas Prangli, managing partner at Sorainen law office, said, cites LETA.