International Internet Magazine. Baltic States news & analytics
Wednesday, 22.11.2017, 07:36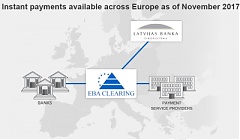 22.11.2017
With the instant payment system RT1 of EBA Clearing, a company established by European banks, going live yesterday, the pan-European instant payments infrastructure is being launched, the Bank of Latvia reported LETA.
22.11.2017
The Finnish operator of shopping centers Citycon on Tuesday started the renovation works in the Kristiine shopping center, which are to result in the construction of the O'Learys entertainment center by spring and the updating of the center's exterior and interior within two years, reports LETA/BNS.
22.11.2017
Kazakhstan's SCAT Airlines is set to launch a direct air route between Vilnius and Astana in May 2018, informs LETA/BNS.
21.11.2017
Lithuania climbed to 18th place, from 27th a year ago, among 190 countries across the globe in terms of the ease of paying taxes, according to the latest study by PwC and the World Bank Group. Lithuania, however, is outperformed by both Latvia, ranked at number 13 in the Paying Taxes 2018 report, and by Estonia, at number 14, reports LETA/BNS.
21.11.2017
The architectural competition for the building of the German global discount supermarket chain Lidl to be built in Narva, the largest city in northeastern Estonia, was won by the entry of the firm of architects Molumba titled "Blue Velvet," regional newspaper Pohjarannik said, cites LETA/BNS.
21.11.2017
It will cost Lithuania a lot of money to relocate its embassy to premises in a historic palace in Rome, with 150,000 euros already spent on replacing the windows and shutters alone, the daily Lietuvos Zinios reported on November 21st, cites LETA/BNS.
21.11.2017
A five-part historical drama Tokyo Trial that has been filmed in Lithuania was nominated for an Emmy award in the category of mini series, informs LETA/BNS.
21.11.2017
Media group All Media Baltics (AM Baltics) has signed a long-term agreement with global technology company Encompass Digital Media (Encompass) on the delivery to the media group's TV content, Laima Kristapsone, a representative of All Media Latvia (AM Larvia), told LETA.
21.11.2017
ECEPR just released the report "The Geography of Europe's Brain Business Jobs" by Dr. Nima Sanandaji and Prof. Stefan Fölster. The report is financed by the investment firm Nordic Capital.
21.11.2017
Turnover of Latvia's IT wholesaler Elko Grupa in the first nine months of this year was EUR 955.031 million, which is by 13.6% more than in the respective period last year, while the concern's profit rose 11.3% to EUR 6.364 million, writes LETA, according to the company's statement to the Nasdaq Riga stock exchange.
21.11.2017
Gerd Muller, who is to assume the position of CEO of the listed Estonian construction company Nordecon on Jan. 8, is planning to strengthen the company's present operations and expand it on Scandinavian markets, informs LETA/BNS.