International Internet Magazine. Baltic States news & analytics
Sunday, 25.09.2016, 06:44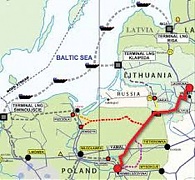 23.09.2016
After Poland postponed the end of implementation of the Gas Interconnector Poland-Lithuania (GIPL) gas pipeline by 2.5 years, Lithuania's gas transmission company Amber Grid will have to terminate the tenders of pipeline acquisition and gas pipeline construction before calling new ones, reports LETA.
21.09.2016
The EU scrapped Wednesday a 90-day limit to its landmark free mobile phone roaming policy, promising checks to curb abuse after the initial plan ran into fierce criticism, reports LETA.
21.09.2016
Executive Secretary of the the United Nations Framework Convention on Climate Change (UNFCCC) Patricia Espinosa in her article in Huffington Post, underlined the urgency of states' actions in climate actions and sustainability. The current rate of progress will only deliver success through every one's extensive sustainability efforts…
20.09.2016
According to an analysis of the Organization for Economic Cooperation and Development (OECD), the biggest problems regarding education in Estonia are teachers, the demographic structure, a big number of people who fail to graduate university and education costs focusing on real estate.
20.09.2016
Lithuania recorded a current account deficit of 417.3 mln euros for the first half of this year, which accounted for 2.3 % of GDP for the period, the central bank said.
19.09.2016
The Baltic-Polish venture capital fund BPM Mezzanine Fund has invested an undisclosed amount of money in the paint producer Eskaro AS, a subsidiary of Eskaro Group AB, BPM mezzanine Fund representative informs BC.
19.09.2016
The European Commission has approved 150 million euros in support for a 345-million-euro biomass and waste-fired cogeneration plant that the state energy group Lietuvos Energija (Lithuanian Energy) is building in Vilnius, reports LETA/BNS.
19.09.2016
The macroeconomic indicators available at this time unfortunately confirm our previously expressed concern: the Latvian economy is cooling down. The year 2016, in all likelihood, will be the year with the lowest growth since the crisis, reports in Forecasts of Latvijas Banka.
19.09.2016
Denmark (3), Finland (7) and Sweden (9) give ScanBalt BioRegion a prominent representation at the top 10 of the list in overall biotechnology innovation according to the recently published 2016 Scientific American Worldview ranking.
19.09.2016
The Spanish Foreign Ministry has declared Latvia's Honorary Consul in Barcelona Xavier Vinyals "not acceptable for the performance of consular functions" and withdrawn his "exequatur" or authorization after the unofficial Catalan flag was exhibited on the facade of the consulate on September 11, the National Day of Catalonia, as Spain's ABC newspaper reported on Saturday, writes LETA.
19.09.2016
Inchape BM Auto, the dealership of BMW, Mini, Alpina, Jaguar, Land Rover automobiles and BMW Motorrad motorcycles in Latvia, will be merged with Inchape Motors Latvia, which sells Mazda and Ford automobiles in Latvia, according to a statement printed in the official gazette Latvijas Vestnesis.