International Internet Magazine. Baltic States news & analytics
Saturday, 26.07.2014, 06:04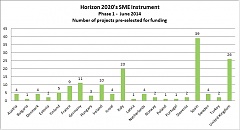 25.07.2014
SME's business plans can be financed from EU support and mature into real products and services, generating growth and jobs for member states' economies. In the first round there are 155 SMEs selected from 21 member states (out of over 2,6 thousand applications); one from Latvia and 2 from Estonia. They will each receive €50,000 to finance feasibility studies. These are EU's efforts of creating "champions of innovation" in the EU.
24.07.2014
"Danske Bank" concluded the first half of 2014 in Latvia with a net loss in the amount of EUR 6.389 million, informs LETA.
24.07.2014
New European Commission's 6th Report on Economic, Social and Territorial Cohesion shows the policy is delivering on the growth goals in the EU-2020 Strategy by creating jobs and reducing disparities across Europe. The report outlines that EU funds and investments will be focused on key areas: e.g. energy efficiency, employment, social inclusion and SMEs. During 2014-20 over €150 bln is expected for Cohesion investments in the member states.
24.07.2014
Andrius Kubilius, the leader of the Seimas Opposition, Chair of the political group of the Homeland Union - Lithuanian Christian Democratic Party (TS-:LKD), is glad that Lithuania has succeeded to receive the final approval to introduce the euro from 2015, informs ELTA/LETA.
24.07.2014
Following the final decision of the European Union General Affairs Council of Ministers on Lithuania's participation in the Economic and Monetary Union (EMU) from 1 January 2015, Chair of the Board of the Bank of Lithuania Vitas Vasiliauskas calls on Lithuanians to do not rush to exchange litas to euros, informs ELTA/LETA.
24.07.2014
After an outbreak of African swine-fever in one of the largest pig farms in Lithuania, the Food and Veterinary Service has halted the import of several pork product categories, including fresh pork meat, frozen pork, as well as various pork product - sausages, ground pork, packaged pork etc, informs NOZARE.LV/LETA.
23.07.2014
Ministers at today's European Union's General Affairs Council gave final approval for Lithuania to join the eurozone on January 1, Latvian Foreign Minister Edgars Rinkevics announced on Wednesday, informs LETA/AFP.
23.07.2014
During the Foreign Affairs Council meeting on 22 July in Brussels, the EU Ministers discussed the crisis in Ukraine that has significantly worsened after the tragic crash of the Malaysian Airlines Flight MH17 in Donetsk, the territory which is controlled by separatists, the MFA said, informs LETA.
23.07.2014
Scandinavian company "Orkla" is interested in acquiring the Latvian food production company "NP Foods", reports NOZARE.Lv/LETA reffering to unofficial information obtained by the LNT television channel.
23.07.2014
Estonian state-owned postal company Omniva, formerly called Eesti Post, will expand its parcel terminal network in Estonia by a quarter, Äripäev Online cites the company, reports LETA.
23.07.2014
Russia's connection with the "Malaysia Airlines" passenger airplane crash in Ukraine has not yet been proven, thus it is too early to talk about new sanctions against Russia, "Itera Latvia" Director Juris Savickis said in an interview with the Latvian Television show "Rita panorama" today, informs LETA.