International Internet Magazine. Baltic States news & analytics
Thursday, 29.10.2020, 12:48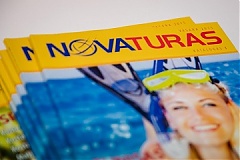 29.10.2020
Novaturas, a leading Lithuanian tour operator, has reported a net loss of 3.7 million euros for the three quarters of 2020 as the COVID-19 pandemic sent revenue plunging to 30.5 million euros, informs LETA/BNS.
28.10.2020
The European Commission on Wednesday launched an additional set of actions to help limit the spread of the coronavirus, save lives and strengthen the internal market's resilience, informs LETA/BNS.
28.10.2020
Lithuania has set attendance limits for sporting and culture events and banned all other big gatherings as of Friday, October 30th, as part of efforts to contain the spread of the coronavirus, informs LETA/BNS.
28.10.2020
EUR 130 mln in financing to support ALTUM's measures to help Latvian businesses cope with the economic consequences of the Covid-outbreak. Signed in early July, so far more than 470 Latvian businesses have been supported with various measures, including lower interest rates and longer repayment horizons.
28.10.2020
The consolidated net profit of listed Estonian electrical equipment manufacturer Harju Elekter in the third quarter of 2020 totaled 1.7 million euros, being bigger by 28.4% than in the same period in 2019, while consolidated net profit for the first nine months of the year surged 88.9% to close to 4.4 million euros, informs LETA/BNS.
28.10.2020
One-fifth of Estonian businesses sold their products via their own website or electronic data interchange (EDI) in 2019 and online sales accounted for 5% of enterprises' total revenue, writes LETA/BNS, according to Statistics Estonia.
28.10.2020
The Latvian Investments and Development Agency (LIAA) in the first nine months of this year attracted investments worth EUR 204 million, said LIAA director Kaspars Rozkalns in an interview with the Latvian public radio today, cites LETA.
28.10.2020
If the epidemiological situation in Latvia deteriorated significantly, and Latvia got into the fourth Covid-19 risk category, only necessity stores would remain open, all entertainment venues would be closed, and health care services would be limited, writes LETA.
27.10.2020
The government decided that starting from Friday, October 30, there will be new restrictions on gathering of people in Latvia, informs LETA.
27.10.2020
The government has decided to increase Covid-19 testing capacity by 60% and extend remote learning for pupils of grades 7-12, said Prime Minister Krisjanis Karins (New Unity) in a press conference after the government and Crisis Management Council meeting today, cites LETA.
27.10.2020
The labor market review soon to be published by the Bank of Estonia finds that after a steep drop in employment and a sharp rise in unemployment in the second quarter of 2020, the labor market remained stable during the summer, according to Bank of Estonia economist Orsolya Soosaar, cites LETA/BNS.