International Internet Magazine. Baltic States news & analytics
Wednesday, 02.09.2015, 13:29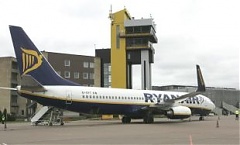 02.09.2015
Ryanair, Europe's favourite airline, on September 2nd released traffic statistics for August 2015. Traffic grew by 10% to 10.4 mln customers, reports BC Ryanair's press service.
02.09.2015
According to the information available to the Delfi Ärileht news portal, a search took place on September 1 in the Remontowa shipyard in Gdansk, Poland, reports LETA.
02.09.2015
Keepers of vehicles registered in Lithuania now can carry out mandatory roadworthiness tests in Germany and apply to 235 accredited inspection bodies in Bavaria, Baden-Wurttemberg, Hesse, Thuringia, Schleswig-Holstein federal states as well Zarlando, Mecklenburg-Western Pomerania regions and cities of Hamburg and Niedersachsen, reported BC the Ministry of Transport and Communications of Lithuania.
02.09.2015
On September 1st, 2015, the Latvian airline airBaltic launched a new route between Riga and Radom, Poland, reported BC Janis Vanags.
02.09.2015
On August 31st, at the European Forum Alpbach in Austria, the Latvian Minister of Foreign Affairs, Edgars Rinkevics, took part in a panel discussion on the European Union's relations with Russia. The Foreign Minister emphasised that developments in Ukraine will serve as a litmus test on the future of relations between the EU and Russia, reported BC the Latvian MFA.
01.09.2015
The euro area (EA19) seasonally-adjusted unemployment rate was 10.9% in July 2015, down from 11.1% in June 2015, and from 11.6% in July 2014. This is the lowest rate recorded in the euro area since February 2012, reports LETA/ELTA, referring to Eurostat, the statistical office of the European Union (EU).
01.09.2015
Current estimates indicate significant savings in organizing the Latvian Presidency of the Council of the European Union (EU), as direct spending on the residency from 2013 to 2015 amounted to EUR 45 million, according to the foreign minister's adviser Martins Dregeris told LETA.
01.09.2015
A non-citizen from Latvia has been detained in Hungary for smuggling illegal refugees, Foreign Ministry spokesman Raimonds Jansons confirmed to LETA.
01.09.2015
Today the Latvian airline airBaltic launched a new route between Riga and Stockholm Bromma airport, reports BC vice president of corporate communications at airBaltic Janis Vanags.
01.09.2015
The Gas Interconnection Poland-Lithuania (GIPL) project has entered a new stage of works. On 21 August 2015, the Environmental Protection Agency under the Ministry of the Environment decided to give permission to perform planned economic activities in connection to the construction of GIPL in the territory of the Republic of Lithuania, informs LETA/ELTA.
01.09.2015
Pursuant to legislative requirements of the Republic of Lithuania, natural gas transmission system operator AB Amber Grid announced its pre-audited operating results for the first six months of 2015, AB Amber Grid reports LETA/ELTA.