International Internet Magazine. Baltic States news & analytics
Thursday, 23.05.2013, 04:49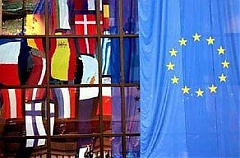 22.05.2013
At the European Parliament plenary session (Brussels, 21 May 2013) José Manuel Barroso, Commission President underlined two important issues for discussion: first, energy, which makes a great impetus into the European business' competitiveness, and second, tax fraud and tax evasion, the issue which needs sharpening common European tools against tax avoiders. Both issues are important for the Baltic States, as well.
22.05.2013
While visiting the South Korean electronics company Samsung during her official visit to South Korea today, Saeima Speaker Solvita Aboltina (Unity) said that Latvia highly values the company's decision to make Riga its regional center of commercial operations, informs LETA.
22.05.2013
Building a nuclear power station in Lithuania is not cost –effective businesswise, thinks Estonia's state –owned energy company Eesti Energia, forecasting that the project that has been in works for seven years will just fade away, LETA/Postimees writes.
22.05.2013
More than 100 Chief Information Officers gathered at the Ritz-Carlton Vienna on April 25 and 26 to debate the hottest current technology and management topics and to learn from each other, IDC analysts, leading ICT vendors, and business gurus about the future of IT and leadership.
22.05.2013
It is important for Latvia to have more foreign students, as University of Latvia Rector Marcis Auzins said during a conference on the development of higher education in Latvia today, writes LETA.
22.05.2013
The Office of the Embassy of the Republic of Lithuania to the Republic of Austria in Zagreb was opened on 20 May, a month before Croatia officially joins the growing EU family. Speaker of the Seimas (Parliament) of Lithuania Vydas Gedvilas and Croatian Minister of Foreign and European Affairs Vesna Pusic attended the opening ceremony, reports BC Lithuania's Ministry of Foreign Affairs.
22.05.2013
On 21 May in Brussels, Deputy-Minister of Foreign Affairs of Lithuania Vytautas Leskevicius called on EU Ministers of European Affairs to confer wide powers on Irish presidency of the EU Council to seek a political agreement in negotiations with the European Parliament on the EU Multiannual Financial Framework, reports BC Lithuania's MFA.
22.05.2013
In the list of the world's best 200 universities in 30 subjects "QS World University Rankings by Subject 2013" that was published by the international consultation firm Quacquarelli Symonds (QS) in May, 2013, the University of Tartu is represented in two subjects for the first time, ranking between 51 and 100 in communication and media studies and between 151 and 200 in modern languages, informed LETA the University of Tartu.
22.05.2013
Electricity price in Estonia decreased by 4.4% in April, averaging at 43.31 euros per MWh, the company said in a statement, reports LETA.
21.05.2013
The European Commission's international jury has decided to award the Melina Mercouri Prize to the "Riga 2014" foundation that is organizing Riga's program of the Capital of Culture, according to the European Capitals of Culture monitoring report.
21.05.2013
Latvian Prime Minister Valdis Dombrovskis (Unity) visited the oil drilling platform in the Baltic Sea today, where Balin Energy, a joint venture of Poland's refinery PKN Orlen SA and Kuwait Energy Co, has begun drilling in Latvian territorial waters, searching for deposits, informs LETA.