International Internet Magazine. Baltic States news & analytics
Tuesday, 28.02.2017, 14:41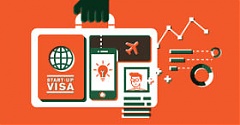 28.02.2017
Today, Lithuania launches a Startup Visa program that will make it easier for innovative entrepreneurs from outside the EU to set up operations in Lithuania. The program will enable non-EU startup founders and their families to fast-track their temporary residence permits, Startup Lithuania`s representative informed BC.
16.02.2017
Tieto Latvia IT company has developed national level instant payments platform for Kenya, BC learned from the company.
16.02.2017
The Estonian telecommunications company Levikom is upgrading its NORAnet network to start offering internet of things (IoT) connectivity services with radio access, including geolocation services, in spring.
15.02.2017
Hyperloop One views the Baltic region as an excellent market and believes that it would be easy to link up Estonia to the Hyperloop transportation link being built in Finland, Alan James, vice president of Hyperloop One, said LETA/BNS.
15.02.2017
As part of his dream of a traffic-free future, Elon Musk has been talking for a while now about boring a tunnel under Los Angeles from the HQ of his SpaceX company to LAX, the city's airport. In fact, he has actually started taking the first steps towards making this seemingly crazy idea come true. On Feb 3 a tweet showing a picture of the first drilling operations was accompanied by a single word: "Minecraft". That was inspiration enough for a team of Lithuanian techies, who decided to complete the entire project for Mr. Musk in just two days. In Minecraft.
15.02.2017
European regions and separate EU states are key players in helping entrepreneurs in business activity, in creating company, in providing grants or arranging taxes breaks. The Commission and other EU institutions decided to include regions and countries in "conversation" on business possibilities in Europe. Hence, the ideas of creating the Startup Europe Week (SEW), a European Partnership (SEP) and a Network (SERN).
14.02.2017
Estonia's e-health solution was awarded with the best technological solution award on Tuesday at the World Government Summit in Dubai, reports LETA/BNS.
14.02.2017
Estonian startups raised a record-breaking 102.5 million euros in investments during 2016, it according from figures published by Startup Estonia writing LETA/BNS.
14.02.2017
Operations of the e-health system can be continued, but immediately a plan of measures for improvement of the system should be developed, said Environment Protection and Regional Development Ministry's representative Laura Jansone.
10.02.2017
By the end of 2016 users of mobile ID in Estonia numbered 111,681 and during the year 41 million transactions were performed via mobile ID, it appears from the data of the certification center SK ID Solutions writes LETA/BNS.
09.02.2017
Shortage of specialists also this year will be the biggest challenge for Latvia's IT sector, said Signe Balina, the Latvian Information and Communication Technology Association (LIKTA) LETA.