International Internet Magazine. Baltic States news & analytics
Sunday, 14.02.2016, 14:39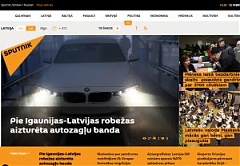 12.02.2016
Latvian version of the Russian propaganda outlet Sputnik, Sputniknews.lv is now up and running, informs LETA.
11.02.2016
Since October 2015, when Mobilly electronic payment system in Latvia started offering tickets not only to electric, but also diesel trains, sales via the mobile application have risen almost twice, said Mobilly CEO Girts Slavins. In January 2016, around 20,000 tickets were sold via Mobilly, growing fourfold from last January.
11.02.2016
Although the Keila city government found out about the plan of PKC to lay off 613 employees next year from the company's press release, it believes that it is possible to find new jobs for all the people, informs LETA/BNS.
11.02.2016
Some of the cash registers installed by Lithuania's largest supermarket chain Maxima support contactless payments already but the technology will not be put into use thus far, the Verslo Zinios business daily reports on February 11th, informs LETA/BNS.
10.02.2016
The North prefecture of the Estonian Police and Border Guard Board continues to be of the opinion that drivers transporting passengers using the Uber app must have a corresponding operating license and doing it without a license constitutes an act of misdemeanor, reports LETA/BNS.
10.02.2016
Uldis Leiterts, a co-founder of the company that has developed Infogr.am data visualization tool, is working on a new start-up, Fragmentic, which will make creation of applications a partly automatic process, informs LETA/BNS.
10.02.2016
Estonian police is about to buy up to 51 sets of Digital Ally DVM 800 in-car camera systems for fitting into police vehicles for a total cost of 260,000 euros during four years, informs LETA/BNS.
09.02.2016
Winners of six Lithuanian Science Prizes were announced in Vilnius on February 8th, 2016, informs LETA/BNS.
08.02.2016
One out of five Internet users in Lithuania last year experienced security-related issues over the Internet, figures from the EU statistical office Eurostat showed on Monday, cites LETA/BNS.
08.02.2016
Estonian citizens who have official dealings with institutions in other European Union countries will from the summer onwards no longer need to send documents by mail and can instead insist on the recognition of their electronic signature, LETA/BNS/Postimees says.
08.02.2016
Estonian startups' satisfaction with national government is almost three times higher than the global average, but a growing shortage of talent and capital are seen as the biggest drawbacks, it appears from an international startup ecosystem study, informs LETA/BNS.