International Internet Magazine. Baltic States news & analytics
Saturday, 29.11.2014, 01:59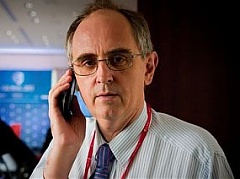 27.11.2014
Estonia's first e-resident will be British journalist and columnist Edward Lucas, Minister of Internal Affairs Hanno Pevkur said on Thursday at the government press conference, LETA/Delfi reports.
24.11.2014
By the end of November, the Ministry of Justice will complete translating 52 most important Estonian laws to Russian, LETA/Public Broadcasting reports.
22.11.2014
Police undertook a Europe-wide action on hackers who had allegedly gained control of internet users' laptops to spy on them — just a day after it emerged that hundreds of cameras had been unknowingly broadcasting from British homes, reports LETA, referring to the British newspaper ''The Independent''.
21.11.2014
Estonian TV sets shopping survey shows that as time goes on, people buy smarter and bigger TV sets, LETA/Postimees Online reports.
21.11.2014
Google still remains the most visited Internet website in Latvia. On the average, 47.5% or 801,000 Latvian residents, aged between 15 and 74, visit Google on a daily basis, according to a study conducted by TNS, informs LETA.
21.11.2014
Extraordinary event has occurred in Lithuania's telecommunications market – one of the most lucrative internet, cable TV and landline telecommunications service providers Cgates is going to be sold, informs LETA/ELTA.
20.11.2014
Today, the development of laws that fulfill the requirements of today's digital society has become one of the most important issues for maintaining security and controlling cyber crime, according to the President, Toomas Hendrik Ilves, who today opened the Networked Security international conference, which is being organised by the Estonian Academy of Security Sciences and brings together experts from approximately 40 countries, reported BC the president's office.
19.11.2014
In November 2014, Estonia presented its new web platform that will allow anyone in the world to have e-residency in the country. E-residency gives secure access to Estonia's digital services and an opportunity to give digital signatures in an electronic environment.
19.11.2014
In November 2014, the e-Governance Academy in Estonia with its partners will start assisting the Ukrainian government in the development of e-governance and the nation's first e-services.
19.11.2014
Estonian Prime Minister Taavi Rõivas yesterday in Helsinki said in his presentation speech held at Slush – the biggest event of start-ups and technology – that e-residency enables Europeans to start their business anywhere in the world and Estonia will be a landmark in this field, reports BC government's press service.
19.11.2014
Research and development expenditure in Lithuania in 2013 amounted to EUR 332 million, while back in 2004 it stood at EUR 137 million. In 2013, the EU28 member-states spent almost EUR 275 billion on R&D, informs LETA/ELTA.