International Internet Magazine. Baltic States news & analytics
Thursday, 30.07.2015, 17:08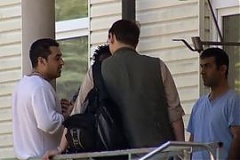 30.07.2015
At the moment, the Riga City Council "has no possibility" of offering premises for refugees in Riga, according to Riga Mayor Nils Usakovs (Harmony Center), cites LETA.
30.07.2015
A new tender for shale gas exploration should be announced, thinks Lithuanian Prime Minister Algirdas Butkevicius, reports LETA/ELTA.
30.07.2015
In 2014, 2,307 persons convicted of a crime were serving a prison sentence in Estonia and a third of them were in jail for at least the fourth time, LETA/Postimees online reports.
30.07.2015
Austrian Airlines signed a new cooperation agreement with Estonia's national carrier Estonian Air, according to which two Estonian Air aircraft will service Austrian Airlines flights, mainly flying to Eastern Europe, LETA/Postimees Online reports.
30.07.2015
On July 29th, the Cabinet of Lithuania approved Prime Minister Algirdas Butkevicius' suggestion to grant support to citizens of Lithuania, people of Lithuanian origin and their families, who wish to move from war-torn regions of Ukraine to Lithuania and get integrated in here, reports LETA/ELTA.
30.07.2015
Latvia may pay dearly if it fails to show solidarity in sharing the burden of refugees in the European Union, Foreign Minister Edgars Rinkevics (Unity) said on his Facebook page.
30.07.2015
Next week, the arrested vessels of Lithuanian Shipping Company (LSC) are expected to receive first money transfers, said Lithuanian Prime Minister Algirdas Butkevicius on July 28th, reports LETA/ELTA.
29.07.2015
Baiba Rubesa will be appointed chairwoman of the board at the joint-stock company RB Rail, a joint venture of the Baltic countries set up for implementation of the Rail Baltica railroad project, reports LETA.
29.07.2015
Vienna Insurance Group (VIG) signed an agreement today on the acquisition of 100% of shares in the Latvian insurance company Baltikums. The company will be fully taken over after the necessary permissions are received, reports LETA, according to VIG.
29.07.2015
The national airline airBaltic is currently in talks with two prospective investors – aviation companies, the possibility to involve all three Baltic countries in airBaltic is also under consideration, Transport Minister Anrijs Matiss (Unity) told LNT television this morning, reports LETA.
29.07.2015
In order to reduce the cost of running an obsolete poultry processing plant in Bauska and instead increase the capacity of a processing plant in Kekava, the poultry companies Lielzeltini and Putnu fabrika Kekava (Kekava) will be reorganized; 124 workers at Bauska processing plant will be laid off during the reorganization, as Kekava CEO Andris Vilcmeiers told LETA.