International Internet Magazine. Baltic States news & analytics
Saturday, 26.09.2020, 21:10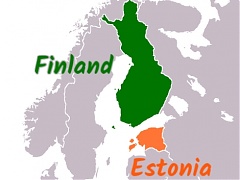 25.09.2020
Due to the increase in the coronavirus infection rate in Estonia, new regulations will start to apply in travel from Estonia to Finland starting from Monday, Sept. 28, the Estonian Foreign Ministry said, cites LETA/BNS.
24.09.2020
At the beginning of October 2020, listed Estonian shipper Tallink will start negotiations with the representatives of the port of Riga (Latvia's capital) on reducing port dues, the "Aktuaalne kaamera" evening news program of public ETV reported on September 23rd, cites LETA/BNS
24.09.2020
The European Union refuses to recognise Alexander Lukashenko as Belarus president after his inauguration that lacked "democratic legitimacy" and Brussels is reviewing its relations with Minsk, the EU's diplomatic chief said on September 24th, informs LETA/AFP.
24.09.2020
Lithuania's minimum wage could be raised by about 35 euros to 642 euros as of next January, Social Security and Labor Minister Linas Kukuraitis said on Thursday, cites LETA/BNS.
24.09.2020
Rigas Namu Parvaldnieks (RNP) municipal housing manager this year will conduct half of the planned repairs, said RNP board chairman Ronalds Neimanis in an interview with LETA.
24.09.2020
The Lithuanian Foreign Ministry said on Wednesday evening that fake news had been posted in its name in an apparent complex cyber-information attack, reports LETA/BNS.
23.09.2020
Latvia is again ranked fourth among the European frontrunners in eGovernment, according to the European Commission's annual eGovernment Benchmark. Estonia is even second, writes LETA.
23.09.2020
Lithuania's Customs Criminal Service has reported about a bold smuggling scheme and detention of four customs officers from the Raigardas road checkpoint, three drivers and seizure of cigarettes worth around 2.5 million euros, informs LETA/BNS.
22.09.2020
The Seimas of Lithuania has on Tuesday adopted a resolution stating that the Astravyets nuclear power plant in Belarus, now nearing completion, poses a threat to nuclear safety of the whole of Europe, therefore preparatory work for its operation, which is absolutely unacceptable due to the existing political instability, should be immediately suspended, informs LETA/BNS.
22.09.2020
The average amount of bribes figuring in criminal cases that the Corruption Prevention Bureau forwarded to the prosecutor's office from 2013 to 2019 was EUR 20,000 to EUR 30,000, LETA learned at the bureau.
22.09.2020
The Cabinet of Ministers on Tuesday supported allotting extra funds from the 2021 budget for increasing healthcare workers and teachers' salaries, as well as changing several taxes to improve social protection of residents, informs LETA.