International Internet Magazine. Baltic States news & analytics
Sunday, 24.06.2018, 19:13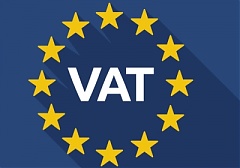 22.06.2018
The Commission has welcomed the agreement reached by the EU states (22.06.2018) on new tools to close loopholes in the EU's Value Added Tax system. Existing inconsistencies can lead to large-scale VAT fraud causing losses of €50 billion for the EU states' budgets each year. New VAT system will provide the EU states with a reliable exchange information system to cooperate closely in combating criminal and terrorist activities.
22.06.2018
Lithuania's parliament on June 21st adopted an updated National Energy Independence Strategy. The strategy has been updated after six years, reports LETA/BNS.
21.06.2018
According to members of the Estonian government, the national designated spatial plan for a pulp mill in South Estonia failed as there was not enough cooperation with the local government and community when initiating the plan, informs LETA/BNS.
21.06.2018
Latvia will continue supporting Ukraine's aspirations to build closer relations with the EU, Latvian Foreign Minister Edgars Rinkevics (Unity) said during the meeting with Ukrainian Foreign Minister Pavlo Klimkin in Kyiv on June 20, informs LETA.
21.06.2018
The European Union (EU) should express strong support for a fair, rules-based multilateral trade system, Latvian Foreign Minister Edgars Rinkevics said at the 6th meeting of the Foreign Ministers of the Baltic States and Nordic countries (NB8) and Visegrad Group countries (V4) in Stockholm on June 19th, reports LETA.
21.06.2018
The Latvian parliament on June 20th passed in the final reading the bill about withdrawal of the public broadcasters from the advertising market in 2021, informs LETA.
21.06.2018
Riga Regional Court on June 20th delivered its verdict in the so-called digital television case, overruling the conviction of former National Theater director Ojars Rubenis but gave fines and real jail sentences to other defendants in the case, informs LETA.
20.06.2018
As the United Kingdom is set to leave the European Union, Ireland is seeking closer ties with the Baltic and Nordic states, Irish President Michael D. Higgins said in Vilnius on June 19th, informs LETA/BNS.
20.06.2018
Hochdorf Baltic Milk, a loss-making Lithuanian producer of milk protein, has been acquired from its Swiss owner Hochdorf Group by the company's management and several Lithuanian milk producers, and an undisclosed foreign investor is set to join in later, informs LETA/BNS.
20.06.2018
Following the assessment of project applications submitted to the grant competition "Support for development cooperation project in recipient countries selected by the Republic of Latvia", the Latvian Ministry of Foreign Affairs has awarded funding (grants) to seven development cooperation projects to be carried out in Central Asian countries – Kyrgyzstan and Uzbekistan – and the countries of the European Union's Eastern Partnership – Moldova, Georgia and Ukraine, informs LETA.
20.06.2018
Latvia and Peru have agreed to expand business, educational and science cooperation, LETA was told at the Latvian Foreign Ministry.