International Internet Magazine. Baltic States news & analytics
Friday, 07.03.2014, 10:43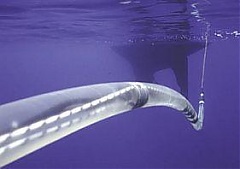 07.03.2014
On March 6th, EstLink 2, the high voltage direct current interconnection between Estonia and Finland, was officially inaugurated in a simultaneous ceremony in both Estonia in Püssi and Finland in Haikko, Porvoo, reports LETA, referring to Estonian main grid company Elering.
06.03.2014
Lithuania's Prime Minister Algirdas Butkevicius see the possible financial threats related to the events in Ukraine for those companies whose activities are closely related to Ukraine and Russia, informs LETA/ELTA.
06.03.2014
Today, Latvia's Saeima adopted a resolution strongly condemning Russia's military aggression in Ukraine, while at the same time emphasizing Latvia's unwavering support for Ukraine's sovereignty and territorial unity, as well as the legitimate, informs LETA.
06.03.2014
From March 22 onwards, the citizens of Latvia will be able to travel visa-free to the United Arab Emirates, the Foreign Ministry's Press and Information Division informed LETA.
06.03.2014
New round of the UN climate change negotiations starts in Bonn (10-14 March 2014), marking the beginning of an intense year of conferences and summits designed to lead to a universal agreement in Paris in late 2015. Bonn meeting includes attempts towards the new global climate agreement, to enter into force from 2020, and finding ways to boost immediate, effective climate action.
06.03.2014
In opinion of Mr. Aigars Šmits, Chairman of the Board of Directors of ARCO REAL ESTATE, the draft law prepared by the Ministry of Economics stipulating provision of support to young families, who want to purchase a home, would not be an effective way to help people. In contrast, an increase of the number of municipal apartments for rent and offering the apartments for long-term rent would give real benefits, says Mr. A. Šmits.
06.03.2014
The agreement, concluded under the pressure of Estonian economy minister Juhan Parts last Friday, that Estonia and Finland will build a joint regional liquefied natural gas (LNG) terminal with the support of European money on both shores of the Gulf of Finland, may be an illusion, LETA/Postimees writes.
06.03.2014
In a middle of 1990-s, current European Transport Commissioner, former Reform Party chairman Siim Kallas, being the head of Estonian national bank, issued banking warranties in amount of more than one billion kroons, LETA/ERR reported referring to an article published in an Estonian daily Eesti Paevaleht.
06.03.2014
The Estonian government approved at its Thursday session of the bill of ratification of Estonian-Russian border agreements, LETA/Public Broadcasting reports.
06.03.2014
In connection to events in Ukraine, under Section 61 Paragraph two of the Immigration Law, Foreign Minister Edgars Rinkevics (Reform Party) has adopted a decision on including, for an indefinite period of time, 18 persons in the list of foreign nationals banned from entering the Republic of Latvia.
06.03.2014
Former Latvian Prime Minister Valdis Dombrovskis (Unity) has withdrawn his candidacy for the President of the European Commission, according to the European People's Party "Twitter" account, informs LETA.