International Internet Magazine. Baltic States news & analytics
Wednesday, 22.05.2013, 07:32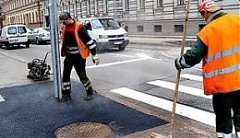 21.05.2013
The government decided today that LVL 348.7 million will be allocated to maintain the country's main highways from 2014 to 2020, while financing to maintain regional roads during this period will be LVL 535.8 million, reports LETA/Nozare.lv.
21.05.2013
On May 20, 2013, the Management Board of the Lithuania-based bank SEB Bankas and the Management Board of SEB Lizingas approved the Reorganization Terms of SEB Bankas and SEB Lizingas, the company said in a statement, informs LETA.
21.05.2013
On Tuesday Lithuania's Prime Minister Algirdas Butkevicius confirmed that as of 2014 wages for cultural personnel and some law enforcement officials will be increased., reports LETA/ELTA.
21.05.2013
Riga Mayor Nils Usakovs (Harmony Center) believes that the Corruption Prevention Bureau's (CPB) recent activities at the Riga City Council's Transport Department is political retaliation by Unity, informs LETA.
21.05.2013
Estonia fulfilled 95.96% of the milk production quota that was allocated it in the quota year that ended with March as the dairy herds of 901 quota holders produced nearly 658,400 tonnes of milk, LETA/Public Broadcasting reports.
21.05.2013
In the future Lithuania's apartments may be heated using shale gas imported from the US. Even President Dalia Grybauskaite thinks so, informs LETA/ELTA, referring to Lietuvos rytas.
21.05.2013
The most valuable parts of the collapsed Lithuanian bank Snoras are finding new owners in Lithuania and abroad but the bankruptcy administrator is not rushing this process, since his and consultants' astonishing salaries depend on the time, informs LETA/ELTA, referring to RESPUBLIKA.
21.05.2013
"The eurozone will not collapse and Latvia must join it, if the country wants to cope with the global changes and challenges affecting all European countries," University of Oxford Professor and Oxford Martin School Director Ian Goldin says in an interview with Nozare.lv, cites LETA.
21.05.2013
"Liepajas metalurgs minority shareholder Kirovs Lipmans, is lying to benefit himself," the company's major shareholder Sergejs Zaharjins points out in an interview for the newspaper Diena, cites LETA.
21.05.2013
The Estonian Supreme Court Criminal College decided not to change the conviction of prominent Estonian businessman Toomas Tool and former SEB Pank broker Karoly Kirber for bourse manipulation, LETA/Public Broadcasting reported on Monday.
21.05.2013
Talks were held yesterday in Riga between the Latvian Minister of Foreign Affairs Edgars Rinkevics and the designated (agréé) British Ambassador Sarah Cowley, with focus on the desired expansion of economic ties, informs LETA.