International Internet Magazine. Baltic States news & analytics
Sunday, 21.10.2018, 02:51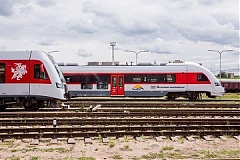 19.10.2018
A Vilnius court has allowed Lithuania's state-run railway company Lietuvos Gelezinkeliai (Lithuanian Railways) to resume a tender, worth around 250 mln euros, for the electrification of the Vilnius rail junction and of a railway section between Kaisiadorys and Klaipeda, informs LETA/BNS.
17.10.2018
The Latvian Corruption Prevention Bureau (KNAB) has conducted another restructuring, seven experienced officials are leaving their jobs, including six who are retiring, according to the information at the disposal of LETA.
17.10.2018
Poland's state-run gas firm PGNiG said on Tuesday it filed a complaint with the EU's top court against a controversial deal by the European Commission to settle an anti-trust case against Gazprom, the Kremlin-backed energy giant, reports LETA/BNS.
16.10.2018
Since 2008, much has been achieved in reducing the number of non-citizens in Latvia, the Foreign Ministry points out in a report to be submitted to the United Nations on economic, social and cultural rights from 2008 to 2017, cities LETA.
16.10.2018
The roof of Maxima supermarket in Riga's Zolitude neighborhood that collapsed in 2013 could have been damaged by a fire that had occurred while the supermarket was being built, and there were other contributing factors, construction engineer Ivars Sergets testified before Riga Pardaugava Court today, cities LETA.
16.10.2018
The Prosecutor General's Office has sentenced former Greens/Farmers MP Askolds Klavins 120 hours community service and ordered him to repay 9,948 euros to the national budget, informs LETA.
16.10.2018
This October all European customers at public filling station will notice new harmonized fuel symbols on fuel dispensers and fuel nozzles. It will give drivers better information on the suitability of fuels for their vehicles while helping them avoid miss-fuelling and provide adequate information on the environmental impact of the fuels used.
16.10.2018
Latvian President Raimonds Vejonis promulgated the bill on publishing files of former Soviet security service KGB, informs LETA referring to the announcement published in Latvijas Vestnesis official gazette.
15.10.2018
A former high-ranking State Police official is a suspect in a criminal procedure launched by the State Revenue Service (Valsts ieņēmumu dienests, VID) on large-scale money laundering and tax evasion of more than 200,000 euros, informs LETA referring to the VID.
15.10.2018
The Office of the Prosecutor General has said that there is nothing criminal in the allocation of specific amounts of money under the Estonian state budget at the discretion of the government, dubbed 'roof money,' and will not open a criminal investigation based on an application filed by the political movement Estonia 200, informs LETA/BNS.
15.10.2018
Limedika, Gintarine Vaistine and Norfos Vaistine, operating one of the largest drugstore chains in Lithuania, have turned to court with a request to order the Competition Council to return information which, they say, is not related to the ongoing probe into competition-restricting agreements, the competition watchdog launched earlier this year, informs LETA/BNS.