International Internet Magazine. Baltic States news & analytics
Friday, 30.01.2015, 00:23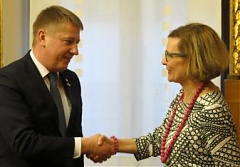 29.01.2015
Latvian Transport Minister Anrijs Matiss (Unity) has invited Finland to take active part in implementation of the standard-gauge railroad Rail Baltica project and in the work of the Rail Baltica joint venture, taking into consideration the project's importance for the entire Nordic-Baltic region, LETA learned from the Transport Ministry.
29.01.2015
On 27 January 2015, the Latvian Presidency of the Council of the EU, the European Economic and Social Committee (EESC) and the Europeans Throughout The World (ETTW) jointly organised a conference entitled "Basic European Right to Free Movement Under Threat", reports BC Latvian MFA.
29.01.2015
The Estonian government approved at its Thursday meeting of the state pension index value for the year 2015, as the result of which, the average increase of pensions from 1 April 2015 is 6.3%, LETA/Public Broadcasting reports.
29.01.2015
On 2 March, 2015, an international conference entitled "Post-2015 and Beijing+20: Women's Economic Empowerment and Sustainable Development – the Synthesis for Success" will take place in the National Library of Latvia, reported BC the Latvian Institute.
29.01.2015
The Parliamentary Assembly of the Council of Europe (PACE) has extended sanctions against Russia until a plenary session in April 2015. The sanctions include suspension of voting rights, participation in standing committees and monitoring of elections as part of PACE delegations, reports LETA/ELTA.
29.01.2015
By now around 25 Estonian milk producers have announced that they intend to completely or partially close their farms, concerning a total of 3,500-8,000 cows or 3-8% of the Estonian dairy cattle, due to the tense situation at the market, LETA/Eesti Päevaleht writes.
29.01.2015
On 28 January, Lithuania's Deputy Minister of National Defence Marijus Velicka and Lieutenant General Leonid Holopatiuk, deputy defence minister of Ukraine, signed the Bilateral Cooperation Plan 2015 of Lithuania and Ukraine during Velicka's visit in Kiev, Lithuania's ministry reported LETA/ELTA.
29.01.2015
The Security Police in Latvia have begun a probe into a picture circulating on the Internet promoting the idea of a ''Latgale people's republic'', LETA found out from the Security Police.
29.01.2015
The bill, which would have set restrictions on the consumer credit annual percentage rate and limited the use of arbitration courts, surprisingly failed on Wednesday in the Estonian Riigikogu, LETA/Postimees Online reports.
29.01.2015
The Government of Lithuania for the meantime does not see any need to introduce the so called ecology tax on old vehicles, says Lithuanian Prime Minister Algirdas Butkevicius, reports LETA/ELTA.
29.01.2015
Following lengthy debates, the Saeima Budget and Finance (Taxation) Committee in Latvia approved in principle a draft bill which sets the microenterprise tax rate at 9% in the first three years since the company's registration, reports LETA.