International Internet Magazine. Baltic States news & analytics
Saturday, 28.02.2015, 15:56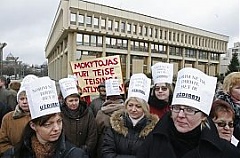 27.02.2015
78 strikes were organised in Lithuania in November and December 2014. 45 of them were warning strikes. Based on the data of Statistics Lithuania, strikes were staged by pre-school, primary, secondary, sports, recreational and cultural education establishments, informs LETA/ELTA.
27.02.2015
State Secretary Heiki Loot gave an overview on Thursday to the outgoing government on fulfilling the government's Action Programme 2014-2015; the government has fully carried out 71% of the programme's objectives, LETA/Public Broadcasting reports.
26.02.2015
On 18 - 19 February 2015, in Riga representatives of eighteen EU member states prepared recommendations for data usage improvement and European citizens' initiative development at the conference and discussion "Open Europe: Open Data for Open Society."
26.02.2015
Although the construction of Rail Baltica railway line takes at least 4 to 5 billion euros, the three Baltic states will ask for only a tenth of the cost of building the infrastructure from the European Commission in the first round of funding, LETA/Public Broadcasting reports.
26.02.2015
Zemgale Region Prosecutor's Office in Latvia has launched a criminal case against Jelgava Clinic Chief of Staff Anna Ziverte, according to information at the disposal of LETA.
26.02.2015
EU's common energy market is the target of the new Commission's strategy towards "energy union". It means, among other things free flow of energy across borders, increased energy efficiency and transition to a low-carbon way of development. Action plan commitments suggest ambitious goals in the EU energy and climate policy.
26.02.2015
Estonian Maritime Administration and Saaremaa shipbuilder Baltic Workboats signed on Thursday an agreement, at the proposal of the Ministry of Economy, for the construction of a new ferry, which will sail on the Sõru-Triigi route connecting Estonia's biggest islands Saaremaa and Hiiumaa, LETA/Postimees Online reports.
26.02.2015
Prime Minister of Lithuania Algirdas Butkevicius does not support the idea to conscript women for military service. However, he says that women are always welcome in the armed service as volunteers, informs LETA/ELTA.
26.02.2015
The absolute majority or 86% of economically-active Latvian residents, aged between 18 and 55, believe that the president of Latvia should be elected by Saeima in an open vote, according to a study conducted in February by the research company TNS in collaboration with the LNT television show "900 sekundes", cites LETA.
26.02.2015
In order to increase the defense budget to 2% of gross domestic product (GDP) by 2018, the state will require additional EUR 94 million next year, in 2017 – EUR 112.2 million, in 2018 – EUR 184.4 million, reports LETA, according to the Economy Ministry's calculations.
26.02.2015
At a meeting with the US Secretary of Energy Ernest Moniz held on 24 February in Washington, Lithuanian Minister of Energy Rokas Masiulis confirmed Lithuania's readiness to purchase liquefied natural gas (LNG) from the USA as soon as US companies start exporting it, reported BC Lithuania's Ministry of Energy.