International Internet Magazine. Baltic States news & analytics
Monday, 20.02.2017, 19:46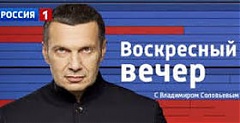 17.02.2017
The Lithuanian decision to ban broadcasts of the Russian television channel RTR Planeta for instigation of hatred is not in violation of the European Union's (EU) law, the European Commission said on Friday, writes LETA.
03.02.2017
Former chairman of the Center Party and suspended mayor of Tallinn Edgar Savisaar can only step down from office and if he does not do that, the situation will be solved after the local elections in the fall.
01.02.2017
A Latvian antiques dealer who stole a 19th-century religious painting from the Chester Cathedral has been jailed for nine months, according to The Guardian reports writing LETA.
01.02.2017
The state-owned energy company Eesti Energia has decided to terminate employment contracts with the two middle-level managers of the Estonia underground mine who are suspected of corruption citing loss of confidence.
31.01.2017
The state of Latvia does not own the rights to 973 soviet films shot at the Riga Film Studio from 1964 to May 4, 1990, the Supreme Court ruled today, writes LETA.
27.01.2017
Lithuania's Financial Crime Investigation Service (FCIS) has conducted searches at the National Paying Agency (NPA), which is in charge of allocating EU funds, reports LETA/BNS.
26.01.2017
Norway has apparently decided to follow "ostrich policy" in the dispute over the Latvian trawler that has been arrested for crabbing on the Norwegian continental shelf and therefore risks losing its full sovereignty over the disputed territory in the process, like it has already happened in a similar dispute with Lithuania, Didzis Smits, a representative of the European Crabbing Association, told LETA.
25.01.2017
Three eastern Europeans, including a man from Latvia, were jailed for five years in Taiwan Wednesday over a USD 2.6 mln cyberheist that used malware to hack into a major local bank's ATM network? reports LETA.
24.01.2017
The Latvian crab trawler Senator has been arrested for fishing snow crab in Norwegian waters off the Svalbard (Spitzbergen) archipelago, Didzis Smits, a representative of the European Crabbing Association, told LETA.
24.01.2017
Interior Minister Rihards Kozlovskis (Unity) told the LNT television channel today that there are more and more cases being reported of extortion attempts on shopping centers and business using bomb threats, citing LETA.
20.01.2017
Lithuanian Finance Minister Vilius Sapoka has sacked Dainoras Bradauskas, head of the State Tax Inspectorate (STI), after a commission set up by the ministry recommended firing him for corrupt activities and gross official misconduct, reports LETA/BNS.