International Internet Magazine. Baltic States news & analytics
Sunday, 20.10.2019, 04:11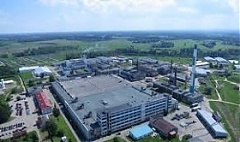 18.10.2019
Vidzeme District Court has adopted a decision approving the plan of Valmieras Stikla Skiedra fiberglass maker's legal protection proceedings and the respective process implementation, according to the company's statement to the Nasdaq Riga stock exchange.
11.10.2019
Vilnius Regional Administrative Court (Court) partially upheld the request of Konkurencijos taryba and restricted the right of D. L., manager of the company Ledevila, Ž. K., former manager of Elmis, and L. K., former manager of Vortex Capital, to occupy managerial positions in the public or private sector for their involvement in competition law breaches, the Lithuanian Competition Council`s representatives informed BC.
10.10.2019
Estonian fish packing and fish processing company M. V. Wool on Thursday morning received an injunction from the Veterinary and Food Board ordering the recall of 200-gram sliced trout gravlax packages from retail, reported LETA/BNS.
09.10.2019
The Corruption Prevention Bureau (KNAB) on Tuesday detained former Daugavpils mayor Rihards Eigims (Our Party) in suspicion of corruption and money laundering, according to the information at the disposal of LETA.
08.10.2019
A court in Helsinki has dismissed all charges in the largest money laundering case ever tried by a Finnish court, in which two Estonian nationals were suspected of laundering 135 mln euros in total, informed LETA/BNS.
04.10.2019
The Riga Regional Court today rejected a EUR 12,134,532 claim filed against the state by Latvian National Library builders, general partnership Nacionalo Buvkompaniju Apvieniba, as the court informed LETA.
03.10.2019
Latvia's PrivatBank has been used to transfer money from Ukrainian gas and oil company Burisma Holdings to Rosemont Seneca, a company belonging to US Vice President Jo Biden's son Hunter Biden, currently involved in US President Donald Trump's impeachment procedure, according to leaked banks statements of Rosemont Seneca, reported LETA.
03.10.2019
The Prosecutor General's Office has renewed charges against Jurmala Mayor Gatis Truksnis (Greens/Farmers) for allegedly illegal financing to the Union of Greens and Farmers, LETA learned from the prosecutor's office.
01.10.2019
The Transport Ministry, as the shareholder of Latvijas Valsts Celi (LVC) state road manager, has decided to remove Edgars Strods from the LVC board after his detention by the Corruption Prevention Bureau (KNAB) on Tuesday, LETA was informed at the ministry.
01.10.2019
Administrative Regional Court today rejected the Riga local authority's request to invalidate the Competition Council's decision to apply a temporary regulation for waste management in Riga, LETA was told at the court.
27.09.2019
At present EUR 151,088 have been suspended in support payments for trade missions organized by the Latvian Chamber of Commerce and Industry (LTRK), Linda Eiduka, a representative of the Latvian Investment and Development Agency said LETA.