International Internet Magazine. Baltic States news & analytics
Saturday, 21.01.2017, 00:06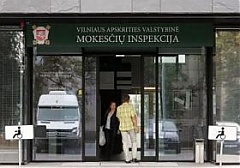 20.01.2017
Lithuanian Finance Minister Vilius Sapoka has sacked Dainoras Bradauskas, head of the State Tax Inspectorate (STI), after a commission set up by the ministry recommended firing him for corrupt activities and gross official misconduct, reports LETA/BNS.
12.01.2017
The European Union's (EU) Court of Justice has been asked to specify whether the claim filed by bankrupt company flyLAL-Lithuanian Airlines (flyLAL) against Latvia's Air Baltic and the Riga Airport can be heard in Lithuanian courts, reports LETA/BNS.
12.01.2017
Two people died in a traffic accident on the Bauska motor road this morning, LETA was told at the State Police.
11.01.2017
The Corruption Prevention Bureau (KNAB) wants Latvian Ombudsman Juris Jansons to make a public apology for his derogatory remarks about the judiciary and the KNAB and to retract those remarks, writes LETA.
11.01.2017
According to Estonian Finance Minister Sven Sester the government's decision to hand over the Tootsi wind farm plot to the state-owned energy group Eesti Energia corresponds with the current laws, reports LETA/BNS.
11.01.2017
The Latvian Customs Police of the State Revenue Service on December 7, 2016, seized 5,213 grams of marijuana from a Volkswagen Passat car driven by a Belarus citizen. A criminal procedure has been launched, reports LETA.
09.01.2017
Dainoras Bradauskas, head of the Lithuanian State Tax Inspectorate (VMI), is suspected of exerting illegal influence on financial inspections of the country's largest business groups, MG Baltic and Vilniaus Prekyba (VP), carried out by the tax authority, BNS/LETA sources said.
04.01.2017
The Riga Northern District Court today completed review of a criminal case against the Freeport of Riga CEO Leonids Loginovs and his deputy Aigars Pecaks, acquitting both, reports LETA.
04.01.2017
The privately owned operator of passenger trains Edelaraudtee, for whom a court has awarded 2.1 mln euros in damages due to premature termination of a contract by the Estonian government, is not satisfied with the size of the compensation and will appeal the decision, LETA/BNS reports.
04.01.2017
The companies Saaremaa Laevakompanii and Vainamere Liinid belonging to Estonian businessman Vjatseslav Leedo have failed to pay the state-owned operator of regional ports AS Saarte Liinid approximately 1 mln euros in port fees, reports LETA/BNS.
04.01.2017
omb hoaxes targeting shopping centers before Christmas were arranged by a group of extortionists, who had demanded money from the retailers, if they wanted to avoid damage to their business from evacuation of their stores which is the usual response of the authorities to any bomb threats, reports LETA.