International Internet Magazine. Baltic States news & analytics
Friday, 27.03.2015, 22:51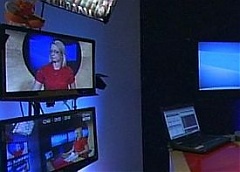 27.03.2015
The Latvian State Television's (LTV) third channel in the Russian language will be created in cooperation with Estonia, and the cost of the project is similar to that of the Estonian channel. Work on the new channel's concept is continuing, and LTV will not comment on the cost of the project or the content of the channel until the concept is approved by the National Electronic Mass Media Council, cites LETA.
27.03.2015
In 2014, 16 people lost their lives in a work-related accident in Estonia; there were altogether 4,635 occupational accidents, which is nearly 11% more than the previous year, said the Director General of the Labour Inspectorate Maret Maripuu, LETA/Public Broadcasting reports.
27.03.2015
Pauls Stradins Clinical University Hospital in Riga has announced a competition for the vacant position of the Finance Department's head, reports LETA, according to information published on the hospital's website.
27.03.2015
On behalf of his organization, leader of the Latvian Non-Citizens' Congress, Aleksandrs Gaponenko, has requested legal assistance from the Russian State Duma, Gaponenko announced on Thursday, cites TASS/LETA.
27.03.2015
The European Commission (EC) has today decided formally to request Bulgaria, Hungary, Lithuania, and Slovakia to submit their observations on their laws regulating the acquisition of agricultural land, the institution said in a press release yesterday, cites LETA/ELTA.
27.03.2015
Lithuania's National Commission for Energy Control and Prices (VKEKK) on March 26th 2015 fined Lithuania's electricity transmission system operator Litgrid EUR 100,000, informs LETA/ELTA.
27.03.2015
The Riga Circus has calculated the amount of losses caused by the recent fire, estimating up to EUR 35,000, the circus' manager Lolita Lipinska informed LETA.
27.03.2015
The political consultations of Foreign Ministries of Lithuania and Kazakhstan on 26 March in Astana focused on possibilities for further development of bilateral relations, Kazakhstan's relations with the European Union, security situation and regional cooperation in Central Asia, reports BC Lithuania's MFA.
27.03.2015
The Estonian government decided on March 26th, 2015 to allocate EUR 2.8 million for the completion of the Narva border crossing point construction, LETA/Delfi reports.
27.03.2015
In the first reading on March 26th 2015, Latvian Saeima approved in principle several draft bills stipulating that only parties with at least 500 members will be eligible to run for the Saeima and European Parliament elections, reports LETA.
27.03.2015
The head of the Central Anticorruption Bureau (CBA) of Poland and the Director of the Special Investigation Service (STT) of the Republic of Lithuania signed a cooperation agreement, the STT reports LETA/ELTA.