International Internet Magazine. Baltic States news & analytics
Monday, 24.11.2014, 08:37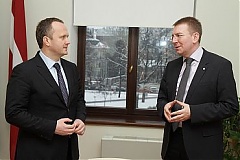 22.11.2014
On 21 November, 2014, the Minister of Foreign Affairs of Latvia Edgars Rinkevics met with the Minister of the Cabinet of Ministers of Ukraine, Ostap Semerak. Edgars Rinkevics congratulated Ostap Semerak on the first anniversary of the Euromaidan protests, which has been declared the Day of Honour and Freedom in Ukraine, reports BC press service of Latvian MFA.
22.11.2014
The Seimas of Lithuania had decided to allocate 2% of revenues from excise duty on manufactured tobacco to the Programme for the Prevention of Use of Psychoactive Substances (Inter-institutional Action Plan) approved by the Government, the Seimas press service said, cites LETA/ELTA.
22.11.2014
Police undertook a Europe-wide action on hackers who had allegedly gained control of internet users' laptops to spy on them — just a day after it emerged that hundreds of cameras had been unknowingly broadcasting from British homes, reports LETA, referring to the British newspaper ''The Independent''.
21.11.2014
The prosecutor in charge of the so-called Daugavpils siltumtikli affair has brought charges against six persons for bribery, abuse of authority, and fraud.
21.11.2014
On 20 November, the Under-Secretary of State for European Affairs, Inga Skujiņa, and the Head of the Bilateral Relations Directorate, Einars Semanis, met with David Tilson, the Head of the Canada-Europe Parliamentary Association of the Canadian Parliament and his delegation, reported BC the Latvian MFA.
21.11.2014
Today, one year passes since the roof of a Maxima supermarket collapsed in the Zolitude neighborhood of Riga, killing a total of 54 people, including several rescuers, reports LETA.
21.11.2014
Representatives of the Riga Construction Board have inspected about 300 public buildings in Riga since the Zolitude tragedy. A total of 3,886 buildings were inspected in the first nine months of the year 2014, the Riga Construction Board informed LETA.
21.11.2014
The Estonian government discussed at its Thursday evening cabinet meeting the establishment of a Russian-language TV program, and gave its support to it; to make the final decision, the Ministry of Finance and Ministry of Culture need to find financing sources for around EUR 4 million per year, LETA/Pubic Broadcasting reports.
21.11.2014
Russia would like to ratify the border treaty with Estonia, but in the current tense political situation, does not see any possibility for it, due to Estonia's own behaviour too, Russian State Duma Foreign Affairs Committee Chairman Alexei Pushkov told Estonian Public Broadcasting, cites LETA.
21.11.2014
During its presidency of the Council of the European Union next year, Latvia will play an important role in the region's security, NATO Secretary General Jens Stoltenberg said after meeting with Latvian President Andris Berzins on Thursday, informs LETA.
21.11.2014
Vilnius Municipality is a founder and shareholder of more than 400 companies and it is not avoiding to fund them, informs LETA/ELTA, referring to Lietuvos zinios.