International Internet Magazine. Baltic States news & analytics
Tuesday, 30.09.2014, 22:53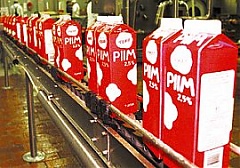 30.09.2014
The Estonian dairy industry sales revenue in the first half of the year 2014 was by nearly 10% higher and profit increased by 1.7% compared to the same period last year, LETA/Public Broadcasting reports.
29.09.2014
The Maxima store chain planning to open up to 20 stores in Estonia over the next three years and thinks that the current and future stores give the company the opportunity to become the retail market leader in Estonia by 2016, said Chief Executive Officer of Maxima Eesti Vaidotas Pacesa, Äripäev.ee/LETA reports.
29.09.2014
Xinhua News Agency's Europe Regional Bureau on Thursday launched a mobile app – Xinhua Europe – in a bid to strengthen China's media coverage of Europe and help people in Europe know more about China.
29.09.2014
In August 2014, 508,820 passengers traveled to and from International Airport Riga, which is almost three percent more when compared to August of last year, the airport has informed LETA.
29.09.2014
On the sidelines of the 69th Session of the UN General Assembly (UNGA), Latvian Foreign Minister Edgars Rinkevics met with the Minister of Foreign Affairs of the United Arab Emirates (UAE), Sheikh Abdullah bin Zayed Al Nahyan, LETA was informed by the Foreign Ministry.
26.09.2014
It is well-known that "social market economy" is the main European Union's development motto. Social responsibility becomes a motto for business leaders and decision-makers in the Nordic states as well. New trends in corporate social responsibility (CSR) were revealed recently at a conference in Denmark. Can corporate leadership in the Baltic States accept CSR principles in their strategies?
26.09.2014
The Drupa team, represented by Viesturs John Drupa and Mara Bertina made their chili a winner at the 10th Annual Chili Cook-Off organized by the American Chamber of Commerce in Latvia (AmCham) on September 25 at the restaurant PinUp, informed BC executive director Liga Smildzina-Bertulsone.
26.09.2014
According to Statistics Estonia, a total of 24 million tourists stayed in Estonian accommodation establishments in the years 2004-2013; of these, a third were local, the rest foreign tourists, LETA/Public Broadcasting reports.
26.09.2014
Ryanair, Europe's favourite low fares airline, launched its Lithuanian summer 2015 schedule with 28 routes in total including two new summer routes from Kaunas to Shannon and Vilnius to Madrid, which will deliver 1.2m customers p.a. and support over 1,200* on-site jobs at Kaunas and Vilnius airports, reported BC Vilnius airport's press service.
26.09.2014
Lithuania has a proven track record in PPP's, ranking 1st in Eastern Europe for the comprehensiveness of its PPP regulatory framework. Invest Lithuania intends to build on that experience going forward, reports BC the press service of Invest Lithuania.
25.09.2014
In January-August 2014, the overall cargo handling in the Baltic Eastern Coast Seaports totalled 245,980.8 thou. tn; the year-on-year change is +3.9% or +8,917.1 thou. tn, reports BC Klaipeda port's press service.