International Internet Magazine. Baltic States news & analytics
Sunday, 19.04.2015, 12:27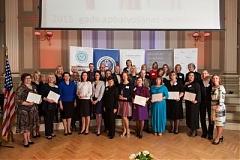 17.04.2015
On April 16th 2015 during the Awards Ceremony and Dinner at the State Gymnasium No.2, the winners of the Human Development Award 2015 were announced in Latvia: Jurmala Protection Association, subsidiary of Tautskola 99 Baltie zirgi "Ikskiles Briva Skola", "Ronald McDonald House Charities Latvija" Care Mobile and Andris Ceksters, reported BC executive director at AmCham Latvia Liga Smildzina-Bertulsone.
17.04.2015
The Estonian government approved on Thursday of handing over real estate units near the Tallinn Seaplane Harbour from justice ministry to interior ministry in order to erect the European Union IT agency's permanent headquarters building there, interior ministry press department announced LETA.
16.04.2015
New passenger car registrations in Latvia increased by 25.7% in March 2015, which is the largest largest increase among all European countries covered by the latest report of the European Automobile Manufacturers Association (EAMA), reports LETA.
16.04.2015
In 2014, the total sales of direct selling industry in the Baltic States grew by 2.5% and exceeded 102,5 million euro (without VAT). Meanwhile, the number of people involved in direct sales increased by 1.5% and it reached more than 128 thousand persons.
16.04.2015
Vilnius City Municipality Council approved of the construction of a multifunctional health, education and activity centre in Vilnius. A tender for investors should be announced in May 2015, reports LETA/ELTA.
16.04.2015
For the first time ever, the profit of Troja, a subsidiary of the Latvian plywood maker Latvijas Finieris, exceeded one million euros last year, reaching EUR 1.626 million, which is 8% more than in 2013, when the company earned EUR 951,986, reports LETA, according to information provided by Firmas.lv.
15.04.2015
In 2014 as compared to 2013, the number of foreign travellers has increased by 7.3%, according to the data of Central Statistical Bureau (CSB). Foreign travellers crossed the border of Latvia 6.2 mln times and spent 668.5 mln euros, which is more by 60.2 mln euros or 9.9% than a year ago.
15.04.2015
Analysis of processed registrations' data performed by AV Automotive Research / AutoTyrimai, based on source data obtained from Regitra (Lithuania), CSDD (Latvia) and Maanteeamet (Estonia), shows that new light-vehicle (M1&N1) registrations in the Baltic States increased by 9.4% to 14'027 units in I quarter 2015, reports BC press service of AutoTyrimai.
15.04.2015
The Vika Wood Ltd. sawmill in Talsi Region in Latvia, owned by and Icelandic company, operated with EUR 59.13 million in turnover in 2014, which was 5.7% more when compared to the previous year, when the company posted EUR 55.98 million in turnover, according to information from Firmas.lv, cites LETA.
15.04.2015
Hungary's low-cost airline Wizz Air on Wednesday announced that it is going to open three new routes in autumn 2015 from Vilnius International Airport – to Munich, Glasgow, and Kiev, reports LETA/ELTA.
15.04.2015
In the first three months of 2015, the number of newly-registered passenger vehicles and commercial motor transport in Latvia reached 3,746, which is 9% more than in the respective period last year, the Latvian Automobile Association informed LETA.