International Internet Magazine. Baltic States news & analytics
Wednesday, 23.09.2020, 19:59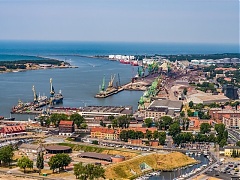 23.09.2020
The Lithuanian seaport of Klaipeda handled 30.2 million tons of cargo in January-August, 2020, down of 3.5% year-on-year, the port authority said on Wednesday. In August alone, handling volumes increased by 11%, reports LETA/BNS.
22.09.2020
Luminor Bank has loaned 1.9 million euros for the construction of a new plastic packaging plant of Terekas, a Lithuanian company that operates abroad under the FlexBlow brand, in the western district of Kretinga, informs LETA/BNS.
22.09.2020
EBV Finance, a Vilnius-based tax refund services provider, is setting up an operations center in Lithuania after becoming part of the global corporation Edenred, informs LETA/BNS.
22.09.2020
The Columbus Blue Jackets goaltender Elvis Merzlikins has become the first Latvian hockey player to be named to the NHL's All-Rookie Team, informs LETA.
22.09.2020
Estonian technology company EyeVi Technologies is developing the in-car mapping technology EyeVi, which automatically detects road markings and road surface defects as well as creates accurate maps for driving self-driving cars.
21.09.2020
Estonian ports handled 2.96 million tons of cargoes in August, 3% more than in the same month last year, data available from Statistics Estonia show, cites LETA/BNS.
21.09.2020
Starting from September 21, Nasdaq Vilnius will run the Lithuanian state-owned energy group Ignitis Group's share auction as a part of its initial public offering (IPO), during which approximately 470.3 to 585.2 mln euros' worth of shares will be listed and the price range of a share is 22.5 to 28 euros.
21.09.2020
In the first eight months of this year, Latvian startups attracted investments worth EUR 13 mln, said Diana Lace-Davidova, the executive direction of the Latvian association of startups, Startin.lv, in a forum today, referred LETA.
21.09.2020
Estonia wishes to reduce carbon dioxide emissions by 23 to 38% by 2035, while the end consumption of energy by transport would not increase and the share of renewable energy in it would be at least 22.7%, it appears from the initial version of the country's new transport and mobility development plan for 2021-2035, cites LETA/BNS.
21.09.2020
Some 81.3 million tons of freight were transported in Lithuania by all means of transport in the first half of 2020, up 0.6% from January-June, 2019, writes LETA/BNS.
21.09.2020
The Swedish subsidiary of listed Estonian electrical equipment manufacturer Harju Elekter Group, SEBAB AB, signed a 3.5 million euro electrical project contract with the administrative body Region Stockholm, which is responsible for public transport; the contract will be the basis for the major refurbishment of the Slussen metro station's substation, informs LETA/BNS.