International Internet Magazine. Baltic States news & analytics
Monday, 30.11.2015, 06:23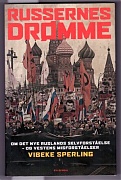 09.10.2015
In recent years, there have been numerous publications on Russian internal and external policies: it seems all – politicians, academics and publicists- wanted to write a few lines "about Russia" in their involvement to better understanding of the Russian way of life.
29.06.2015
Presentation of the book "Latvia and Turkey: Distant and Near" took place in Ventspils on June 25, 2015 in the frames of the European Third-Country Nationals Integration Fund 's Project (Grant Agreement Nr. IF/2013/1.a/20).
24.06.2015
A collective manuscript, written by scientists from Copenhagen Business School, CBS (nine from the CBS and one from Southern Danish University) is a fundamental attempt by the Danish intellectuals to dwell on the importance of identity (in particular, a collective identity) in politics and cultural debates.
20.05.2015
A book about Latvian, Baltic, and Nordic films and the filmmaking industry – "Stork Flying over Pinewood", which was officially presented by Liv Ullmann at the Riga International Film Festival 2014, has landed in bookstores.
14.05.2015
On May 18 at 10:00 at Astor Riga Hotel (Z. Meierovica Blvd. 10), the Latvian Institute of International Affairs (LIIA) organizes a public discussion and a presentation of the book "Different Faces of 'Soft Power': The Baltic States and Eastern Neighbourhood Between Russia and the EU".
12.03.2015
On 10 March 2015, a seminar took place at the Vatican Apostolic Library the historical album entitled "Terra Mariana. 1186-1888". Occurring at the time of the Latvian Presidency of the Council of the European Union, the seminar focussed on the cooperation between Latvia and the Vatican preparation of the unique "Terra Mariana" album and the academic commentaries that accompany it, reports BC the Latvian MFA.
24.02.2015
"Attempt on the state" is a modern detective story based on real events and irrefutable facts, which reflects a harsh story of a Latvian businesswoman and a tough confrontation between a high-ranking official and a group of criminals assisted by employees of the special services, and then by corrupt politicians. This story is resolved by life itself. What kind of resolution will it be? Justice is remaining silent for now.
19.11.2014
The book explores Swedish national policy in regional development in line with the EU regional policy ideas to strengthen economic, social and territorial cohesion by reducing disparities in the level of development among regions in the member states. It means, literary, investing in regions' indigenous potential to promote competitiveness of regional economies and providing permanent catch-up of those lagging behind with more prosperous areas.
08.10.2014
Latvian writer Janis Jonevs is one of the winners of 2014 European Union (EU) Prize for Literature for his novel "Jelgava '94", according to a press release published by the European Commission, informs LETA.
23.09.2014
Human rights activists from different countries met in Warsaw last week to express support to Latvian entrepreneur Inara Vilkaste, wife of former director of Customs Criminal Board Vladimir Vashkevich, whose family is being harassed in their home country.
09.09.2014
New book on Estonia and Latvia cooperation "Estonia-Latvia Stories" has been published in Estonian, Latvian and English. It contains sixty-seven short stories about cooperation between partners in Estonia and Latvia, written by eight writers from both countries and illustrated by six photographers.