International Internet Magazine. Baltic States news & analytics
Wednesday, 03.09.2014, 05:10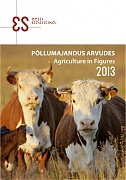 28.07.2014
The pocket-sized reference book provides information about the economic indicators of Estonian agriculture, agricultural land use, the area and yield of field crops and fruit and berry plantations, the number and production of livestock, and the use of mineral and organic fertilisers. Comparisons with previous years ensure a thorough overview of the development of Estonian agriculture. The information is presented as tables and diagrams.
22.05.2014
The bankruptcy of the joint-stock metallurgical company Liepajas metalurgs is the greatest economic disaster to strike Latvia since the collapse of Parex Bank, Lato Lapsa, representative of the publishing house "Baltic Screen" and the co-author of a book about the company and its demise, said during a presentation of the book yesterday, reports LETA.
29.04.2014
The book «Eurasian project of Nursultan Nazarbayev which has been brought to life. To the 20th anniversary of the Eurasian project 1994-2014» was published in March of 2014. The Author of the book is well-known Kazakh politician and diplomat, the EurAsEC Secretary General, Doctor of Economics, Tair Mansurov.
09.04.2014
On Wednesday, a book Lithuania and NATO: Together for 10 Years to mark Lithuania's NATO membership will be presented at the Ministry of National Defence, reports LETA/ELTA.
18.02.2014
President of Estonia Toomas Hendrik Ilves presented a book Raagib Riigipea (Govorit glava gosudarstva/The Head of State Speaking) in Tallinn Central Russian Gymnasium, which collates a selection of speeches given by the Head of State from 2006 to 2012, and a longer interview especially given for this book, the Estonian government's and state chancellery's press service said in a statement, cites LETA.
12.02.2014
All Baltic States have good relationships – economic, trade, cultural, tourist, etc. – with the United States. Besides, English is the most spoken foreign language in the Baltics. What is missing, for sure, is a lack of understanding of the USA's legal system. The book has shown how to make one's way to studies in American law school in a most efficient way.
08.10.2013
The edition "Tallinn. Facts and Figures" gives a substantial overview of important information using diagrams and figures to characterize the city of Tallinn, LETA/Tallinn.ee reported.
02.10.2013
European Parliament Member (MEP) Sandra Kalniete's book about the Latvian Popular Front movement of the late 1980s and early 1990s called "Song to Kill a Giant: Latvian Revolution and the Soviet Empire's Fall" has been published in English.
01.10.2013
J.Habermas acquired most respect as a teacher and mentor for many theorists working in political sociology, social theory, and social philosophy. Since his retirement from teaching he has continued to be an active thinker and writer.
01.08.2013
Statistics Estonia has launched the publication "Eesti Statistika Aastaraamat 2013. Statistical Yearbook of Estonia", which provides an overview of the life in Estonia last year in comparison with earlier years and in other European Union countries, the Statistics Department of Estonia said in a statement, cites LETA.
03.07.2013
A new book has been published in the United States called "Biruta's Garden of Stories: A Latvian Odyssey", which is about a Latvian woman's personal account of life in Soviet Latvia, LETA was informed by the Latvian Occupation Museum's public relations department.