International Internet Magazine. Baltic States news & analytics
Thursday, 02.04.2020, 00:00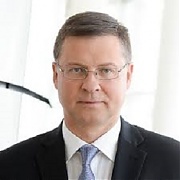 01.04.2020
After the Covid-19 pandemic, economic recovery in Europe and Latvia will depend on how many businesses and jobs are preserved during the crisis, the European Commission's Vice President Valdis Dombrovskis said in an interview with LETA.
27.03.2020
In mitigating negative effects to the member states economy, the governments are facing numerous challenges: disruption of supply chains, lower consumer demand, production deficiencies, as well as decrease in investment and liquidity constraints for undertakings. The Commission has approved Latvian loan guarantee scheme and subsidize for companies affected by coronavirus outbreak.
27.03.2020
A total of EUR 85.68 mln were paid into Latvia's private pension funds in 2019, which is a 11.3% increase against 2018, according to the data of the Financial and Capital Market Commission writes LETA.
26.03.2020
There are no disruptions in Lithuania's energy sector after the country was placed under quarantine due to the new coronavirus, and energy projects are being smoothly implemented, the energy minister and executives of the power and gas transmission operators say, reported LETA/BNS.
26.03.2020
The Bank of Latvia expects Latvia's gross domestic product to drop 6.5% this year, while average annual inflation is estimated at 0.5%, the central bank told LETA.
25.03.2020
Estonian banks on Monday raised the limit on contactless payments to 50 euros in an effort to minimize contact so as to curb the spread of the novel coronavirus, and so far, 75% of terminals have been updated in the central systems, informed LETA/BNS.
24.03.2020
Initially, downtime pay during the period of the Covid-19 crisis will be provided to around 73,000 employees in transport and logistics, hospitality, tourism and creative industries, according to regulations worked out by the Economics Ministry and adopted by the government on Tuesday, reported LETA.
24.03.2020
Estonian Health Insurance Fund will cover urgent coronavirus treatment and testing upon a family doctor's referral for people who do not have health insurance, the "Aktuaalne kaamera" news program of ETV public television reported.
23.03.2020
The Kalsnava Distillery alcohol manufacturing plant adjusted its manufacturing to produce alcohol for disinfectants manufactured in Latvia.
20.03.2020
The state will execute advance payments of social tax on behalf of self-employed persons for the first quarter to help such individuals cope with the impact of the economic difficulties going with the crisis, reported LETA/BNS.
20.03.2020
Cultural and creative sector, including SMEs, remains poorly exploited and at risk, European Commission acknowledges. Great and important cultural sector's potentials in all EU states require some support: hence, modern European guarantee's program is aimed at providing support. The Baltic cultural sphere shall be more active in acquiring these funds.