International Internet Magazine. Baltic States news & analytics
Wednesday, 23.05.2018, 21:48
Finnish - Latvian business cooperation
Lolita Pankova, Head of the Board FinBalt Consulting Ltd. , specially for BC, 24.11.2010.
Print version
Finnish Trade center –Finpro insure assistance to Finnish companies in entering international markets including Baltic countries and particularly Latvia. Finpro has its own office in Lithuania. Finpro activities in Latvia are provided by Finpro partner – FinBalt Consulting Ltd. FinBalt Consulting offers export market entry assistance as tailored market analyses, partner identification and attraction both for entering Latvian and Finnish markets.
Finnish Latvian trade
Major Finnish export products:
•                     Machinery and electrical equipment
•                     Chemical industry products
•                     Paper, paper board
Import from Latvia:
•                     wood and wooden articles
•                     articles of iron and steel
•                     Transport vehicles
•                     Machinery and electrical equipment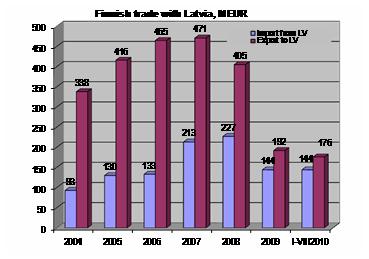 Source: Finnish customs.                                                                                             
Finish Latvian Trade turnover has decreased by 52% in 2009. Recovery started in 1H2010 and is expected that Finnish exports to Latvia could increase by 20%-30% in 2010.
Latvian exports to Finland were affected by the economy downturn to substantially less extent and has received last year's level already in 8 months of 2010/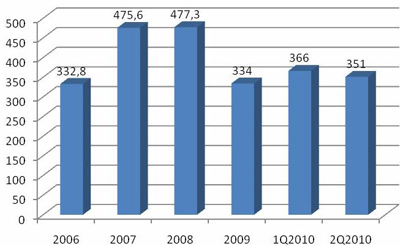 Finnish direct investments in Latvia, cumulative in MEUR
Source: Bank of Latvia.
Finnish investments in Latvia decreased by 30% in 2009, making  up 4,1% of total FDI in Latvia.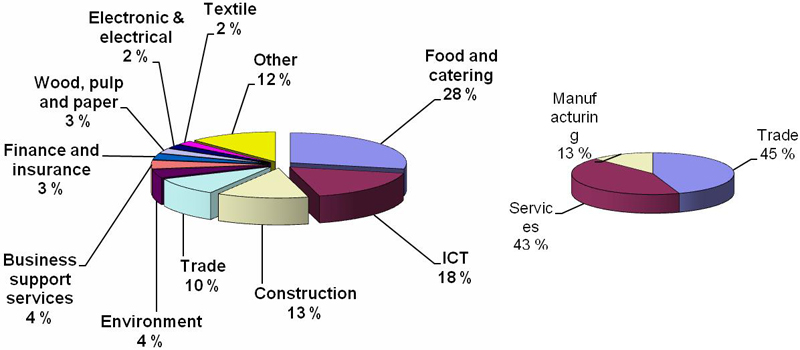 Finnish companies by industry sectors in Latvia; Structure by sectors
Largest investors are Nordea Bank, Wihuri Oy,  Elektroskandia Suomi Oy, Pohjola bank plc, Fazer bakeries Ltd., Konekesko Oy, Rautakirja Oy.
Finnish presence in Latvia is characterized by 349 companies registered at Enterprise Register of Latvia. The number has decreased slightly in the last years. Nevertheless Finnish investors did not performed "leaving" policy during last 2 years of economy decline in Latvia. In majority cases optimization of costs, adjustment of capacity and consolidation took place.
Finnish companies are investing currently to increase their competitiveness and optimize  costs.  Among those companies we can mention Cesu alus (Olvi), HK Ruokatalo  and Fazer bakeries.
Situation and wellbeing of Finnish companies in Latvia is similar to others in the industry and depend very much on the sector behavior and success. Many companies are reporting stabilization and volume increase and are catching up with opportunities arising from current situation.
For example StoraEnso packaging is reporting stabilization and increase of production volumes and investments in 2009/ 2010. HK Ruokatalo (Finnish meet producer) acquired the 3rd largest meet processing plant - Jelgavas JGK through its Latvian subsidiary. Prisma is planning expansion in short term.
In the same time companies in the construction sector and printed mass media still suffer from decreased market demand and low purchasing power of inhabitants.