International Internet Magazine. Baltic States news & analytics
Tuesday, 26.10.2021, 08:12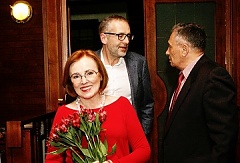 30.12.2020
What an irony of the destiny that in the year of its 25th anniversary an international magazine The Baltic Course is leaving the market of mass media. A website about business and analytical news of Baltic States shall remain in the World Wide Web, but starting from 1 January 2021 it will no longer add new articles. This is a final decision. This is not a bankruptcy, our small firm doesn't have a single debt, not even to the state.
28.12.2020
HeidelbergCement Group, which also includes the Estonian company Kunda Nordic Tsement AS, is to install the world's first full-scale carbon capture and storage (CCS) facility in its cement plant in southern Norway, informs LETA/BNS.
23.12.2020
German-owned retailer Lidl Lietuva will have to destroy 38,400 cartons of chicken eggs delivered from Ukraine, which have been found to be contaminated with Salmonella, the Lithuanian State Food and Veterinary Service said on December 22nd, cites LETA/BNS.
22.12.2020
Initially, 4,875 medics will be vaccinated against Covid-19 in Latvia, said State Medicines Agency (ZVA) director Svens Henkuzens in a press conference today, informs LETA.
22.12.2020
The first batch of Covid-19 vaccines that will be delivered to Latvia shortly is expected to contain 9,750 doses of the Pfizer-BioNtech vaccine, LETA was told at the State Medicines Agency.
22.12.2020
Due to the aggressive spread of the new coronavirus strain in the United Kingdom, flights to and from the UK have been suspended and also the movement of parcels from the UK to Estonia and vice versa has been halted until the new year. Lietuvos Pastas (Lithuanian Post) also has warned of delays in parcel deliveries to and from the United Kingdom amid new transport restrictions, informs LETA/BNS.
21.12.2020
The European Commission on Monday authorized the vaccine against Covid-19 developed by Pfizer and BioNTech for use in the European Union (EU), paving the way for the start of vaccination in the next few days, informs LETA/AFP/DPA.
21.12.2020
The Supervisory Board of JSC "Latvia's State Forests" (LVM) has concluded a comprehensive evaluation of the round timber assortment sales process. Based on compliance, financial, economic and legal examination performed by independent experts, the Supervisory Board concludes that the process of selling round timber assortments organized by LVM complies with the requirements of legislation and internal regulations, as well as has been economically justified, providing the company with an additional profit of 14.5 million euros during the period between 2016 and 2020.
18.12.2020
Swedish technology company Hanza Holding AB is expanding its capacity for regional manufacturing in the Baltics by investing about 80 million Swedish kronor or 7.9 million euros in a new production facility of just over 12,000 square meters in Tartu, Estonia, reports LETA/BNS.
18.12.2020
The goal for Saunum Group, which made its debut on the First North market of Nasdaq Baltic on Friday, is to try and make it to the markets of Germany and Sweden in 2021, CEO Henri Lindal said on December 18th, cites LETA/BNS.
18.12.2020
Estonian Minister of Foreign Affairs Urmas Reinsalu said that the end of the Brexit transition period on Jan. 1, 2021, entails a number of changes that do not depend on the ongoing negotiations between the European Union and the United Kingdom over future relations, informs LETA/BNS.