International Internet Magazine. Baltic States news & analytics
Friday, 22.11.2019, 18:27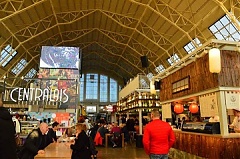 22.11.2019
Searches at Rigas Centraltirgus (Riga Central Market) on Thursday were related with illegal circulation of excise goods, LETA learned from the State Police.
19.11.2019
On November 28, the Trade Union of Health and Social Care Employees of Latvia will hold a protest in front of the Saeima building to demand dissolution of the parliament, express no confidence in Health Minister Ilze Vinkele (For Development/For) and ask the president to return the 2020 budget to Saeima for a repeat review.
19.11.2019
Riga Mayor Olegs Burovs (Honor To Serve) has decided to suspend the board of Rigas Namu Parvaldnieks (RNP) municipal housing manager, and has reinstated the board of Rigas Centraltirgus (Riga Central Market) that was earlier suspended by former vice mayor Vadims Baranniks (Faction of Independent Lawmakers).
19.11.2019
During the first ten months of 2019, Latvia's Olainfarm pharmaceutical group generated EUR 118.9 mln in consolidated revenue, which is an increase of 17% against against the same period a year ago, according to the company's statement submitted with the Nasdaq Riga stock exchange.
19.11.2019
With support from opposition members of Riga City Council, Vadims Baranniks (NDF) was today dismissed as Riga vice-mayor, reported LETA/BNS.
19.11.2019
During the first nine months of this year, Latvian exports of wooden furniture fell 6.6% from the same period a year ago, with most of the Latvian-made furniture sold in Denmark, according to information released by the Agriculture Ministry writes LETA.
15.11.2019
Riga Vice Mayor Vadims Baranniks has suspended the board of Rigas Centraltirgus (Riga Central Market), municipal market operator, the vice mayor confirmed in a conversation with LETA.
14.11.2019
Estonian craft beer brewer Põhjala Brewery opened a pop-up bar in Beijing for two months, selling only craft beer from the Põhjala Brewery. The bar sells ten different Põhjala beers from barrels and the selection changes constantly. Põhjala Brewery entered the world's largest beer market in 2016 and the company is testing the market for further expansion plans.
14.11.2019
Lithuania's fertilizer manufacturer Achema plans to contest the EU General Court's decision to dismiss its action against state aid for the Klaipeda liquefied natural gas (LNG) terminal, informed LETA/BNS.
14.11.2019
The listed Estonian shipping group Tallink Grupp, holder of a franchise for restaurants of the global fast food chain Burger King in the Baltic states, has established subsidiaries for opening restaurants in Lithuania and Latvia, informed LETA/BNS.
13.11.2019
Lithuanian oil refiner Orlen Lietuva, owned by Polish oil group Orlen, is getting ready for investments worth several hundred million euros, according the Verslo Zinios information writes LETA/BNS.