International Internet Magazine. Baltic States news & analytics
Saturday, 26.05.2018, 20:15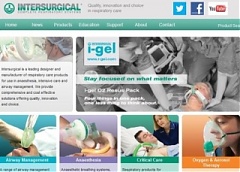 25.05.2018
Intersurgical, an international medical device manufacturer that owns a disposable respiratory care product factory in Prabrade, not far from Vilnius, plans to invest around 10 million euros in a new production facility in Visaginas, an eastern Lithuanian town where the shutdown Ignalina nuclear power plant is located, informs LETA/BNS.
24.05.2018
Nord Stream 2, the developer of the twin pipeline to supply Russian natural gas to the EU market through the Baltic Sea, released 90,000 young Atlantic salmon into rivers in the Russian part of the Gulf of Finland as compensation for potential temporary damage to fisheries during construction of the Nord Stream 2 Pipeline in Russian waters. This initiative is part of the complex Environmental and Community Initiatives Strategy developed by Nord Stream 2 for Russia, and is being implemented in cooperation with FGBU Glavrybvod and under the control of the Northwest branch of the Federal Fishery Agency.
24.05.2018
In 2017, there were approximately 158,000 economically active units in Estonia. 3,000 units were added, which is as many as in 2016. Considering legal form, the picture looks different – growth in the number of companies picked up and the number of non-profit associations decreased for the first time.
24.05.2018
Estonian farm management software startup eAgronom has raised 500,000 euros from farmers, who have now become the company's investors, informs LETA/BNS.
24.05.2018
The Maxima Latvija supermarket chain has invested EUR 250,00 in opening up its first Maxima Express convenience store in Riga, the company's spokeswoman Liene Dupate-Ugule told LETA.
24.05.2018
17% work from home several days a month, representatives of Bonava Latvija dwelling house developer told LETA, citing a survey of employees, reports LETA.
24.05.2018
In a modern world, which is constantly changing because of new technologies and communication methods, the significance of personal data protection is growing rapidly. Every person wants to have a guarantee, that his private information will not be disclosed to third parties. In order to achieve this goal, General Data Protection Regulation (hereinafter – Regulation) was adopted to set common requirements for processing personal data in the EU. Regulation shall come into force from 25 May 2018, that's why it's important to prepare in advance.
24.05.2018
The European Commission recommends that Lithuania improve tax collection, the quality of the education system and the tax and benefit system. The tax burden for low income earners in Latvia has been reduced, but still remains relatively high compared to other EU member states, European Commission Vice President Valdis Dombrovskis said during a press conference, informs LETA.
24.05.2018
Latvia should try to avoid unnecessarily strict application of Commercial Law, and should apply modern approach to Commercial Law, said the Organization for Economic Cooperation and Development (OECD) in its report presented at the parliament on May 23rd, informs LETA.
23.05.2018
After the Council approved the Regulation draft for the organic farming in the member states, the Commission made a statement concerning modernisation of the sector and the harmonisation of rules covering organic production both within the EU and in non-EU countries. Once adopted, the new rules will enter into force in January 2021. The Baltic States agro-policy shall take this trend seriously.