International Internet Magazine. Baltic States news & analytics
Sunday, 19.02.2017, 16:22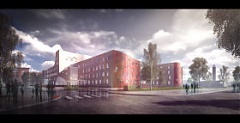 17.02.2017
The Health Inspectorate has concluded after inspecting the new wing of Pauls Stradins Clinical University Hospital that the new facility may officially open as the past faults ascertained at the building have been solved, as the inspectorate told LETA.
16.02.2017
The new Lindstrom workwear plant in Latvia's central Tukums town currently employs 100 people, but by the end of the year the number of employees will be increased to 120, Lindstrom group president and CEO Juha Laurio told LETA.
16.02.2017
Flying has become one of the most popular means of travel throughout the world. An internet survey carried out by SmartLynx Airlines, the leading charter carrier in Latvia and Estonia, revealed that 74% of respondents use airline services for private trips, while one in four (26%) mostly travel for business. Respondents said that price is the main criterion in purchasing airline tickets.
16.02.2017
Tieto Latvia IT company has developed national level instant payments platform for Kenya, BC learned from the company.
16.02.2017
The Estonian telecommunications company Levikom is upgrading its NORAnet network to start offering internet of things (IoT) connectivity services with radio access, including geolocation services, in spring.
16.02.2017
The boat builder Baltic Workboats based on Estonia's largest island of Saaremaa raised the wages of its production personnel by close to 25% at the beginning of this year. reprots LETA/BNS.
15.02.2017
Cargoes handled at ports of the state-owned Estonian company Port of Tallinn during January dropped 38.7% y-o-y to 1.4 mln tons.
15.02.2017
Shareholders in Latvia's Ditton Pievadkezu Rupnica (Ditton PKR) motor chain plant, based in the southeastern Latvian city of Daugavpils, supported participation of the company in the Latgale Special Economic Zone, the company said in its statement to the NASDAQ Riga.
15.02.2017
As part of his dream of a traffic-free future, Elon Musk has been talking for a while now about boring a tunnel under Los Angeles from the HQ of his SpaceX company to LAX, the city's airport. In fact, he has actually started taking the first steps towards making this seemingly crazy idea come true. On Feb 3 a tweet showing a picture of the first drilling operations was accompanied by a single word: "Minecraft". That was inspiration enough for a team of Lithuanian techies, who decided to complete the entire project for Mr. Musk in just two days. In Minecraft.
15.02.2017
European regions and separate EU states are key players in helping entrepreneurs in business activity, in creating company, in providing grants or arranging taxes breaks. The Commission and other EU institutions decided to include regions and countries in "conversation" on business possibilities in Europe. Hence, the ideas of creating the Startup Europe Week (SEW), a European Partnership (SEP) and a Network (SERN).
15.02.2017
On February JSC "Daugavpils Lokomotīvju Remonta Rūpnīca" received first locomotive TEM2 (SM48) for repair from Poland company PKP Linia Hutnicza Szerokotorowa spółka z o.o., DLRR said in its statement.