International Internet Magazine. Baltic States news & analytics
Saturday, 23.08.2014, 00:37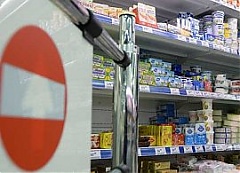 22.08.2014
Based on calculations carried out by financial institution of Dutch origin ING Group, restrictions imposed by Russia on 7 August on food products imported from the European Union may cost the EU USD 6.7 billion (EUR 5.0 billion) per year, writes LETA/ELTA, referring to the website RBC Daily.
22.08.2014
A poll conducted by the Estonian Chamber of Commerce indicates that Russia's sanctions have had a direct negative impact on a fifth of the 153 polled companies, LETA/Postimees writes.
22.08.2014
Government officials and milk processors in Lithuania agreed that in August 2014 milk produced in Lithuania will be bought-in and the price will not be reduced by more than 12%, i.e. by approximately LTL 0.10 (EUR 0.03) per litre, reports LETA/ELTA.
22.08.2014
News portal delfi.lv has registered a significant increase in the number of visits in July 2014, getting ahead of the long-time leader Inbox.lv for the first time, according to data provided by the Internet research company Gemius, cites LETA/Nozare.lv.
22.08.2014
Lorry drivers carrying fruit and vegetables from Lithuania have to be prepared for the worst at the Belarusian border post. Although some more persistent drivers managed to bring cargo into Belarus, yet, most of them were forced to turn back and wait for the situation to clear up, reports LETA/ELTA, referring to Lietuvos rytas.
22.08.2014
The Coalition Council has come to agreement on the measures necessary to support local agricultural producers in procurement procedures, Unity's Saeima group leader Dzintars Zakis informed the press representatives yesterday, reports LETA.
22.08.2014
The National Audit Office of Lithuania has completed a financial (regularity) audit of the Ministry of National Defence for the year 2013. The auditors had no significant comments concerning the financial statements and budget execution reports of the Ministry, informs LETA/ELTA.
22.08.2014
A court in Riga – on August 15 – declared the Talsu gala meat packing company insolvent, and all creditor claims against the company must be turned in to the administrator in one month's time, informs LETA.
21.08.2014
Compared to June, producer prices in industry in July 2014 rose by 0.2%, according to the data of Central Statistical Bureau of Latvia. In July, compared to July of the previous year, the overall level of producer prices in the Latvian industry increased by 0.7%.
21.08.2014
Statistics Lithuania informs that in July 2014, industrial production totalled LTL 5.8 billion at current prices and, compared to June, grew by 5.5% at constant prices, seasonally adjusted – by 1.6%.
21.08.2014
According to Statistics Estonia, in July 2014, the producer price index of industrial output changed by 0.6% compared to June 2014 and by –0.4% compared to July 2013.