International Internet Magazine. Baltic States news & analytics
Wednesday, 22.10.2014, 03:01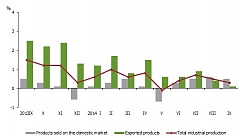 21.10.2014
Compared to August, level of producer prices in Latvian industry in September 2014 rose by 0.1%, according to the data of Central Statistical Bureau of Latvia. In September 2014 compared to September of the previous year, the overall level of producer prices in the Latvian industry increased by 0.3%.
21.10.2014
Fisheries and environmental experts and authorities from the Baltic region start today a 2-day meeting with key focus on a mature draft for a new HELCOM Recommendation on aquaculture which, once adopted, will help cultivate fish in a more balanced and environmentally sustainable way, informs professional secretary at HELCOM Dmitry Frank-Kamenetsky.
21.10.2014
Former chief editor of the Russian news site Lenta.ru, Galina Timchenko, officially launched her project Meduza on October 20th. The project is registered in Latvia to avoid Russia's censorship, informs LETA, referring to DOZHD/FORBES.
21.10.2014
In his meeting with Lithuanian economic diplomats and representatives of Enterprise Lithuania (Versli Lietiva), Lithuania's Minister of Economy Evaldas Gustas presented the challenges posed to Lithuania by the Russian embargo and urged them not to give in in their search for new export markets for Lithuania's produce, informs LETA/ELTA.
21.10.2014
There is no doubt that corrupt "tigers and flies," cadres from the top to bottom ranks, are the losers in China's anti-corruption drive. But who are the winners?
20.10.2014
According to Statistics Estonia, in September 2014, the producer price index of industrial output changed by 0.2% compared to August 2014 and by -2.0% compared to September 2013.
20.10.2014
The Ministry of Economy in Lithuania has summarized what tasks the country's institutions accomplished in September 2014 in an attempt to mitigate the impact of Russia's sanctions on businesses, informs LETA/ELTA.
20.10.2014
The Ukrainian conflict has caused serious alterations in economy – business activity in Russia is hampered, however, Ukraine still offers excellent business opportunities, Girts Kronbergs, advisor to CEO of the Latvian Chamber of Commerce and Industry (LCCI), Janis Endzins, said in an interview with "Rietumu radio", writes LETA.
20.10.2014
Managing Director of OÜ Krimelte Alar Salum said that their enterprise is aspiring to expand the geographic scope of its exports, and is targeting large Asian countries as potential new markets, writes Äripäev.ee/LETA.
20.10.2014
Avoiding individual cases of Ebola outside Africa is impossible, as the people of the world are highly mobile, however, World Health Organization (WHO) experts believe that it is unlikely that there could be an epidemic outside Africa, as the head of the WHO Country Office-Latvia, Aiga Rurane, said in a press conference today, cites LETA.
20.10.2014
Based on preliminary unaudited data, in the first half of 2014, normalised earnings of state-owned enterprises (SOE) in Lithuania totalled LTL 262.8 million (EUR 76.1 million), by 1.2% more year-on-year, informs LETA/ELTA.