International Internet Magazine. Baltic States news & analytics
Thursday, 02.07.2015, 03:57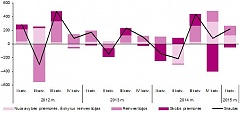 01.07.2015
Statistics Lithuania and the Bank of Lithuania inform that in I quarter 2015, the foreign direct investment (FDI) flow into Lithuania and the Lithuanian direct investment flow abroad was on the increase. Please note that this news release presents FDI calculated by applying directional principle, i.e. by estimating reverse investment. Therefore, the data differ from the direct investment information provided in the balances of payments and international investment where assets and liabilities principle is applied for the calculation of the said investment.
01.07.2015
The Finance Ministry wants to introduce minimum social contributions in Latvia from 2016 – regardless of a person's salary, he or she, or the person's employer will have to pay a certain amount in social contributions, as Finance Minister Janis Reirs (Unity) said during a meeting with the Latvian Pensioners' Federation on June 30th 2015, informs LETA.
01.07.2015
Benu aptieka network increased its profit by 53.5% in 2014 in Latvia, reports LETA, according to Firmas.lv information.
01.07.2015
Estonian Ministry of Social Affairs sent a draft Tobacco Act to a round of approvals, which brings new shocking warning pictures on cigarettes packs starting May 20, 2016, informs LETA.
01.07.2015
The Entrepreneurship Board of Estonia's capital Tallinn reminded people that starting July 1st 2015, the Tallinn City Council decree comes into force that restricts the retail sale of alcoholic beverages, informs LETA.
30.06.2015
Data of Central Statistical Bureau show that, compared to April, the total retail trade turnover in May 2015 dropped by 0.9%, according to seasonally adjusted data at constant prices. Retail trade in food products declined by 1.6%, whereas turnover of non-food products – by 0.4%.
30.06.2015
Data compiled by the Central Statistical Bureau of Latvia show that in 2014, the average forest regeneration costs in Latvia comprised EUR 557 – EUR 662 per hectare, depending on the forest land quality group (1).
30.06.2015
Eesti Telekom's Director of Communications Kaja Sepp said that the abolition of roaming charges in the European Union could lead to price increases in Estonia, LETA/Estonian Public Broadcasting (ERR) reports.
30.06.2015
According to information from the Latvian Presidency's Secretariat, over 800 journalists from over 40 countries visited Latvia to cover the country's EU Presidency events, informs LETA.
30.06.2015
The unemployment rate in Latvia decreased 0.1 percentage points to 8.5% in June 2015, however, unemployment in Kurzeme province increased 0.5 percentage points, according to the State Employment Agency's data, cites LETA.
30.06.2015
Whereas Estonian Liviko managed to increase its net earnings by 27% in 2014, exports of its products fell by more than 20%, writes Äripäev/LETA.