International Internet Magazine. Baltic States news & analytics
Sunday, 02.08.2015, 19:23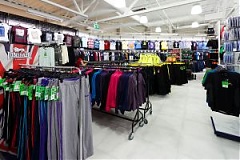 31.07.2015
Britain's leading sports retailed Sports Direct will unveil its first shop in Latvia at the ''Olimpia'' shopping mall in Riga tomorrow, the shopping center's spokeswoman Zane Sulca informed LETA.
31.07.2015
Swedbank has issued more than EUR 11 million to Latvian poultry companies Putnu fabrika Kekava and Lielzeltini, which will use the loan over a period of three years in order to renovate poultry farms, modernize processing plants, and purchase new equipment, reports LETA, according to the bank's board member Reinis Rubenis.
31.07.2015
At his meeting with representatives of the Estonian Service Industry Association on July 28th, Prime Minister Taavi Rõivas said that the Government is firmly committed to developing both the business environment and competitiveness, and that he greatly appreciates the support of entrepreneurs and their willingness to engage in the process, reports BC governmental press service.
31.07.2015
The European Commission is aware of the challenges faced by EU's agro-producers and is expected to provide assistance. EU farmers will get support for dairy, fruit and vegetables sectors affected by the Russian ban: safety measures will be extended into 2016.
31.07.2015
The National Electronic Mass Media Council on Thursday unanimously supported fining Latvian State Radio over profanities in live broadcasts aired on the radio's Program 5 (LR5) and on Pieci.lv, as the council's spokeswoman Agnese Berga told LETA.
31.07.2015
A delegation of the Chinese Ministry of Commerce has visited the Lithuanian Ministry of Economy, informs LETA/ELTA.
31.07.2015
Sanctions against Russia, which were introduced one year ago, have proven to be efficient and sent very clear signals in Russia and in the international arena, says Lithuanian President Dalia Grybauskaite, stressing that Russia continues to act as an aggressor, reports LETA/ELTA.
31.07.2015
Estonian casino operator OEG group company Jackpot Game S.r.l. has acquired business activity of operating two VLT slot casinos from the Italian VLT casino operator Pasquale Di Gaetano – Judica Concetta and sons sas, OEG informed the Tallinn Stock Exchange, cites LETA.
31.07.2015
Banks are prepared to issue loans to healthy companies, however, the main hindrance for companies to obtain loans is problems related to the shadow-economy, the Latvian Association of Commercial Banks points out, commenting Economy Minister Dana Reizniece-Ozola's (Greens/Farmers) recent statements that Latvian banks' lending policies are too passive, and thus hinder Latvia's economic growth, informs LETA.
31.07.2015
The European Union will continue providing support into next year for farmers hard-hit by a Russian ban on European food exports, the bloc's executive said on July 30th, 2015, cites DPA/LETA.
31.07.2015
Maxima Latvija, which operates the chain of Maxima supermarkets in Latvia, achieved EUR 674.35 million in turnover last year, which was by 0.13% more than the previous year, when the company achieved EUR 673.47 million in turnover, reports LETA, according to the company's financial report.