International Internet Magazine. Baltic States news & analytics
Wednesday, 18.01.2017, 03:39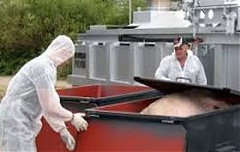 17.01.2017
The Latvian government today decided to declare emergency situation Krimulda region that has been affected by the latest outbreak of African swine fever (ASF) among domestic pigs, Adazi region where the pigs will be culled, and also Salaspils region where another shed belonging to the same farm is located, reports LETA/BNS.
17.01.2017
The Ministry of the Interior is seeking opinions on a draft document setting out Estonia's security policy fundamentals, which designates cyberspace as another dimension of the security environment alongside land, territorial waters and airspace, reports LETA/BNS.
17.01.2017
Press subscription in Latvia has dropped by 4.2 % to 398,722 subscriptions for 2017, Latvian national postal company Latvijas Pasts reported LETA.
17.01.2017
Vilkyskiu Pienine, one of Lithuania's largest dairy companies, has sent the first shipment of its products to China, becoming the first Lithuanian dairy to export to China – the cargo of 20 t of mozzarella should reach the Chinese market within about a month, reports LETA/BNS.
17.01.2017
According to the data of the Central Statistical Bureau (CSB), the Latvian external trade turnover dropped slightly (0.6%) month-on-month. Within a month, the goods export and import values dropped by 0.1% and 1.1% respectively. Year-on-year, the goods export and import values posted positive growth by 3.4% and 3.2% respectively, which is a good performance, given the still low level of external demand.
16.01.2017
The Latvian government supports the Lithuanian position to demand the highest security standards at the Astravyets nuclear power plant under construction in Belarus, however, does not consider any laws to restrict electricity imports from the utility, says LETA/BNS Latvia's Foreign Minister Edgars Rinkevics.
16.01.2017
Swedish company Trelleborg Wheels Systems has decided to fully move its wheel plants to Trelleborg Wheel Systems in Liepaja, Liepaja municipality's representative Evita Engele told LETA.
16.01.2017
Latvia's road construction company A.C.B., jointly with Lithuania's building firm Autokausta, is to reconstruct the Vilnius airport's runway for 18.713 mln euros, reports LETA/BNS.
16.01.2017
Estonia plans for the prime ministers of the Baltic states to sign the deal on the European-gauge railway Rail Baltica project, however, Lithuania's Prime Minister Saulius Skvernelis is not sure about the signing, informs LETA/BNS.
16.01.2017
Polo Invest, a company whose registered office is an apartment in Riga, has applied to lease an airport in Moldova, promising to invest EUR 40 mln in the airport's development although the company's annual turnover has never exceeded a few thousand euros, according to TV3 broadcast Neka Personiga (Nothing Personal) reported last night writes LETA.
16.01.2017
As the Baltic states ready to disconnect from the Russian BRELL electricity ring and synchronize its grids with Western Europe, tests will be conducted to check whether Lithuania, Latvia and Estonia can operate in an isolated regime. A trial study for the tests will be drafted by international consultative company Tractebel Engineering by September, writes LETA/BNS.