International Internet Magazine. Baltic States news & analytics
Saturday, 30.05.2015, 13:27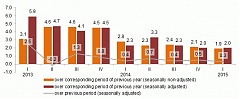 29.05.2015
Data compiled by the Central Statistical Bureau (CSB) show that in the 1st quarter of 2015, compared to the 4th quarter of 2014, gross domestic product (GDP) at constant prices, according to seasonally adjusted data, rose by 0.3%. But, compared to the 1st quarter of 2014, GDP increased by 2.0%.
29.05.2015
The European Commission has opened a public consultation to collect views from citizens and businesses on the main policy options for developing an ambitious new approach on the "circular economy". Stakeholders' input will help feed the preparation of the new European action plan, to be presented by the end of the year; the consultation will run until 20 August 2015.
29.05.2015
Youth employment indicators continue to improve in Latvia, while situation among adults still indicates lower dynamics, this according to the director of the State Employment Agency, Inese Kalvane, in an interview with the LNT show "900 sekundes", cites LETA.
29.05.2015
Liepajas metalurgs investors so far have fulfilled all their payment obligations, said Finance Minister Janis Reirs (Unity) in an interview with the Latvian Television show "Rita panorama", reports LETA.
29.05.2015
The joint-stock pharmaceutical company Olainfarm plans to invest last year's EUR 11.42 profit in the company's development, reports LETA, according to the company's announcement submitted to "Nasdaq Riga" stock exchange.
29.05.2015
Small businesses have been invariable bedrock in the world's majority of successful economic models. Germany, the USA, South Korea, Britain and Japan exemplify a huge number of states that have been pursuing their development strategies on the basis of 'small economy'. Uzbekistan ranks among them, secured by the recently approved 'road map' for the development of small business and private entrepreneurship, reported «Uzbekistan Today» newspaper.
29.05.2015
Compared with 2013, funding for children's healthcare services n Latvia has grown by EUR 6 million, reaching almost EUR 86 million, reports LETA, according to information by the National Health Service.
29.05.2015
The Latvian fish processing company Brivais vilnis turned over EUR 2.144 million in the first quarter of 2015, reports LETA, according to the company's financial report submitted to Nasdaq Riga stock exchange.
29.05.2015
A survey conducted by the Estonian Institute of Economic Research showed that while in 2013, the Estonian state was deprived due to the payment of "envelope wages" of 154 million euros in tax revenue, the loss of tax revenue in 2014 because of this reason was 92.5 million euros, LETA/Public Broadcasting reports.
29.05.2015
"Any attack against the media is an attack against freedom of expression. A freedom that is a key component of our democratic society, a freedom that should not face undue limits or violations, a freedom to which we in the Council attach great importance together with other fundamental rights of citizens," said Zanda Kalnina-Lukasevica, Latvian Parliamentary State Secretary for EU Affairs, on 27 May, speaking at the European Parliament (EP) in Brussels, reports BC the Latvian MFA.
28.05.2015
Latest data compiled by the Central Statistical Bureau (CSB) show that in the 1st quarter of 2015 the average monthly gross wages and salaries accounted for 785 euros. The average wages and salaries kept increasing; however, growth rate has been slowing down.