International Internet Magazine. Baltic States news & analytics
Wednesday, 16.10.2019, 03:02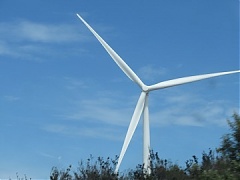 15.10.2019
The Estonian Consumer Protection and Technical Regulatory Authority said that businessmen and brothers Andres and Oleg Sonajalg may continue with the construction of the Aidu wind farm as the Supreme Court's decision not to handle the appeal against court ruling filed by the Ministry of Justice means that the building permits are valid, writes LETA/BNS.
15.10.2019
During present Finnish Presidency of the Council of the EU, the 2019 European Vocational Skills Week in Helsinki (14-18.x.) took place with the idea of encouraging people of all ages to 'discover their talent' through vocational education and training (VET).
14.10.2019
According to our research*, a 10% increase in global oil prices raises the level of consumer prices in Latvia by 0.6% in the medium term. The increase in oil prices directly pushes up energy prices, i.e. the prices of car fuel, natural gas, heat energy, and – indirectly – the prices of food and services.
14.10.2019
This year's record grain harvest has brought grain transport from road to rail for the first time ever – in two months, Operail has transported the equivalent of more than 600 truckloads of fodder grain to the ports of Sillamäe and Muuga by rail. informed Operail.
14.10.2019
"Success on the Labor Market", a fresh analysis of the Estonian Ministry of Education and Research, indicates that a technical education ensures a bigger income, writes LETA/BNS.
14.10.2019
Ramunas Karbauskis, leader of the ruling Lithuanian Farmers and Greens Union, businessman Darius Zubas and investment fund Fixed Yield Invest Fund are the biggest land owners in Lithuania,according the delfi.lt news website informed LETA/BNS.
14.10.2019
A reorganization process is under way in which Narvesen Baltija retail company is taking over Coffee Inn, the owner of the Caffeine Roasters (Caffeine) cafe chain, according to an announcement published in the official gazette Latvijas Vestnesis on Monday, citing LETA.
14.10.2019
armony party considers severing ties with Honor to Serve Riga (GKR) because Harmony is dissatisfied with the performance of its coalition partner in Riga, according the daily newspaper Neatkariga information reports LETA.
11.10.2019
About 50 employees of Stockmann department store in Riga catered by Baltic Restaurants Latvia during the Crazy Days campaign caught a stomach infection, the Food and Veterinary Service (PVD) confirmed, informed LETA/BNS.
10.10.2019
UP Invest, an investment company controlled by Estonian businessman Margus Linnamae, is set to acquire Apple Authorized Service Provider in Estonia, Latvia and Finland IM Arvutid AS, informed LETA/BNS.
10.10.2019
Estonian fish packing and fish processing company M. V. Wool on Thursday morning received an injunction from the Veterinary and Food Board ordering the recall of 200-gram sliced trout gravlax packages from retail, reported LETA/BNS.