International Internet Magazine. Baltic States news & analytics
Monday, 01.06.2020, 04:59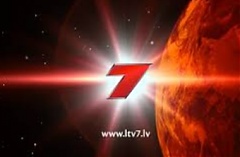 29.05.2020
From January 1, 2021, Latvian Television Channel 7 (LTV7) will no longer broadcast minority content, the chairman of the National Electronic Mass Media Council (NEPLP) Ivars Abolins said on May 29th, cites LETA.
29.05.2020
Apromore, the only commercial open-source solution in the global process mining market, and Nortal, a multinational strategic change and technology company, are delighted to announce their partnership to bring Apromore's leading-edge process mining technology into Nortal's comprehensive solutions portfolio in the field of business analytics and optimization.
29.05.2020
The Latvian coastal resort city of Jurmala will not have any Blue Flag beaches this summer, as the city's local government has decided to leave the program, LETA found out from the Jurmala City Council.
28.05.2020
Today, the Consumer Choice Center launched its Sharing Economy Index highlighting some of the world's most dynamic cities by their sharing economy friendliness.
28.05.2020
The Estonian government on Thursday decided to ease restrictions related to COVID-19 in the field of travel, public events, the organization of sporting events, and education, reports LETA/BNS.
28.05.2020
Calendar adjusted data (at constant prices) compiled by the Central Statistical Bureau (CSB) show that, compared to April 2019, in April 2020 total retail trade turnover reduced by 9.0%. Turnover of retail trade in food products declined by 3.5%. Retail trade in non-food products (except for retail sale of automotive fuel) decreased by 14.9%, but turnover of retail sale of automotive fuel – by 5.3%.
28.05.2020
The Estonian ferry operator Tallink Grupp announced on Thursday that the first Burger King restaurants in Latvia and Lithuania will be opened in the Akropole shopping center in Riga and the Akropolis mall in Vilnius in the second half of this year, the company informed LETA.
28.05.2020
Estonian software and technology company Cleveron, which offered to develop a nationwide network of parcel lockers combined with bus shelters in Estonia, has partnered with the company Pristis to find an opportunity to develop such networks in Latvia and Lithuania instead, according to the regional newspaper Sakala information reporte LETA/BNS.
28.05.2020
Latvijas Balzams, the largest producer of alcoholic beverages in Latvia, is considering continuing the production of disinfectants even after the state of emergency caused by Covid-19, if the regulation allows and there will be demand, Intars Geidans, chairman of the company's board, told LETA.
28.05.2020
Over the past five years, the Competition Council brought thirteen cartels involving 64 companies to a close, imposing a total of EUR 3.5 million in fines, the Competition Council in Latvia informed LETA.
28.05.2020
The state must continue to provide support to residents in order to limit the rapid growth in unemployment, Uldis Rutkaste, head of the Monetary Policy Department of the Bank of Latvia, said in an interview with Latvian Radio on Thursday.