International Internet Magazine. Baltic States news & analytics
Saturday, 08.03.2014, 20:01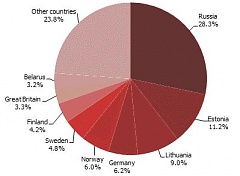 24.02.2014
According to the data of the Central Statistical Bureau (CSB), in 2013 the number of visitors in hotels and other accommodation establishments (1) comprised 1.8 mln people who spent there 3.8 mln nights. Compared to 2012, the number of persons served rose by 11.8%, but the number of overnight stays - by 6.4%.
16.01.2014
European car rental and leasing company Sixt plans to increase the number of bicycle rental stalls in Riga this year, the company's head in the Baltics Arnis Jaudzems informed LETA.
10.01.2014
Barcelona is following with interest Riga's cultural program and would like to have a project next year similar to the festival of light ''Staro Riga'' (Beaming Riga), visiting Barcelona Deputy Mayor Jaume Ciurana said during a meeting with Riga Vice Mayor Andris Ameriks (Honor to Serve Riga) yesterday, informs LETA.
09.01.2014
The Jewish newspaper ''Jewish Week'', based in New York, has mentioned Riga as a ''must visit'' tourist destination for 2014, reports LETA.
25.12.2013
The organizers of the European Capital of Culture Year in Riga (''Riga 2014'') say that there is much interest from foreign media outlets in covering the opening events of ''Riga 2014'' in January, LETA was informed by ''Riga 2014'' spokesman Martins Dregeris.
11.12.2013
341,486 foreign guests stayed at Riga accommodation establishments in the third quarter of 2013, a 22.7% increase on the respective period in 2012, according to data from the Riga Tourism Development Bureau, informs LETA/Nozare.lv.
10.12.2013
Ukrainian investors have opened up a new beer restaurant called Stargorod in Riga on Republikas Square 1 in downtown opposite the Riga Passenger Port, the restaurant's representative Jelena Lucanska confirmed to the business information portal Nozare.lv, writes LETA.
05.12.2013
The well-known global magazine National Geographic has included Riga on its list of the 20 most recommended travel destinations for 2014, informs LETA.
26.11.2013
According to the data of Central Statistical Bureau, the number of visitors in hotels and other accommodation establishments1 in the 3rd quarter of the year 2013 comprised 686.7 thousand people, which is 16.1% more than in the same period of the last year.
21.11.2013
USA Today readers have voted in Riga as the prettiest European city, according to the newspaper's travel section "10 Best", writes LETA.
19.11.2013
As is tradition on Independence Day, the Riga Council convened in special session to announce and honor the "Rigans of the Year", informs LETA.