International Internet Magazine. Baltic States news & analytics
Friday, 28.11.2014, 21:08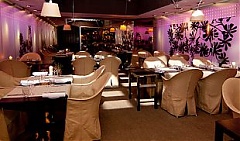 27.11.2014
For the second year in a row, an international board of judges presented a ranking of Latvia's best restaurants of 2014. The title of the best restaurant goes to "Vincents", followed by "Biblioteka No.1" and "Tam labam bus augt!", informs LETA/Nozare.lv.
11.11.2014
Around 200 cultural events will be organized during Latvia's Presidency of the Council of the European Union, as Selga Laizane, head of the Latvian Presidency's public diplomacy and culture program, said while presenting the cultural program for Latvia's presidency at the Riga Bourse Art Museum on Monday, informs LETA.
20.10.2014
Joint stock company LNK Industries has concluded a contract with limited liability company D.N.H. on a new hotel in Riga – "Hilton Garden Inn Riga Valdemara"; the construction job is set to get under way, Inga Domka, the Marketing and Public Relations Manager of LNK Group informed Nozare.lv, cites LETA.
10.09.2014
The organization of one of the group stages of next year's European Men's Basketball Championships (EuroBasket 2015) in Riga will attract many additional tourists to Latvia, as the tourism industry in the Latvian capital will be more than capable of accommodating all the additional guests, local tourism industry representatives told Nozare.lv, cites LETA.
08.09.2014
On a perfect evening/night weather-wise in Riga, about 42,000 turned out for the contemporary arts forum "White Night", organizers are saying, cites LETA.
28.08.2014
Four new hotels will have their grand openings in Riga in 2015, two of them with a five-star rating, according to information provided by Nozare.lv, cites LETA.
15.08.2014
The Port Festival 2014, that has become a beautiful tradition, is part and parcel of the annual Riga City Festival. This year the main Port festival events "Ielu muzikas diena (The Street Music Day)", "Kanala Regate 2014 (Regatta of the Canal). The Freeport of Riga Cup" and 24-hour outdoor basketball tournament "Krastu Macs (The Game of Two River Banks)" will take place on August 16-17, 2014, reports BC the port's press service.
08.07.2014
In the first quarter of the year 2014, Riga hotels and other accommodation establishments registered 19% more visitors than in the first quarter of 2013, whereas the average number of nights spent by foreign travellers to Riga grew by 2%, according to information from the Riga Tourism Development Bureau (RTDB), informs BC the Latvian Institute.
02.07.2014
From June 13, "Riga Culture Free Tour" will offer free tours around Riga to tourists and local visitors, director of Travel Jam Laura Plumina informed LETA.
02.07.2014
In order to promote tourism in Latvia, the Economy Ministry has made available EUR 20 million in EU funding for the 2014-2020 financial planning period, the Economy Ministry said yesterday, cites LETA/Nozare.lv.
13.06.2014
Opening Day for the "Palace of Light" attracted about 2,000 people, the Latvian National Library (LNL) public relations specialist Augusts Zilberts informed LETA.