International Internet Magazine. Baltic States news & analytics
Monday, 09.12.2013, 19:22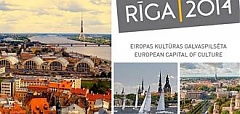 05.12.2013
The well-known global magazine National Geographic has included Riga on its list of the 20 most recommended travel destinations for 2014, informs LETA.
06.11.2013
Gambling company Alfor, which owns the "Fenikss" slot machine parlor chain, was the leader in Latvia's tourism, hospitality and entertainment industry last year with a turnover of LVL 36.37 million, according to the Latvian Business Report 2013 collated by Latvijas Talrunis, Firmas.lv and Nozare.lv, informs LETA.
24.10.2013
The number of foreign travellers and their expenditure in Latvia continue to increase, according to the results of survey on the 1st half of 2013 carried out by Central Statistical Bureau. In the 1st half of this year foreign travellers crossed the border of Latvia 2.7 mln times, which is 5.2% more than in the 1st half of the previous year.
23.10.2013
The travel section of one of the largest U.S. newspapers USA Today has included the Latvian capital Riga in its on-line vote as ''Prettiest European City'' in its annual ''Readers' Choice Awards'', the Riga Tourism Development Bureau informed LETA/Nozare.lv.
16.10.2013
The British newspaper ''Daily Telegraph'' has written an enthusiastic article about Riga as Europe's next Capital of Culture in 2014. As the countdown begins and Riga prepares to become European Capital of Culture, the article writes its ''five reasons to visit Latvia'' in 2014, writes LETA.
11.10.2013
The State Tourism Development Agency signed a memorandum of cooperation in tourism industry with the Uzbek national tourism company Uzbekturizm today, the Tourism Development Agency informed LETA/Nozare.lv.
30.09.2013
Across from the Riga Passenger Port at Republikas Square 1, construction is under way on the "Stargorod" beer brewery and restaurant – a project from a team of Ukrainian investors worth EUR 18 million, informs LETA/Nozare.lv.
05.09.2013
Latvian airline airBaltic has received the last of its Bombardier Q400 NextGen thus growing the modern turboprop fleet by 50% in summer 2013, informed BC Janis Vanags, vice president of corporate communications at airBaltic.
27.08.2013
The Chairman of the Riga City Council and the member of the Freeport of Riga Board Mr. Nils Usakovs in August 2013 has visited the newly created marina at Kipsala, informs BC port's press service.
30.07.2013
Taking into account that "The Tall Ships Races 2013" events in Riga this past weekend were widely attended, the Riga City Council will definitely apply to host another regatta in the future, informs LETA.
29.07.2013
A total of 1.5 million people turned out to see "The Tall Ships Races 2013" events in Riga at the end of last week, Riga City Council informed LETA.