International Internet Magazine. Baltic States news & analytics
Wednesday, 27.08.2014, 13:50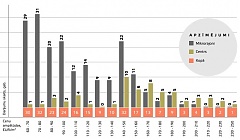 27.08.2014
From all the transactions registered in the 2nd quarter of 2014 with apartments located in the Riga city centre new projects, 78% exceeded the current minimum threshold for obtaining a temporary residence permit, while only 13% reached the threshold of 250 000 EUR foreseen in the amendments to the Immigration Act.
26.08.2014
In 2013, Ventbunkers turned over EUR 69.5 million, which is 17% more than in 2012, while the company's net profit in 2013 was EUR 19.2 million, as compared to EUR 128,000 in 2012, Ventbunkers informed the business portal Nozare.lv, cites LETA.
25.08.2014
Estonian real estate fund EfTEN Capital has increased its Latvian real estate portfolio by acquiring Nordic Technology Park in Sampeteris (western Riga) – a complex of office and industrial buildings of 45,000 square meters in area, and a production facility at 15/25 Jurkalnes Street in Riga for a total of EUR 20 million, EfTEN Capital spokeswoman Renata Kaupasa informed the business portal Nozare.lv, ciets LETA.
25.08.2014
Another auction of the defunct Ominasis Latvia property, including Kemeri Sanatorium complex in Jurmala, will be on October 3, 2014, insolvency administrator Ainars Kreics informed the business portal Nozare.lv, citers LETA.
25.08.2014
Lithuanian electricity distribution network operator AB LESTO plans to improve the reliability of its power distribution network by 10% over the next seven years. The company, which is controlled by energy company group Lietuvos Energija, has over 1.6 million customers in Lithuania, reported LETA/ELTA the operator LESTO.
22.08.2014
Estonian real estate developer Pro Kapital informed the Tallinn stock exchange its total revenue for the first six months of this year was 5.9 mln EUR, a decrease of 10% compared to the reference period while the loss grew, informs LETA.
22.08.2014
The National Audit Office of Lithuania has completed a financial (regularity) audit of the Ministry of National Defence for the year 2013. The auditors had no significant comments concerning the financial statements and budget execution reports of the Ministry, informs LETA/ELTA.
21.08.2014
Estonia's credit strengths are supported by steady economic growth that, demographic constraints notwithstanding, is aided by the country's diversified, albeit small, economy, its moderately high level of affluence and the longer-term prospects for economic convergence with the core euro area, Moody's Investors Service said in its annual review of the Estonian economy, reports LETA.
21.08.2014
Businessman Kirovs Lipmans is one of two bidders to buy the defunct joint-stock metallurgical company Liepajas metalurgs that have no longer participate in the negotiations on acquiring Liepajas metalurgs, as Lipmans confirmed to the Nozare.lv business portal, cites LETA.
21.08.2014
In the first half of 2014 the assets managed by 2nd pillar pension funds grew by LTL 496.41 million (EUR 143.77 million) and stood at LTL 5.94 billion (EUR 1.72 billion) at the end of June 2014, reports LETA/ELTA.
20.08.2014
Lithuanian businessmen have been invited to invest in Belarusian processing companies, head of the main department for foreign economic activity of Belarus Agriculture and Food Ministry Alexei Bogdanov told BelTA after meeting with Lithuanian Minister of Agriculture Virginija Baltraitiene, cites LETA/ELTA.