International Internet Magazine. Baltic States news & analytics
Monday, 19.08.2019, 06:57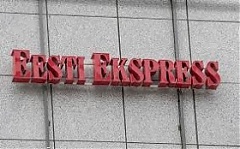 15.08.2019
AS Printall, a wholly-owned subsidiary of AS Ekspress Grupp, has entered into agreements to purchase semi-finished product collection systems for magazine web press and flow-feed systems for binding machines with loading equipment for semi-finished product for an investment of up to 1.9 mln euros, informed LETA/BNS.
05.08.2019
The fishery VARITA, with the support of the Rural Support Service and the financing provided by BlueOrange, has invested EUR 3.6 mln in the development of the company. Of this amount, EUR 1.1 mln is used for modernisation, including the purchase of new refrigeration equipment, while the remaining amount will be invested in the development of the company and the increase in catch volumes, the company`s representative informed BC.
05.08.2019
Stemma Group, a company controlled by the family of Martinas Gusiatinas, plans to invest around 100 mln euros into the Memelio Miestas (Memel City) project in the territory of Klaipeda's former ship repair company Laivite in central Klaipeda over the next ten years, informed LET/BNS.
29.07.2019
Kormotech, a leading Ukrainian pet food manufacturer, is launching the construction of a new production facility in the central Lithuanian town of Kedainiai, informed LETA/BNS.
29.07.2019
Lithuania's state-run oil and LNG terminal operator Klaipedos Nafta (Klaipeda Oil) is partnering with other international companies and will take part in a 500 mln euro tender for the design, construction and operation of the Cyprus LNG import terminal, reporterd LETA/BNS.
19.07.2019
M.M.M. Projektai, a real estate company owned by Lithuanian businessman Nerijus Numavicius, plans to invest 200 million euros in Riga over the next few years, according to the vz.lt news website informed LETA/BNS.
17.07.2019
The 2018 preliminary results indicate a general disengagement of direct investment capital circulating between the European Union (EU) and the rest of the world. Foreign Direct Investment (FDI) net outflows from the European Union towards extra-EU were negative at - 60 bn EUR, strongly contrasting with the amount invested in 2017 (EUR 301 bn).
15.07.2019
LeapIN, the startup founded to service Estonian e-residents, has raised six million euros from investors, is to launch a new service that enables starting micro-businesses without registering a company, and has rebranded itself as Xolo,
11.07.2019
Apex Alliance Hotel Management plans to open the first Hilton hotel in Latvia at 25 Grecinieku Street in Riga this fall, the company's representatives informed LETA.
09.07.2019
Hong Kong Economic and Trade Office in London (HKETO in London) is the official representative of the Hong Kong Special Administrative Region Government in commercial relations and other economic and trade matters in the United Kingdom as well as Denmark, Estonia, Finland, Latvia, Lithuania, Norway, the Russian federation and Sweden. Its mission is to foster closer economic and trade ties between Hong Kong and these nine countries.
08.07.2019
Burfa Tech, an IT company operating in Estonia mainly in the field of equipment for cryptocurrency mining, is set to develop Northern Europe's largest high-performance computing center at Enefit Technology Park in the northeastern border city of Narva, reported LETA/BNS.