International Internet Magazine. Baltic States news & analytics
Saturday, 28.03.2015, 05:57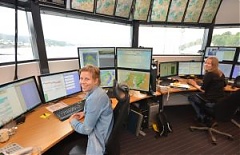 27.03.2015
StormGeo, the biggest global provider of decision support solutions and services for weather-sensitive operations for the oil and gas, wind energy and shipping industries, is establishing a product development office in Vilnius, reports BC Invest Lithuania.
26.03.2015
The Lithuanian Film Centre (LKC) granted EUR 32,700 of state funding for the pre-production of two films. This concludes the first competition for state funding of 2015, the Centre reported BC.
26.03.2015
On 25 March in Canberra, Minister of Foreign Affairs of Lithuania Linas Linkevicius and the Speaker of the House of Representatives of Australia Bronwyn Kathleen Bishop discussed Lithuania's goal and preparation to join the Organisation of Economic Co-operation and Development (OECD) among other bilateral political and economic topics, reports LETA/ELTA.
25.03.2015
The EU seas are of immense environmental and economic importance. Strategies in the Baltic, the Mediterranean and the Atlantic maritime areas show that the process needs to be participatory and inclusive. Cooperation among the states is essential to seek job creation in coastal tourism, fisheries and shipping. The interests often overlap, hence the need to approach each activity in a regional context.
25.03.2015
Latvian company Latvijas Finieris-owned Kohila Vineer OÜ has ordered nearly 31 mln euros worth of equipment from the Finnish timber industry equipment producer Raute OY, in order to expand the Estonian plywood factory, LETA/Postimees Online reports.
25.03.2015
The surplus balances of services and of secondary income did not offset the foreign trade and primary income balances; this led to the build-up of an EUR 36.8 million current account balance (CAB) deficit in the country's balance of payments in Q4 2014, writes LETA/ELTA.
25.03.2015
JSC Ventspils nafta the holding company, made a loss of 5.28 million EUR in 2014 (2013 loss of 28.15 million EUR), largely as a result of a 9.67 million EUR impairment (2013: 47.32 million EUR) recognised in respect of VN's investment in LatRosTrans Ltd., reports BC VN's press service.
24.03.2015
Grigiskes AB successfully completed one more investment project – erection of new paper production machine, the company said LETA/ELTA.
23.03.2015
U.S. company Airdog, Inc. Delaware Corporation has become the new owner of the Latvian company Helico Aerospace Industries, which created the world's first auto-follow action sports drone "AirDog", reports LETA, according to information provided by Firmas.lv.
20.03.2015
The Finnish bakery Fazer plans to create 40 new jobs at its new plant in Latvian Ogre, while the amount of investments in the project could exceed EUR 5 million, the company informed LETA.
20.03.2015
Estonian state owned main grid company Elering announced on Friday that with the completion of major investments, it invested a total of 100.5 million euros in the development of the electricity system in 2014, informs LETA.