International Internet Magazine. Baltic States news & analytics
Thursday, 21.06.2018, 16:59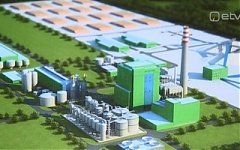 21.06.2018
According to members of the Estonian government, the national designated spatial plan for a pulp mill in South Estonia failed as there was not enough cooperation with the local government and community when initiating the plan, informs LETA/BNS.
19.06.2018
A program agreement was signed between Estonia, Iceland, Liechtenstein and Norway on June 18th, according to which Estonia will utilize more than eight million euros' worth of support of the European Economic Area (EEA) Financial Mechanism Programme for carrying out research and higher education cooperation projects, reports LETA.
19.06.2018
The northeast Estonian shale oil producing company Viru Keemia Grupp (VKG) in spring launched a 1.5 million euro Kiviter pipe conveyor, while previously, waste was transported from factories to the disposal area by cars, informs LETA/BNS.
18.06.2018
Vermanitis, a popular self-service restaurant of the Lido chain in the Riga center, reopened on June15th after a month-long renovation, informs LETA.
15.06.2018
Kaunas, Lithuania's second-largest city, will start the reconstruction of its Darius and Girenas Stadium in early July after the city signed a contract with contractors. Kaunas should have a new stadium in 20 months, the city's mayor says, cites LETA/BNS.
15.06.2018
Enterprise Estonia (EAS) has supported 20 projects aimed at strengthening regional competitiveness in Jarva, Laane, Tartu, Viljandi and Valga counties with approximately 20 million euros, informs LETA/BNS.
14.06.2018
Construction of the Rail Baltic rail link, further developing of the Via Baltica road link and cooperation in general were the main topics discussed during a meeting of Estonia's Minister of Economic Affairs and Infrastructure Kadri Simson and Lithuania's Minister of Transport and Communications Rokas Masiulis in Vilnius on June 13th, informs LETA/BNS.
14.06.2018
The Latvian Ministry of Environment and Regional Development (VARAM) plans to allocate EUR 990,000 for integration of artificial intelligence (AI) in the e-services provided by the public administration institutions, the ministry's deputy state secretary for information and communication, Edmunds Belskis, said at the presentation of Una, the virtual assistant of the Latvian Enterprise Register, on June 13th, reports LETA.
13.06.2018
The turnover of the share of Tallinna Sadam, the port company making its debut on the Tallinn stock exchange on Wednesday, crossed the one-million-euro mark seven minutes into the session after opening at 2.05 euros, which means that it moved up almost 20% within minutes, informs LETA/BNS.
13.06.2018
The Institute of Food Safety, Animal Health and Environment Bior plans to invest EUR 6.5 million in developing a fish stock research center, LETA was told at the institute.
12.06.2018
The Estonian Center for Defense Investment has signed a contract on the purchase of short range air defense systems from the French armaments manufacturer MBDA France, planning to buy 50 million euros' worth of missiles and training equipment, informs LETA/BNS.