International Internet Magazine. Baltic States news & analytics
Saturday, 28.02.2015, 02:30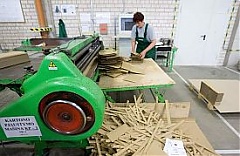 27.02.2015
During the twelve months of 2014, the Group consisting of Grigiskes AB, Baltwood UAB, Klaipedos kartonas AB, Mena Pak PAT, and Klaipeda Recycling UAB achieved the consolidate sales turnover of LTL 343.7 million (EUR 99.5 million). It is LTL 14.9 million (EUR 4.3 million) or 4.5% more than during the twelve months in 2013, Grigiskes AB reported LETA/ELTA.
25.02.2015
On February 25th, Lithuania and Qatar entered the second stage of negotiations on Bilateral Investment Promotion and Protection Agreement. The two-day negotiations take place in Vilnius, reports LETA/ELTA.
25.02.2015
The Office of Citizenship and Migration Affairs in Latvia has violated the law by extending temporary residence permits for foreign citizens who received the permits based on their investments in Latvian companies or working on the companies' boards, according to the State Audit Office's findings, reports LETA.
24.02.2015
According to unofficial information, the fund Marguerite, established by several European banks, is the prospective buyer for the German company E.ON Ruhrgas stake in Latvijas Gaze, Economy Minister Dana Reizniece-Ozola (Greens/Farmers) confirmed in an interview with Latvian Radio this morning, cites LETA.
24.02.2015
Investing EUR 100,000, a new Subway sandwich shop has been opened at the ''Olimpia'' shopping center in Riga, the board chairman of Submarine Latvia Ltd. Aigars Kaugars informed LETA.
24.02.2015
Invalda LT, AB group has published its unaudited results for the 12 months of 2014. Consolidated net profit attributable to shareholders of Invalda LT, AB totalled to EUR 3.106 million (LTL 10.725 million), in the same period of 2013 it was EUR 31.069 million (LTL 107.275 million), informs LETA/ELTA.
23.02.2015
Riga Fertilizer Terminal, which is the private terminal of URALCHEM in Riga, has shipped two million tons of production since the start-up in the middle of February 2014, reports BC public relations department at URALCHEM.
20.02.2015
Via the European Central Bank (ECB) Securities Markets Programme, Eesti Pank's risk associated with Greek bonds is in the volume of 54.2 million euros, LETA/Postimees Online reports.
19.02.2015
Europe's competitiveness in the aviation industry is declining as compared with other regions, therefore the aviation industry of Europe should not be over-encumbered with rules and regulations in such areas as, for instance, passenger rights, environmental requirements, state support and international investment, Transport Minister Anrijs Matiss (Unity) and the Association of European Airlines (AEA) CEO Athar Husain Khan agreed during a meeting yesterday, reports LETA.
19.02.2015
Arranging European "energy union" has been one of the main tasks of the new Commission. It is preparing a proposal for the EU institutions and the member states aimed at achieving sustainable, competitive and secure energy system for the benefit of citizens and businesses.
19.02.2015
Lithuania following Estonia in direct investments from Finland with low wage levels, small taxes and a hungry workforce. Currently, the Baltic countries are seeking economic growth by attracting foreign investors from Finland, among others. Latvia recently marketed itself in Helsinki as an excellent investment destination, reports BC Invest Lithuania.