International Internet Magazine. Baltic States news & analytics
Saturday, 05.09.2015, 04:10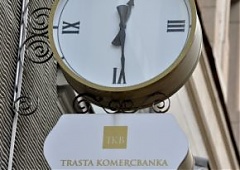 04.09.2015
Latvian bank Trasta komercbanka is looking for an investor to boost capital and help revamp its unprofitable operations, the Bloomberg news agency reports, cites LETA.
31.08.2015
The Norwegian company CSUB (former Sorkomp), which works with oil and gas technologies, is launching a production division in Klaipeda. In the short run, CSUB LT plans to create 50 new jobs for engineers, welders, and other specialists. The company is also considering expansion in Lithuania, reports BC press service of Invest Lithuania.
31.08.2015
Profit of Latvenergo Group increased by 46% in the first half-year 2015, whereas turnover fell 13%, according to the group's unaudited results for the first six months of 2015, informs LETA.
31.08.2015
According to pre-audited results of Invalda INVL, AB group for the 6 months of 2015, consolidated net profit attributable to shareholders of Invalda INVL amounted to EUR 4.1 million, while in the same period of 2014 it was EUR 5.4 million, the group said, cites LETA/ELTA.
31.08.2015
Vilnius County Police Headquarters has announced that the due date for best and final offers (BAFOs) regarding the Vilnius Police Infrastructure Public Private Partnership (PPP) project is September 10, 2015, reports BC chief project manager for PPP Irmantas Butkauskas.
31.08.2015
Around EUR 1 million will be invested in the development of the Kentucky Fried Chicken (KFC) and Pizza Hut in Latvia, the KFC franchise owner in the Baltic countries Sigurdur Arnar Sigurdsson told LETA.
28.08.2015
Moody's credit rating on Eesti Energia remained unchanged, at the level Baa2, with the stable rating outlook, reports the enterprise in a press release.
26.08.2015
"BaltCap Private Equity Fund II" has pushed through acquisition of the realty investment management firm BPT Real Estate, which operates in all three Baltic States and Poland, informs LETA.
26.08.2015
The new European Commission's investment package will bring 129.6 million euros to the Estonian marine, fishing and agricultural industry, writes LETA/Postimees Online.
26.08.2015
Managers of small and large companies in Latvia are optimistic about investments in their companies, but in all groups of companies, the most pessimistic views are about the overall level of economic activities in Latvia, the latest Citadele Index study show, reports BC head of external Communications at Citadele bank Baiba Abelniece.
26.08.2015
Margus Linnamäe, entrepreneur who is currently fast developing his media business in the Baltic States, will have to sell BNS' Latvian subsidiary in order to be able to acquire full ownership of LETA, writes Äripäev/LETA.