International Internet Magazine. Baltic States news & analytics
Saturday, 15.08.2020, 10:33
Retail trade in Estonia rose by 7% in June y-o-y
Kadri Kütt, Statistics Estonia, Tallinn, 30.07.2020.

Print version
According to Statistics Estonia, in June 2020, the turnover of retail trade enterprises was 671 million euros. Compared to June 2019, turnover increased by 7% at constant prices.
According to Jaanika Tiigiste, leading analyst at Statistics Estonia, the turnover of stores selling manufactured goods, which fell in April and May, turned around in June, increasing by 12% year on year. "Turnover increased in most economic activities, except for stores selling second-hand goods and in non-store retail sale (stalls, markets, direct sale), where turnover was lower compared to June last year," said Tiigiste.
Turnover increased the most, i.e. slightly by more than a third, in stores selling via mail order or the internet. Turnover increased more than average, by 29%, also in other specialised stores selling predominantly computers and their accessories, books, sports equipment, games, toys, flowers, plants, etc. While in recent months the turnover had been in decline, in June, it increased year on year in pharmacies and cosmetics stores by 7%; in stores selling textiles, clothing and footwear by 4% and in other non-specialised stores selling predominantly manufactured goods (department stores) by 2%. Turnover growth continued also in stores selling household goods and appliances, hardware and building materials.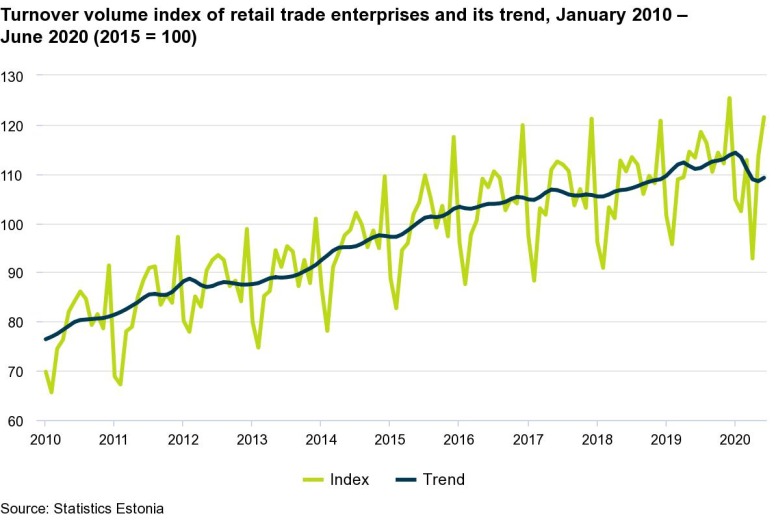 The turnover of enterprises engaged in the retail sale of automotive fuel, which was in decline since the beginning of the year, also resumed growth, increasing by 1% compared to June 2019. The turnover of grocery stores increased by 5% year on year.
In June, compared to May, the turnover of retail trade enterprises increased by 7%. According to the seasonally and working-day adjusted data, the increase was 5%.
In the first half of 2020, the turnover of retail trade enterprises increased by 1% compared to the same period of the previous year.
The statistics are based on the VAT declaration data of the Estonian Tax and Customs Board. Statistics Estonia performs the statistical activity "Financial statistics of trade enterprises (monthly)" for the Ministry of Economic Affairs and Communications with the aim to determine the economic situation in Estonia.