International Internet Magazine. Baltic States news & analytics
Sunday, 29.11.2020, 19:26
Latvia ranks second among OECD member countries in terms of Covid-19 epidemic control indicators
BC, Riga, 07.07.2020.

Print version
Latvia ranks second after South Korea among the member states of the Organization for Economic Cooperation and Development (OECD) in terms of Covid-19 epidemic control indicators, according to a study by OECD experts, cites LETA.
Lithuania and Estonia rank fourth and fifth, respectively, in a list of 33 of the 36 OECD member countries.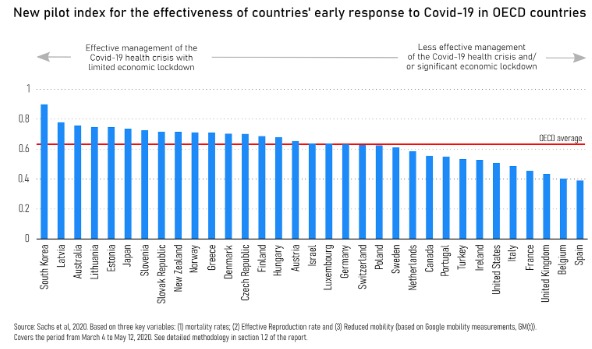 All the countries in the Asia-Pacific region have done quite well in this respect, with Australia in third place, Japan in sixth place and New Zealand in ninth place.
In general, Eastern Europe is doing better than Western Europe, and Northern Europe better than Southern Europe. Of the Nordic countries, Norway is in 10th place, Denmark in 12th place, Finland in 14th place and Sweden in 22nd place.
At the bottom of the list are the United States, Italy, France, the United Kingdom, Belgium and Spain.
According to experts, the larger OECD countries with a population of more than 50 million undoubtedly had to deal with many imported cases of the disease, both from Chinese immigrants and from their own nationals, and did not introduce stricter border controls at the beginning of the pandemic, nor between countries.
The epidemic control index, calculated by evaluating three indicators - mortality per million population, the actual rate of spread of the disease and the effectiveness of epidemic control in the period from 4 March to 12 May, was used to compare countries.
At the same time, it is recognized that, for example, mortality rates are difficult to compare due to differing national standards for their calculation, and that accurate, comparable data on morbidity are also lacking.