International Internet Magazine. Baltic States news & analytics
Friday, 10.07.2020, 18:59
Riga Airport services 3 times more passengers in May than in April
BC, Riga, 02.06.2020.

Print version
This past May 2020, Riga International Airport serviced a total of 10,308 passengers, which was a three-fold increase on the previous month, the airport's spokeswoman Laura Kulakova told LETA.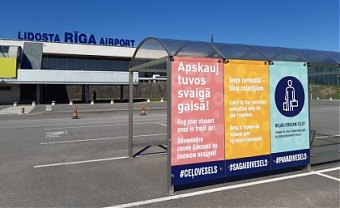 With the gradual increase in the number of flights and the re-opening of routes, this past May Riga Airport served a total of 10,308 passengers - 7,248 more passengers than in April. However, the decrease in the number of serviced passengers this past May, compared to the same month in 2019, is still significant - by 98.6 percent.
In the first five months of this year, compared to the corresponding period of 2020, the number of passengers serviced by Riga Airport has more than halved - a reduction of 54.7 percent.
In May, the airport served a total of 651 flights. The largest number - 209 flights were operated by cargo carriers, scheduled passenger carriers performed 142 flights, while 66 were business aviation flights. Most passengers flew to Frankfurt, Oslo and Amsterdam in May.
In May, 1,385 tons of cargo were also handled at Riga Airport.
Kulakova pointed out that the German airline Lufthansa and the Finnish carrier Finnair also resumed flights to and from Riga Airport today.
In total, according to the flight permits issued by the minister of transport, it is possible to travel to and from Riga Airport to nine destinations - Amsterdam, Oslo, Helsinki, Frankfurt, Berlin, Hamburg, Munich, Vilnius and Tallinn. It is planned to resume flights to two more destinations in the near future - Paris and Dusseldorf.
Riga Airport is the largest air traffic hub in the Baltics.