International Internet Magazine. Baltic States news & analytics
Sunday, 05.07.2020, 20:58
Lithuania and Estonia climbing up the global entrepreneurship ladder
BC, Riga, 02.06.2020.

Print version
In its new 2020 report StartupBlink has ranked Estonia`s startup ecosystem 11th, Lithuaia`s startup ecosystem 15th and Latvia - 36th out of 100 countries.
This is StartupBlink's 3rd global startup ecosystem report, as part of quest to uncover the trends of innovation throughout 1,000 cities and 100 countries. "We have decided to launch the report in the midst of the pandemic, since innovation should now be more important than ever, as it leads us toward solutions to this crisis. Our algorithm results took hundreds of hours of calibration and conversation. The amount of thought and effort invested into the 2020 edition of the rankings makes us confident of their quality and uniqueness", Eli David CEO, StartupBlink told.
Country Rankings Insights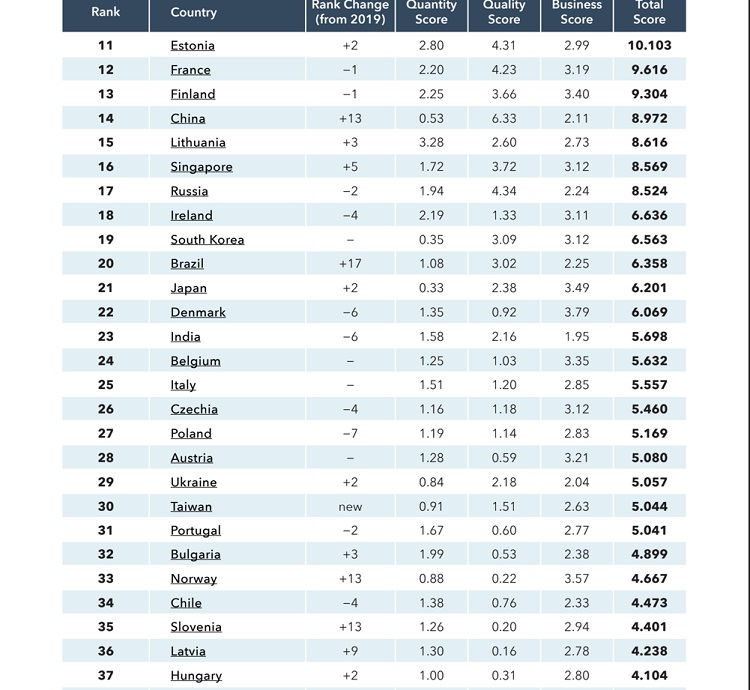 The Big 4 club of countries has held its ground since 2017, showing that there is a real
gap between these 4 countries and those below that will be hard to narrow. However,
this year, there has been an internal shift in the Big 4.
While the US that has maintained a substantial ranking gap from all other countries,
the big four also includes the UK, Israel, and Canada. The only change that differs from
2019 in the Big 4 is between Israel (3rd) and Canada (4th).
Outside of the Big 4 the gap between countries is much smaller, and we see Germany
taking advantage of this to jump up 4 places and take 5th. The Netherlands (6th) and
Switzerland (8th) have stayed stable, while Australia has had a disappointing year,
falling by two spots to 7th. Spain has had a positive year moving up 1 spot to 9th, while
Sweden has dropped a discouraging 3 places to 10th.
Outside of the top 10, there are several interesting results in 2020. Estonia (11th) has
moved up by two places in a very competitive area of the rankings, although maybe the
most substantial change registered is China moving up 13 places to 14th. It should be
recognized that the large gains made by China and its cities in 2020 are partly due to
algorithm changes, as well as China's inevitable growth of its IT sector.
Trends in Top 20 Countries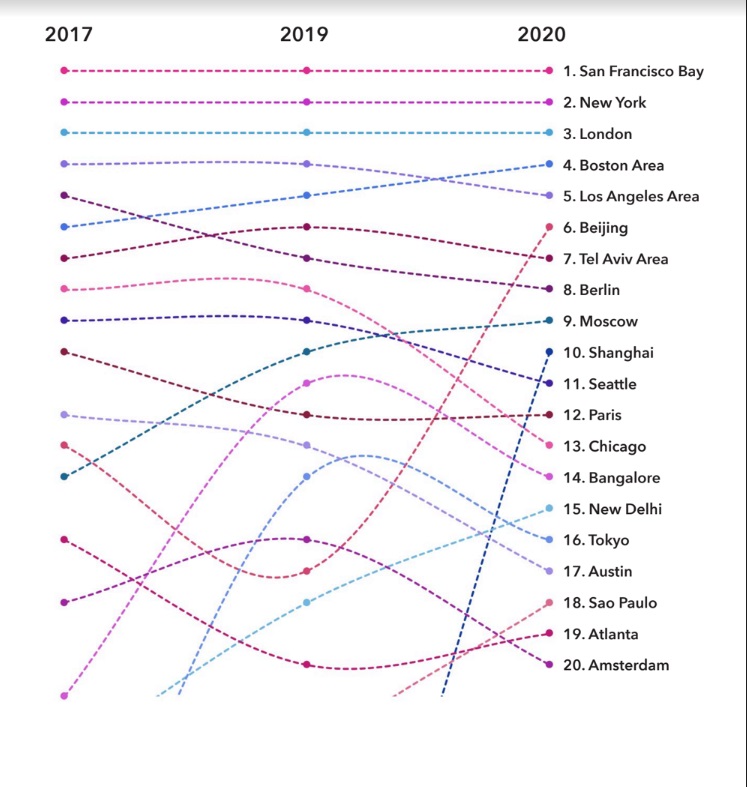 Cities Rankings Insights
In Europe, there has been a positive trend in the Baltics, with Tallinn (66th) and Vilnius
(75th) rising by 17 and 10 places respectively. There has been a disappointment for
Zurich in 2020, which decreased by 12 places to 65, while Basel has made substantial
gains to rank at 72 .
The European region has a total of 339 startups ecosystems (from 45 countries)
represented in our Top 1000 ranking. Consisting mainly of high income nations, the region
has 6 countries featured in the Global Top 10.
There haven't been any massive variations among the region's top performers, although
there are two increases and one decrease worth mentioning: Germany (up 4 spots to 5th)
is now ranked 2nd in Europe, Lithuania (up 3 places to 15th) and Sweden (down 3 places
to 10). As for cities, the EU has only only one city in the top 10 ranked ecosystems.
Estonia has created a high-tech global brand
For 2020, Estonia is home to the 7th strongest ecosystem in Europe and has moved up 2 spots to be  ranked 11th globally. The nation enjoys a good combination of balanced quality and quantity scores, but its business score is relatively low (22 globally). It's important to note that the ranking of Estonia is boosted by its very small population of less than 2 million, which is factored into the country ranking.
As for its 2 ranked cities, Tallinn enjoyed good momentum, increasing 17 spots to be ranked 66, and Tartu declined by 9 spots to be ranked 235 in the world. As a city, Tallinn is ranked 17th in Europe, and while that is a strong performance the focus should be to get it to the top 50 globally, as a regional hub in northern Europe. This, along with the strengthening of Tartu and other cities like Narva, will make for a more comprehensive Estonian ecosystem.
Startup Ecosystem Overview
One of the most important milestones in the history of the Estonian ecosystem was the success of Skype, which was mainly developed in Estonia. Skype's founders used this exit windfall to support  successful local startups. The "Skype Mafia,'' as they are called, show how big an impact one exit can have on the culture of an entire startup ecosystem. Add to that the effective and aggressive marketing efforts performed by the public sector, the likes of which we have not seen anywhere else in the world. Examples of this include innovative projects that have started in Estonia and are now being
copied by dozens of countries: Estonian E-residency, startup and nomad visas, and the branding of the company as completely digitized. These efforts result in the word "Estonia" now being whispered by digital nomads and small business.
Lithuania: A global fintech hub is emerging
Lithuania enjoys great momentum and is now ranked 15th globally. For a country of a population less than 3 million, Lithuania boasts a relatively strong quantity score. It is ranked high in the Baltic region as well, standing at 2nd and closely following Estonia. The Baltic region is now an established startup region with 2 highly capable startup ecosystems in the top 20 rankings.

 

At the country level, Vilnius, the capital of Lithuania, has increased 10 places to be ranked 75 in the world. The second ranked city of Kaunas continues showing strong momentum and is ranked at 112, improving 2 places. In the Baltic region, Vilnius is ranked 2nd after Tallinn, Kaunas is 3rd, outrunning Riga, the capital city of Latvia.

 

 

Taking into account Lithuania's low population, two cities going strong and pushing the country's startup ecosystem is a great result. It is important to keep on strengthening Vilnius to advance it into the top 50 list, turning it into a robust Northern Europe regional hub. At the same time,focus should be placed on harnessing the potential of Kaunas and bringing it into the global top 100. These two startup ecosystems are running high, but a third city in the local ecosystem could be a useful backup as well;, the natural candidate for that is Klaipeda.




Original full report read here