International Internet Magazine. Baltic States news & analytics
Thursday, 02.10.2014, 07:22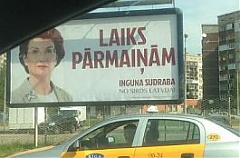 01.10.2014
According to contracts signed, Inguna Sudraba's For Latvia From the Heart party has spent 99% of the spending limit set for political campaigns, the Corruption Prevention Bureau informed LETA.
01.10.2014
Yesterday, the government of Latvia approved the Public Health Guidelines for 2014-2020 with the aim to increase the number of healthy life years by three until 2020, reports LETA.
30.09.2014
Tax rates will be altered no more often than once in a year in Latvia, according to amendments to the Law on Taxes and Fees that the government approved today, reports LETA.
30.09.2014
The European Union (EU) introduced a new aid package on Tuesday worth EUR 165 million to help farmers hit by Russian sanctions over the Ukraine crisis, but tightened up on dubious compensation claims, LETA/AFP reports.
30.09.2014
According to the Estonian Ministry of Finance, the Estonian state budget collected revenue of 5.11 billion euros in the first eight months of the year, which is 63.7% of the total amount planned in the budget for the year, LETA/Postimees Online reports.
30.09.2014
Today, Harmony submitted to Saeima a petition claiming that the sale of the Citadele bank be halted; the petition has been signed by more than 10,300 citizens, informs LETA.
30.09.2014
Estonian business paper Äripäev's annual TOP 500 of the wealthiest people in Estonia declares railway businessman Oleg Ossinovski the wealthiest person in Estonian for the second year in a row, LETA/Public Broadcasting reports.
30.09.2014
The total price of Citadele bank shares is EUR 98.67 million, Prime Minister Laimdota Straujuma (Unity) said in an interview with the Latvian Television show "Rita panorama" this morning, reports LETA.
30.09.2014
Based on the data of the Ministry of Finance, in the first eight months of 2014 the central government deficit amounted to LTL 1.2 billion (EUR 348 million) and was by LTL 835 million (EUR 242 million) or 0.7% of GDP lower than in the first eight months of 2013, informs LETA/ELTA.
30.09.2014
Citadele Bank could shun the non-resident deposit business in favor of small-business loans, Jean-Marc Peterschmitt, managing director for Eastern Europe at the European Bank for Reconstruction and Development, which owns a 25% stake in Citadele, told the Bloomberg news agency, cites LETA.
30.09.2014
Lithuanian capital's (Vilnius) public transport drivers threaten to go on strike due to salary delays, informs LETA/ELTA.