International Internet Magazine. Baltic States news & analytics
Tuesday, 21.10.2014, 13:17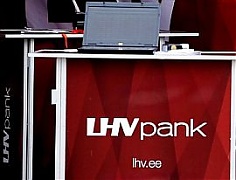 21.10.2014
During the first three quarters of 2014, LHV Group earned a total of 5.7 million euros in net profits, writes LETA/Äripäev.ee.
20.10.2014
Based on preliminary unaudited data, in the first half of 2014, normalised earnings of state-owned enterprises (SOE) in Lithuania totalled LTL 262.8 million (EUR 76.1 million), by 1.2% more year-on-year, informs LETA/ELTA.
20.10.2014
Russian investigators have come across capital outflow in the amount of more than one billion rubles (EUR 19 million), caused by money transfers to non-resident accounts in Latvian and Estonian banks, Russian Ministry of Interior reports.
20.10.2014
The average gross wage in the Latvian national economy will in 2015 increase 4.5% at current prices, the Finance Ministry's experts predict, cites LETA.
20.10.2014
The Creditors' Committee of Bank Snoras has chosen UAB Valnetas as the new bankruptcy administration company, reports LETA/ELTA.
19.10.2014
State Culture Capital Foundation (SCCF) in the second stage of its culture program "Latvian Original Music" contest has distributed EUR 27,150, as Jana Verdina, spokeswoman of the SCCF, informed LETA.
17.10.2014
The corporate debt was 3.3% larger at the end of the second quarter of the year 2014 than it was a year earlier, Estonia's central bank Eesti Pank said in a fresh review, cites LETA.
17.10.2014
The Ministry of National Defence is procuring additional Javelin advanced medium range anti-tank guided missile systems for the value of USD 20 million to strengthen national defence capabilities and increase the Lithuanian Armed Forces' stock of medium-range anti-tank weaponry, reports LETA/ELTA.
17.10.2014
The Nasdaq OMX Tallinn Stock Exchange fell on Thursday, October 16th 2014, in the midst of the global selling spree back to the year 2012, Äripäev.ee/LETA reports.
17.10.2014
Yesterday, Saeima passed a bill on the management of companies that belong to the state or municipalities, according to which such companies will be permitted to set up councils of governors as of 2016.
16.10.2014
Minister of Finance Rimantas Sadzius in Lithuania favourably assesses nine-month tax collection trends and says that the annual state revenue plan will most likely be fulfilled in 2014, informs LETA/ELTA.