International Internet Magazine. Baltic States news & analytics
Sunday, 20.10.2019, 04:08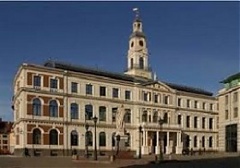 18.10.2019
The Riga City Council financial and administration affairs committee has postponed until October 28 revision of this year's budget amendments, reorte
16.10.2019
Latvia has continued to improve its framework against bribery of foreign public officials and subsequent money laundering but the reforms need to translate into further effective enforcement, according to a new report by the OECD Working Group on Bribery.
16.10.2019
Fines measuring in the billions of euros may be slapped on Estonian banks as a result of money laundering breaches, which should eventually land in the Estonian state budget, Finance Minister Martin Helme said on social media, cited LETA.
16.10.2019
Estonia's Minister of Rural Affairs Mart Jarvik supports the French proposal to leave the budget of the European Union's common agricultural policy (CAP) for 2020+ at the level of the current period and not reduce it, informed LETA/BNS.
16.10.2019
Latvia finds the proposal from the Finnish Presidency on the EU's Multiannual Financial Framework for 2021-2017 to be unacceptable, Foreign Minister Edgars Rinkevics (New Unity) said at a meeting of the EU General Affairs Council.
15.10.2019
Dear guests and distinguished speakers: A sincere 'thank you' for joining us at the yearly Lithuanian economics conference organised by the Bank of Lithuania.
15.10.2019
Luminor started to route US dollar payments through its new core banking platform via Citibank N.A., the third largest banking group in the United States, from the beginning of October, informed LETA/BNS.
15.10.2019
The Land Fund of the Development Financial Institution Altum in the first nine months of this year has acquired 200 land properties, investing in total EUR 14 million, Altum representatives reported.
14.10.2019
On Thursday, 17 October, Latvijas Banka is issuing a silver collector coin "Gifts of the Forest". The coin dedicated to Latvia's nature bears a message of Latvian values and traditions creating the sense of belonging to Latvia and uniting its people. The coin shows our respect to Latvia's forests, the gifts they provide as well as traditions related to forests, e.g. mushroom and berry picking etc.
14.10.2019
The commercial property fund Baltic Horizon Fund has closed the acquisition of the North Star business center, the purchase price of which is 20.7 mln euros, corresponding to an estimated entry yield of approximately 7.3%.
14.10.2019
The Criminal Division of Riga Regional Court last week overruled a decision of the Riga City Vidzeme District Court and recognized EUR 29 million worth of frozen assets to be proceeds from crime, Laura Majevska, a representative of the Prosecutor General's Office, told LETA.