International Internet Magazine. Baltic States news & analytics
Thursday, 19.04.2018, 14:36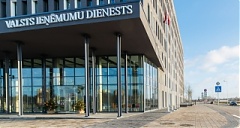 19.04.2018
Latvijas Dzelzcels state-owned railway company, and Maxima and Rimi retailers were the largest employers in Latvia, writes LETA. according to the State Revenue Service.
18.04.2018
Raimondas Kurlianskis, former vice-president of the Lithuanian MG Baltic concern, is charged with paying bribes to politicians for influence to adoption of laws, determining winners of public procurement tenders and appointment of officials, law-enforcement said on April 17th, informs LETA/BNS.
18.04.2018
The Latvian Cabinet of Ministers on April 17th approved several legislative proposals by the Finance Ministry to unify the deadlines for regular payments of taxes administrated by the State Revenue Service, reports LETA.
17.04.2018
The Latvian parliamentary committee on defense, interior affairs and corruption prevention today upheld for the first reading in the parliament the bill about restrictions on financial operations by high-risk customers in the Latvian finance sector, informs LETA.
17.04.2018
Latvia's Rietumu Banka has made changes in the bank's Board, writes LETA, according to Firmas.lv business information website.
17.04.2018
Lithuanian economists and trade union officials say that the government's planned tax and pension system reform unveiled on Monday will lead to a rise in wages, but will not help to drastically curb emigration, writes LETA/BNS.
17.04.2018
In 2019, the salary of rescuers is to rise by nearly 20% and the pay of police officers and border guards by 10% in Estonia, informs LETA/BNS.
16.04.2018
Officials of the investigation department of the Estonian Tax and Customs Board (MTA) at the start of April 2018 detained six persons as suspects in a VAT fraud case connected to fuel, which resulted in concealed tax liability in the amount of nearly 800,000 euros, and three of the suspects were taken into custody at the request of the prosecutor's office, reports LETA/BNS.
16.04.2018
Lithuania's government plans to recover 200 million euros from the shadow in 2019 in an effort to reduce the scope of shadow economy, Prime Minister Saulius Skvernelis said on April 16th, cites LETA/BNS.
16.04.2018
Latvia's ABLV Bank whose shareholders made a decision on voluntary liquidation, will fire 250 employees in April, said ABLV group's spokesman Arturs Eglitis, reports LETA.
16.04.2018
Since joining the EU, more than EUR 10 billion of EU budget funds have already been injected in the "bloodstream" of Latvia, which allowed getting additional development capacity, said Zanda Kalnina-Lukasevica, the Parliamentary Secretary of the Latvian Ministry of Foreign Affairs, in the opening of the European Info Day European Vitamin, reports LETA.