International Internet Magazine. Baltic States news & analytics
Thursday, 18.10.2018, 21:25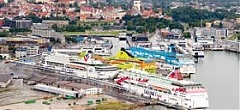 18.10.2018
The listed Estonian shipper Tallink Grupp has repaid in the total amount of 120 million euros senior unsecured bonds worth 900 mln Norwegian kroner that were issued and listed on the Oslo stock exchange in October 2013, informed LETA/BNS.
17.10.2018
According to a new EU budget for 2021-2027, students' international exchange will be doubled and participants quantity will be arisen from 4 mln till 12 mln people. As commisioner Gunter Ottinger told, every 10th student in Europe could get international expierence at next decade.
17.10.2018
In September, annual inflation exceeded 3% for the first time in 13 months. For the second consecutive year, the consumer price rise in Latvia was slightly faster than in the euro area on average. This article will look at the underlying factors of the above and why an inflation rate close to 3% is a sign of a healthy economy at this stage.
17.10.2018
Amendments to the Family Benefits Act will be put to a final vote at the Estonian parliament on Wednesday seeking to grant parents the opportunity to use their parental leave at the same time and take care of their baby together, informed LETA/BNS.
16.10.2018
The Rural Support Service of Latvia on Tuesday paid more than 58 mln euros in advance single area payments to a record number of customers – 36,000, informs LETA referring to the service.
16.10.2018
Additional 232 mln euros will be allotted from the state budget to co-finance European Union's policy instruments and other foreign financial aid projects in Latvia, informs LETA referring to the Cabinet of Ministers of Latvia.
16.10.2018
On October 16, 2018, Latvian Foreign Minister Edgars Rinkevics took part in the meeting of the European Union's (EU) General Affairs Council in Luxembourg, at which ministers discussed progress in negotiations on the EU Multiannual Financial Framework for 2021 to 2027, including competitiveness-related programs (for instance, the Horizon Europe research program, and the Connecting Europe Facility, which provides funding for the Rail Baltica project as well as defense and security, informs LETA.
16.10.2018
Council of Latvijas Auto association of Latvian freight and passenger road transportation companies was dismissed at the association's general meeting today, informs LETA.
16.10.2018
The Bank of Lithuania published the balance of payments data for August 2018, which shows that the surplus on the current account balance amounted to 136.8 mln euros and, compared to July 2018, increased by 21.7%.
16.10.2018
Lithuania's budget for 2019 will be socially responsible and will help improve the quality of life for a large part of the population, Prime Minister Saulius Skvernelis said on Tuesday, cities LETA/BNS.
16.10.2018
EfTEN Capital, the leading real estate asset manager in the Baltics, has an addition to its fund family by launching its fourth fund "Usaldusfond EfTEN Real Estate Fund 4" which will focus on Baltic commercial real estate investments. The first closing was completed by Baltic institutional investors and EfTEN Capital partners at 95 mln euros of committed capital.