International Internet Magazine. Baltic States news & analytics
Saturday, 29.08.2015, 15:36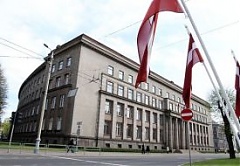 28.08.2015
During an emergency meeting on August 27th, the government of Latvia discussed budget cuts in 2016 and agreed that ministries' spending would be reduced 3% or EUR 12.4 million in total, but spending cuts will not concern four priorities – defense, security, healthcare, and education, informs LETA.
27.08.2015
By comparing data available from two Russian funds and annual reports of Baltic non-governmental organizations, the Baltic investigative journalism center "Re:Baltica" has found more than forty organizations in the Baltic countries through which at least EUR 1.5 million has been channeled into the Baltic NGO sector from Russia during the past three years, cites LETA.
27.08.2015
Increasing automobile tax and the excise tax on fuel, and at the same time ignoring funding for road construction and maintenance, is unacceptable, Latvian Transport Minister Anrijs Matiss (Unity) said in commenting on proposals for the 2016 state budget, reports LETA.
27.08.2015
SEB initiated a survey in the Baltic States on young persons' financial behaviour and lifestyle and found that youth in Estonia are not as diligent in planning their budgets as their Latvian and Lithuanian peers, writes LETA/National Broadcasting.
27.08.2015
The Latvian Land Fund (Latvijas zemes fonds) has signed the first three agreements on farmland purchases – land plots in Skrunda, Lielvarde, and Vane counties, as the fund's representative Kristine Grauzina told LETA.
27.08.2015
Prime Minister of Lithuania Algirdas Butkevicius says the decision over possible pension raise from January 2016 will be made taking into consideration economic indicators of the fourth quarter of 2015 and tendencies for the next year, informs LETA/ELTA.
26.08.2015
The Bank of Estonia reported that the volume of loans and leasing contracts issued to Estonian enterprises and households grew by 259 million euros to 15.9 milliard euros, while financing portfolio grew by 4.1% in the year-on-year comparison, writes LETA/National Broadcasting.
26.08.2015
Officers of the Security Police Board detained CEO of the Port of Tallinn Ain Kaljurand and member of the Management Board Allan Kiil on August 26th, writes LETA/Postimees Online.
26.08.2015
After a declining trend that lasted for five years, the number of companies with tax debts has started growing again in the first half of 2015, writes Äripäev.ee/LETA.
26.08.2015
Falling stocks in China and other emerging markets will not have a major direct impact on Lithuania, whose export to India, China and the Southeast Asia amounts to less than 1% of the total export. What will pose more problems is the decreasing purchasing power in Russia and other countries of the Commonwealth of Independent States, writes LETA/ELTA.
26.08.2015
On August 25th night, the government of Latvia reached agreement in principle on additional budget revenue and reducing almost all ministries' budgets by 3% in 2016, Prime Minister Laimdota Straujuma (Unity) told reporters, cites LETA.