International Internet Magazine. Baltic States news & analytics
Sunday, 21.04.2019, 01:44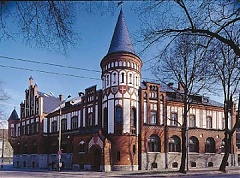 18.04.2019
The financial position of the Estonian banking sector is good and the risks to it are small. The biggest risks for Estonian banking are related to the money laundering scandals that have hit the Nordic banking groups operating in Estonia. Reputational damage to the banks could worsen the funding conditions of the Nordic banking groups, which could also make loans more expensive and harder to access for people and companies in Estonia.
17.04.2019
Last year, EUR 1.28 bn worth of loans were financed through Latvian peer-to-peer (P2P) lending platforms, which is 2.6 times more than in 2017, LETA was told at the Alternative Financial Services Association of Latvia.
17.04.2019
During the first three months of this year, the State Revenue Service collected EUR 2.17 bn in taxes, beating the first-quarter tax revenue target by EUR 77.619 mln or 3.7 %, according to information released by the Revenue Service writes LETA.
17.04.2019
Latvia's Mintos peer-to-peer (P2P) lending platform has reached EUR 2 bn in total loans financed through the marketplace and started its first funding project Mintos Impact Fund, the company's representatives informed BC.
16.04.2019
In the modern world, business is associated with certain risks and difficulties. Typically, entrepreneurs look for reliable ways to develop and strengthen their businesses. Investment is a kind of long-term business plan bringing good income for many years under proper approach.
16.04.2019
Speech by Mr. Vitas Vasiliauskas, Chairman of the Board of the Bank of Lithuania, on the topic of central bank digital currencies, delivered at the Reinventing Bretton Woods Committee conference Managing the Soft Landing of the Global Economy, held in Washington DC.
16.04.2019
The size of the loan portfolio of LHV reached one billion euros in the first quarter of 2019 while consolidated net profit for the three-month period totaled five million euros, the listed financial services group said in its first-quarter report, informed LETA/BNS.
15.04.2019
Share price of Latvia's Grindex pharmaceutical company on Monday skyrocketed 40.13 percent, according to the Riga bourse
15.04.2019
In preparation for this year's Ice Hockey World Championships, with the support of the Rietumu Bank Latvian squad's travels to France for two exhibition matches against the French team, which will be played on April 19 and 20.
15.04.2019
Nasdaq Riga on Monday applied observation status to Grindex pharmaceutical company shares, the stock exchange said in a statement.