International Internet Magazine. Baltic States news & analytics
Tuesday, 02.09.2014, 09:44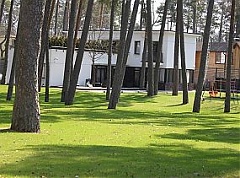 02.09.2014
The State Revenue Service of Latvia (SRS) is currently on a criminal case connected with possible fraud connected to the construction of Ainars Slesers' (United for Latvia) house in Jurmala, as the LTV news magazine "De Facto" reported last night, cites LETA.
01.09.2014
Invalda LT is one of the major companies in Lithuania investing in other businesses and managing assets. Consolidated net profit attributable to shareholders of AB Invalda totaled to LTL 18.8 million (EUR 5.4 million), in the same period of 2013 it was LTL 92.2 million (EUR 26.7 million), the company said in a statement, cites LETA/ELTA.
01.09.2014
Lithuanian President Dalia Grybauskaitė met with Ukrainian President Petro Poroshenko at the summit meeting of EU leaders in Brussels and expressed Lithuania's support for the European reforms implemented in Ukraine, to its sovereignty and territorial integrity, reports BC press service of Lithuanian President.
01.09.2014
European Union leaders on Sunday gave Russia a week to reverse course in Ukraine or face a new round of sanctions as Kiev warned it was on the brink of "full-scale war" with Moscow, informs LETA/AFP.
01.09.2014
Statistics Lithuania informs that in 2013, according to the data of the Survey on Income and Living Conditions, the at-risk-of-poverty rate in Lithuania stood at 20.6%. Compared to 2012, it increased by 2 percentage points. In 2013, about 610 thousand persons in the country were living below the at-risk-of-poverty threshold, reports LETA/ELTA.
01.09.2014
Estonian Minister of Agriculture Ivari Padar said that the Russian food imports ban has hit the producers of milk and pork and the fisheries industry the hardest, writes LETA/National Broadcasting.
29.08.2014
Latest data compiled by the Central Statistical Bureau of Latvia show that, as compared to the corresponding periods of the previous year, average wages and salaries in the 2nd quarter of 2014 have risen slower than in the first quarter of this year.
29.08.2014
According to Statistics Estonia, in the 2nd quarter of 2014, the average monthly gross wages and salaries were 1,023 euros and increased 4.8% compared to the 2nd quarter of the previous year.
29.08.2014
The growing value of electronic currency – bitcoin – attracts increasingly more users; that is why it is now possible to pay in bitcoins in Lithuania too. The aviation market is also open to innovations – as of now flight tickets for the Lithuanian airline Air Lituanica operated flights may be purchased with bitcoins, reported BC airline's press service.
29.08.2014
Talks on the sale of the insolvent joint-stock metallurgical company Liepajas metalurgs will continue with two bidders – Luxembourg-based United Group, which belongs to Russian millionaire Igor Shamis, and the Ukrainian company KVV Group, as Liepajas metalurgs insolvency administrator Haralds Velmers told a press conference today.
29.08.2014
The asset management company Reverta (formerly Parex banka) has returned EUR 66.7 million to the State Treasury in the first six months of 2014, including a significant amount of debt before the term, reports LETA.