International Internet Magazine. Baltic States news & analytics
Friday, 26.08.2016, 00:55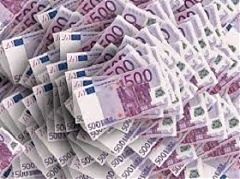 25.08.2016
Arnis Riekstins, a co-owner of the Mikrotikls company, earned EUR 30.15 mln last year becoming the top earner in Latvia in 2015, according to a list of Latvia's biggest earners, losers, and dividend recipients last year, compiled by Lursoft, business magazine Kapitals, and journalists Lato Lapsa and Kristine Jancevska.
23.08.2016
The Vilnius municipality intends to borrow up to 50 mln euros from the European Investment Bank (EIB) for refinancing earlier loans and investment projects, Mayor Remigijus Simasius told BNS/LETA.
23.08.2016
Latvian banks issued EUR 217.1 mln in mortgage loans to households in January-June, which is 71% more than in the first half of 2015, BC informs Association of Latvian Commercial Banks` representative.
23.08.2016
The tax revenue growth rate in Latvia has slowed down this year compared to 2015, Kaspars Abolins, the head of the Treasury, said on the morning news program of the LNT on Tuesday, cites LETA.
22.08.2016
The Republic of Kazakhstan is one of specific countries of the Central Asian region. On the one hand, one can witness social reforms, democracy, tolerance, support to financial sector and private business on the background of almost absence of organized crime, on the other hand, there is a strict power vertical basing on relative relationship, favoritism and leading, as a result, to corruption of officials and power structures. The New Zealand company Warehouse Logistic Investment Group Limited got under this "Kazakh corruption roller", having invested several million EUR into a business development. The details follow below.
22.08.2016
During the first six months this year, the Financial Police Department of the State Revenue Service forwarded 30 criminal cases to the prosecutor's office for launching criminal prosecution, according to the Revenue Service's results for the first six months of 2016, writes LETA.
19.08.2016
Austria's Vienna Insurance Group (VIG), one of the biggest European insurers, has been cleared to buy Latvia's BTA Baltic Insurance Company (BTA), however, will have to sell international carrier insurance in exchange, reports LETA/BNS.
16.08.2016
Kaarel Ots, who took over as manager of Nasdaq Tallinn a week ago, says it looks like things are finally beginning to move when it comes to listing stocks and bonds of Estonian state-owned companies on the securities market, reporst LETA/BNS according to Eesti Paevaleht.
15.08.2016
The credit information company Krediidiinfo AS and 13 lenders active in Estonia are about to establish a liabilities registry, or so-called positive credit reporting registry, that creditors can use to assess the credit standing of their potential clients, informs LETA/BNS.
15.08.2016
In Latvia, people take loans mostly to purchase cars and renovate or refurbish their homes, according to a survey conducted by DNB Banka. Other commonplace purposes for borrowing money include paying for medical services, education and travel, and also debt repayment.
13.08.2016
After Deutsche Bank at the beginning of July stopped providing the dollar clearing service to Estonia's LHV, the bank has been offering smaller euro-to-dollar payments to U.S. bank accounts via payment processes such as Transferwise, but is still looking for a clearing partner, LETA/BNS reports according to Bloomberg information.