International Internet Magazine. Baltic States news & analytics
Monday, 02.03.2015, 21:01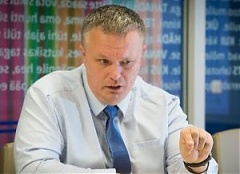 02.03.2015
Minister of Finance in Estonia Maris Lauri assured to Director General of the Tax and Customs Board on Monday that she would like him to continue in his current position, and consequently Helm agreed to retract his resignation notice, writes Äripäev.ee/LETA.
27.02.2015
The Latvian commercial bank Trasta komercbanka concluded 2014 with losses in the amount of EUR 9.79 million, informs LETA.
27.02.2015
Latvia has the sixth lowest minimum wage among the 22 European Union (EU) member states that have national minimum wages, according to data published by Eurostat, cites LETA.
27.02.2015
ABLV Bank increased its profit in 2014, reaching EUR 58.7 million. Meanwhile, the Group's profit in 2014 was EUR 63.8 million, reports LETA, according to the bank's statement.
27.02.2015
The joint-stock company RB Rail and Latvia, Estonia and Lithuania submitted a joint application to the European Commission, seeking funding for the first round of implementation of the Rail Baltica project from the Connecting Europe Facility, as well as the Baltic countries' joint support letter signed by the Baltic transport ministers, LETA learned from Latvian Transport Ministry.
27.02.2015
The European Commission (EC) has presented analyses of economic challenges to individual member-states. Specific recommendations to individual countries to be issued in May 2015 and will be based on these reports, informs LETA/ELTA.
27.02.2015
At the end of 2014, there were 313 bank subsidiaries and sub-branches in Latvia, representative of the Association of Commercial Banks of Latvia, Baiba Melnace, told LETA.
26.02.2015
Latest data compiled by the Central Statistical Bureau (CSB) show that in 2014 growth in average wages and salaries witnessed the most rapid growth since the recovery of the Latvian economy. In 2014, average monthly gross wages and salaries in the country accounted for EUR 765, and compared to 2013 it is a growth of 6.8% or EUR 49.
26.02.2015
According to Statistics Estonia, in the 4th quarter of 2014, the average monthly gross wages and salaries were 1,039 euros and increased by 5.3% compared to the 4th quarter of 2013. In 2014, the average monthly gross wages and salaries exceeded the 1,000 euro level in the 2nd and 4th quarter.
26.02.2015
Although the construction of Rail Baltica railway line takes at least 4 to 5 billion euros, the three Baltic states will ask for only a tenth of the cost of building the infrastructure from the European Commission in the first round of funding, LETA/Public Broadcasting reports.
26.02.2015
Zemgale Region Prosecutor's Office in Latvia has launched a criminal case against Jelgava Clinic Chief of Staff Anna Ziverte, according to information at the disposal of LETA.