International Internet Magazine. Baltic States news & analytics
Thursday, 16.07.2020, 19:57
2019 on Baltic Stock Market – the Good, the Bad or the Ugly?
Julija Bistrova, Partner/CEO at Aphinox Quality AS, 10.01.2020.

Print version
Baltic stock returns. 2019 appeared to be quite a solid year for Baltic stock market, if one looks at it in isolation: OMX Baltic Benchmark price index has returned 6.73%, while its Total Return index yielded 13.62%, implying that almost half of its performance was generated by returning cash to the investors via dividends and share capital reduction.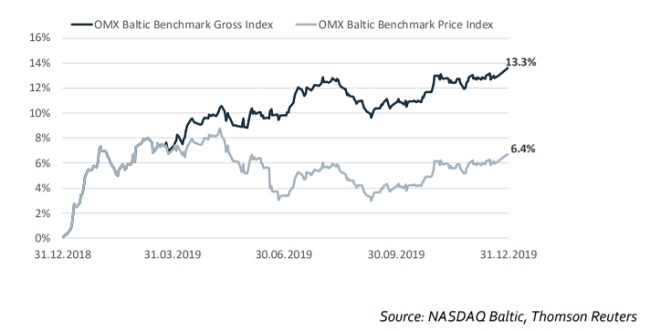 Although 2019 did not bring stellar results to Baltic investors within a historical perspective, one could have slept well at nights as volatility was very moderate. On the chart below one can spot that 2019 was a year with the lowest intra-year drawdown (peak-to-trough decline) of just 3% over the last two decades. However, we expect the uncertainty around global economy to increase in 2020, which could lead to higher volatility and, therefore, higher drawdown.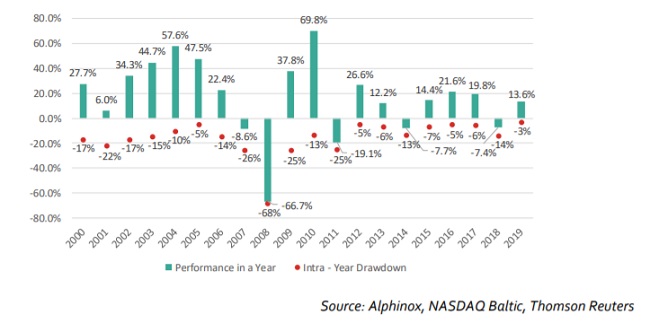 Many Baltic investors, though possibly happy with double-digit (13.6% to be precise) total return, might feel envious seeing what a crazy rally European (STOXX 600 with 23.2%) and US market (S&P 500 index with 28.9%) have experienced. The main driving force behind this growth evidently was ongoing loose monetary policy conducted by Federal Reserve and ECB.

In 2019 Baltic market remained on the sidelines, watching other markets taking off, but nevertheless still offering attractive dividend yield of 5.2% and trading at a discount to peers (P/E 10.3).
Tops and flops in Baltics
Grindeks shareholders should have been very happy with a gain of 140% in 2019, with share price rocketing in response to the mandatory share buyback by the major shareholder. Another star was SAF Tehnika – the stock that was badly sold-off in 2018 and partly recovered on positive financial news. Additionally, share price got support from major shareholder Koka Zirgs that acquired some additional free-float shares. 
Third best result goes to Apranga, which has also recovered after being oversold in 2018 and which reported improved financial results thanks to the significant store count expansion in Riga (newly built shopping mall Akropole and expansion in Alfa). Apranga's stock was also supported by major shareholder that increased its stake.
2019 was quite miserable for Baltika and Novaturas shareholders. The stock price of both companies continued their negative performance trend also last year. Baltika marketing brands such as Monton and Baltman undergo restructuring process in an attempt to survive in a very competitive apparel industry. Novaturas' share price drop is caused by company's inability to appeal to investors with satisfactory financial results as competition increases and hot summer also took its toll.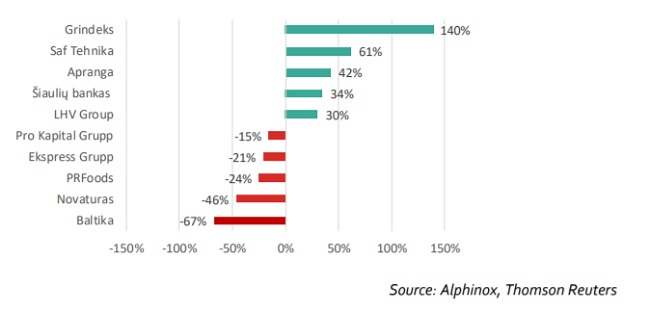 Market with value character
Baltic market clearly is a value market – if compared to the global equity markets, it has the cheapest valuation on all accounts – P/E, P/B, P/CF, while the dividend yields are envious. This fact deserves particular attention at times when one's idle money yield virtually nothing when kept in deposits.
Baltic companies are not capable of expanding top line at a high pace, which is evidenced by rather low sales growth, but they manage to be efficient, which results into decent growth in operating profit. Another trait of Baltic companies is conservatism with regard to capital structure: low interest rates are not an incentive strong enough for the top management to take on more debt as judged by the levels of Debt to equity and Equity to Assets. Return on capital makes Baltic companies comparable with their peers operating in Western Europe and in Emerging markets.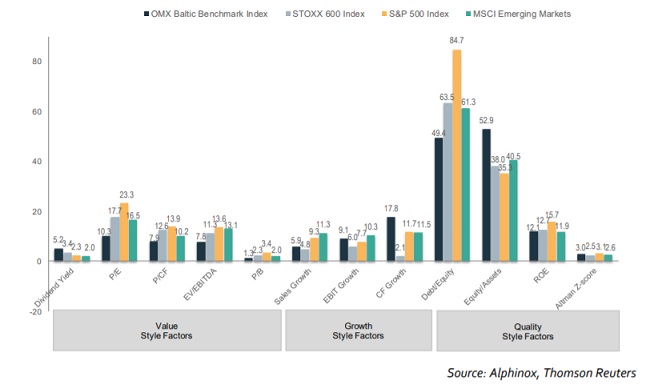 Summarizing it all, there is good fundamental quality of the Baltic companies and a potential for further growth, which can be unlocked entering the new decade.