International Internet Magazine. Baltic States news & analytics
Friday, 23.04.2021, 11:48
Rõivas and Sipilä promise to continue cooperation on Estonian-Finnish joint projects
BC, Tallinn, 10.06.2015.

Print version
Finnish new Prime Minister Juha Sipilä and Estonian Prime Minister Taavi Rõivas stressed at their joint press conference on June 9th 2015 in Tallinn the unique economic cooperation of the two states and assured that the cooperation initiated by previous governments on a number of joint projects will continue, LETA/Public Broadcasting reports.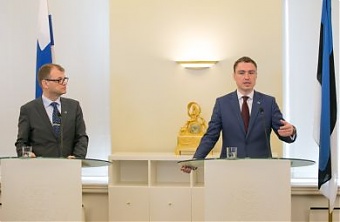 Juha Sipilä and Taavi Rõivas. Tallinn, 9.06.2015. Photo: valitsus.ee
Sipilä, who took office ten days ago, confirmed that Finland's new government wants to move forward with the Estonian-Finish pilot project for joint use of ID card and digital signature, which began during the Jyrki Katainen and Andrus Ansip governments, but has since been delayed.
"Today (June 9th), we discussed how to further strengthen the economic cooperation between the two countries. We can do it in tourism, IT and with additional energy connections. One of them is the gas connection between the two countries, the Baltic Connector," added Rõivas.
While Rõivas and Sipilä stated that in most issues there are no disagreements between the governments of the two countries, in the NATO issue, Finland continues its earlier position, meaning that that Finland does not plan to join NATO, leaving future generations a free hand in this matter.
Also, the two countries are pursuing a different policy in the matter of excise duty on alcohol. "In Finland, there will be an increase in excise duties on tobacco while there are no plans to increase alcohol excise duty, since if the increase is big, the proportion of imported alcohol will start increasing rapidly," explained Sipilä.
Rõivas said that in the Russian-Ukrainian issue, the Estonian and Finnish governments have similar views. "We discussed that watching what takes place in Ukraine, we in the European Union have no choice other than to proceed with sanctions imposed on Russia. I hope that it will be, once again, a consensual decision in the European Union," said Rõivas.
Together, the two countries develop energy, transport, and digital connections and at European Union level, they act as allies.

"There are uniquely good relations between Estonia and Finland, be it cooperation in the international arena, economic ties or relationships between people," Rõivas said.

The Prime Minister expressed delight that the Finnish government, which took office about ten days ago, share similar views with the government of Estonia, reported BC the government's press service.

"We have a common goal – to grow the economy and improve people's welfare," Rõivas said. "Our closeness is characterised by the fact that we have made similar choices."


Finland is Estonia's largest importer and second largest export partner, and today, it was discussed how to further strengthen the ties.

Rõivas and Sipilä considered it particularly important that the energy market is further developed, including the establishment of the natural gas pipeline Balticconnector. The information technology cooperation project X-Road was also highlighted as a priority, enabling people, institutions, and companies to exchange information across borders.

Additionally, issues related to defence and security, as well as cooperation at European Union level were discussed at the meeting.

"Given the current security situation in Europe, the Nordic and Baltic defence cooperation is extremely important," Rõivas said.

The Prime Minister added that Finland is always welcome to participate in training in the territory of Estonia.